Reading Time:
7
minutes
This post may contain affiliate links – meaning that if you purchase something through a link, I get a small payment for it (at zero additional cost to you). It is a much-appreciated way to support this website!
Is Madison, Wisconsin safe for solo female travelers? Is Madison a good remote work city? What is there to do in Madison in the summer?
Madison is a city I first heard of in Dubai, of all places! During my study abroad, multiple students from the University of Wisconsin, Madison were in my same program as students from New York, London, Budapest, and Hong Kong. It made me wonder: what does the Midwestern town have to offer?
The answer, it turns out, is a lot!
I recently visited Madison, Wisconsin, for four days and was absolutely blown away. The steady increase of popularity of the University of Wisconsin Madison, coupled with the recent boom of huge technology companies making their headquarters home here, made Madison, Wisconsin, a thriving, safe, metropolitan city with a small town better western vibe and not one, but two, lakefront views!
Whether you're a solo female traveler who is looking to find a quieter, safe city that can feel like home or a remote worker looking for a city that's a bit off the beaten path but has all of the conveniences (and strong wifi) of Chicago or New York: Madison is for you!
Day 1: Welcome to Madison, Wisconsin
Touchdown at the MSN Airport! ✈️ You've finally arrived in Madison, and you're probably eager to start exploring.
First things first, check into your hotel. I stayed at the Hotel Indigo Madison Downtown, located in the exciting and artistic Capitol East neighborhood. After settling in and enjoying a quick refresh, it was time to start the adventure.
Meet the city of Madison
After a morning of travel, you may be starting to crave some lunch like I was. That's where Jacknife comes in: a funky, fast-casual spot that serves five-star sushi rolls and rice bowls. They're making unbelievably delicious dishes at a very affordable price. It's the perfect place if you want to enjoy something high quality without breaking the bank!
I decided to wander around Downtown Madison a bit after I had been revived from my sushi stop.
The main part of the city is sandwiched between two gorgeous lakes, so I got to enjoy some sun right on the water. I always love using my travel days to relax and see what the city is all about.
Basically, I was giving Madison a vibe check. After my hours of exploring I can safely say they passed!
Take yourself on a little date night
Eventually, I stumbled upon Fromagination, an artisanal cheese shop that called to my soul. Wisconsin is known for its delicious dairy products, so I decided to treat myself to a little cheese board picnic.
And in my opinion, you can't have a cheese board without some wine, so I headed just a few doors down and discovered the best place to find a bottle: Square Wine. This female-owned shop has a rotating assortment of bottles crafted by small, family vineyards that make your wine sipping experience extra magical.
Ending the first day of adventure with a picnic and some live music is the ideal summertime activity! One of the best things I experienced here had to be the annual Concerts on the Square event. Lounging on the Capitol lawn with my own personal picnic and live orchestral music honestly felt like the ultimate main-character moment.
Day 2: Immerse yourself in Madison's culture
Get ready for a day full of art, history, and vibrant cultural experiences in the city, starting off with a certified delish breakfast at Short Stack Eatery. This spot… whew!
They know how to do breakfast RIGHT here. Just imagine the perfect buttermilk pancakes, rich pulled pork with cheesy grits, Cajun biscuits with gravy—the list goes on. This spot has some of the best American-style breakfast options, with plenty of vegan and gluten-free options for anyone to enjoy.
Short Stack also focuses on social justice and activism throughout the community. Not only are you getting a scrumptious meal here, but you're supporting the betterment of the community which is always a win!
After you've fueled up, it's time to hit the town.
Learn about the history of Madison
At the center of the isthmus that Downtown sits on is the iconic Wisconsin State Capitol building. An architectural masterpiece, the building features a majestic granite dome which is the only one of its kind in the entire country! Sculptures from Daniel Chester French decorate the building, the same artist who carved the giant statue of Abraham Lincoln at Washington D.C.'s Lincoln Memorial.
Touring the capitol building was a perfect way for someone like me to learn about Wisconsin. Seeing as I didn't even know where Madison was on a map a few years ago, this was a must-do experience in my book! The tours are completely free, plus you get access to the museum and observation deck in the summer.
Wander the iconic State Street
I then decided to pair my morning of tradition with an afternoon of innovation, starting with a walk down State Street.
Connecting State Capitol Square with the youthful university campus, this avenue is full of locally owned boutiques, art museums, adorable restaurants, and more! There are so many charming little shops to visit, but my favorite part was seeing the community come to life and enjoy their midwestern metropolis.
Get to know the artists of Wisconsin
Madison's Museum of Contemporary Art is a great place to spend a few hours while the sun is at its highest point during the day.
Free admission gives you access to the various exhibits and collections of modern works that speak to today's social and political world. My favorite exhibit had to be "Ain't I A Woman?" highlighting black female artists from Wisconsin. This exhibit is currently featured in the Wisconsin Triennial celebrating creative individuals from the state, and it is a must-see!
Enjoy a quick stop for lunch at The Old Fashioned, which has earned the title of Wisconsin's best traditional restaurant, then make your way to the UW Memorial Union Terrace.
Finding the rare things to do in Madison
Have you ever watched a concert from waterfront seats? Yeah, I hadn't either!
But in Madison, anything can happen. A University-sponsored concert called Lakefront Live was one of the highlights of my trip. This was unlike anything I've ever done, kayaking on Lake Mendota while watching a free concert happening on shore.
Afterward, I headed to Cafe Coda for a spoken word night featuring Rob Dz – a Kennedy Center certified teaching artist who specializes in teaching Hip Hop and Spoken Word as a tool of self-expression. From poetry to jazz to R&B, Cafe Coda is constantly showcasing a diverse range of performers from all walks of life. I always love visiting Black-owned businesses in my travels, and Hanah Jon Taylor has created a diverse, welcoming atmosphere here.
You can always find something like this going on in Madison, which is what I think makes this city feel extra special!
Out of all the things to do in this city, the one-time-only special offers and events are some of the best. I highly recommend doing a little research about what's happening downtown to add some unique activities to your itinerary.
Out of all the things to do in Madison, the one-time-only special offers and events are some of the best.
Click To Tweet
Day 3: Treat yourself to a day of ~luxury~
After all the exploring you've done so far, it's time for a day of indulgence, starting with brunch.
Ancora Cafe + Bakery is a gorgeous spot to spend your morning sipping mimosas and eating specialty dishes. The menu is seasonal, so everyone's experience may be a little different. But with dishes like Churro French Toast Dippers or a Honey Bacon Biscuit, you already know the brunch vibes are on point here.
Then, I headed to Kosa Wellness Spa & Retreat for a fusion spa experience. Founder Shilpa Sankaran combines the Indian tradition of Ayurveda with products from local artisans for massages, facials, and even a kitchen providing Ayurvedic nourishment.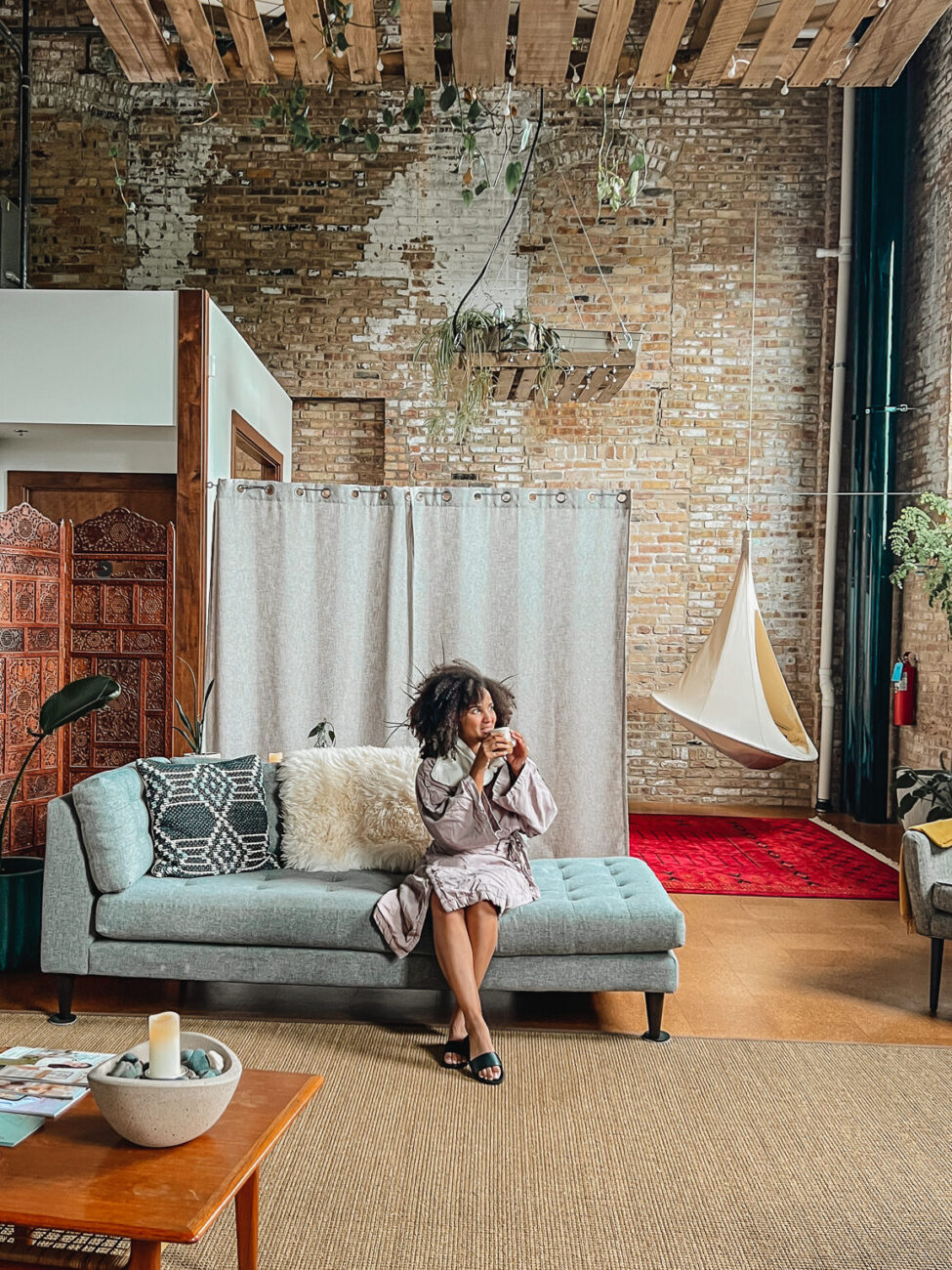 In the evening, I decided to venture out to the First Settlement District and enjoy dinner at Merchant, an upscale restaurant that offers chic seasonal fare. Food is a form of artistic expression here, one you can see, smell, and taste. My meal was a blissful experience that proved Madison's culinary scene is worthy of five stars.
Round out your night with a walk down State Street to see what the locals like to get up to on the weekends! A live music show or some pop-up vendors may surprise you, but who doesn't love a little late-night shopping?
Day 4: Explore Madison's great outdoors!
Visit the Dane Country Famers Market for a truly local experience on your last day in Madison! This was highkey the coolest farmer's market I've ever been to.
This is the largest producer-only market in the country, which means every single person you see behind the stalls actually made the thing they are selling. I felt so welcomed by the community here and got to learn all about the local agriculture in Wisconsin!
My morning walk took me to the Olbrich Botanical Gardens, where I spent a few hours peacefully wandering over 16 acres of landscapes. Everything from hardy midwestern foliage to exotic flowers and greenery is grown here, creating a soothing oasis that I could have sat in all day.
Kick it up a notch with some adventures in nature
Did you know Madison is one of the top biking cities in the U.S? One of the most popular local trails you can bike is the Lake Monona Bike Loop, which circles around Lake Monona for 13 miles of breathtaking views.
You can bike this trail with a regular old bike… but you won't catch me doing all that in the summer.
My recommendation is to grab a cute little E-bike from one of the BCycle stations so you don't exhaust yourself on the loop.
And for even more action, head just outside of the downtown area and paddle across either of Madison's lakes! Seeing the city skyline from atop a paddleboard is a truly magical adventure and a phenomenal way to stay cool during the afternoon.
Dig into some delish Madison specialties
I doubt many of you are reading this thinking Madison's pizza is going to be anything spectacular.
But, I also doubt many of you have heard of Salvatore's Tomato Pies.
This spot has earned a longgg list of awards for the handcrafted pizzas, topping the delicious, slow-fermented dough with locally made cheeses and Wisconsin-raised meats. I'm telling you, these are some impressive pies!
After grabbing a bite, I enjoyed a selection of local beers at Giant Jones Brewing Company, where the drinks are cold, and the girls are truly girlbossing. Here you'll find an amazing female-owned business that serves certified organic beers, perfect for a pit stop before exploring more of what's going on Downtown.
During my visit, the Fete de Marquette was popping off with live music, drinks, and everything you could want during a summer night out! But don't worry, if this specific festival isn't happening during your trip, Madison is known for hosting all kinds of gatherings during summer and fall, so I'm sure there will be something to discover when you visit.
Add Madison to your bucket list now!
Whether you're a solo female traveler looking for a safe but exciting city to explore, or you're a digital nomad in need of inspiration for your next trip – Madison, Wisconsin, has so much to offer!
This city may be off the beaten path compared to other urban destinations, but that's exactly why I loved it. Imagine a place with all the good energy of a quaint small town but all of the inclusivity and energy of a big city. That's how Madison felt!
Add this four-day trip to your bucket list and discover all the amazing things to do in Madison, Wisconsin, for yourself!
Is Madison, Wisconsin worth visiting?
100% yes! My trip to Madison was delightfully surprising. I learned so much about this diverse, midwestern city and felt so welcome in the small urban community. There is so much history, art, and culture to learn about in Madison that I would say it's a must-see destination.
Are there unique things to do in Madison, Wisconsin?
There are so many activities going on in Madison! Some of my most memorable experiences were the special events planned by local community organizers, and there is always something new on the roster. I suggest looking at the Destination Madison – Events page before your trip to see what fun things are happening during your visit!
Is Madison, Wisconsin safe to visit?
Definitely! As a solo, young, Black female traveler, I felt very comfortable in Madison, especially compared to other big cities. This is a very accessible metropolitan area, with lots of young people and friendly faces all around. Whether you're traveling alone or just want to make sure you're friend group will be comfortable, I found Madison to be a very safe city worth visiting.
What other midwestern destinations should I visit?
Let me know in the comments below!
This press trip was hosted by Destination Madison.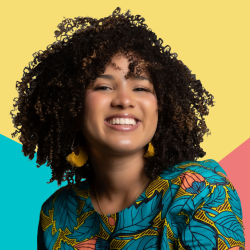 Latest posts by Gabby Beckford
(see all)