Reading Time:
5
minutes
Where should you go during winter when traveling on a budget? What unexpected destinations should you visit for a cheap luxury vacation? Is there an alternative for a winter retreat like Salt Lake City?
This post may have affiliate links. Meaning if you buy something using them, I get a small % for recommending it. It doesn't change the price for you at all and it's a super easy and nice way to say thanks for the work I did writing this 🙂 Cool? Cool!
Most of the time, I like to travel to escape winter!
I'm not usually a cold-climate girl, but I also love traveling to unexpected places, so I figured a snowy mountain trip was worth a try. I started researching the best cities for a winter retreat and sheesh… the prices. Destinations like Vail, Salt Lake City, or Aspen were too expensive for a "worth a try" trip.
Then I discovered Southern Idaho on Instagram! I was intrigued by a state not often mentioned in my friendship circles. The perfect balance between budget-friendly destinations and luxurious solo trip vibes. I know you're probably a little skeptical, but trust me on this one! I wasn't sure at first, but after spending a few days exploring this region, I've decided it's the best-hidden gem in the U.S. for broke travel girlies.
If you're still on the fence about the vibes, make sure you watch my Southern Idaho vlog to see how magical this destination really is! Then come back here to start planning your getaway.
Here's your 4-day itinerary for the ultimate winter retreat in Southern Idaho that's full of nature, wellness, and prices that will keep your bank account happy.
Day 1: Your winter retreat begins!
When I landed at Boise Airport, I was still apprehensive. I'm not exactly a granola travel girl (if you've ever heard my story about trekking Iceland at 17…you already know). But after opening the door to my VRBO in Twin Falls, I realized I had nothing to worry about.
My private apartment was super modern, and the vibes here were digital nomad chic, which basically means the WiFi was fast and there was a cozy nook that I could work remotely from.
After settling in, I drove downtown Twin Falls for dinner at Koto Brewing Co., a trendy little restaurant inside a 100-year-old building constructed by a Japanese immigrant, Tojiro Koto. Dinner here is the perfect start to your trip as you mingle with locals and get ready for all your adventures.
This is the perfect budget-friendly meets luxurious solo trip destination 💸 This is one hidden gem you've probably never seen before… 🏔️⛷️
Click To Tweet
Day 2: A day of outdoor excursions in Southern Idaho
The best way to get the morning started is with a good, healthy breakfast, which is exactly what 4Roots Juice Bar offers. I ordered an avocado-salmon toast, and a strawberry banana smoothie—sooo good, and very fresh. Everything here is locally and sustainably sourced, and the menu is 100% gluten-free!
As a full-time digital nomad, people always ask how to stay healthy while traveling. My secret? Finding healthy spots like 4Roots. Every now and then it's fun to indulge, but 80% of the time I travel, I eat at restaurants that serve clean, whole foods.
When breakfast is done, get ready to explore some of the incredible parks nearby.
First up is Box Canyon State Park, famous for the vibrant spring that cuts through the canyon. For the best views, visit the viewing platform to get a look from above. Then walk around the canyon's rim and venture down into the canyon by following the south rim's trail for 0.5 miles, and hiking down at the unimproved trail sign. Along this path, you'll get to see a stunning waterfall and two crystal blue pools, both of which make 10/10 photo ops.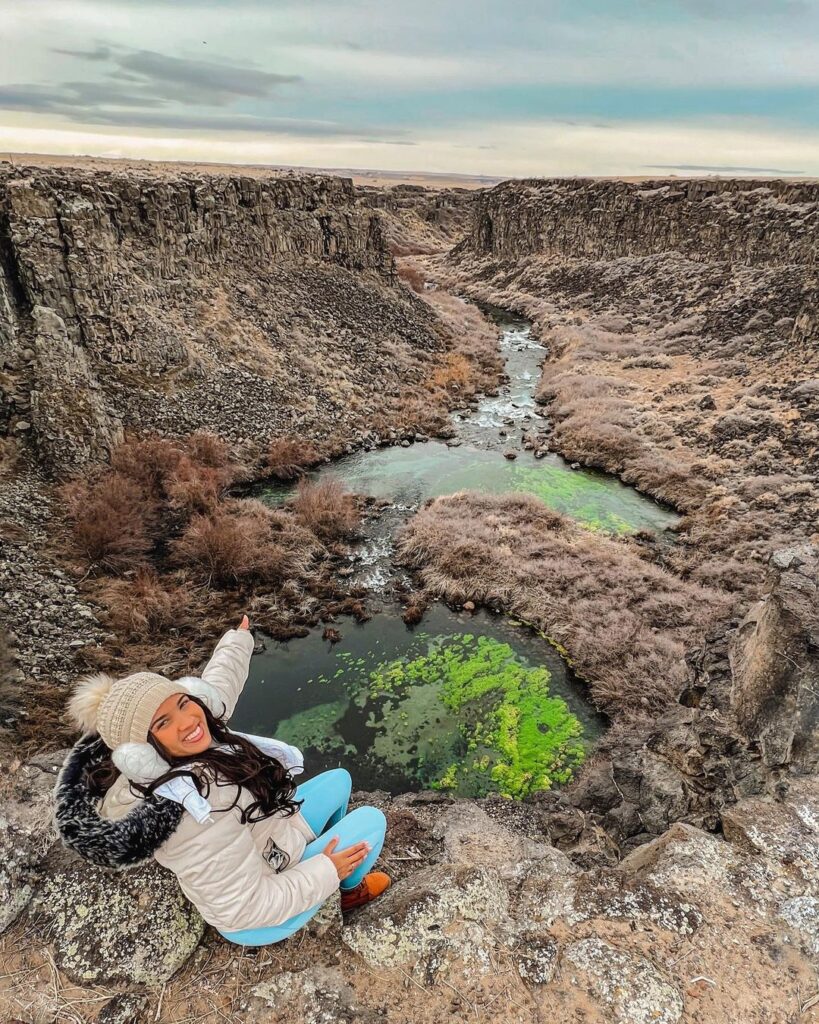 Afterward, head to Ritter Island to find some of the most majestic waterfalls in Southern Idaho (I'm not kidding when I say these falls were serving major Iceland vibes!). If you're like me and lowkey hate hiking, I recommend exploring the Lemmon Falls trail. I barely broke a sweat, but the scenery was *chefs kiss*
Now that you've spent a few hours exploring some parks, it's time for lunch. I was craving something that felt fresh and home-cooked. According to the locals, Snake River Grill was the place to get it. This cozy restaurant gives off Western vibes with a menu that ranges from diner-food classics to delicacies like a fried alligator.
When lunch ends, it's time to enjoy a little mid-day relaxation at the Miracle Hot Springs! Every winter retreat needs a trip to the spa, and this is the perfect budget-friendly option.
These steaming pools are completely natural and rich in minerals that help soothe and heal your mind and body. And where else can you get a private hot spring pool for less than $30? (Yeah… when I said budget-friendly, I meant seriously friendly.)
I enjoyed an hour in their private pools and as you can see below, I had an amazing time. The water is the perfect temperature to float in and the cold air is refreshing in contrast! You do need to bring your own towel and a change of clothes though—things I forgot… But, worth it! I just had to jog a little bit through the cold back to my car!
Wrap up the day with one last hike at Perrine Coulee, a 0.5-mile trail that gets you up close to a majestic waterfall. I felt like I was walking through Narnia here, since the trail curves behind the water as it rushes over the cliff. Depending on when you visit, the falls may be frozen over mid-cascade and create an unreal wall of ice, unlike anything you've ever seen before.
This hike is the perfect way to end your evening before grabbing a bite to eat at Elevation 486, looking out over the canyon while enjoying their seasonal menu full of fresh, local ingredients.
Day 3: Spend a day skiing Southern Idaho's best mountain
Today we're going full snow-sport winter vacation mode with a ski day in Southern Idaho, the cheap travel alternative to cities like Salt Lake City or Vail.
Whether you're a traveler who loves unique destinations, you can't afford those other bougie ski resorts, or you just want a less crowded mountain for a chill ski trip – Pomerelle Ski Resort is the place to be. First-timers can get a quick lesson with a private coach (for just $80… SO much cheaper than the more famous Idaho mountains).
Here's where you should go instead of Vail for a cheap (but luxurious) winter retreat ❄️🎿☕
Click To Tweet
And if you're already a snow sport pro, the day pass here is only $50 for a full day of skiing. In Vail, you'd be spending hundreds of dollars for one day! Your bank account can thank me later.
The ride back to Twin Falls is about an hour and a half, so I'd leave around 3 – 4pm to avoid too much traffic, and then treat myself to some dinner at 2nd South Market, the first food hall in Southern Idaho. This spot is SO much fun, especially for all my solo travelers! All the tables are communal, so you can sit down and make some new friends for a night full of good vibes.
Day 4: Finish your luxury winter trip with a unique spa experience
Today's your last day in Southern Idaho, and there's only one way to spend it. Book a treatment at Float Magic, one of the strangest and coolest spas I've ever been to.
This is not your average massage-and-sauna spa. Float Magic is known for its R.E.S.T. treatment, which means restricted environmental stimulation technique, more commonly known as sensory deprivation! They also have the only NovoTHOR infrared light pod in Idaho, incredible salt caves for Halotherapy, and a Fire & Ice room if you want to try out cold plunging.
I've been to a few spas around the world, and this one definitely has some of the most incomparable treatments and packages. For your last day in Southern Idaho, this is the ideal place to relax.
Experiencing Southern Idaho is a must.
It's a cheap destination perfect for getting a little luxury winter retreat without spending your entire savings, plus it has a good variety of things to do. Stop spending long weekends stuck at home on your couch. Instead, book a flight here and spend four days in one of the most amazing hidden gems in the U.S!
Would you travel to Southern Idaho?
Ask me anything about my trip in the comments below!
This press trip was hosted by Visit Southern Idaho