Reading Time:
6
minutes
Heading to Savannah, Georgia soon for a long weekend? Here is your tell-all summary of what to do and how to do it.
Everything on the list is Black-owned with just a few exceptions (notated with a * to show they are not Black-owned) that I believe are worthwhile to experience.
Following this guide will make sure your trip Instagram-worthy, absolutely filled with Southern charm and Savannah goodness, and best of all supporting the Black community.
This post may have affiliate links. Meaning if you buy something using them, I get a small % for recommending it. It doesn't change the price for you at all and it's a super easy and nice way to say thanks for the work I did writing this 🙂 Cool? Cool!
Black owned bars in Savannah, GA
The Grey
Come for drinks and finger foods in the front room and then head to the larger dining room for a delicious multi-course meal.
The Grey is co-owned by African American chef Mashama Bailey, who has a James Beard Award (and a super infectious laugh!) and Johno Morisano, The Grey's menu changes seasonally in accordance to what is most fresh and naturally available.
Lemme tell you… there was not a single thing on the menu I did not like.
And I tried everything—the beef tongue, oysters, fried flounder, beef short-ribs, wine. All of these eateries' awards and accolades are extremely well-deserved, and worth the price tag.
Good Time Jazz Bar
Known for their excellent food, excellent service, and of course, excellent live music 6 days of the week. I didn't have time to visit Good Time's Jazz Bar during my weekend in Savannah and it is my biggest regret as it was a must-do suggestion by almost everyone I asked.
💡 Savannah has open container laws like Vegas or New Orleans. The law permits the carry of open drinks as long as they are in plastic, 16-ounce cups (no bottles, mugs, or flasks) and must remain in Historic District limits. These laws definitely play a part in why Fodor's listed it in one of the Top 10 Largest St. Patrick's Day celebrations in the U.S, and the reason you'll see so many bachelor's and bachelorette parties in the city.
Artillery Bar*
Artillery Bar is a sophisticated speakeasy in a restored armory with mood lighting, imaginative cocktails, and an extensive bourbon list. It's not Black-owned but has great drinks, an interesting history, and is a staple of Savannah.
I ordered the "Smoke and Mirrors" and "Ring Around the Posies" and loved both artisanal drinks.
Sunshine, seafood, and strong drinks.
Click To Tweet
Sey Hey
Say Hey is a Black-owned Savannah sports bar in the Starland District. The bar caters to the "30, flirty, and thriving" crowd, and is one of the few remaining Black-owned businesses on Bull St.
Affordable drinks, great vibe.
Cocktail Dreamers
Are you having a more private event like a bachelors/bachelorette party, wedding, or just a girl's night?
You can have the authentic Savannah bar experience right at home with Black-owned mixology business, Cocktail Dreamers. Owner Sidney Lance
You have to try these Black-owned Savannah eats
Geneva's Chicken & Cornbread
If you're looking for traditional Southern fried chicken in Savannah, Geneva's Chicken & Cornbread should be at the top of your list.
I met three generations of Ms. Geneva's family when I visited the restaurant. It's truly family-owned and operated, with Ms. Geneva herself still in the kitchen every day.
If you aren't a friend of fried chicken, don't worry: the collard greens, green beans, gumbo, mac n' cheese, or fried shrimp can win you over.
The Original Crab Shack (!!!)*
The new love of my life for, I think, quite obvious reasons if you look at the photo.
They are technically out of the Savannah city limits and a 30-40 minute drive out to Tybee Island.
Between the almost-absurd portion sizes of the 'Captain Crab's Sampler Platter' and the Tybee Trashcan drink I ordered, this was the best meal I'd had in a long time.
Sadly, not Black-owned—but I still dream about those snow crab legs to this day!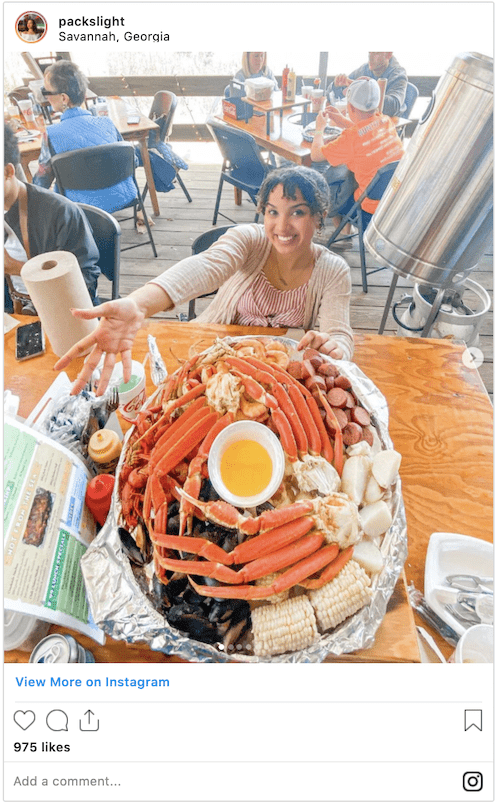 Back in the Day Bakery
This is one eaterie that is more often than not found with a line down the street—and for good reason.
Back in the Day Bakery is a Black co-owned restaurant by Ms. Cheryl Day who cooks up some delicious and unique pastries and baked meals like biscuits and gravy, cinnamon biscuit buns, cream-cheese pepper-jelly biscuits, and my favorite…
Can you say 'strawberry-lavender jam on homemade blueberry biscuits'?
Black-owned hotels and bed and breakfasts' in Savannah, Georgia… Pending
Believe me, I was just as shocked as you to find that there are no Black-owned hotels in Savannah, Georgia.
I did my due diligence on Google before reaching out to my friend who works for Savannah's tourism board to double-check, which they confirmed.
This is a huge opportunity space! I hope that a black hotelier set up shop in Savannah Georgia as soon as possible.
Perry Lane Hotel*
I stayed at the Perry Lane Hotel and had a more than exquisite stay. Like, the beds held me, hostage, every morning with how comfortable they were, and you can't beat the location being less than 5 minutes walking distance to most public Savannah squares.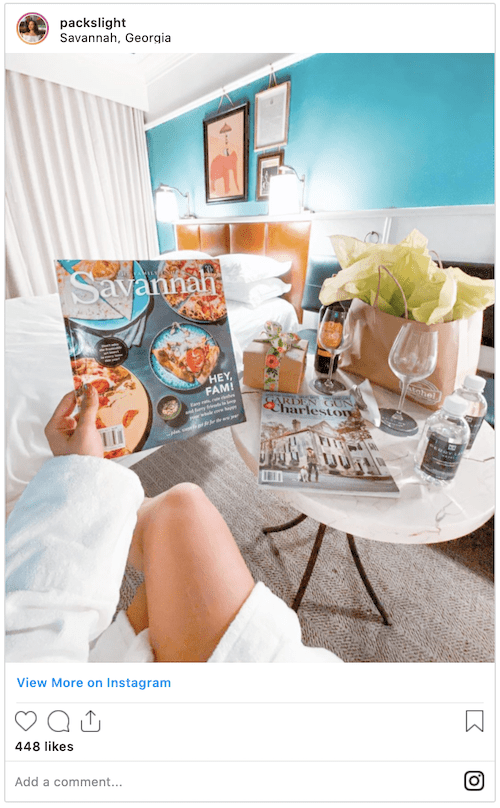 The Drayton Hotel*
The Drayton Hotel is freshly remodeled and the rooms are beautiful!
It's located in the heart of the Historic District*, and features an extremely colorful, bright bar area, a restaurant, and an unmatched rooftop experience with views of City Hall, Savannah River, and the surrounding cityscape.
And if staying in the Historic District inspires you to dive deeper into some history, you should definitely hop on a trolley tour of Savannah* for the most fun way to learn about this rich destination.
💡 For affordable accommodations in Savannah look for short-term rentals just outside of Downtown. However, in central Downtown and in the Historic District, rentals are often not much cheaper than the local hotels. In that case, opt to support small businesses and look forward to experiencing true Southern hospitality.
Black-owned tour operators: Black history in Savannah
Footprint Through History Walking Tour
The Footprint Through History Walking Tour is less of a walking tour and more of a journey.
As Ms. Vaughnette Goode-Walker will tell you, "This is not a Black history tour. This is an American history tour."
She will take you through all aspects of Savannah and Southern history, from Native American interaction with settlers to the times of slavery to Southern economics, the Civil War, technological revolutions, and all things in between.
Come to this tour prepared to listen, but more importantly, to feel the history in Savannah.
Day Clean Journeys
'Day Clean' is a Gullah phrase that means "new day".
Dr. Jamal Touré is a remarkable scholar and teacher who conducts Day Clean Journey, a remarkable trip into the underground African American history of Savannah for his company Day Clean.
Dr. Jamal Touré shared his considerable knowledge of the history of Savannah and the people who built and inhabited the city, along with changes faced by the African-American community over the centuries. Many return customers
Tybee Island
When I left Washington D.C. for this first Savannah visit, my mind's images of Savannah were plantations, sweet tea, and horse-drawn carriages. However, I was greeted by shallow, blue waters and beautiful white beaches as we descended into Hilton-Head.
What I was seeing was Tybee Island, a nearby 3.5 sq miles allotment of islands and inlets about a 20-minute drive from Savannah. A popular town for families, history buffs, and water lovers*, this area is easy to walk around self-tour.
Or, if you want something more adventurous, take a segway tour and see even more of the area in just one hour. Tybee also has some magical wildlife you can learn about on an eco-friendly dolphin cruise* around the island!
Pinpoint Heritage Museum
The community was founded in 1896 by freedmen after the Civil War. The former factory has been transformed into the Pinpoint Heritage Museum educational center for visitors to authentically learn about the Gullah/Geechee culture directly from residents who grew up in the small, close-knit community.
Guests can discover these unique lifeways, from daily life to religion, language and food.
Yogi Soul Farms
YogiSoulFarms is run by David Betts, a young, Black naturalist who offers foraging tours in the backwoods of Savannah, GA.
The focus of the tour is on mushrooms, and you'll come across Lions' Mane, Turkey Tails, and oyster mushrooms, as well as more varied fauna such as loquats (also known as Japanese plums), mulberries, kumquats, chicken of the woods, figs, dates, and prickly pear cactus.
David doesn't believe in profiteering from the knowledge of an Earth that belongs to us all and allows guests to charge what they think the tour is worth.
This trip was sponsored by Visit Savannah.
Are there Black-owned hotels in Savannah, GA?
No, as of October 2021 there are no Black-owned hotels or bread and breakfast accommodations in Savannah, Georgia city limits.
Should we go to Savannah, Georgia, or Charleston, South Carolina?
If you're looking for unique Black history, Savannah Georgia is the better city to visit. Savanna intertwined the histories of the indigenous Americans, African enslaved peoples, and even Afro Caribbean populations throughout the 18th and 19th centuries.

Another thing that sets a part of Savannah Georgia is its open container of alcohol laws, which draws in large groups, celebrations, and parties year over year. It can have a New Orleans-like feel to it with outdoor celebrations, breezy Willow trees, and an overall relaxing air of joy and comfort.
What is Savannah Georgia most known for?
– Black history and culture
– Haunted history and ghost tours
– Blockbuster movies including Forest Gump and The Last Song
– St. Patrick's Day Celebrations, bachelorette parties
---
Let's chat in the comments:
what questions do you have about visiting Savannah, GA, and supporting the local Black-owned businesses there?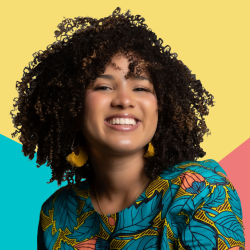 Latest posts by Gabby Beckford
(see all)