Reading Time:
8
minutes
Welcome to sunny San Diego! Arguably one of the best cities in the United States,  SD is famous for its historic Gaslamp District, beautiful beaches, and proximity to Mexico.
One quality that it's not known for is its diversity–especially for African Americans, who only make up 6.4% of the entire city's population. Here are more than 20 black-owned eateries for you to hit during your trip to support the warm, Southern comfort, cornbread-fed pockets of familiarity we do have in the area.
UPDATE: With the lockdown and stay-at-home orders devastating small businesses, I implore you to share and send this post to your friends and family and support your Black-owned businesses more than ever. I've also shared and tagged them on my travel Instagram account.
Tip: Scroll all the way to the bottom for an interactive map to easily find them, and a free downloadable checklist when you sign up to the newsletter.
1. Rhythm's Chicken and Waffles
 

 

View this post on Instagram

 
Located only 4 blocks from Pacific Beach, this black-owned beachside restaurant is the hot spot to get your chicken and waffles for brunch, lunch, dinner, or an almost-midnight-snack as they are open from 11AM – 11PM.
Grab your tray and some syrup to-go, and hit the boardwalk!
1138 Garnet Ave San Diego, CA 92109
2. Bowlegged Barbeque
 

 

View this post on Instagram

 
Bowlegged BBQ is a Black family-owned food spot, which makes it extra special. Three siblings co-run it—a sister is one of the head cooks, a brother is the business-savvy behind the scenes, and the last brother… well, he's Bowlegged. Seriously, that's his name!
And astonishingly, many of their children work there as well. This extended family is almost as sweet as their BBQ sauce, and any review you find will comment on the warm energy in this joint.
4255 Market St. San Diego, CA 92102
3. Street Car Merchants
 

 

View this post on Instagram

 
Can you say African American family-owned and operated? Situated in North Park, come by to find classic southern dishes and Louisiana favorites on their all-day menu of brunch, lunch, and dinner. 
4002 30th St. San Diego, CA 92104
Black people only make up 6.4% of the population of San Diego, and even less of the primarily Italian and American food scene. so Supporting the black-owned businesses that do exist is vital—start by visiting these food spots! Click To Tweet
4. Da South In Ya Mouth
 

 

View this post on Instagram

 
Situated in Chula Vista and the closest in the list to Mexico this black, woman-owned spot truly puts 'da south in ya mouth'! Owner Andra Riles was born in rural Georgia where she learned to cook not with quality utilities and measurements, but with her 5 senses and intuition. Her grandmother was the main cook for their church and with Andra always tagging along, it wasn't long until cooking became her sanctuary.
Southern soul food is truly her passion, and she says Da South In Ya Mouth is not just a business—it's the culmination of a culture, and her goal is for you to come here and sense the Southern hospitality that values its customers above all.
902 3rd Ave Chula Vista, CA 91911
5. Coops West Texas BBQ
 

 

View this post on Instagram

 
For authentic slow-smoked barbecue in San Diego, you have to stop by Coop's. They take their time smoking their meats, crafting their sauces, and serving their sides, and all with some Southern customer service on the side.
2625 Lemon Grove Ave. Lemon Grove, CA 91945
6. Breakfast Bitch
 

 

View this post on Instagram

 
Established by Owner Derrell Hustona in Hillcrest, and operated by San Diego's baddest bitches. Breakfast Bitch's menu is full of light, yummy bites, and the restaurant's energy is positive, fun, and modern vibes.
3825 Fifth Avenue San Diego, Ca 92103
We're supporting black-owned businesses all 2020. If you're in San Diego, make sure you give your dollars to these black, family-owned, women-owned, and multi-generational restaurants. Click To Tweet
7. Sucker Free South Plate and Bar
 

 

View this post on Instagram

 
"Unapologetically southern in their food, drinks, and attitude"
This establishment is owned by the same Black entrepreneur of StreetCar Merchant. If you're in the historic Gaslamp District come by for some of your Southern favorites: shrimp and grits, chicken gizzards, frog legs, fried okra, oxtail, and cream sodas.
751 Fourth Ave San Diego, CA 92101
8. Felix BBQ with Soul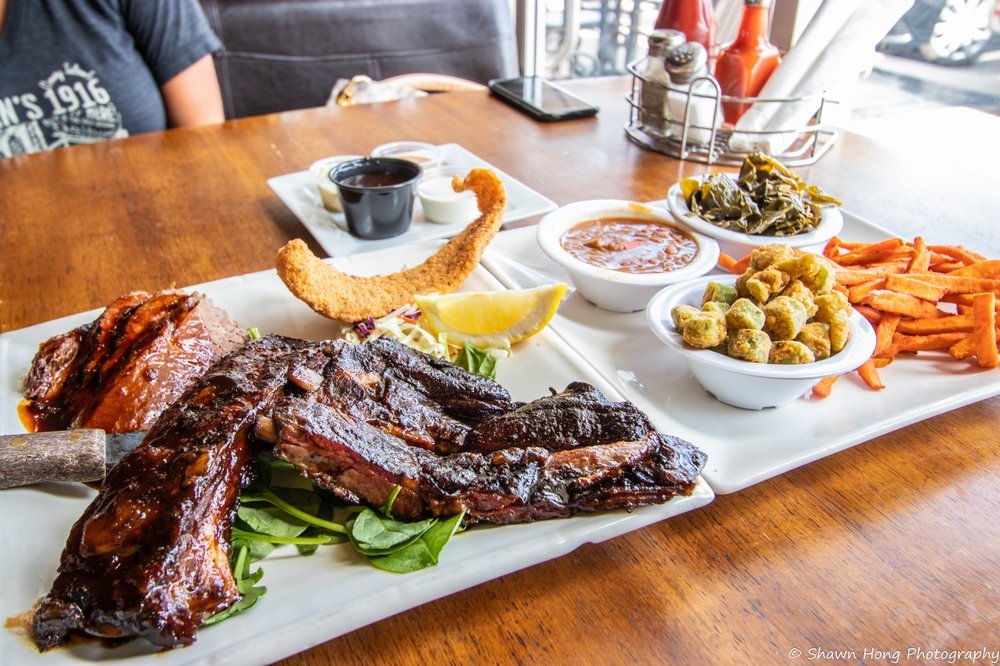 Up I-5 in Oceanside, you'll find Felix's BBQ with Soul. A barbeque breakfast menu might be rare but Felix's delivers that and so much more. Owner Felix Berry, originally from Alabama, serves up sweet potato Belgian waffles, chicken fried steak, and apple-cinnamon pancakes for breakfast, along with a whole host of classic barbeque favorites on the lunch/dinner menu.
"Barbeque is what we do. Soul food is who we are, is the motto that Felix claims, and you will see him in the restaurant more often than not chatting with his customers and making sure the southern hospitality is as sweet as their sweet tea!
3616 Ocean Ranch Blvd, Oceanside, CA 92056
9. Bankhead Mississippi Style Cooking
 

 

View this post on Instagram

 
In Spring Valley—only 20 minutes away from the Gaslamp District—this southern spot brings together three generations of Mississippi chefs.
They claim to keep the traditional down-south flavors and comfort feelings, with slight adjustments to make these recipes a lot more healthy.
8300 Paradise Valley Rd Spring Valley, CA 91977
10. Rock Steady
 

 

View this post on Instagram

 
Listen… I'm half-Jamaican. And Jamaican's know that any good Jamaica house doesn't market traditionally with Instagram or Twitter—they are word of mouth.
Well, I had so many local Black San Diegans tell me I had to include Rock Steady in this list, I knew they must be good! At Rock Steady Jamaican Restaurant they serve all of our island favorites like Curried Chicken, Jamaican Patties, Jerk Wings, Soup, and even a fusion Jamaican Southern Fried Chicken, and you can even order online for carryout.
2820 Market Street San Diego, California 92102
11. Cane Patch Kitchen
 

 

View this post on Instagram

 
Hop off your flight and head straight to the Cane Patch Kitchen! Minutes from SAN inside Liberty Station Market, get your cajun and creole fix by ordering a po boy, jambalaya, beignet, fried oysters, or chicken basket, and float away into their soft buns and cajun fries.
The experience is only made better by walking outside, sitting by the water, and watching planes take off!
2820 Historic Decatur Rd San Diego, California 92106
12. The Morning After
 

 

View this post on Instagram

 
The Morning After is a breakfast, brunch, and bar in San Diego's historic Gaslamp Quarter. From their stacked Bloody Mary's to the waffles and Oreos, this restaurant's menu is bold, creative, and delicious.
I have to personally recommend their Late Night Happy Hour: Friday and Saturday from 9PM to 1AM they have a late-night menu that's to die for. Kobe beef sliders… $5 shots… What more could you want? 
531 F Street San Diego, California 92101
13. SMACK'N Guamanian Grill
 

 

View this post on Instagram

 
The SMACK in "SMACK'N Guamanian Grill" is an acronym for Sudo-Mesa Authentic Chamorro Kitchen.
The owner's family name is Sudo Mesa and they hail village of Yona, Guam. The matriarch of the family, Rosa Baza Sudo Mesa, was a small business owner back on the island who raised cows, sold milk and beef to the Artero Store in Agana Heights, selling baked goods at her home bakery, and ultimately helping others during funerals, weddings, christenings, and other events.
Her half-Guamanian, half-Black grandson, Christian Graham, is the now-owner of SMACK'N's location in Miramar. Stop in for some traditional, yummy island eats and a cultural explosion.
506 Miramar Rd.​​​​​​​ San Diego, CA 92126
14. Island Spice
 

 

View this post on Instagram

 
Jamaican, on-demand! Order delivery or pick up your Caribbean favorites like Jamaican BBQ, jerk chicken, curry goat, and oxtail.
6109 University Ave San Diego, California 92115
15. Surf & Soul Spot
 

 

View this post on Instagram

 
This "Seafood Soulfood Takeout" spot is all the rage in San Diego right now. Recently reopened within the last 2 month the establishment sports fried catfish, popcorn shrimp n' grits, lobster rolls, with the mac n' cheese, cornbread, and sweet candied yams. Also… $16 plates (1 meat, 2 sides) and $20 combo plates (2 meats, 2 sides).
Yes. Much yes.
7229 El Cajon Blvd., San Diego, CA 92115 
16. Spoiled Vegan Cafe
 

 

View this post on Instagram

 
Imma just say it, Black people have near-impossible standards for vegan food. We need flavors, spices, and a certain umph that's hard to find commonly in plant-based food. But Spoiled Vegans has done the near-impossible.
With fresh ingredients sourced from the top produce places in San Diego, their menu which hosts vegan maple pepper bacon, Spanish omelets, veggie quiche, chili & cornbread waffles is sure to impress even the most ardent carnivores.
440 16th St. San Diego, CA 92101
17. Protein Plate
 

 

View this post on Instagram

 
"Eat Better, Be Better" is The Moss family's motto and the mission for their Protein Plate customers.
This family of talented athletes serves up they themselves eat themselves, from protein-packed chocolate chip pancakes to an assortment of delicious wraps. It's extremely refreshing to see Black eateries embrace and encourage a healthier lifestyle for our community, and with their affordable pricing and vegan options, every person can find 
And as The Moss' say, "Don't settle. Be amazing!"
2322 Proctor Valley Rd, Chula Vista, CA 91914
Black people only make up 6.4% of the population of San Diego, and even less of the primarily Italian and American food scene. so Supporting the black-owned businesses that do exist is vital—start by visiting these food spots! Click To Tweet
18. Flavors of East Africa
 

 

View this post on Instagram

 
Sambusa, massala fries, mbavu, pilau, mbuzi goat, nyoyo… Get your Kenyan favorites here! This establishment's public request on their Yelp page is a poignant reminder that when we patron our Black community, be kind and understanding:
"We need your Support to [help] familiarize East African food. Rest assured, we are exotic [read: foreign] ergo, we may not have a perfect well-oiled system and may result in giving mixed signals to valued customers. We will nonetheless work on these areas. We aspire to serve honest food at a reasonable price. We aspire to offer a comfortable ambiance to our esteemed customers.  Welcome all, and enjoy our humble hospitality."
2322 El Cajon Blvd, San Diego, CA, 92104
19. Pete Mayo's Original Waffle Burgers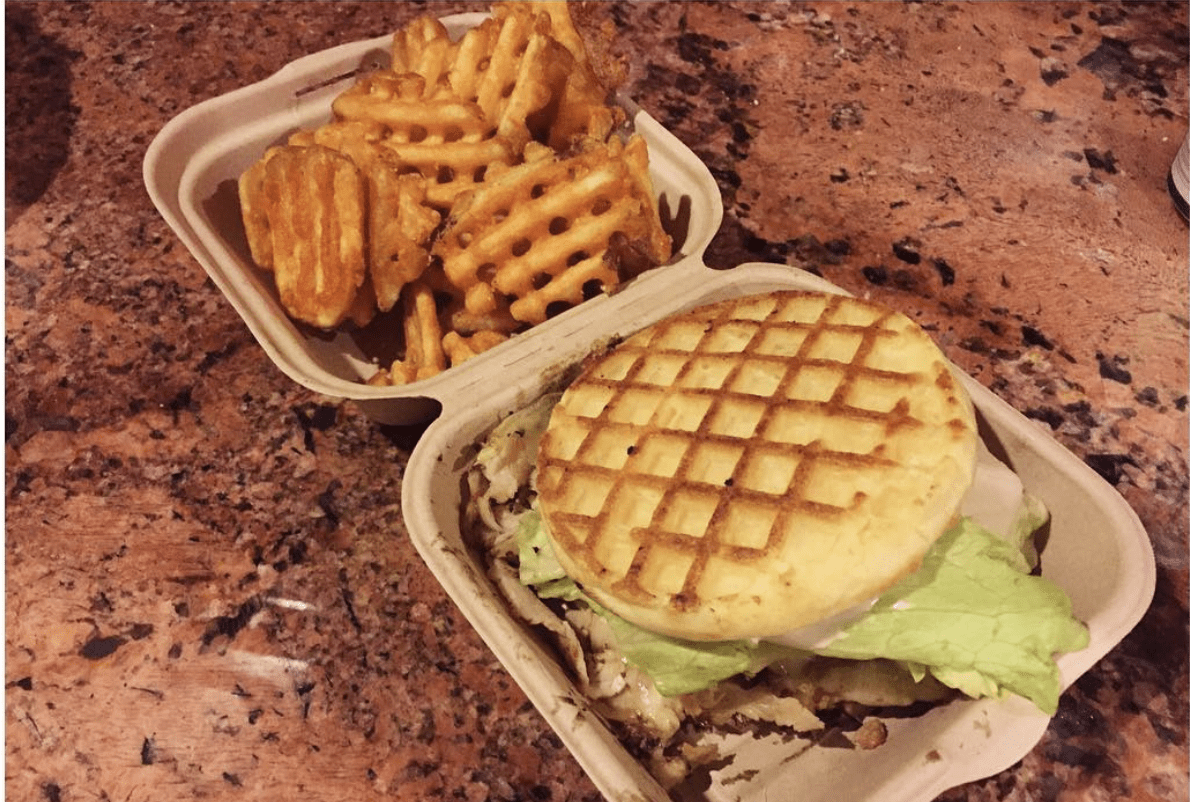 A hole in the wall. Literally. There are 4 tables here and a paper menu on the wall, that's it! But then ya know it's gonna be about the food, right?! That's what Pete, the owner, and cook, relies upon.
This is where someone goes for home-cooked flavor and some pretty badass food combinations. I bet you've never had a  waffle hamburger before… How about one with blueberry waffles? Well, come try it, for Pete's sake!
5044 Imperial Ave, San Diego, CA 92113
20. ACKEE Tree Jamaican Cuisine
 

 

View this post on Instagram

 
Owners Lee & Tiffany combine their hometown flavors from Jamaica and Chicago to create a menu of fresh, authentic Jamaican food that will have you feeling a Caribbean breeze with every bite, sip, and slurp.
5712 El Cajon Blvd, San Diego, CA, 92115
21. Tropical Savor Bar & Grill
 

 

View this post on Instagram

 
This Latín-Caribbean Restaurant features Puertorican, Dominican, Cuban & Jamaican cuisine, with its authentic flavors & great cocktails. Be warned: Dancing might occur at all times of day, and you might get a little merengue with your Rabo De Vaca Guisado or sancocho! 
729 Fourth Ave, San Diego, CA 92101
22. Louisiana Purchase
 

 

View this post on Instagram

 
Lousiana in North Park, San Diego—a dream! They are self-described as 'a modern interpretation of a classic French Quarter restaurant'.
This mid-priced restaurant will put a Mardi Gras in your mouth with its flavor-packed, eclectic, but delicious menu containing items like Alligator Andouille Cheesecake, Sriracha lime buttered Crab Fingers, and crispy Parmesan Chicken Skins. When enjoyed on their patio seating, you'll feel inclined to sip lemonade and imagine the peaceful sounds of the bayou, on the West Coast!
2305 University AveSan Diego, CA 92104
Map of Black-Owned San Diego Restaurants: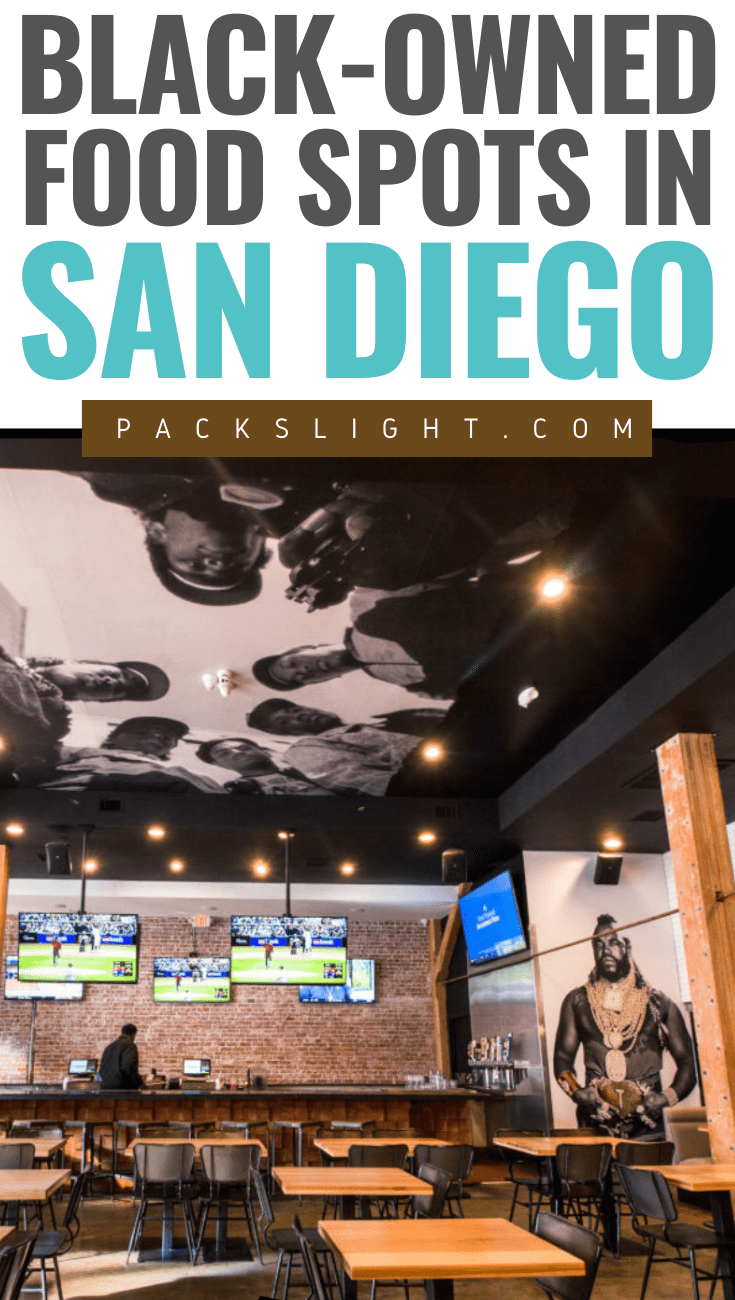 Latest posts by Gabby Beckford
(see all)