Latest posts by Jenny Hor
(see all)
Reading Time:
3
minutes
This post may contain affiliate links – meaning that if you purchase something through a link, I get a small payment for it (at zero additional cost to you). It is a much-appreciated way to support this website!
Penang is a city in Malaysia where visitors can experience a diverse and beautiful local culture while getting extremely unique and Instagrammable photos. There are two hotspots that draw upon Malaysian aesthetics through their playful art style. Here, visitors can interact and make funny poses with quirky artwork.
Mural Art in Armenian Street
Have you ever heard of the famous mural art named 'Children on the Bicycle' in Penang? You might have seen photos of it gone viral on Instagram or circulating on Pinterest. For good reason!
Located near the jetty, Armenian Street is a UNESCO Heritage site surrounded by Chinese temples, clan houses, and mini-museums.
[one_half]
[/one_half][one_half_last]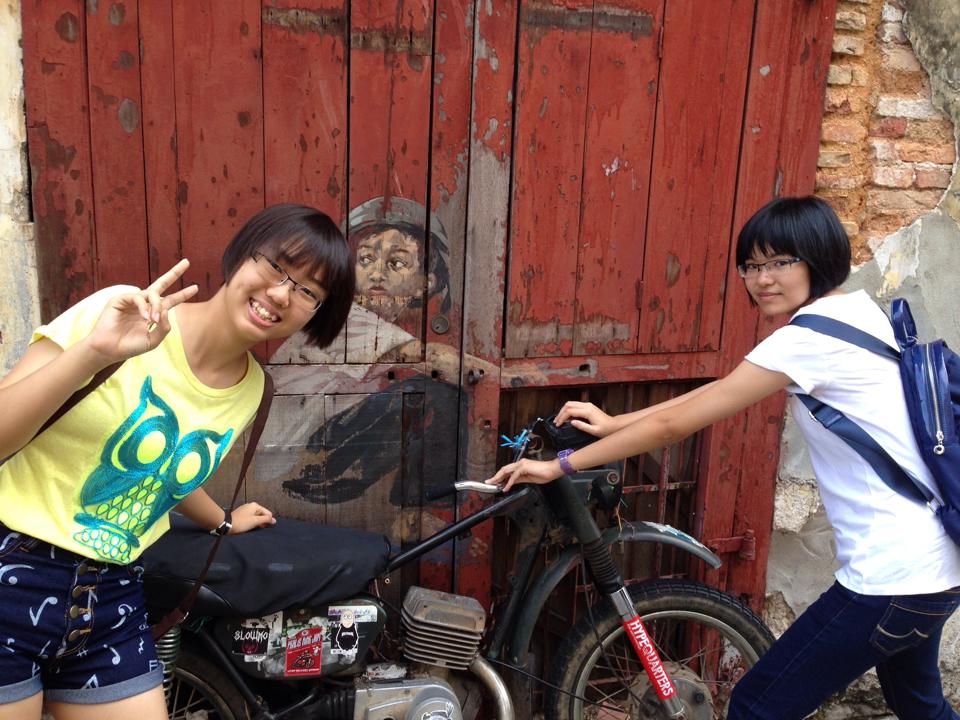 [/one_half_last]
There are souvenir shophouses in which the building construction maintains its original 19th- century design. It is a tourist spot where people from around the world gather to appreciate the street arts that reflect the local and popular culture, and if you're lucky, you may find some street performers presenting their creative skills.
This spot is also a treasure chest full of antique snacks of the past century. My personal recommendation is the ice ball—an old and cold dessert flavored by the older generation. It is shaved ice formed into a sphere with syrup of your choice added to enhance the flavor, it's delicious!
Eating this under the sun while walking on the Penang streets is total bliss. In addition, you can find durian-flavored treats around the area (if you dare to try it) where they have cafés dedicated to the king of all fruits.
Pro tip: The weather in Malaysia tends to be hot, make sure to wear sunscreen and bring water when walking around Armenian Street.
Penang Upside Down Museum
It is the perfect opportunity to channel your inner Spiderman when you visit the Penang Upside Down Museum. Everything in the museum is inverted, so you have to walk on the ceiling or the walls with the floor above you. A unique experience that ignites the fun within people of all ages.
Upon entering the building, you will be taken to a fully furnished, standard living unit… except it is built upside down!
[one_third]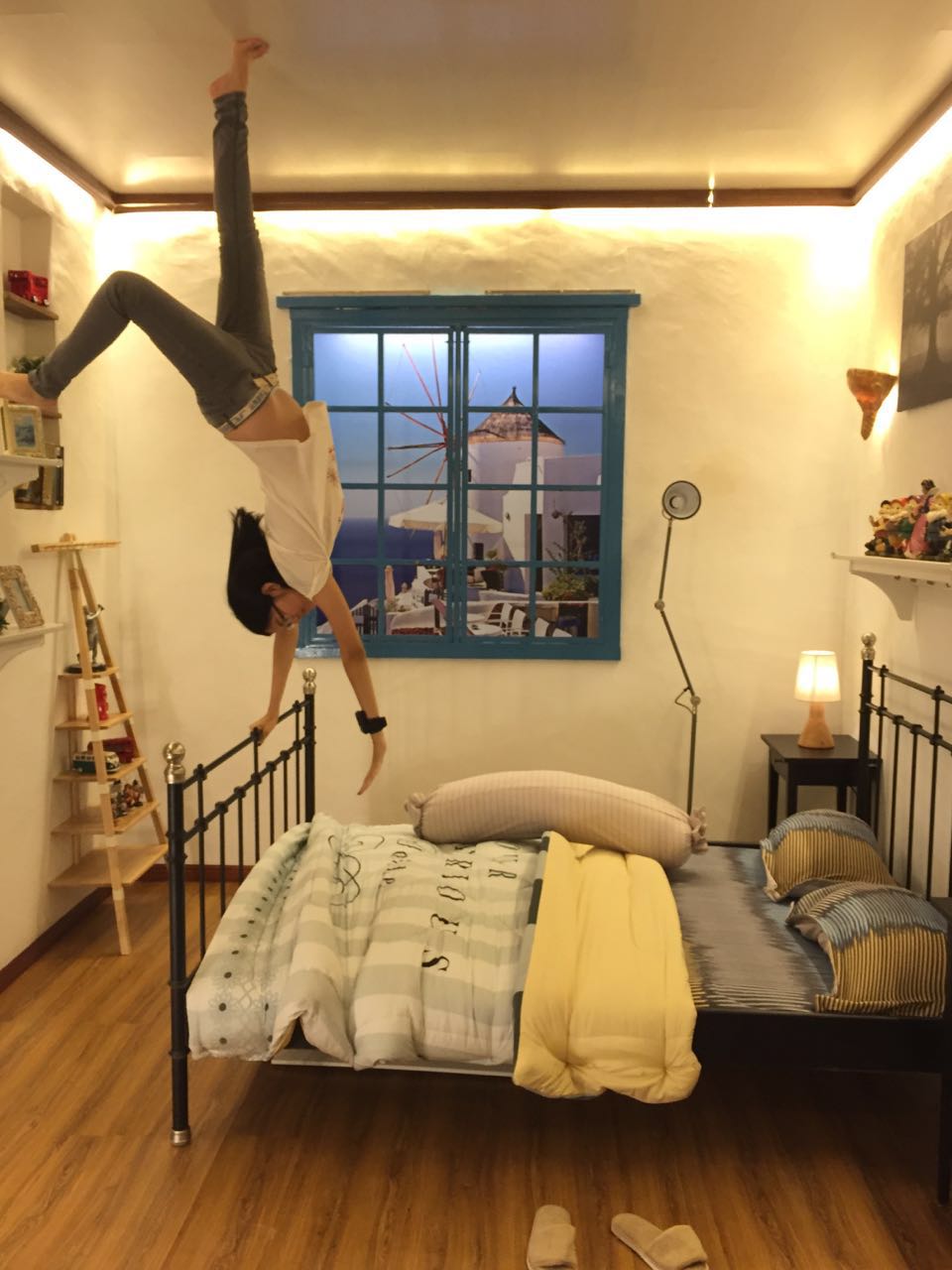 [/one_third][one_third]
[/one_third][one_third_last]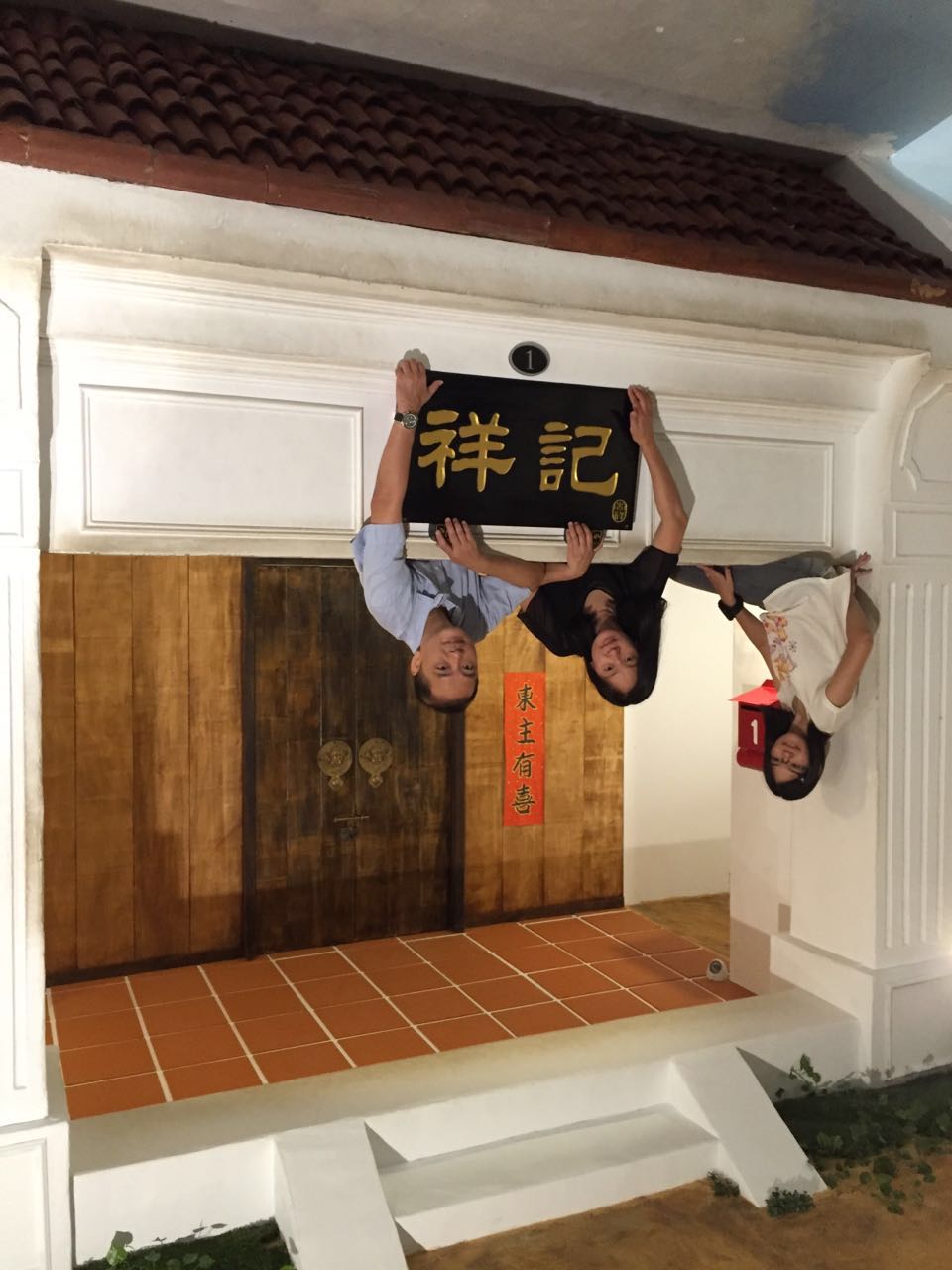 [/one_third_last]
You have to walk down the stairs with your hands while struggling yourself to reach the ground. You will find yourself having a hard time getting to the objects on the floor. Don't worry, I had the same problem when I visited and it took me a short while to get used to the unfamiliar setting. 
Aside from the typical household objects and rooms the museum also showcases 20th century Penang. There is a traditional coffee shop which is called a Kopitiam where they serve Kopi-O (black coffee) in small white porcelain cups, along with a grocery stall within a Baba-Nyonya style shophouse.
These spots have become rare as urbanization has slowly taken over these jewels of the past.
The entry price is RM16 (around $3.75 USD) for non-Malaysian visitors. I highly recommend bringing a camera or phone to take pictures when visiting these locations.
You can ask the friendly staff to take photos of you hanging upside down like a bat! After making some alterations on the pictures, you will find the results surprising.
There are other art museums you can visit around Penang such as the 3D Trick Art Museum or the Penang Tunnel Museum.
However, I recommend these two locations as they will best help you fully immerse yourself in Penang's architecture and lifestyle. Experiencing the art of Penang and Armenian St. is a delight and is bound to be a highlight of your trip!
---
Have you visited Penang? If not, do you plan to? Drop a comment below.
Are you interested in writing for Packs Light? Apply to become a contributor.
[one_half]
[/one_half][one_half_last]
[/one_half_last]