Ah, my home. My heart. My city. Richmond, Virginia.
Aside from just being the capitol of the state, Richmond (RVA) is a quirky, urban town right off I-95's exit 76B. It's also where I happen to call home, as I've lived here since August of 2013 to go to university (Go VCU!) and where I really did most of my developing as a person.
Richmond is well-known historically for being the capitol of the Confederates during the Civil War, while just being 100 miles away from Washington D.C., the Union's capitol.
In more modern times, RVA was named America's 3rd Most Tattooed City in 2011, or recently being named as one of the ten locations in "Where to Eat in 2016", by National Geographic.
However, from what I've seen, neither of these things are what people remember when they leave Richmond. Yeah, sure, the city is filled with food and tattoos.
But something else is a little more memorable. The fact that is that Richmond is also tattooed itself—by huge, elaborate murals!
This is partially due to a community project implemented by Shane Pomajambo, an avid art collector who is infatuated with large scale mural arts.
Popular destinations for street art include cities like New York City, Los Angeles, Miami, and Pittsburgh—but there's something about Richmond and it's murals that have a completely different aesthetic. Here, the murals are as common as windows and doors, adorning every available surface possible and make the city feel welcoming and energized.
Straight from their website, the Richmond Mural Project's mission statement is as follows:
The Richmond Mural Project is a yearly event with the goal of creating over 100 murals by world renown talent in the first 5 years alone. The recurrence and solidification of the project throughout this time will establish Richmond as a landmark destination for internationally recognized murals and will create exposure for the city, establishing it as a premier art destination.

By concentrating a large number of murals throughout the city the project will increase tourism and will bring the much needed "Feet on the Street" which will help local business thrive.
| | |
| --- | --- |
| | |
Some of these amazing pieces of art are also attributed to the RVA Street Art Festival.
Every year this organization takes to a different area of Richmond, VA and employs students and local artists to paint the town red! And blue. And orange. And many other colors and figures of beautiful art.
Art lets us find ourselves and lose ourselves at the same time. Click To Tweet
They make the 3-day festival an event to  unite the entire community in art, education, and charity, always sending their proceeds to meaning local charities like ART180, Art On Wheels, and Studio Two Three.
Straight from their website:
The RVA Street Art Festival showcases amazing local and national artistic talent and revitalizes communities in need of some color and creativity. 

The focus of the RVA Street Art Fest three-fold: supporting youth art education, discovering local talent, and bringing life to our beautiful city.
And the RVA Street Art Festival seriously delivers on that!
Finally, the unique mural artistry of Richmond, Virginia is in part by solo artists. Local businesses and organizations commission the painting of beautiful pieces such as the in the photo above, done by artist Colette Miller.
They are a part of her Global Angel Wings project, and she paints them worldwide to promote peace and hope.
Edit: She actually commented below on this very post!

Similar artists from around the world flock to Richmond, Virginia for the opportunity to add their unique piece of perspective and creativity to this welcoming and inspiring city!
And they contribute to what is, in my opinion, one of the most gorgeous destinations for street art in the United States.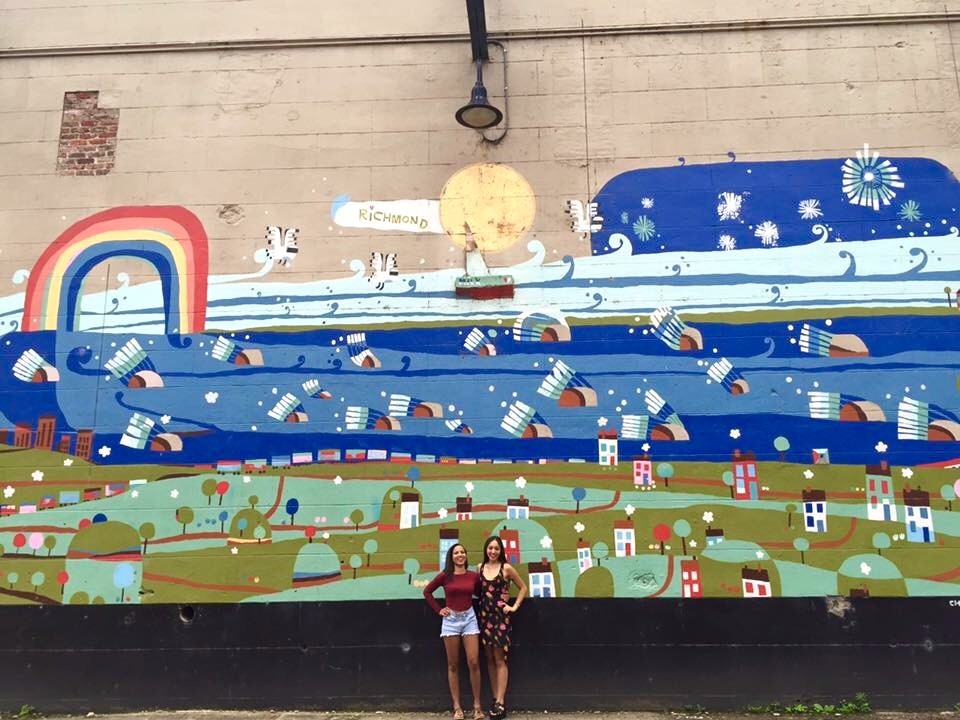 The street art here is something to be proud of. Something to show off to friends and family when they visit my little city.
They're the backdrops to most of the photos that my friends and I take after going out to lunch together in Carytown, or visiting the VMFA.
Places to see incredible #streetart: LA, Miami, NYC... Richmond, VA? #RVA Click To Tweet
These huge murals are on the sides of restaurants, and shops that say, "Yep, you're still in Richmond!".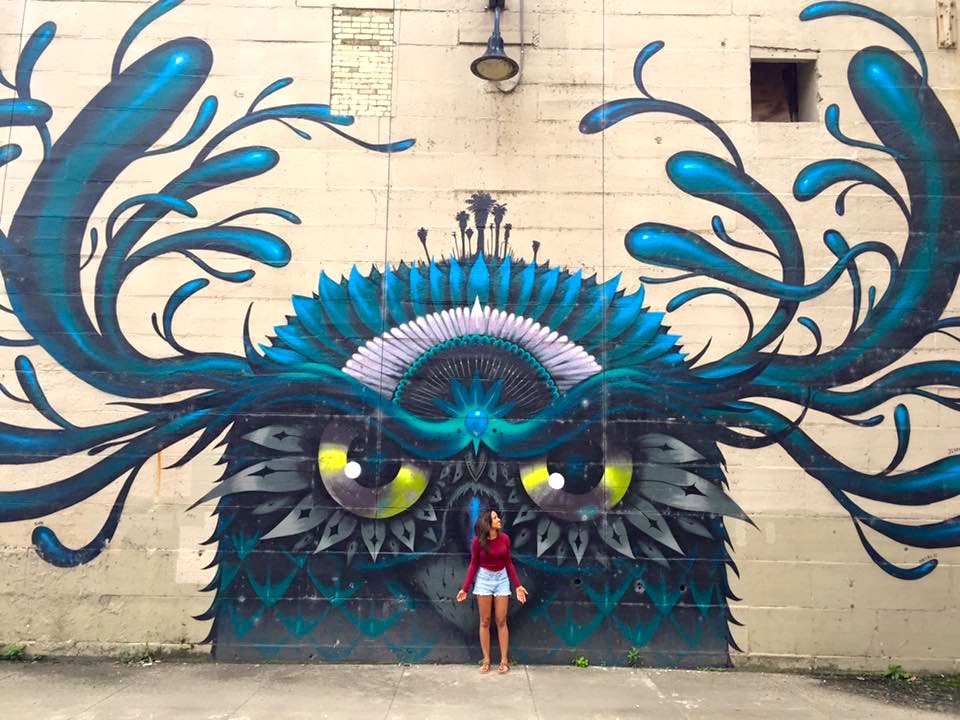 I hope you've enjoyed this gallery of only some of the over 100 spectacular murals of RVA!
These murals helped paint my college experience, and I know they paint the lives of all of Richmond's residents!
You can find location of almost all the murals in this article by checking out my other article, "Richmond, Virginia Street Art Scavenger Hunt (Map!)" and seeing these beauties for yourself!
---
To see an interactive Google Map of all of these murals,
click here!
These murals truly paint Richmond, Virginia to as the spirited, fun place that it is.
And that's why I want them to become famous! Next time you're driving on I-95 and you pass a sign that says Richmond, Virginia, I want you to pause and think about this post, and hopefully take the time to visit this little city yourself and be charmed into falling in love with it just like I was!
So SHARE this post with your friends and family, so that Richmond, Virginia and it's artists can get the recognition they deserve!
---
Have you ever been to Richmond, VA and seen these gorgeous murals? Which piece was your favorite?
Tell me in the comments below!
| | |
| --- | --- |
| Pin me, please! | Pin meeee! |