Reading Time:
4
minutes
This post may contain affiliate links – meaning that if you purchase something through a link, I get a small payment for it (at zero additional cost to you). It is a much-appreciated way to support this website!
This post may have affiliate links. Meaning if you buy something using them, I get a small % for recommending it. It doesn't change the price for you at all and it's a super easy and nice way to say thanks for the work I did writing this 🙂 Cool? Cool!
Welcome to my city! As a DMV local for the majority of my life and a frequent Washington, D.C. explorer, let me tell you now that you're going to love it here. I made this Washington D.C. bucket list not only as a tool for travelers to get the most of their time in D.C. but also for my own use, to see what secrets D.C. held that perhaps I hadn't even seen.
And let me tell you… I guess 'local' has been a stretch of my imagination. Judging from how many checks I have on my bucket list (scroll down), you'd think I had never been to the city! Out of the 74 items on this list, I've only done 8 after living in the area for more than 11 years.
Yikes, I have a lot to catch up on.
In my defense, I've been living in Richmond, VA since I was 17 for college and spent my 21st year studying abroad in Dubai, so I haven't really had a chance to go out into the city on a regular basis to explore. But after researching, asking friends, and compiling what I have done in the city, I'm now on a mission to check off everything on the list with you.
D.C. staple attractions like Ben's Chili Bowl and the White House will have you really feeling like you know the city. But the lesser known items like Blagden Alley, the Arboretum, and wandering Meridian Hill Park will show you the true spirit of this historic city.
VERY D.C. BUILDINGS
The Library of Congress

Have a moment of silence at Arlington Cemetary

The Congressional Cemetary

Theodore Roosevelts Memorial Museum

See a sunrise/sunset at the Lincoln Memorial

*

Society of the Cincinnati Anderson House

Ford Theatre (where President Lincoln was assasinated)

The Basilica

The Franciscan Monastery

*

The National Cathedral

*
D.C. MUSEUMS
Visit 2 of the 19 Smithsonian Museums

Notably, the Renwick Gallery

*

The Newseum

The Spy Museum

The Holocaust Museum

The American-Indian Museum (includes free guided tours)

The National Geographic Museum

The Huerich House Museum

The Phillips Collection Museum

Feel psychedelic at the Hirshhorn Museum

*

Enjoy some jazz at the "Jazz in the Sculpture Garden" event at the National Gallery of Art

*

The U.S. National Arboretum

*
D.C. RESTAURANTS & FOODERIES
Sakuramen

Ben's Chili Bowl

Take a panoramic photo at the Top of the Gate at the Watergate Hotel

*

Red Velvet Cupcakery

Thai Xing

Zaytinya

Rose's Luxury

*

Busboys & Poets

*

Try a whiskey soft-serve at Airedale

Take a sunset selfie at POV rooftop at The W Hotel (21+)

*

Beat your friends at Sorry! at the Board Room Bar (21+)
Visit one of D.C.'s many pop-up bars

*

Bluejacket Brewery

Live mas for Bargain Wednesday at 100 Mondanitos
Ever had a whiskey soft-serve? That, and more ideas of how to spend your Washington DC visit, here:
Click To Tweet
WALKABLE D.C. EXPLORING
Eastern Market (go on a Sunday!)

Union Square Market

Attend an event at Embassy Row

Rock Creek Park

Roosevelt Island

Stand under the Friendship Archway in Chinatown

*

Bloomingdale Neighborhood

U-Street Neighborhood

H-Street Neighborhood

Hillwood Estate and Gardens

Visit Meridian Hill Park in Columbia Heights

Georgetown Waterfront

Kenilworth Park and Aquatics Garden
D.C. NIGHT LIFE (18+/21+)
Disappear underground into Heist

Dance and sing a song on every floor in Decades

Dress to impress and lounge in luxury at the Park at Fourteenth

Feel sexy and dangerous at Sax

Eighteenth Street Lounge

Salsa your life away at Cabana Village or Cafe Citron
MISCELLANOUS D.C. IDEAS
Enjoy a free movie with the family at Golden Cinema (aka Farragut Park)

Witness the Evening Parade at the Marine Barracks

Take a D.C. by Foot walking tour
Walk through Blagden Alley—D.C.'s Outdoor Alley Museum

*

Photograph at least 10 of the 200+ street art murals around the city

*

See a Washington Wizards or Nationals Game

Take a tour on the Hop On Hop Off bus
See a show at the Kennedy Center

*

See who's playing at the 9:30 Club

Try to catch an annual festival, like the Cherry Blossom Festival

*
* These items are extremely Instagrammable!
You can see my in-progress D.C. bucket list below:
I've traveled the world, and I still truly love this city. Compiling this bucket list has only shown me how much more if it is there is to love, and how much I want to share this city's lovely secrets!
The activities I look forward to doing the most include the infamous Renwick Gallery, having a game night at Board Room with friends, visiting the African-American History Museum, and hopefully one day getting a helicopter tour of the city.
74 Ways to experience #WashingtonDC—a free, downloadable bucket list for your DC trip
Click To Tweet
You can download your own copy of this bucket list PDF by signing up for my email list using the form below. Once you do, you'll get a confirmation email with a PDF of the bucket list, blank, and ready to be filled out by you!
You can print it out, and fill it out during your stay in D.C. If you do use this bucket list and check some things off, send me a photo of your filled out list 🙂
---
Be sure to use the share buttons at the bottom of this page to share this with your other friends visiting Washington D.C.
If you find this bucket list helpful, let me know in the comments below. Like I said, I'm a DMV local who wants to knock more things off of this bucket list too, so if you're in town drop me a line and maybe we can hit some of these things together!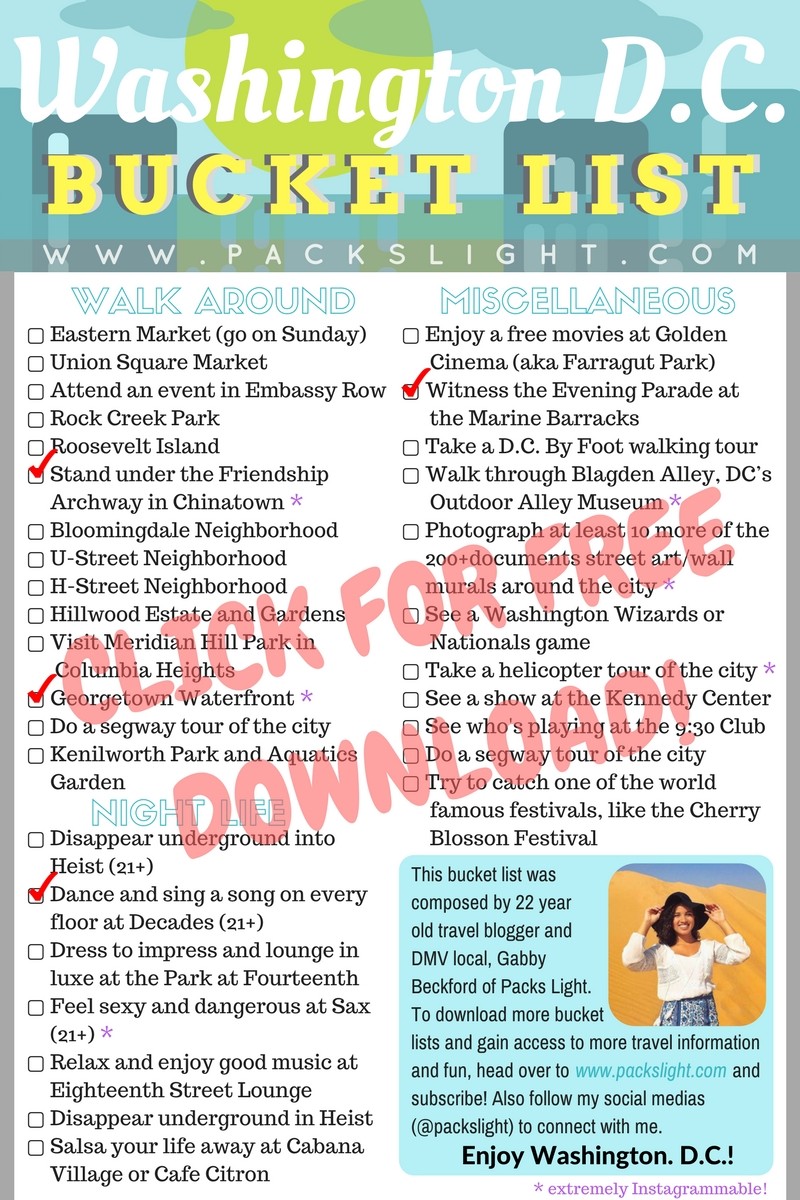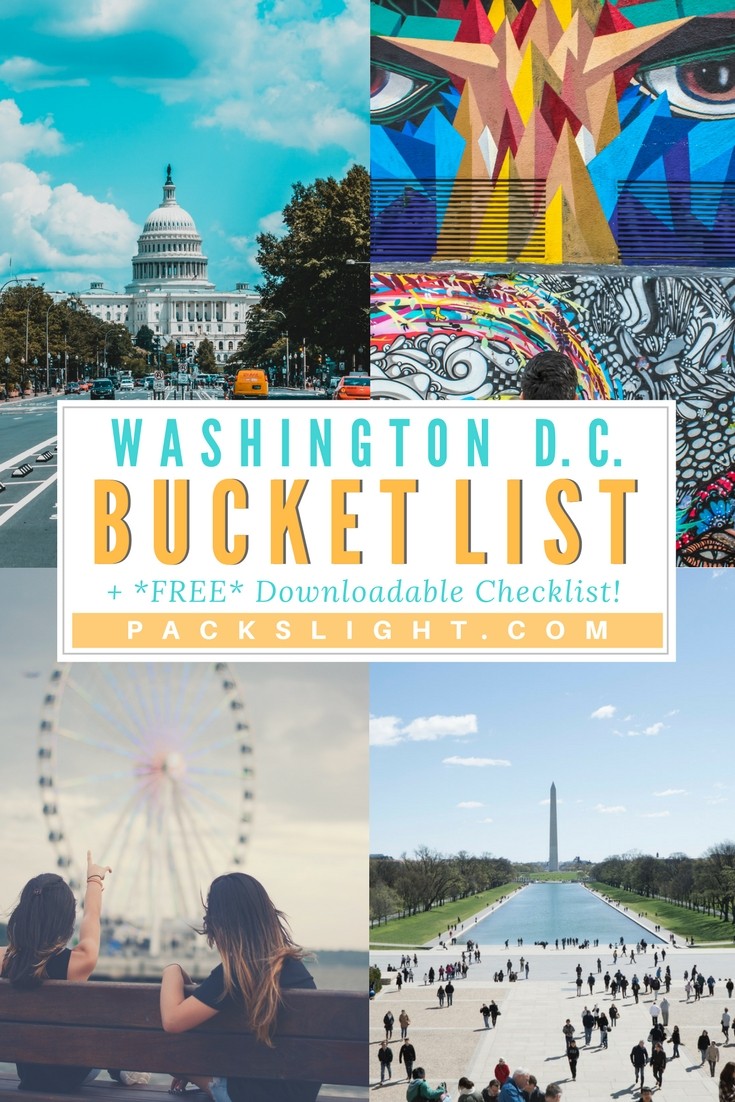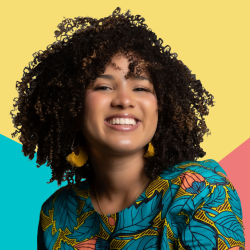 Latest posts by Gabby Beckford
(see all)