Reading Time:
7
minutes
Last year I spent my spring break in London, England. I had an amazing time but let's just say I wasn't drinking mojitos in my bikini at any point during the trip. Well, this year I did a 180° turn and planned a fun-filled, sun-filled week in Puerto Rico!
My friend Hannah and I spent 6 days and 5 nights in an AirBnB in Old San Juan and had an amazing time—and as college kids you know we had to finesse it all on a tight budget. I'm sharing with you our itinerary and exactly how much it costs to visit Puerto Rico, in hopes that you too will find San Juan the perfect balance of piña coladas and culture.
*Last updated 10/7/18
---
Day 1: Welcome to Old San Juan
We touched down at 2:30 PM March 7, 2016, in San Juan's Luis Muñoz Marín International Airport and hopped into a taxi into Old San Juan to our Airbnb. The Airbnb itself was perfect for us as we were within walking distance to a local university, museum, and of course the infamous El Morro. We dropped off our things and walked around (but not in) El Morro, and down by San Juan's Cemetery.
As the day went into the evening we walked into inner Old San Juan down Calle de San Sebastion. Somehow we ran into a group of Hannah's friends from home (seriously, what are the odds?) and joined them for dinner at a restaurant called Moreno Spot. I ordered a very strong margarita and a small pizza.
Expenses of the Day
Beware: Old San Juan is very expensive for food and drinks!
If you have a kitchen I suggest a balance of cooking for yourself and eating out. I usually cook a simple breakfast every day and carry snacks in my bag. Also, a college pro-tip, if you buy your own bottle of alcohol and carry a flask while you're out, you can just pay for a soft drink instead of a mixed drink with can be up to 3x cheaper. Taxies are also going to be a significant part of your expenses if you don't rent a car.
– Taxi from Luis Muñoz Marín airport to Old San Juan: $24
– Average meal at a casual restaurant: $20 – $25
– Average alcoholic drink (rail drinks, mojito, margarita, piña colada, etc.):  $7 – $12
– Average soft drink: $2
– Average car rental: $65/day
– Average taxi ride: $15 – $20
– Average AirBnb per day in Old San Juan: $80/day
Day 2: El Morro, Bacardi Tour
We woke up early to buy groceries from a local Walgreens for breakfast because, as I've said, we are ballin' on a budget. After eating we walked to El Morro and did the actual tour of the grounds which was breathtaking, hopefully as demonstrated by the photos! The fresh sea breeze and wide-open skies were in complete contrast with the magnitude of the weathered fortress.
We then went on the famous Bacardi Factory tour in Cataño, a town just a 15-minute ferry ride away. The tour itself was moderately interesting, but it was mostly fun to see a bit of Puerto Rico outside of San Juan and we had a fun time just relaxing and sipping out complimentary Bacardi drinks (buy sipping I mean gulping, and by relaxing I mean ascending to heaven.)
The night started out pretty slow and Señor Frog was not living up to its reputation. But it picked up speed after we got to NoNo's, an absurdly loud bar near our Airbnb in Old San Juan.
After having the strongest drinks of our lives at the lower level we headed to the top level and played pool with some locals. Eventually, the night did start to blur… but luckily for us, we were within crawling distance to our beds!
Expenses of the Day & Budget Tips
The ticket to gain entrance into El Morro can also be used for entrance into Cristobal, and it can be reused for unlimited entrance to both forts for up to a week after you buy it!
– Ticket for El Morro: $5
– Ferry ticket to Cataño: 50¢/person
– Taxi ride to and from the pier to Bacardi Factory: $3
– Bacardi factory basic tour: $13.38 each, which includes the informational tour and one free drink.
– Bus ticket from pier back to Old San Juan: 50¢/person. The bus system is very unreliable though, so it will likely be $5 per person for a taxi ride back.
Day 3: El Condado Beach
After waking up much later than planned (read: moaning in bed all morning taking Aleve and donning sunglasses inside), we decided the perfect hangover cure was a beach day.
We caught a taxi to El Condado Beach and laid out on our towels to enjoy the palm trees and 80 degrees. On the beach, we befriended two more puertorriqueños and grabbed lunch at Bun's Burger Shop, a local favorite (at least says those two). Afterward, we headed back to the beach to soak in as much sun as possible until the afternoon rain came.
After a homecooked meal and siesta, we headed over to Señor Frogs to try our luck again and this time was not disappointed! Luckily for us it was ladies' night, so drinks, dancing, and embarrassing tourists were bottomless.
The venue was packed with partiers of all ages (believe me, from girls with braces to old men with toupees) and everyone was into the electric MC that led the party. We stayed and shredded the dance floor until around 12:30AM, and then headed back to our Airbnb, exhausted in the best way.
Expenses of the Day
– Taxi from OSJ to main El Condado beach: $15
– Hot dog, fries, drink at Bun's Burger Shop: $13 (god bless a reasonably priced meal)
– Señor Frog's Ladies Night: ladies pay $8 and drink free all night!
Day 4: A Day of Culture: Puerto Rican History and Salsa!
Sunburnt and still drained from Señor Frogs, we decided Day 4 was our designated "chill day." We visted to the Museo de Las Americas, a 2 minute walk from our house. It had gorgeous architecture, and learning about the history of Puerto Rico in respect to African slavery, indigenous peoples, culture, and it's political history put our trip into a new perspective and deepened our understanding of Puerto Rico. We grabbed lunch and stopped by the other fort, San Cristobal, to take pictures and see the views before heading back to our AirBnb to regroup.
Our night began with checking out Café Nuyorican, a place frequently recommended to us by visitors and locals.  We arrived at 10pm (early, apparently, for Puerto Ricans), and were happily surprised that there were free salsa lessons on Thursdays! We learned the basic salsa steps and struggle and laughed with the other clumsy tourists in the lesson.
We even found out that Cafe Nuyorican was a bit more famous than we'd thought, with Latinx celebrities frequenting it and that Mick Jagger was even known for dancing the night away here!
Around 11pm it transformed into a real latin club as the live band showed up and more people arrived. We had the time of our lives dancing, drinking, meeting both tourists locals, and being mesmerized by the professional salsa couples.
Expenses of the Day & Budget Tips
You can leave and return to the Museum of the America's as many times as you link in one day (to grab lunch, to run back to your hotel, etc.), but keep your receipt on you.
Also, Café Nuyorican is not at 312 Sebastian St. as your GPS will tell you(!!!) It's located on a nearby side street; ask any local or police man for directions, or do what we did and just follow the music!
– Cover charge for Café Nuyorican: $5
– Average drink at Café Nuyorican: $6
Day 5: Hike in Naranjito
This day we finally met up with Brenda, a local puertorriqueño and fellow travel blogger I'd been friends with online for quite some time! Brenda was kind enough to coordinate a day with Hannah and I to show us some of the "real" Puerto Rico, via an amazing day hike and swim at a hidden lagoon in the mountains of Naranjito, a small rural town about 1.5 hours drive from San Juan.
After coming back from the mountains we were lucky enough that the San Turce International Urban Art Festival was in town. Both of us coming from Richmond, Virginia where street art is also famous, we couldn't resist!
As it was adjacent to the University of Puerto Rico the crowd was young and friendly, the drinks were cheap and the displays of art ranging from dance to sculpture to live music. We soaked up the energy of being young and lost in Puerto Rico.
A week's itinerary in Puerto Rico 🇵🇷🌴🍹
Click To Tweet
As the night was still young, we then went clubbing to the main party scene in El Condado called La Placita de San Turce, which is basically an entire little town of clubs and restaurants.
We hopped in bars with old men smoking Cuban cigars to bars bumping house music and a youthful crowd. We had a great time but wanted to get back to Old San Juan a little early because of the distance, so we drove back to Old San Juan and ended the night at Café Nuyorican.
💸 Budget tip: Ride-sharing companies like Uber and Lyft are no longer illegal as of 2018, so use them to get the best price.
Day 6: El Yunque
Our final day in San Juan! Attempting to squeeze in every ounce of eastern Puerto Rico we could, we headed off to El Yunque National Park at 9:30 am. It was indeed a rainforest, as it was raining and misting the entire time we were there.
I think this is what I love about Puerto Rico—one can go from salsa and mojitos in San Juan to a peaceful jungle with an exquisite ecosystem and listen to the coqui tree frogs chirp. El Yunque is actually the only tropical rainforest in North America.
But while the waterfalls and little hikes were well worth it, we eventually had to leave to make a mad dash and catch our 5PM flight!
Final Thoughts & Costs
Puerto Rico is an amazing country with rich food, rich history, rich culture, and people rich in life!
I was initially skeptical about going for spring break to save money over Greece or Colombia. But while visiting Puerto Rico does not require a U.S. passport if you're an American citizen, Puerto is not the "American".
It is its own country with a unique dialect and rich experiences to have only to be found in Puerto Rico. Old San Juan made me feel like I was in a seaside town in Spain, and central San Juan was unlike any Caribbean island I've visited. I truly felt like I had much many more cultural experiences, adventure, and minor language barriers than I would have ever imagined possible with a three-hour flight from Washington D.C.!
And luckily for me, with a lot of preplanning and budget consciousness, it didn't break my delicate college bank.
Total Cost: ~$786.30
Roundtrip Flight: $290.30
One week of accommodations (AirBnb): $289 ($578 split for 2 people)
Total local expenses: $207.30
---
Are you headed to Puerto Rico soon and did you find this helpful? Drop a comment below and let me know!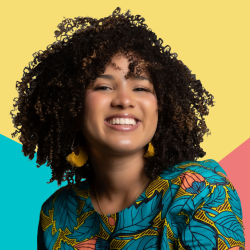 Latest posts by Gabby Beckford
(see all)