Reading Time:
6
minutes
This post may contain affiliate links – meaning that if you purchase something through a link, I get a small payment for it (at zero additional cost to you). It is a much-appreciated way to support this website!
How do you make friends while traveling solo? What are the best group travel companies for young travelers? Why should you use group travel companies?
Does anyone else suffer from solo travel stage fright?
I know so many women who have started planning their dream vacation for a solo adventure but got cold feet and missed out. And I get it; being completely alone in a new destination can be super scary.
But luckily, there's an easy solution if you want to travel solo without traveling alone: group travel companies!
Why should you use a group travel company?
There's this idea that being a solo traveler of any type means you need to be able to do everything by yourself…
And that is totally wrong.
Being a solo traveler simply means you are willing to go visit a new destination alone. Sometimes you'll explore that place solo, and sometimes you'll meet new people to hang out with!
Group travel companies are a phenomenal way to dip your toes into the solo travel waters. They plan most of the logistics for you, offer you big deals on bucket-list trips, and 9 times out of 10 you'll make a bunch of new friends on the way. It's a stress-free strategy if you want to see the world, but don't have anyone to go with.
The best group travel companies for solo travelers
I asked the Young Travelers Network to tell me about their experiences with group travel companies, and they 👏🏽delivered👏🏽.
Not only did they pick their favorite out of the most popular companies, but they also provided some detailed stories about what to expect from different organizations. Some are perfect for a week-long yacht party in the Mediterranean, while others are better if you need a budget-friendly summer trip.
All of the advice came from young, solo female travelers who use these companies as a way to travel to different places alone, but then meet up with a big group when they arrive.
SOLO TRAVEL IS NOT BORING!! You just need some help planning your trip, and these group travel companies are the easiest way to do it 🗺️💃🏽
Click To Tweet
No more letting your travel nerves ruin your vacation plans. Whether you're starting solo travel for the first time, or just want to try something new, these companies have tons of cool options for young nomads.
I'm ranking them based on their affordability ( One 💸 = not affordable, luxury trips; five 💸 = super affordable options), how many destinations they travel to, and what vibes you can expect with their group trips.
Now, let's get into it.
🪂 Intrepid Travel: For the purpose-driven solo traveler
DESTINATION OPTIONS:
✈️✈️✈️✈️✈️
BEST VIBES FOR:
Life-changing immersive trips 🏯
As someone who openly raves about studying abroad, immersive cultural experiences, and travel being a life-changing opportunity, I can't recommend Intrepid Travel enough.
Intrepid is for all my fellow solo female travelers who want to go on purpose-driven trips. You're not just looking to chill on a beach and drink margaritas all day. You're looking to see the world, learn about other cultures, meet new people, and have a trip that will forever impact you.
I recently did a trip with them to Costa Rica that absolutely blew my mind. It was intimate, well-organized, safe, and had an interesting itinerary mix from learning about Caribbean gospel history, explore their culture of masquerade/celebrations, to ziplining and photo shoots on black sand beaches!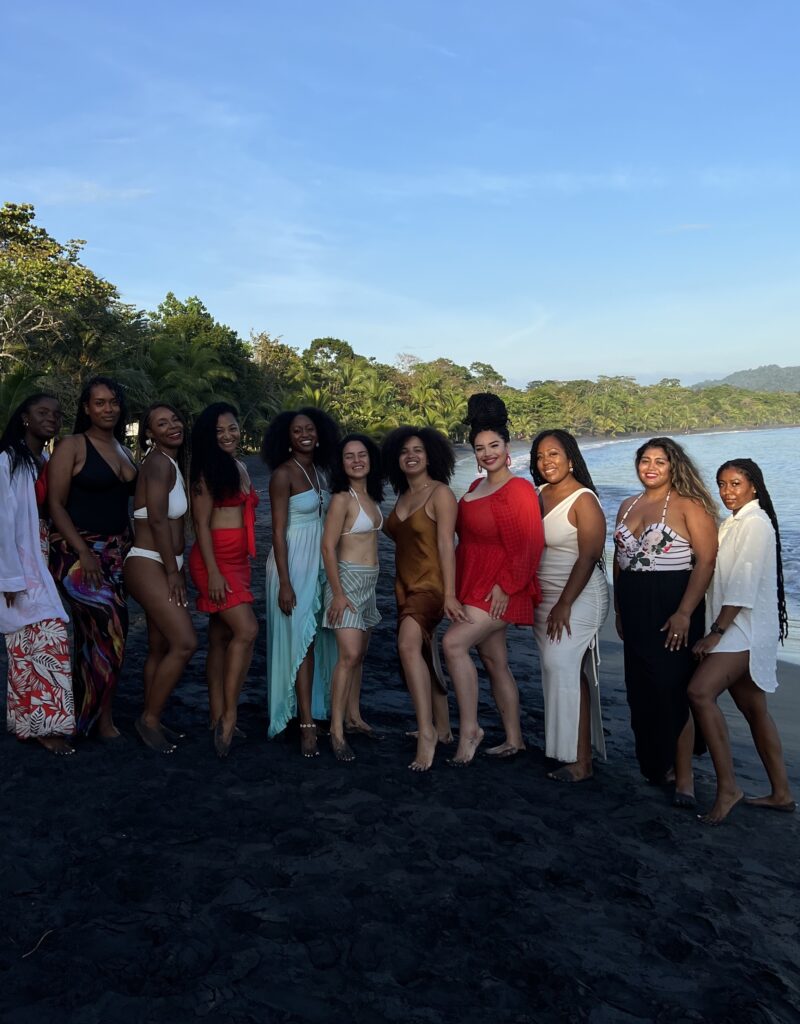 Not only does Intrepid have tons of travel themes (like trips specifically for anyone 18-29), but they also have four different styles so you can easily find the group travel option that works for you. From Premium luxury excursions to the "Basix" budget-travel option, they have a huge price range to choose from.
They also cover over 1,000 unique locations in 100 countries, so you're kinda spoiled for choice here. For me, Intrepid is the go-to group travel company.
🎉 Contiki: The best option for the ultimate party vibe
DESTINATION OPTIONS:
✈️✈️✈️✈️✈️
BEST VIBES FOR:
A party you'll never forget 💃🏽
If you're looking for a good time, like popping bottles and living it up a good time, then Contiki is a great option. The company operates in all corners of the world, from New Zealand to Latin America to the Middle East.
Tours with Contiki are open for ages 18-35, but groups are typically made up of 20-somethings who like to explore nightlife options, party with locals, and enjoy each destination as thoroughly as possible. If you're feeling like a social butterfly, this may be the group for you! Here's what Matthew had to say about his trip:
I've only done a Contiki but I had a great time and actually booked another tour with them for December…Met some great friends that I still talk to on a regular basis!

Matthew Walther, Young Travelers Network member
Plus, over 60% of people who book with Contiki are solo travelers. So don't worry about showing up and being the only one who doesn't know anybody.
I do think Contiki can be a little less affordable than other group travel companies, but most of their tours are also in extremely sought-after cities where you'd be spending more if you did the trip independently. Plus, they have flash travel deals if you're looking to get a discounted experience!
💸 Topdeck: best for budget travelers
NUMBER OF DESTINATIONS:
✈️✈️✈️
BEST VIBES FOR:
Getting a bucket list trip that's worth every penny 🙏🏽
Now if you're looking to get the most for your money, Topdeck Travel might just be it. In fact, the value of their trips is one of the first things their website promises.
Will you be investing in a vacation? Yes! But will that vacation be worth it? YES.
One traveler said she explored Europe for 28 days for only $2,800 😳 Here's everywhere she went during that trip:
[We] started in London, then to Paris, Mont Saint Michel, Bordeaux, San Sebastian, a few other Spanish towns I can't remember the name of, Madrid, Barcelona, Sardinia (WHICH WAS AMAZING), Corsica, Rome, Pompeii, Florence, Venice, Liechtenstein, Lauterbrunnen (favorite destination of the trip), Kirchdorf, the Rhun's Valley, Amsterdam (with a stop at a small town on the way to see a family owned cheese factory and see how clogs are made!) and then back to London!

Zoe Kate, Young Travelers Network member
Now I know that number might look big, but she visited at least 18 cities, and multiple countries, with a full itinerary planned out, including accommodations and transportation.
All for $2800?
…I've seen one plane ticket to Australia cost more than that. I will say, they have a more limited selection when it comes to destinations, but there are still a good amount of options around the world to explore. Definitely worth taking a look!
🌿 G Adventures: sustainable AF
NUMBER OF DESTINATIONS:
✈️✈️✈️
BEST VIBES FOR:
The sustainable solo traveler 🌿
G Adventures prides itself on small, sustainable group adventures around the world. Their business model is built around supporting local communities, a mantra they've had for 30+ years of operation!
You'll be led through destinations by their Chief Experience Officers, a locally based guide who knows the region better than anyone else. Every trip at G Adventures directly benefits the local economy and communities, while also giving you memories that will last a lifetime!
They also distinguish their tours by destination as well as travel style, so you have a few ways to find your dream trip. From wellness travel to living like locals to railway trips and even a category dedicated to young travelers exclusively, G Adventures offers a good variety for solo travelers.
Bonus: If you can pull together your own friend group for a private trip, you could earn 50% off your spot, or even a completely free vacation for yourself! Time to text the group chat… 📱😗
🗺 EF Ultimate Break: voted most popular group travel company for Gen Z
NUMBER OF DESTINATIONS:
✈️✈️✈️
BEST VIBES FOR:
A main character vacation 😏
Now I'm not personally picking favorites; there's no "winner" in this list. Every single one of these group tour companies is amazing, and has a solid reputation according to solo travelers!
In the poll, EF Ultimate Break received the most consistent, positive feedback from members who'd done their trips in the past. The company is highly organized, especially pre-departure, so you'll get frequent updates about your itinerary.
They have specialized trips for backpackers and solo travelers, opportunities to become brand ambassadors, trips for bougie babes, and more lowkey options if your easy going.
I've done a few trips with them and I think there's a great mix of people and things to do. I don't typically drink that much and I always find people who are along the same lines, but we still have tons of fun!

Kari Rogers, Young Travelers Network member
When it comes to their prices, not one person said their trip was not worth the cost. If you can splurge a little extra for a trip, you'll definitely be treated to a trip that's as valuable as what you paid for.
In general, EF has a lot to offer and has earned an impressively high rating from people all over the world.
If you want to hear more stories about these group travel companies, you should join the Young Travelers Network on Facebook! It's the fun little hub for young solo travelers who want to find friendships in every new destination.
If you're nervous about starting solo travel, book a group trip to test it out!
I know a lot of people are intrigued by traveling solo. But I also 100% acknowledge that being alone in a new place can be an overwhelming idea!
Group travel companies are the best solution if you're an aspiring solo traveler who wants a little bit of a safety net before diving in head first. You'll meet so many new people, explore incredible destinations, and eliminate the stress of planning every detail of your trip.
It's the perfect way to gain confidence in your travel skills before going totally rogue on a solo trip.
FAQs
What's the best group travel company for young travelers?
Most group travel companies have trips dedicated to young travelers around 18-35, but if you want a travel company that's designed exclusively for this age demographic, check out Contiki.
Can I book a trip with a group travel company as a solo traveler?
Yes! In fact, most of these group travel companies are designed with solo travelers in mind. They're a great way to dip your toe in the solo travel waters without feeling too lonely or nervous.
Are group travel companies worth it?
The cost of traveling with these group trips may look like a lot at first glance, but remember that you're getting an all-inclusive trip to some of the most amazing destinations in the world. The price typically includes transportation, hotels, and food, as well as guided experiences and excursions. Most companies also have travel deals and last-minute trips if you want to save some money!
Have you ever tried one of these group travel companies?
Let me know about your experience in the comments!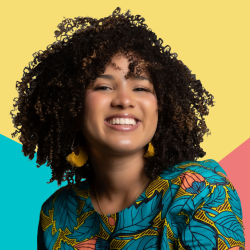 Latest posts by Gabby Beckford
(see all)