Reading Time:
8
minutes
This post may contain affiliate links – meaning that if you purchase something through a link, I get a small payment for it (at zero additional cost to you). It is a much-appreciated way to support this website!
In our interconnected global society, opportunities to experience the world beyond our borders have never been more important. It's with this belief that I, Gabby Beckford, and my company Packs Light launched the inaugural Packs Light Travel Grant, known as the Study Abroad Redo Grant (SARG) in 2023.
About the Study Abroad Redo Grant
The Study Abroad Redo Grant was created with the mission of giving individuals who had never studied abroad, or had a less-than-ideal first experience, a second chance at an intentional international travel experience—but without the age limitations, strict curriculum, and with more joy and self-expression at the forefront.
To accomplish this I opened applications for three (3) $5,000 grants to U.S. applicants of any age, with two of the grants due to our gracious sponsors, Go Overseas and The Nomadic Network, who also believe in the transformative power of travel
The SARG saw an overwhelming response from aspiring global citizens all over the United States—it received more than 500 applications, teeming with enthusiasm and resilience, from 42 states, with applicant ages spanning from 18 to an inspiring 79 years old!
The three (3) final awardees had applications that were relevant, compelling, and—very importantly—followed our terms & conditions (for more context, watch the replay of our SARG Winners Announcement live broadcast 🪂).
Celebrating the Victors: Announcing our 3x Grant Awardees
After a rigorous and challenging selection process, we are thrilled to introduce the awardees of the 2023 Study Abroad Redo Grant: Helena R. (23), Joie H. (29), and Sebastian A. (22).
These exceptional travelers demonstrated outstanding commitment, perseverance, and a deep-rooted desire to transform their interrupted or unfulfilling study-abroad journeys into enriched meaningful experiences.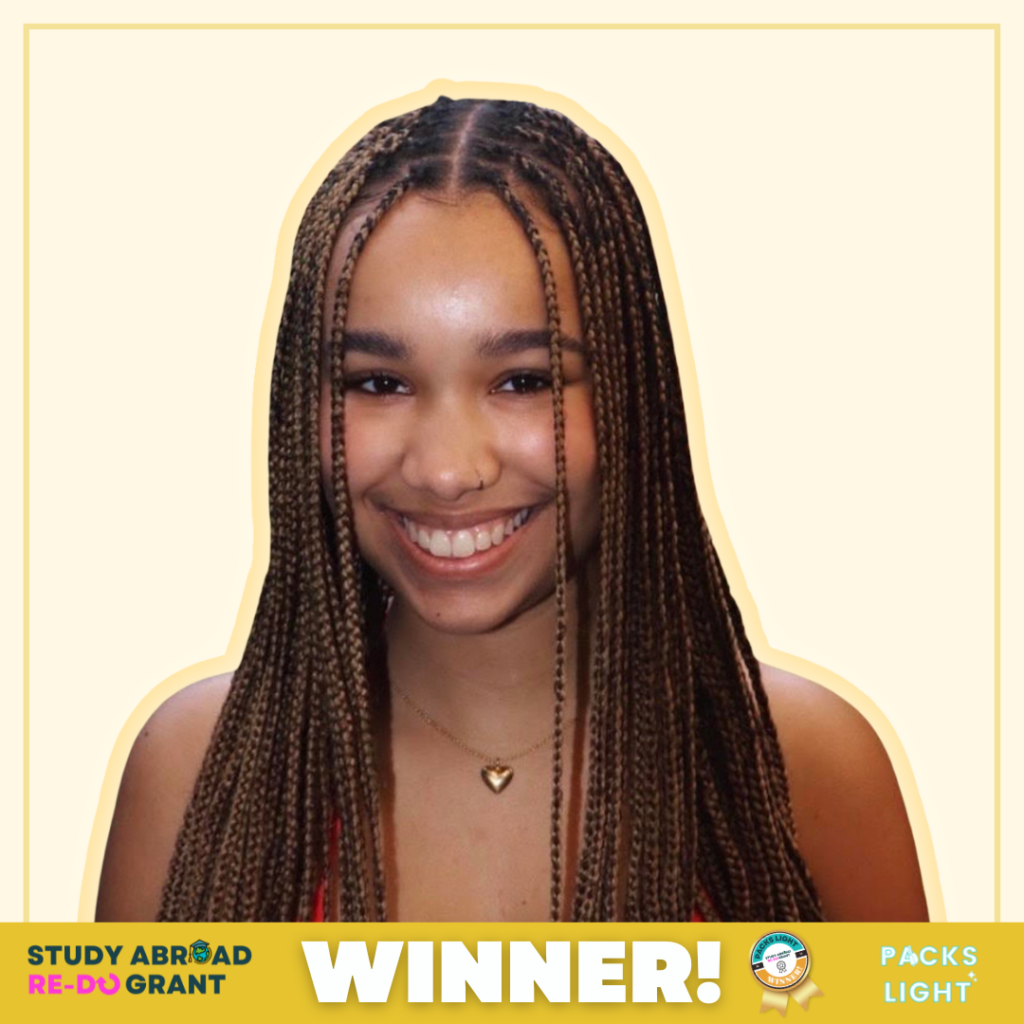 Helena R. (23) (she/her) New Jersey, USA
Helena's application radiated an authentic enthusiasm for immersive cultural experiences and global learning. However, as a student from a low-income community, her family couldn't afford leisure or academic travel. Still determined to expand her world, at the age of 16 Helena took the initiative to find affordable ways to explore the world.
She found that scholarships and volunteer programs were the only viable option, and the competitive nature of financial aid made her focus her attention on volunteering programs. After applying to several programs, she was accepted to a three-week volunteering program in Thailand. She deeply enjoyed her time in Thailand, but years later reflected upon the potential harm caused by voluntourism programs in local communities. She wanted a second chance at study abroad. But when the opportunity arose in college, the COVID-19 pandemic was the nail in the coffin of her study-abroad dreams.
Nevertheless, Helena's resilient spirit has continued to shine brightly til now. Her SARG application stood out with a compelling narrative that showcased her unwavering determination to redefine her travel identity and what it means to her to study abroad journey.
HER SARG PLANS ✈️: With the help of the Study Abroad Redo Grant, Helena plans to embark on a 4-6 week journey to visit various cities in the countries of Kenya and India. As an aspiring documentary filmmaker, Helena intends to respectfully film interviews with locals about the customs, cultures, history, and personal narratives associated with the various regional culinary dishes.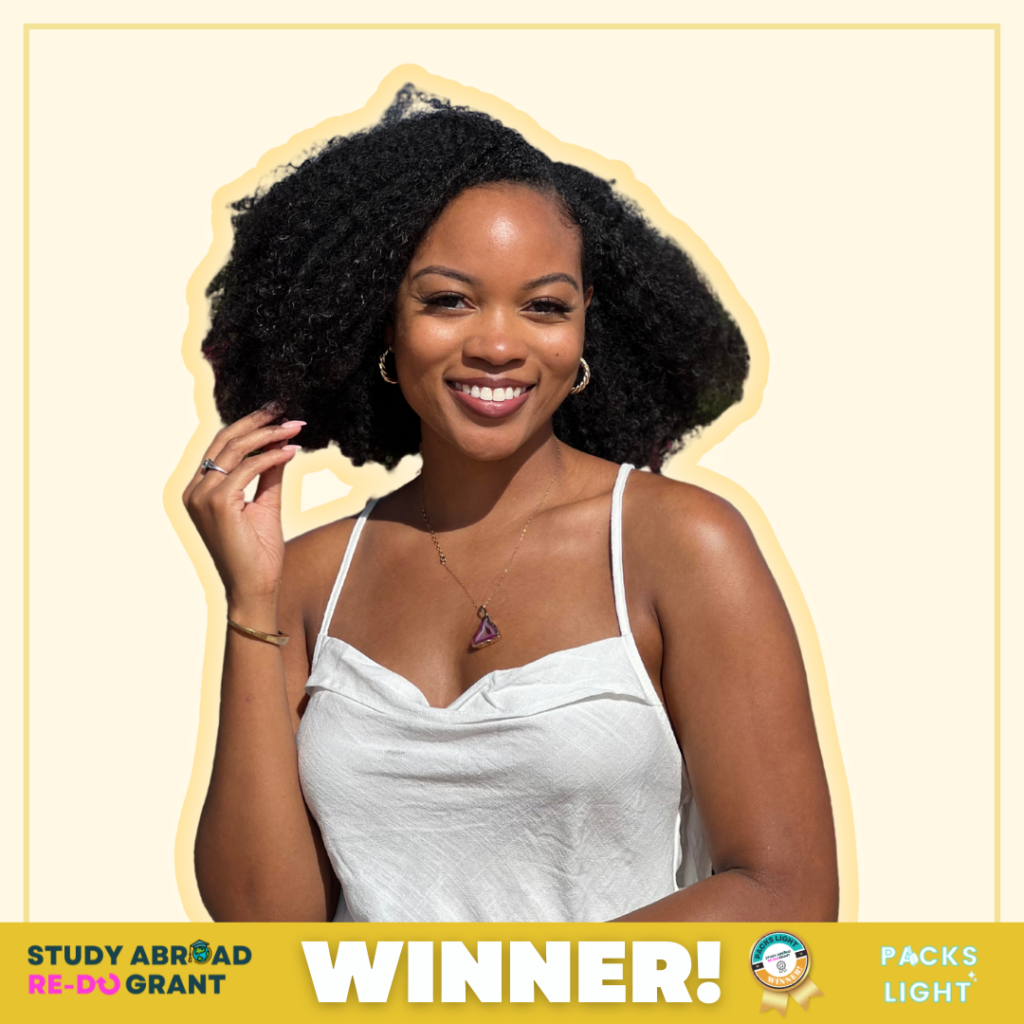 Joie H. (29) (she/her) South Carolina, USA
Joie's SARG application captured the attention of the judges because of her confidence, bravery, and intentionality in her explanation of how she lives the Packs Light mission each day. Joie is a first-generation college graduate who feels that she followed the outline given to her by her immigrant parents: go to school, get an internship, graduate, and get a job in a "respectable" field.
But at the age of 27, Joie says she reflected on her life and realized that not studying abroad as a student was one of her biggest regrets. Since then she caught the travel bug, traveling both locally and internationally when time and money allow. Inspired by her Creole ancestry, Joie began learning the French language via an online course just over a year ago. Her love of the French language and France has grown and grown, and in her application, she excitedly described to her why the destination would be her study-abroad redo dream.
Joie is an inspiration in showing us all it's never too late to change your life and follow your dreams.
HER SARG PLANS ✈️: Joie plans to spend three weeks immersing herself in the French language, culture, and history through an intensive program in Nice, France. At the end of the program, she plants to put her new language skills to the test by navigating a leisure trip to and from Marseilles, France on her own.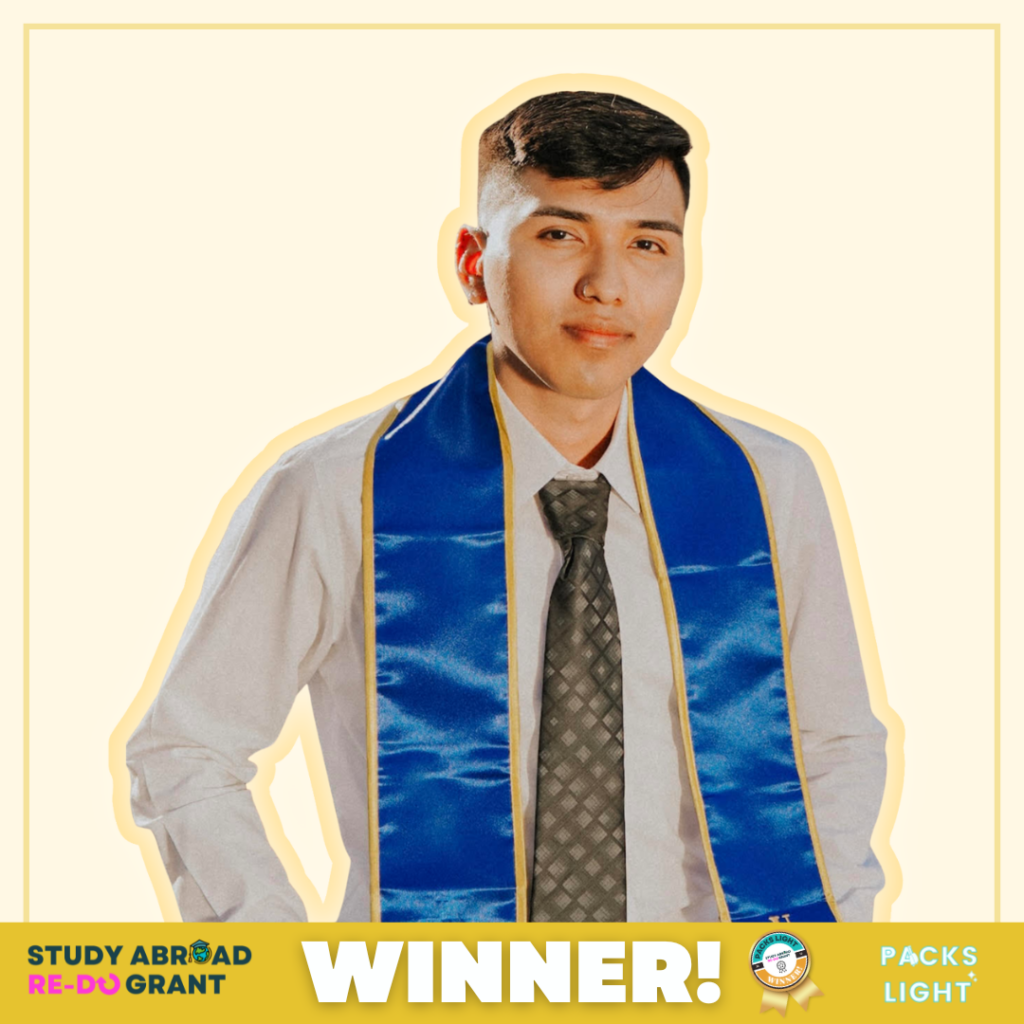 Sebastian A. (22) (he/him) California, USA
Sebastian A. is a recent graduate from the state of California. Sebastian embodies what it means to find purpose in serving one's community. As a first-generation Mexican-American, Sebastian grew up in an underserved community of Black, French-Creole speakers—this community is at a heightened risk of police interaction and ultimately, incarceration. Despite this, Sebastian learned English, has exceptional academic performance, successfully navigated college applications, and is the first in his family to receive a college education.
During his college education, Sebastian was actually awarded multiple scholarships that put him on an exciting path to study the French language in Paris, France—his dream. However, the COVID-19 pandemic stalled his program so long that he ended up graduating having never had his study abroad experience. He applied to the SARG with hopes of reviving his once-failed study abroad dream.
His SARG application skillfully articulated his ability to turn adversities into stepping stones for personal and academic growth, making him a standout candidate for the grant, and ultimately, our final awardee!
HIS SARG PLANS ✈️: With the $5,000 grant, Sebastian will finally get to pursue his dreams of studying abroad in Paris, France! An inspiring immigration lawyer, Sebastian intends to spend three weeks learning the French language and studying French culture in person so he supports the defense of the minority Creole French-speaking communities that make up a large portion of incarcerated detainees in his area.
Congratulations to our Top 20 Finalists!
We're just as proud of the rest of our Top 10 & 20 Finalists, whose applications absolutely wowed both the Packs Light Team and our external judging panel. Their applications put them in the Top 2% of all SARG applicants because of just a matter of a few points, which means their applications almost equally inspired and moved us.
Top 10 (in no particular order):
Nairobi H.
Asha H.
Joie H.
Demicia M.
Sebastian A.
Essie D.
Brian S.
Margaret F.
Rimsha A.
Helena R.
Top 20 (in no particular order):
Marley R.
Angela O.
Shaina S.
Katie C.
Imani M.
Shanice B.
Kennedy H.
Elijah L.
Zephaniah (Niah) S.
Lidia G.
The Power of Opportunity: Why Does the Study Abroad Redo Grant Matter?
The application process shed light on the multitude of unique and inspiring perspectives from our applicants. Here are some notable quotes:
"I never thought someone like me would be paid to go learn and experience life. I wish someone would have made the opportunity easier and presented/taught me that there are programs and grants specifically for it."

– Zaria T. (25)
"I didn't have any support from my low-income community, and as a family of eight, we faced financial constraints that made it difficult to consider the idea of studying abroad. Along with financial constraints, it was fear of the unknown that kept me from enrolling or even doing research about the possibility to study abroad. Consequently, I had to give up on the idea during college. I am grateful to have found this opportunity now, and I am eager to pursue it."

– Carol M. (33)

"Ever since I came across Packs Light on Instagram, I've had this little flame of hope in my chest. Thinking to myself maybe my time is now, maybe I haven't lost my shot. Now that I've finished school and gotten out of my depressive funk, I'm ready to put myself out there and try to get my life back and what better way to do it! Thanks to you I now have the resources and knowledge needed to take the next step, and know there's always another opportunity."

– Destiny C. (19)
"Thank you, Gabby, for this opportunity and having such an inclusive competition."

– Amber S. (45)
These powerful narratives reflect the essence of the Study Abroad Redo Grant and reinforce our commitment to offering life-changing opportunities to ambitious individuals, regardless of their backgrounds or circumstances.
Application Tips from the Grant Awardees
A pivotal part of the SARG grant application was to vet relevant applicants but to also teach and empower them as much as possible. To aid them in their applications we provided: detailed Terms & Conditions page, tips on the application page, I filmed a 1-hour "How to Apply" live chat, and of course my hundreds of free social media posts with my personal tips and tricks for applying to PTO!
In the spirit of extending their success, the three SARG winners have also agreed to share their top application tips which they think led to them winning the SARG!
Helena urges applicants to stay authentic and honest. According to Helena, your passion and excitement for traveling and learning should form the core of your application, rather than solely attempting to echo what the review panel wants to hear. This authenticity creates a heartfelt connection that can set an application apart.
Joie stresses the importance of giving yourself sufficient time to work on the essay questions. This allows you to draft your initial thoughts, take a break for a few days, and then revisit your responses with a fresh perspective. Joie believes this process aids in better articulation and provides the opportunity to delve deeper into your experiences and aspirations.
Sebastian advises applicants to perceive the study abroad opportunity as more than just a visit to another country. He encourages applicants to illustrate their ability to balance personal missions with the excitement of new experiences. Sebastian also highlights the importance of a detailed budget plan that reflects every aspect of study abroad expenses, from daily meals to museum visits. Above all, he believes it's crucial to take your time, use your application to tell your unique story, and remember why you genuinely want to study abroad.
The Journey Continues: Subscribe for Future Opportunities!
The conclusion of the inaugural SARG does not mark an end, but the beginning of many more opportunities to come. If you want a leg-up on the competition for future Packs Light PTO (or to find other PTOs that are a fit for you) make sure to check out our variety of PTO resources.
Additional Resources:
"The PTO Dashboard: my vetted database of fully or partially funded travel opportunities (like the SARG!). Think travel scholarships, grants, fellowships, internships, study abroad programs, speaking engagements, etc. that allow you to travel for work, for school, or for fun… for FREE!
The Ultimate Funded Travel Opportunities List… for AFRICANS!: One of my most common questions is, "Do you know of any funded travel opportunities for African nationals?" Well: here is that list! There are vetted travel scholarships, travel grants, international fellowships, international study abroad opportunities, remote work companies, etc.
PTO Start Page: Every free PTO resource Packs Light has can be found here– including PTO TikToks, the PTO Dashboard, PTO how-to blog posts, in-depth stories from past PTO winners, and more.
Application Tool-Kit: This tool-kit includes document (resume, cover letter, LOR) templates, email tips, and a "should I apply?" calculator. Basically, it's every basic piece you need to NAIL your next opportunity application!
Start Winning PTO!: The teaser course to the $10K Trips course. This is the course that gets your feet wet and gets you started seeking, applying, and winning PTOs.
How to Take $10K Trips… for FREE!: If you're serious about applying to and winning PTOs… this is the tell-all course you need. Seriously, I made the course I WISH I had myself when I started applying to PTO. It would have upped my success rate and saved me so much time and heartbreak. It has every PTO tip and trick I've learned in my 8+ years applying to, judging, and securing $200K+ worth of travel and funding from PTO!
Get Updates Sent to Your Inbox:
Whether you applied or are looking to apply to future Packs Light Travel Grants, subscribe to my email list. You'll receive regular updates, gain access to resources tailored for the global learner, and be the first to know when the next grant window opens!
We also welcome all feedback and questions via this SARG Feedback Form, at any time.
A hearty congratulations to our winners and a resounding thank you to everyone who applied. Your stories inspire us, and we can't wait to see where your journeys take you next.
Frequently Asked Questions
What is a PTO?
PTO = paid travel opportunity. Basically, PTOs are any fully or partially funded travel scholarships, grants, fellowships, internships, study abroad programs, speaking engagements, etc. that allow you to travel for work, for school, or for fun… for free.

For more information read our blog post: What is a PTO? How I travel the World for FREE (and you can too)
Where can I find PTO?
My list of 1000+ paid travel opportunities lives on my PTO Dashboard—travel scholarships, international internships, study abroad scholarships, and funded travel opportunities just like the SARG. We update it weekly, so check it out and join my email newsletter!
How can I find PTOs myself?
I share my exact tips and tricks for finding, applying to, and actually winning PTOs in my self-paced online course, How to Take $10K Trips… for FREE!
The SARG was only for U.S… I'm African. Are there PTO that apply to me?
I made a resource of 250+ vetted travel scholarships, travel grants, international fellowships, international study abroad opportunities, remote work companies, etc. exclusively for African nationals, The Ultimate Funded Travel Opportunities List… for AFRICANS!
When is the next Packs Light Travel Grant?
The next Packs Light Travel Grant is already in the works 👀 Our partner Intrepid is helping me bring an extra-special travel opportunity to life. Much more to be announced—more info to come soon.
How can I stay in the loop?
If you want to be the first to hear about our next Packs Light Travel Grant (and maybe even receive some insider application tips & tricks 😉), make sure you sign up to receive email updates by filling out the "SUBSCRIBE" form right above these FAQs.
I want to get started with PTO but I'm… overwhelmed. Where should I go?
My PTO Start Page. Every free PTO resource Packs Light has can be found here– including PTO TikToks, the PTO Dashboard, PTO how-to blog posts, in-depth stories from past PTO winners, and more.
I applied to the SARG but didn't win ☹️ I know it was something with my application… How can I improve it?
In my Application Tool-Kit, I really break down all the essentials for you. The tool-kit includes document templates (resume, cover letter, LOR), email tips, and even a "Should I Apply?" Calculator that will save you hours of your life and so much stress, because it keeps you from applying to PTO that you have a low statistical chance of winning. Basically: it's every basic piece you need to NAIL your next application.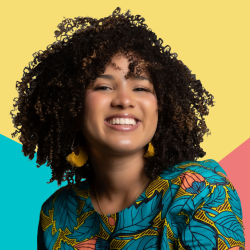 Latest posts by Gabby Beckford
(see all)