Reading Time:
6
minutes
Should you let your child go on a middle school trip? How young is too young to travel? Are you looking for travel experiences for kids? What are some reputable/legit travel programs for kids? Are their scholarships for high school trips?
The following scholarships are either travel-related contests, study abroad scholarships, or grants for travel given to students from grades K-12. It's a common idea that you must be a high school or college student to study abroad or travel as a student.
One of the missions of Packs Light is to expose the true range of opportunities available to young travelers, partially or completely funded!
Many don't know that you can be as young as 13 years old and study abroad or officially travel as a student!
This article contains reputable travel scholarship opportunities for those in K-12 to not only raise awareness of the opportunities for young people to see the world, but to provide the funding.
Now there are really no excuses not to!
1. Road Scholarship
Ever wanted to send your kid on a class trip but didn't want to burn a hole in your wallet doing it? Not anymore! This scholarship is for those kids who for some reason can't afford to go to school or extracurricular group trips!
Gives financial aid to any eligible student or young person for education or performance-related travel with their class or youth group.
Whether you can be under 18-years-old, or age 18-25 (so send this to your older college sibling too!)
For more information on the Road Scholarship, click here.
2. Education First: Explorers Scholarship
A total of $30,000 is given away annually through need-based scholarships or students signed up for Education First exploration trips. The trips will allow young students to explore North America with their travel group.
All it requires is an essay and for parents/guardians to complete the application form!
For more information on the Education First: Explorers Scholarship, click here.
3. National Geographic Student Expedition Scholarships
For all of you adventurous, thrill-seeking kids out there, check this out. Students in grades 6th-12th who study in the United States or Canada are eligible to win a fully-funded summer of exploration.
This needs-based scholarship was given to 22 awardees last year and allowed them to visit places like Iceland, Italy, and Tanzania.
Be sure to check out the awesome informational video below about this NatGeo scholarship.
For more information on the National Geographic Student Expedition Scholarship, click here.
4. The Explorers Club: Student Grants
This scholarship is available to high school, undergrad, graduate students, and immediate post-doctoral college students.
All scientific students already working on or interested in pursuing field research, this is for you!
The average award size is around $1500, and the scholarship website states that generally, The Explorers Club considers research proposals in a wide array of disciplines, including:
Climate Change, Geoscience, Paleoclimate (i.e. Early Earth, Tectonics, Volcanism, Paleontology, Glaciology, Geophysics, Astronomy)
Marine Science, Marine Biology, Marine Life, Fish, Coral, Ocean, Fresh Water, Rivers, Lakes, Estuaries
Anthropology/Archeology
Plants and Molds
Animals
For more information on The Explorers Club Student Grants, click here.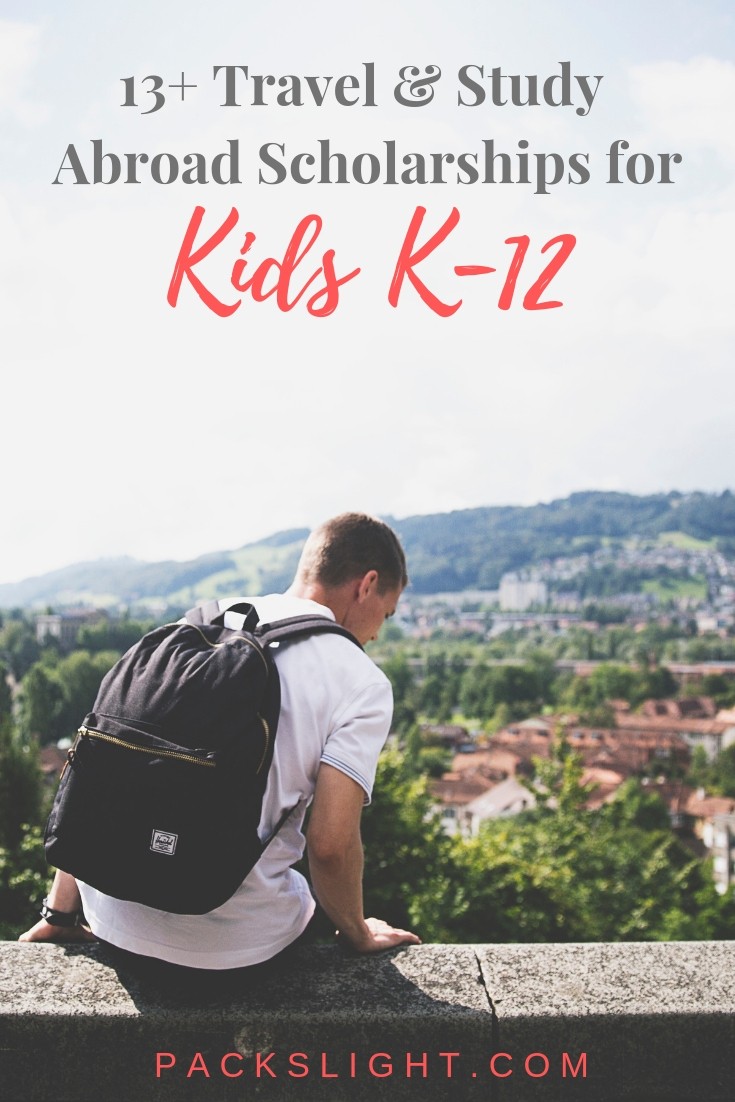 5. Allianz ScholarTrips
Allianz is an insurance and assistance travel business. Their website states:
Every year, over 200 million people trust us to protect their travel plans, tuition payments, event ticket purchases, and more.
As a principal provider of travel insurance, we understand the desire to see foreign countries and experience new cultures—which is why we created ScholarTrips. We want to help students explore the world and grow through their travel experiences.
If you're at least 14-years-old and a high school, trade school, university, or college, you can apply. Applications will open every October.
For more information on the Allianz ScholarTrips Scholarship, click here.
6. Ripley Hunter Scholarship
Students who write an essay describing what they learned and how they were impacted by travel could earn a scholarship of up to $1,500.00 USD!
The SYTA Youth Foundation offers scholarships to students (9-12th grade) who use their creativity to compose an article or speech that illustrates a student travel experience.
The 2019 Ripley Hunter "World is a Classroom" Essay Contest will open annually in early Spring. All results will be sent out around June, from [email protected].
For more information on the Ripley Hunter Scholarship, click here.
7. Travel is Education Scholarship Contest
Calling all artistic travel kids. The American Council for International Studies (ACIS) presents this scholarship for students grade 6-12 who have signed up to travel on an ACIS tour. Award sizes range, up to $1000.
What is this scholarship? The ACIS scholarship page says the following:
💡 The Travel is Education Scholarship competition offers both teachers and students the chance to be rewarded for their creative expression and interest in the world. ACIS Travel Scholarships will be awarded in three categories: artwork, photography, and writing.
So get your creative hats on, and win a fully-funded trip with ACIS.
For more information on the Travel is Education Scholarship, click here.
8. STARTALK
It offers students grade K–12) the opportunity to domestically study critical languages during engaging summer experiences.
STARTALK offers students and teachers of these languages creative and engaging summer experiences that strive to exemplify best practices in language education and in language teacher development.
For more information on the STARTALK Scholarship, click here.
9. Family Travel Forum Teen Writing Scholarship
Ironic. I wish I'd known about this scholarship when I was younger. If you're a budding traveler and travel blogger, listen up!
The Family Travel Forum (FTF) and the Society of American Travel Writers have teamed up to provide this scholarship for those of you who have a travel blog and have written an article on one of your adventures! It can be in your backyard or with your parents across the world, anything goes.
If you're age 13 to 18-years old and are in 8 to 12th grade, you can apply to this sweet scholarship. Cash awards range up to $1000.
For more information on the Family Travel Forum Teen Writing Scholarship, click here.
10. National Security Language Initiative for Youth Scholarship (NSLY-I)
High school Spanish probably won't stick… you should learn a useful language while immersed in a foreign culture!
U.S. students age 15-18 can apply for the NSLI-Y scholarship that, if they win, will grant them one summer or one academic year abroad learning a language the government deems "high-need", usually being Arabic, Chinese (Mandarin), Hindi, Korean, Persian (Tajik), Russian or Turkish. Award amounts vary.
The version of this scholarship for college students, the Boren Scholarship, is the same one I won to study Arabic in Dubai, UAE for a year. I highly recommend this program and vouch for the experience!
For more information on the NSYL-I Scholarship, click here.
11. Rotary Youth Exchange
This is not so much a scholarship as it is an exchange program with financial aid.
The National Rotary Club funds students are 15 to 19-years-old to study abroad anywhere from a few weeks to a full year.
Generally, students still must pay for round-trip airfare, travel health insurance, necessary travel documents (such as passports and visas), spending money, additional travel, and tour fees. However, the Rotary Club organizes a host family for each student and also supplies a monthly stipend.
For more information on the Rotary Youth Scholarship, click here.
12. CIEE Study Abroad
Disclaimer, this is a sweepstake. However, CIEE is a reputable travel organization and I recommend them!
If you're 18+ years old and enrolled in a 2 or 4-year college, apply for one of the nearly $60,000 in travel grants by May 15, 2019.
For more information on the CIEE Study Abros Scholarship Scholarship, click here.
13. Congress Bundestag Youth Exchange (CBYX )
Hallo, kinder!
Created in 1983 during the Reagan Administration, CBYX strengthens U.S.-German relations by forging lasting ties of deeper understanding. The CBYX award provides merit-based scholarships to high school students, recent vocational graduates and young professionals for an academic year of study in Germany.
250 scholarships are available annually for the winning! If you're 15 to 18.5-years-old.
For more information on the CBYX Scholarship, click here.
14. Kennedy-Lugar Youth Exchange & Study (YES) Program
Similar to the CBYX, the YES Abroad program awards academic scholarships for high school students to develop a perspective of a Muslim culture first-hand. Students spend an academic year attending a high school while living with a host family in select countries with significant Muslim populations! Sounds similar to my experience with the Boren Scholarship in Dubai, UAE!
Applicants must be 15 to 18.5 years old.
For more information on the Kennedy-Lugar YES Scholarship, click here.
15. ANDEO Summer Abroad Scholarship
We are committed to equity and would like to enable students who are dedicated to language study and cultural exchange to be able to live with a family abroad.
High school students have an opportunity to study in Mexico, Spain, France, Germany, and Japan.
Just a reminder that most of these scholarships range from $100 to $1000, and are annual! So if you've missed the deadline to apply, don't fret. Set reminders on your calendar to remind yourself to apply to these 1-2 months prior to their due date next year.
For more information on the ANDEO Summer Abroad Scholarship, click here.
16. AFSA Scholarship
The American Foreign Service Scholarship is primarily for high school students that are dependents of Foreign Service officials. But if your parents are Foreign Service employees, they do have a merit-based option available too. You'll be successful in this scholarship if you have strong essay-writing skills.
For high school seniors only.
For more information on the AFSA Scholarship, click here.
17. GoOverseas Gap Year Scholarship
GoOverseas and the USA Gap Year Fair offer a $10,000 and $5,000 scholarship for young people (not necessarily students!) aged 14 to 25 to take a gap year with one of their 35+ associated programs. Virtual, domestic, international, internship, volunteer, adventure experience—the funding covers all types of gap years.
For U.S. citizens age 14 to 25.
For more information on the GoOverseas Gap Year Scholarship, click here.
I'm nervous… should I let my child travel so young?
Growing up in a family that was constantly moving and traveling, I can advocate for the benefits travel has on a young psyche. From a young age, encouraging your child to learn about people who look, speak, and know differently than they has a resounding effect on what they consider "normal" in their lives.
I grew up knowing that the world was bigger than just my town or state and that was invaluable in my perception while growing up.
Some of the following scholarships have to do with learning a foreign language a skill that will not only serve them in whatever career they choose but benefit their personal life and cognitive skills. Some offer student travel programs and some are funded by world-renowned organizations such as National Geographic, the Rotary Club, and the U.S. Department of Defense.
With so many opportunities for your child to travel, and without it making a huge hole in your budget, for me, there's no reason to not provide them with these experiences!
---
Share this article with a parent, child, or friend who you think should give their K-12 year child an opportunity to travel!
And if your K-12 year child has traveled or studied abroad on scholarship please comment the name of the scholarship below so I can update the list 🙂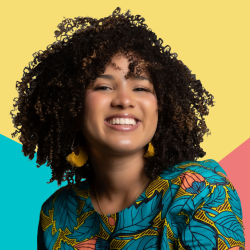 Latest posts by Gabby Beckford
(see all)