Reading Time:
6
minutes
As an avid traveler and travel blogger, I am always in the air. This year alone I've been on 22 flights—2 international, the rest domestic.
Out of those 22 flights, I was upgraded on 7. That's almost 1/3! Not bad.
Extended leg room, window seats, empty rows to myself, exit rows, and bulkhead rows all allowed for a more comfortable flying experience on my 2 to 6-hour flights.
Being upgraded on a flight to me means any seat that is better than the one I was assigned. Rarely if not ever do I pay for a seat in a better section of the plane, let alone a window seat.
Honestly, if it were free I would just lay in the overhead compartment.
I think it's important to have an attitude of gratitude when reading this article, and that is my Tip #1. We should be grateful that we have the privilege of leisure travel at all, and not take it negatively if/when we're unable to be upgraded. I'm truly happy to just be on the plane.
…But, yes, I would be happier in row 4 with a window seat 🙂 So here are my tips to getting bumped-up last-minute, as often as possible.
BOOK A LESS COMMON FLIGHT
Essentially you want this flight to be underbooked. Extra seats mean more opportunities to be moved around or bumped up.
If there are multiple flights a day, try to choose the one that you think the least amount of people will be flying. If your flight days are flexible, book the day that will be least likely to fly.
I would give you specific advice such as try to fly in the middle of the week and very early or very late in the day, but it only depends on the time of year and the specific dates you fly.
For example: if you're going to try to get bumped up on Christmas Day, it will be very unlikely. Well, actually, it's possible you could be super lucky and they could bump you up because it's Christmas.
But the chances of you being bumped up because there are empty seats are slim.
It's subjective. If you think everyone is going to fly back from holiday on a Sunday, try to come back that Saturday or Monday. If you think everyone will be trying to catch a certain flight to make some event, head out on an earlier one. Plan ahead!
JOIN THE AIRLINE'S FREQUENT FLYER PROGRAM
Even if you don't fly them often enough to reach Gold Member status, any sign of affiliation and customer loyalty will give you a slightly higher priority in a company's mind.
Plus they're free to join, so why not sign up for as many as possible anyway?
GET TO THE AIRPORT EARLY
After you've done as much as finessing as possible when booking, make sure you get to your gate 1 – 1.5 hours early.
Yes, I have TSA Precheck and Global Entry so I could arrive at the airport 10 minutes before boarding if I wanted and still make my flight. But if you want to be upgraded, get there around 1 hour before boarding. Much earlier and the gate agents won't be servicing your flight yet.
Any later and other people will have taken all of the good seats already!
Tip No. 3: Get to your gate 1-1.5 hours early.
Click To Tweet
People get to the gate check early all the time to ask if they can have their seats changed to have their family seated together, or because when they booked online the only choice left was a window but they're deathly afraid of flying and would prefer an aisle, etc.
You will be approaching hoping for a similar favor.
IF YOU HAVE A SPECIAL OCCASION, ADVERTISE IT
If you have a birthday, anniversary, just accepted a new job, just divorced your sh*tty husband, are moving to a very new place, etc. use this.
For Example: If it's your birthday within the last/next 2 weeks, wear an "It's my Birthday!" pin and say your mom or friends made you wear it.
Bringing these things to people's attention turns you from seat 24B into a living, breathing, human being, and they're more likely to empathize and want to help you if they can. The shirt I've linked below is a super subtle way you could go about it.
ASK THE GATE AGENTS (NICELY)
So you've arrived at the gate 1-1.5 hours early. Now walk up to the gate agent and follow this script:
You: "Good morning/Good Afternoon/Hello, how are you?"
How you greet them sets the tone of the conversation. Smile and look like you have a teensy-weensy favor to ask them because you do.
You: "I was just wondering if this was a full flight? I'm __________________ (in a middle seat/a little close to the bathroom/a little far back) and I just wanted to see if there was anything else available. I'm ______________ (by myself/it's my anniversary and I'm flying to meet my significant other/it's my birthday)."
Don't play coy, and let them know immediately that you're talking to them because you want to move seats. You either can or you can't, there's no reason to beat around the bush. But, following up with some specific and somewhat-credible reasons that you're asking could help your case. If it really is your anniversary/birthday even better, humans are generally good and if they can help you they usually try to.
This is where they would check the seating chart. While they're checking I try to throw in a little compliment about the gate agent's earrings if they're a girl, or their tie if they're a guy. They may know my game, but flattery really does get you everywhere, even subconsciously.
If you booked a less popular flight as suggested hopefully there is a better seat available further up in the plane—maybe even in Premium economy or First Class if you're really lucky. Huzzah!
But there is a chance they may try and brush you off by not checking and just telling you the flight is full, or 
You: "Do you mind just checking? It's worth a shot" OR "Ah, well thank you. We still have some time, can I come back and check closer to boarding in case someone is a no-show?"
You can try again a bit closer to boarding and maybe you'll have luck. I've also had gate agents go out of their way to call me back up to the desk when they find out someone will be a no-show.
I never lie about these things though. Ever. All it takes is a few people to be caught in pointless white lies for travel industry employees to become jaded and stop going out of their way for people.
IF SOMETHING IS WRONG WITH YOUR SEAT/ENTERTAINMENT, SPEAK UP!
I don't mean being entitled and irritating about it. But don't be afraid to let a flight attendant know!
This is the most common way I'm upgraded actually. The audio or display on my entertainment won't work, my seatbelt might be torn, my seat won't recline, or some other malfunction.
I will politely let a flight attendant know about the issue, and often if space permits or it's an extremely long flight where something like broken entertainment would be a huge inconvenience, they will often move you and upgrade you as a bonus for the inconvenience.
A broken entertainment system + kind FA + not-full flight is the perfect storm for a last-minute upgrade.
IF THAT DOESN'T WORK, BE REALLY NICE TO THE FLIGHT ATTENDANTS
This is your Hail Mary. The gate agents couldn't help you, so you're boarding the plane and heading to your somewhat-lame assigned a seat.
If you're walking and it looks like there might be a few extra seats or the flight isn't completely full. After you sit down and they announce that they have finished boarding (not before!), ping a flight attendant and ask if you might move up to a better seat if it's available. This would also be the time to mention it's your birthday, anniversary, etc.
Too broke to book business but hoping for a Hail Mary? Here's how you can get upgraded last-minute on your next flight, from booking to begging. Click To Tweet
If you have an authentic need to be moved: i.e. you get motion sick/are terrified of flying, you have a UTI and need to go to the bathroom a lot, you have super long Naomi Campbell legs, you have an extremely short layover (like 30 mins) and it would help to be further up in the plane to deboard quicker, then you have every right to let them know you'd prefer to be moved.
If the flight looks completely full, you're SOL. Remember: if you really wanted to be upgraded you could have paid for Premium or Business Class.. It's a privilege to be traveling at all, and your seat may not be ideal but at least you're on your way to a new adventure!
SOME "DO-NOT"s
Do not just jump up and move to an open seat or try to secretly sit in Business Class because a seat just because it's open. Especially if boarding isn't finished yet.
When people are boarding the flight the attendants are busy making sure everyone is safe, helping people stow their luggage, directly lost passengers to their seats, etc., and its a huge headache when people start playing musical chairs and switching seats without notifying them.
Do not beg and plead to be moved unless it's a last-minute emergency or unless you're in an exit row and suddenly decide you don't want to be.
IMPORTANT TO KNOW
Some airlines simply have policies against free upgrades. You'll have to be a frequent flyer or just pay to be upgraded to Business or First class. This is the case with United Airlines. However, that doesn't mean you can't be moved from a middle seat near the bathrooms to a window seat further up in the plane.
It's good to know airline policies so you know your chances, but I always say closed mouths don't get fed. Why not just ask anyway? If there's an exception to every rule, it might just be you.
FLIGHT ATTENDANT APPROVED!
I've gotten the following feedback from flight attendants, gate agents, and travel industry workers:
[one_half]

[/one_half][one_half_last]

[/one_half_last]
That's all I got! Best of luck, happy travels, and cheers to kind travel industry workers! 🥂
*This article is full of my own arbitrary, subjective opinions and advice. In no way am I advising anyone to break the law, lie, or manipulate their way into a free upgrade. It's not that serious. 
---
What do you think? Do you work in the travel industry and have any more tips? Or have you had a last-minute upgrade for any other reason?
⇟ Let me know in the comments! ⇟
[one_third]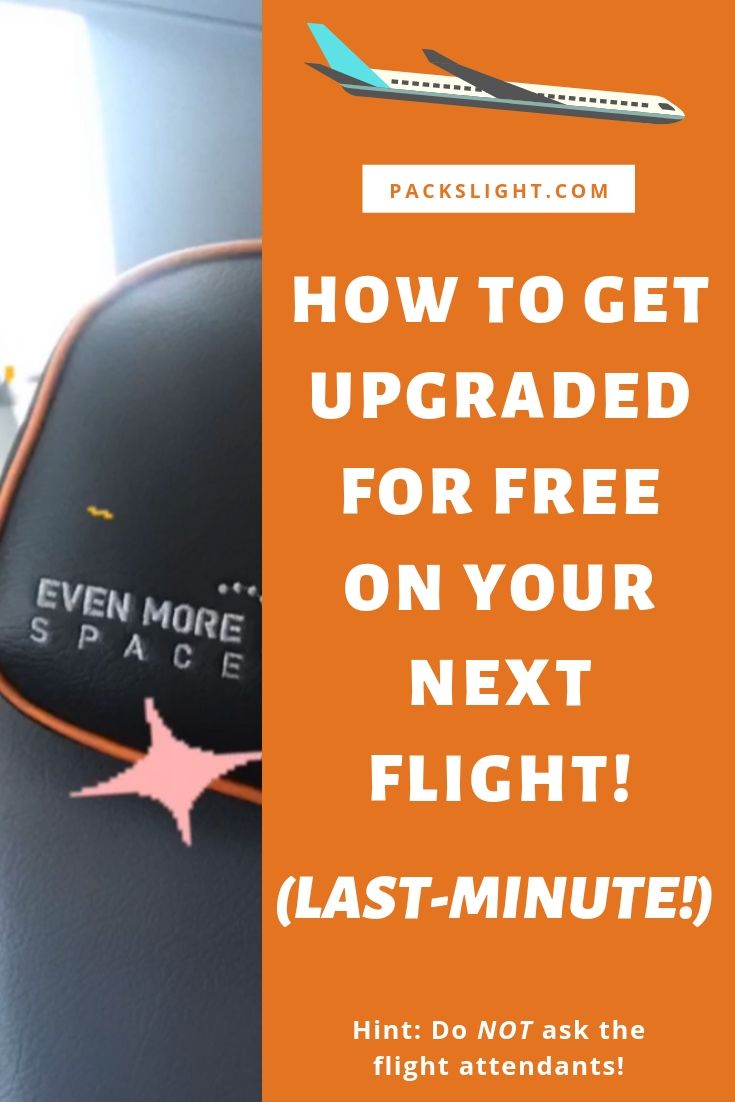 [/one_third][one_third]
[/one_third][one_third_last]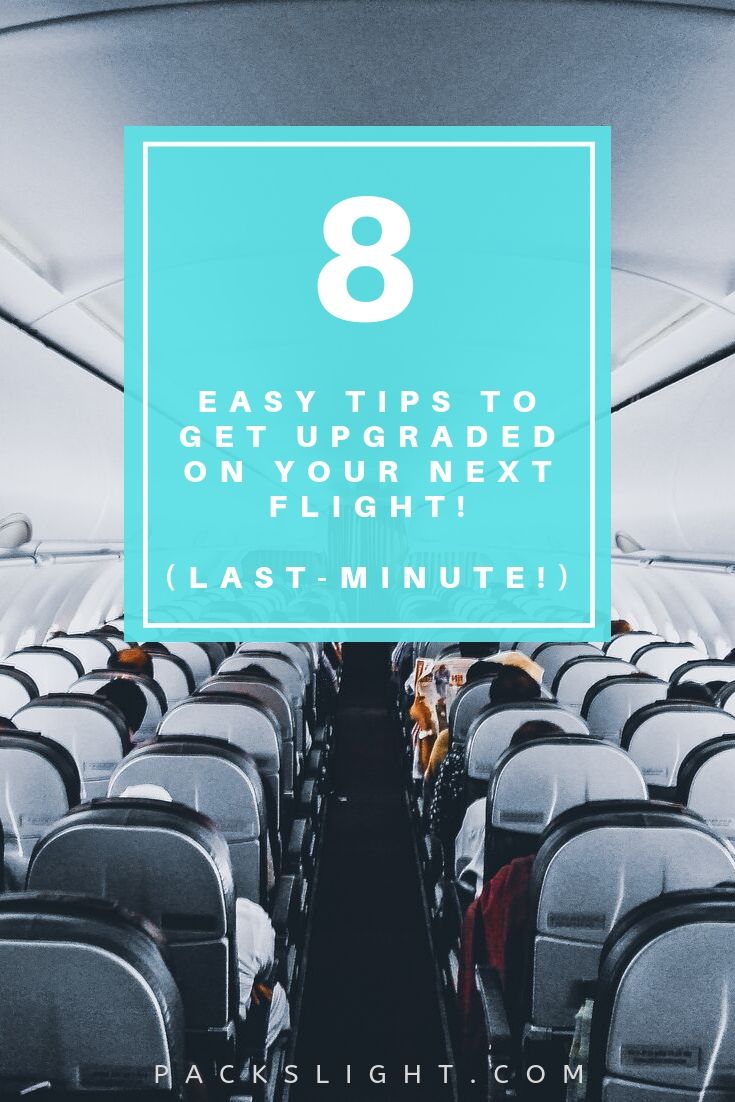 [/one_third_last]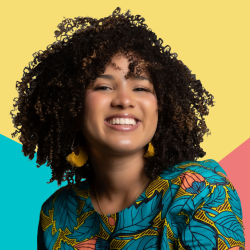 Latest posts by Gabby Beckford
(see all)