Reading Time:
7
minutes
Have you ever wanted to take a luxury vacation but student loans, credit card bills, an entry-level salary, and/or general not-richness prevents you from traveling the first-class lifestyle you know you deserve?
As a financially strapped 20-something, trust me, I relate.
DISCLAIMER: This post contains some affiliate links, meaning if you use them to purchase, I'm paid a small fee. Cool? Cool.
But as a travel blogger who has visited 28 countries and lived in the very expensive cities of Dubai, UAE and Washington, DC, let me tell you—I am the queen of faking it. From my social media posts, one might assume that I am secretly a duchess who lives life like the photo below on a daily basis:
When in reality I threw my back out last week dragging a very nice ottoman out of the trash room of my apartment building because I didn't want to spare the $500 it would cost retail. (In all fairness, it is a quality ottoman. And I don't care how rich you are, no one can resist $FREE.99)
This, my friends, is the power of illusion. And this article is me giving away all my magic tricks.
How to get luxury vacation rentals on a budget
With this lovely app, not only are affordable accommodations possible around the globe, but some especially unique and affordable stays exist! In a word, Airbnb gives you the option to be boujee-AF.
Depending on the part of the world you go to you can get a lot of bang for your buck in terms of luxury housing!
Places most common for this are Asian countries such as Indonesia, Thailand, Vietnam, African countries like Kenya or Nigeria, South American countries including Colombia, Brazil, and Ecuador, and Eastern European countries like Czech Republic, Prague, and Croatia.
By going to places with a cheaper cost of living than where you're from, you can get luxury for WAY less. Get more VIP travel tips in the article, from luxe experiences to transportation to trip photos to clothes.
Click To Tweet
Four people splitting $50 a night is $12 a night. Yes, the cost of one Panera meal per night to stay in a Balinese suite for 4 days. Luxury travel truly does not have to be as expensive as you think.
Not a fan of Airbnb?
Sites like VRBO, Booking.com, and Home Away are great alternatives that also have affordable, luxury listings. However, I haven't used them and can't speak from firsthand experience. I do have experience booking travel with Groupon though! And, like my experience in Sri Lanka on a Groupon excursion, it was extremely 5 stars.
For luxury transport: TURO
Not enough money in the bank to pay for extra guac, let alone the car payment for a Tesla? No need to pay pose in strangers' private jets or Maserati's like some clout chasers do.
That's where an app like TURO comes in. Now your trip to L.A. or Las Vegas can truly be as Instagrammable as you desire because you can be rolling in a Rolls Royce, Lexus, Camaro, and so many other brands of luxury cars.
The app works very similarly to Airbnb. Private citizens who own luxury cars rent them out for a low cost per day.
I mean, it makes sense. If I were rich enough to own a Lambo I would definitely be traveling. Why not have that Lambo make some passive income instead of collecting dust in a garage? And TURO insurance is covered and the process is made easy.
See some snapshots of the app below, from my local city of Washington, D.C.
Even better yet—TURO is available in 56 countries and counting so you can flex in cities like Toronto, Dubai, or Barcelona too.
Your latest boujee vacation is a trip to New York City. You've somehow been invited to a black-tie event—yay you! But what are you going to wear?
Rent the Runway is a service that allows men and women to rent brand name and designer dresses, suits, jewelry, and even handbags for a few days or weeks. They have hundreds of designers like Diane Von Furstenberg, Gucci, Moschino, Vera Wang, and Versace.
You can request and reserve your item(s) for certain dates, they mail it to you, you wear it and make the masses swoon, and when you're done mail it right back. Easy-peasy.
What are some other, more common shops that I think sell luxury-looking items for less?
✧ ✧ Wanna save even more? ✧ ✧
Fashion Nova
Windsor
Activate the Ebates plugin when you submit your order and get $10 cash, and an extra 3% off the price of your entire order. Not enough? Jeez, alright you money-saving queen!
Here's another $15 off your Windsor purchase.
Want the gorgeous blue wrap travel dress I'm wearing in this photo in Cinque Terre?
Honestly, a high-class look comes down mostly to styling. But I believe these shops can have quality items that can be used to make a much more expensive look.
For luxury photos: Hire a professional photographer
What's a posh vacation without posh photos to show how seemingly rich you are? *insert scammer laugh*
Hiring a professional photographer for a shoot when you're traveling guarantees well-lit, well-framed, interesting, good quality photos for your Instagram and beyond.
Trust me, you'll appreciate the $50-$100 you spend for a 30-60 minute session because the products will look better than anything your iPhone could ever take. Most photographers take the photos, edit them, and may even give you digital and print copies.
Looking for a photographer while abroad?
My go-to is always Airbnb Experiences such as this one: a 3-hour tour & photography session with a local, for only $56. With prices like these, I literally think it's worth it to have a photoshoot on every trip!
With Airbnb Experiences you also get to see samples of their photography work displayed to see which photographer has a style you like best. You may also have luck finding a photographer on Craigslist, Groupon, or more niche sites like Shoot My Travel.
For luxury experiences: Finding VIP experiences, and finding VIP people
Finding VIP Experiences
The biggest part of (seemingly) luxury trip is doing (seemingly) once-in-a-lifetime events that the mass majority of people do not usually do but would want to do. This could include helicopter rides, a VIP tour of tourist hotspots, partying on a yacht, attending a gala in Paris. You know, all of the things rich people do in their spare time, right?
Well, you can do them too on your next trip. Sites like Groupon, Living Social, Airbnb Experiences have great deals on these types of events. Like this "What Happens in Vegas" VIP Tour I hope to do in my coming trip to Las Vegas.
Doing a tour like this can make it seem like you have special access than the normal person would, and have people wondering how you got to do that. Little do they know the experience is available to anyone for just $49.
If you're traveling to or live in LA, check Time Out to get free tickets to the world's biggest shows like Ellen, Conan, The Voice, and Family Feud. GameTime is also free to use and scrapes hundreds of other ticket sites to give you last-minute tickets to theatre shows, sports games, and concerts and around the United States.
Pre-check with resorts for day passes for luxury access
Another favorite tip of mine is calling resorts before your trip to see if they offer day passes. Why spend $700/night at a Ritz Carlton in San Juan when the day pass to use their pool and private beach is only $60? Cha-CHING.
But what if you want actual special access?
Hmm, this is trickier. To have this access you need to meet people with this access.
Travel like a Kardashian with the budget of a broke college student.
Click To Tweet
Meeting VIP People (or people with VIP access)
My usual way to I do this is via social sites like Facebook or apps such as the "dating" app, Tinder. I say dating with quotation marks because I've connected with 80% great travel friends and 20% actual dates, and those apps aren't limited to just romantic trysts.
I'll get on Tinder and change my bio to something along the lines of:
"I AM MARRIED AND NOT LOOKING FOR ANYTHING MORE THAN FRIENDS. I'm in town for X amount of days and looking for friendly locals or other travelers who want to explore some VIP places and parties"
Of course, use your common sense and don't let your guard down and accept unmonitored drinks or jump into a stranger's car.
The power of social media
Asking around in travel Facebook groups and/or seeking tips from followers on Instagram may be a great idea too! You never know who works as a Marketing Director for ABC or whose uncle is an owner of XYZ nightclub and can get you a section on the house. Ask!
And finally, the good old fashion way—asking in person. Get off your a** and meet some people.
In-person networking (i.e. meeting people!)
Especially if you're in a boujee city like NYC or Miami, you practically can't help meet somebody who knows somebody with a cool hook up. Approach someone at the bar, compliment them on their outfit, and start chatting.
Example: On the last day of my Las Vegas trip my friend and I planned on spending our final hours wandering the strip. It was only 12PM, and our flight didn't board until 7:50PM. We walked past a club called Drais and a promoter called us over and asked if we'd like to go to the day pool party they were having on their rooftop. We chatted him up a bit and somehow got invited into the club, got access to a VIP bungalow, and unlimited drinks all for free. Want some proof?
[two_third]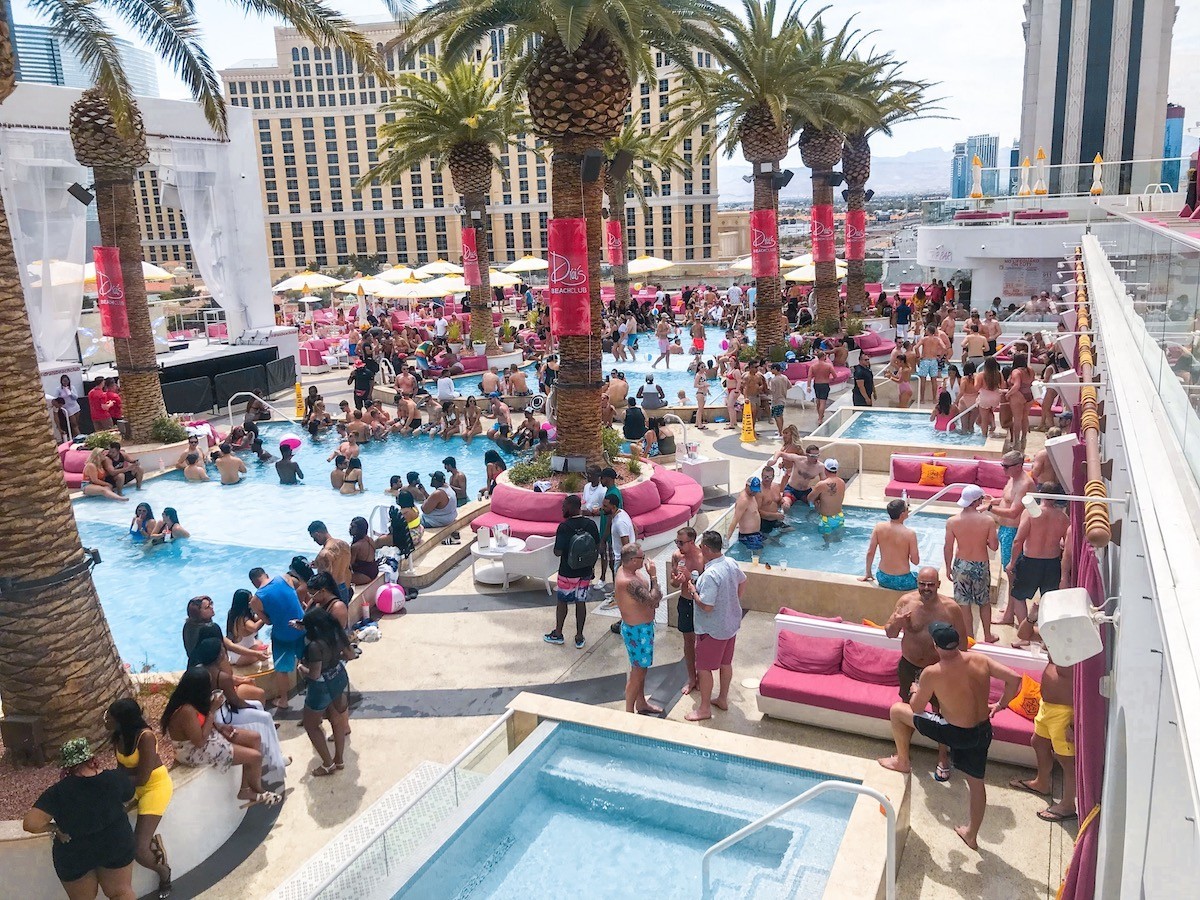 [/two_third]
[one_third_last]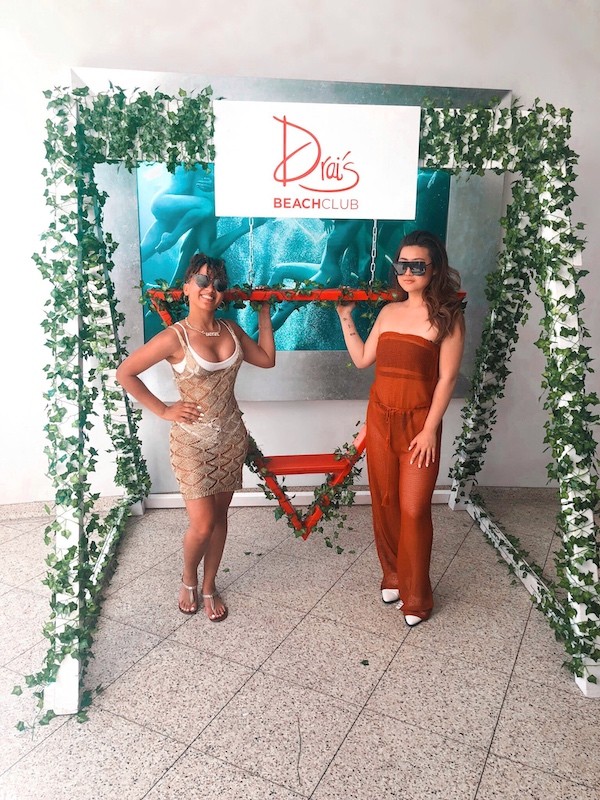 [/one_third_last]
IMPORTANT: I only preach authenticity and connection.
Don't be a dick who uses people for connects and then discards them. I have plenty of well-connected friends who, yes, sometimes hook me up with cool opportunities, but all the time I value them as people and appreciate their friendship.
Being nice has also consistently gotten me upgraded to extra-foot space and/or first class on flights! As in, upgraded 17 out of 22 times that I've last flown. Check out my article here on step-by-step instructions on how.
For luxury hotels, flights, and more: Travel hacking
Essentially it's the using of hotel loyalty programs, frequent flyer miles, affiliate programs, credit card points, and other supplementary travel credits to offset the cost of travel and have access to VIP opportunities.
Now imagine to get VIP perks like that with multiple airlines and hotel chains, saving up to 30% of the total cost of a trip, using credit card points?
Check out my in-depth interview with experienced travel hacker Jarrod West who explains step-by-step how you can make $2000 stretch into a $10,000 vacation, and even more on travel hacking.
These famous travel bloggers also provide great services to help you catch a luxury deal at a discount:
Example: The Hilton Honors loyalty program is world-renowned. Hilton has more than 18 hotel brands (including luxe brands such as the Waldorf Astoria, LXR, and Conrad), so when you gain points and reach Silver and Gold status the amount of perks you get as a member increases. You can be upgraded into their villas & suites, get butler service, complimentary champagne, free night's stay, and other VIP and luxury experiences all because you're a loyal customer.

That sounds like a luxury vacation, am I right?
I've used my Chase Sapphire Reserve's travel perks for free flights, free lounge access, free meals and drinks, and TSA Precheck/Global Entry so I never wait in airport lines.
---
Those are my tips! Ready to live your best luxury life next vacation?
Let me know if you use any of these tips the next time you're ballin' on a budget!
[one_half]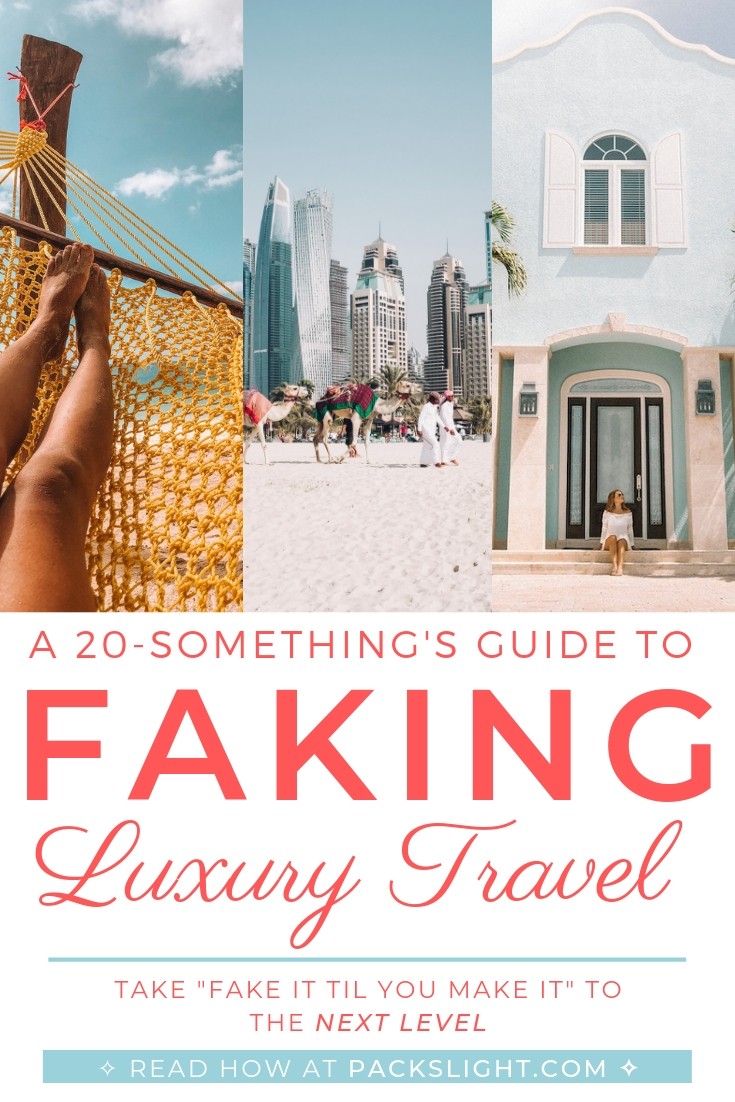 [/one_half]
[one_half_last]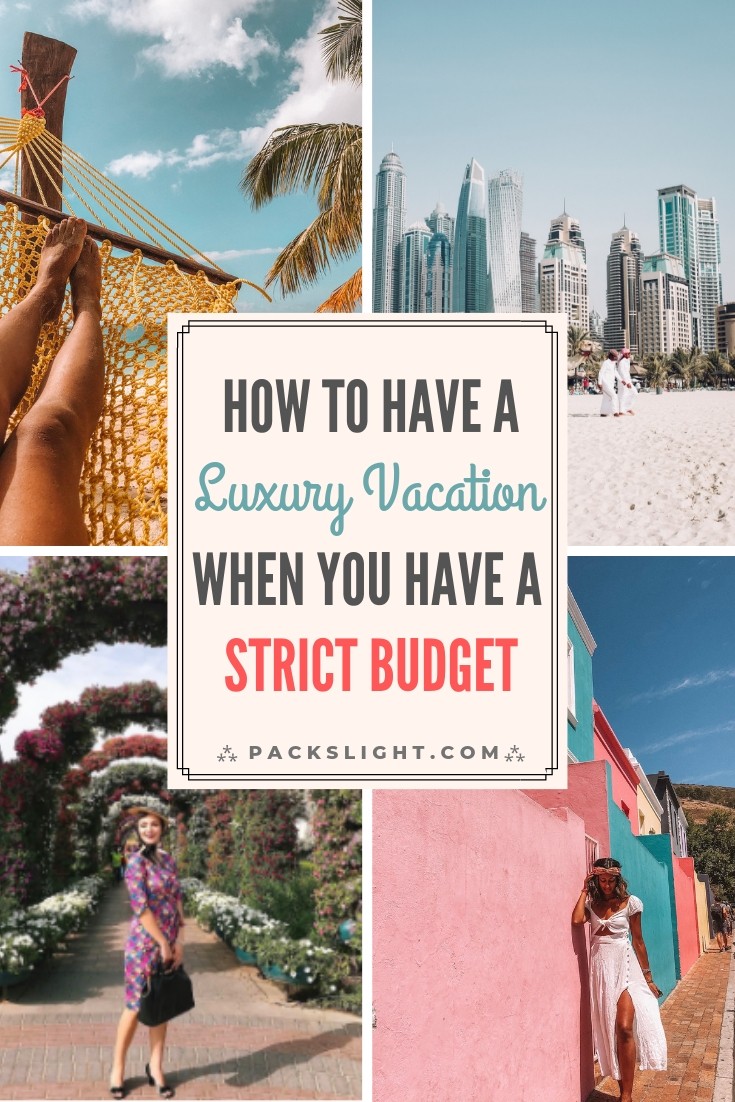 [/one_half_last]