Reading Time:
4
minutes
Group chat that has a minimum of 50 new messages at all times. An assumed invite to every dinner date, movie, mall-trip, and hangout session.
Being intuitively associated with 8 other people when one of your names are said aloud.
You and your friends receiving, "Hey, where's (insert one of many best friend's names here)?", when one of the crew isn't present in an Instagram photo.
A list of things that I can't relate to.
I do have friends (give me the benefit of the doubt on this…), but for as long as I can remember I have never been a part of an exclusive, core friend group
You know the ones I'm talking about—the squad. The gang. The main crew. The ride or dies who are always with each other and something is definitely wrong if they aren't. I am social, I love making friends and meeting new people. But somehow my friends never seem to form deep bonds with each other or be in the situation to fall together into a crew.
And if you're reading this, maybe you've noticed the same thing about yourself. Especially if you travel a lot as I do.
Why does it seem to be so effortless to everyone else, and yet we've never been a part of this Hollywood group-friendship experience?
We can't consistently tolerate every personality type
This isn't a good or bad thing, it's just the way we are.
In a group of people if there is someone who has a dramatically different energy than us, whether it be extremely extroverted or shy, we don't force ourselves to be around it. It's not a matter of like or dislike, we simply don't feel a sense of obligation to claim close friendship with people we don't have a strong connection with.
It's not a matter of like or dislike, we simply don't feel a sense of obligation to claim close friendship with people we don't have a strong connection with.
But sometimes we may give off the wrong impression…
Unfortunately, our independence may give off the impression that we may not want to put in the effort to hang out with everyone or that we may be trying to distance ourselves even if that it's exactly the case.
And while we don't need to be in a core friend group to function as a human, we do appreciate feeling included. It sometimes hurts when we aren't invited to every group function and we can feel as if it doesn't make a difference to people whether we're there or not. 
However, we also don't blame them. We realize we do sort of have our foot in multiple friend groups and it would be impossible to be completely committed to all of them, or have all of them fully committed to us. We know it makes sense… but somehow still seeing all the Snapchats and group photos later on still stings.
If you're a fellow traveler, I

know

you relate.
For my fellow travelers out there reading this, I'm almost positive you can relate to this in some way.
Our lifestyle is not exactly conducive to an exclusive, tight-knit, daily friendships in general, let alone sustaining a friendship with an entire group in a singular location.
Us travelers have a lifestyle is not exactly conducive to an exclusive, tight-knit, daily friendships in general—let alone sustaining friendship with an entire group in a singular location. Click To Tweet
We come and go from many places, all the time. Our range of friendships change from best friends from home that we love but talk to only occasionally, to our best friend of the night that we met in a salsa club in Puerto Rico.
It's almost impossible for us to have a core group of friends. Society has long told us that our dynamic and ever-changing lifestyle is peculiar, and we feel even more strange because it feels like we can't even have friendships like everyone else! (And let's not get started on romantic relationships… sigh).
We do have friends—because we want them, not because we need them
But let me reiterate, we do have friends. However, we choose to make bonds with individual people instead of groups. We do have numerous die-hard friends, though they may not hang out with each other or even know each other.
I'm not saying that all friend groups have a foundation of shallow relationships. But have you ever noticed how some friend groups have members who never seem to hang out individually? Sam never seems to want to get lunch anymore if Sarah is the only one free. Yawn. Who has time to be "friends" by association, but not by memory or bond?
But we acknowledge the value of not being exclusive. We can have deep relationships with vastly diverse people of different ages, genders, cultural groups, and walks of life—and that's something a ridiculously tight-knit friend group may not get to experience.
And we love our random collection of friends even more for it.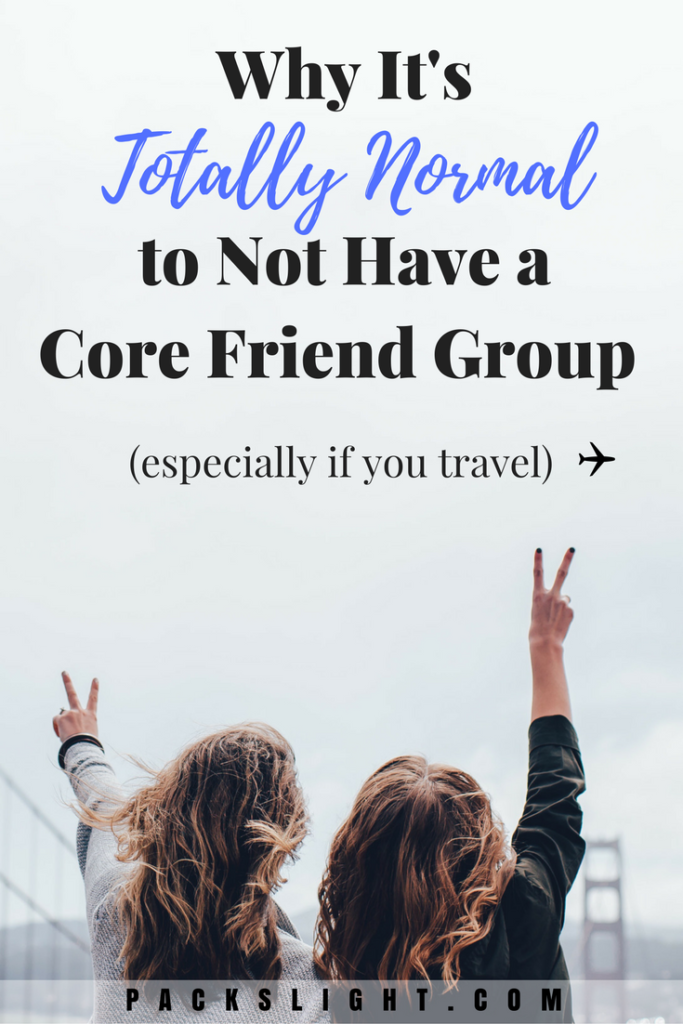 The best friends I have in my life right now include: a girly, Irish, sorority-girl I've known since high school; a Mexican vegan, rave-loving friend from college; a Pakistani post-grad and fellow world traveler; a Korean expert event planner; and a Bolivian pre-med student.
Do I expect all of them to be in a group chat and talk to each other every day, and invite me to every little thing they do? No.
First of all, that would be weird.
Second of all, I know deep inside that I just couldn't be there for every single thing I would be invited to, I travel too much and my life is too unpredictable, and saying no to the majority of invites would just feel like I was making excuses and make me feel like a bad friend!
Are they all a part of other friend groups that don't involve me? You bet. And I, them.
Do I sometimes wish all of them could just appear on my bed for McDonald's and Netflix without me feeling that I had to moderate conversation because I'm possibly the sole common link between them? Sometimes. It would be nice, honestly. And I may awkwardly force them into it one day.
But you better believe each one of them will be at my wedding, crying their eyes out because they love me as true friends.
As a matter of fact, all of my hodge-podge friends will be in attendance, even if the only thing they have in common is when they say "Bride" when they ask who they're there for.
All you can ever really ask from your friends is for them to be supportive, loving, and honest—and my friends definitely hit that ball out of the park. So why does it matter if they may be scattered across the globe and may not know of the existence of each other when they all makeup such a huge part of mine?
Read the syndication of this article from the Huffington Post.
---
Do you have a core friend group right now? Do you not?
If you can relate to this article, SHARE it with a friend who may be feeling the same way, and let's chat in the comments.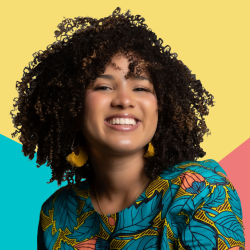 Latest posts by Gabby Beckford
(see all)