Reading Time:
6
minutes
This post may contain affiliate links – meaning that if you purchase something through a link, I get a small payment for it (at zero additional cost to you). It is a much-appreciated way to support this website!
Here are 10 major facts about Dubai, UAE that I wish I had known before I moved across the globe.
1. It is humid.
Seriously, what is wrong with the internet. Why did no one tell me? How could I not know?
When I left the US, I knew Dubai was crazy hot, but you kind of assume it's a dry heat—you know—because of the desert.
When I landed here on September 1, I was shook at how humid it was outside. It felt as though I was walking into a hot shower. I had my taxi driver stop by a gas station so that I could take out some dirhams (UAE currency) from the ATM, and the window panes of the gas station were dripping water from all of the condensation outside.
2. Transport is affordable and effortless.
The Dubai Metro System is impeccable. There are stops almost every mile or so and they're very easy to get to. Even my school has a metro stop right in front of it, not even 1-minute walk away.
The best thing about the metro is that it costs only 3.5AED (1USD/.88EU) for each ride.
Taxis are also very cheap and have a minimum of 12AED (3.2USD/3EU) for every ride—most 5 to 10minute rides don't even end up exceeding the 12AED if you don't end up in traffic.
Taxi drivers are also some of the most friendly people I've met in Dubai. I always seem to end up in a  conversation with them of where they're from and what brought them here. There are many stories of rich visitors forgetting millions of dollars worth of jewelry and cash in taxis, and the drivers going to huge lengths to return their belongings.
3. Yes, Tinder is a thing.
Before I came here I always heard how restrictive the UAE government was in terms of personal usage of apps, software, etc. But since being here I've really not noticed a difference in my daily life.
I cannot confirm personal usage of said meet-up app, but let's just say it works. As do other dating apps like Hinge, Bumble, Plenty of Fish, OkCupid, Match, etc. (I promise I'm not using all of these Mom, LOL).
Yes, it is a Muslim country, but because there are so many expats living here at dating apps like Tinder are somewhat widely used.
5.) Yes, you can use @Tinder here.
Click To Tweet
Other apps that I was worried about not working, but do, include:
Snapchat (but you can't Snapchat live video)
Netflix (but like 3/4 of the shows aren't viewable)
Whatsapp (but you can't Whatsapp call)
iMessage
4. Everyone smokes indoors (cough).
I really shouldn't just say indoors. They smoke outside, inside, and on top of every building, park, and restaurant in the entire city.
Smoking tobacco is definitely more a part of the culture here as shisha (hookah, for you hipster Americans) has been a cultural norm of the Middle East since forever.
However, I just couldn't prepare myself for the amount of smoke indoors. Especially in clubs and bars, people smoking shisha at every couch and countertop, and cigarettes at every hand in the bar.
Even now 3 months later, I wave my hand in front of my face to try to breathe at clubs (rude, I know, sorry, but oh well), and come home smelling like a pack of Marlboros. Yuck.
5. Yes, people really are that rich.
Yeah, I'm not sure why this was so unexpected to me. Dubai is literally famous for having the most luxurious, extravagant, gaudy, people in the world.
The casual yacht party invites, the luxury cars, and apartment parties in the Burj Khalifa...
Click To Tweet
But it's truly another thing to see it in real life. Like, the Lamborghinis and Audi's filling my school's parking lot. The casual yacht party invites, and apartment parties in the Burj Khalifa.
When I walked into the Mall of Emirates I looked at the stores immediately around me, and when I only saw Balenciaga, Gucci, Louis Vuitton, Audemars Piguet, etc. I knew I wasn't in Kansas anymore.
Of course, they do have affordable stores here. I wish I'd known that Carrefour is a popular store here, and is basically the Walmart of the Middle East. I wouldn't have packed my pillow and sheets with me coming here!
I usually shop at the Ibn Battuta mall (also metro accessible) because the prices are better than the Dubai Mall or the Mall of the Emirates, and they still have all my favorite stores like Sephora, Forever 21, H&M, New Look, and New Yorker.
6. Ladies, it is ridiculously safe. I promise.
This was really a surprise. I'd heard before I came here that Dubai was a very safe city because the punishment for breaking laws is so severe. Turns out that is completely true. So let me eliminate some of your biggest fears right now:
No, I never fear a terrorist attack, bombing, or kidnapping in Dubai.
No, I've never been attacked or profiled here for being black/American/a 5'3″ woman.
No, I've never had anything stolen from me. I've left my MacBook, iPhone, GoPro, and wallet out in the open in restaurants and beaches and it was always there when I came back or turned into security. Seriously, every. single. time.
No, I've never felt unsafe getting into a taxi while intoxicated in the middle of the night. As I said, the taxi drivers here are closely monitored and are more importantly very kind, hardworking people.
Of course, don't go out of your way to be irresponsible. This is still the UAE and no matter how Westernized it may feel, it's in your best interest to always follow the laws and customs here.
That means try not to belligerently drunk in public, don't disturb the peace with fighting or cursing, don't dress scandalously when in public areas like the mall.
Check out my article My Stereotypical, Excessive, Awesome Dubai Bucket List to see what crazy things I've done and what I still have on my list to do before I leave in April!
7. Yes, you can drink here.
I had just turned 21 a few days before I moved here, and one of my greatest fears was that I wouldn't be able to drink here. But unluckily luckily for me, there is practically a bar or club in every hotel in Dubai. And there are a lot of hotels in Dubai.
The best thing about partying here is "Ladies Night", and the best thing about Ladies Night is that it's literally every night.
That's right ladies, you can get around 3 free drinks a night from different venues. I use Ladies Night, Dubai to see what Ladies Night deals are happening that night.
Dubai is also famous for its brunch specials which usually happen on Friday's. Brunch is actually code for "Drunch" which is code for "get drunk and eat as much as you can from like 10AM-4PM for like 300AED". It's always a good time.
8. Yes, people speak English. And yes, people speak Arabic.
As a student who came here to learn Arabic, you won't believe how much negativity I got for choosing Dubai.
"No one even speaks Arabic there", "It's so Westernized everyone just speaks English", "WHY would you go to Dubai to learn Arabic?"
Yes, I digress, living in a country like Oman, Jordan, or even Morocco may have been better to be fully immersed in the language may have been better to become fluent. But don't knock Dubai!
First off, I'm learning in a school. I could come to Dubai to learn French, Spanish, or Portuguese if I really wanted to. And I have an A in my Arabic class, thank you.
Secondly, Arabic is still the national language here and it is definitely widely spoken. As a matter of fact so is Tagalog, Tigrinya, Urdu, Punjabi, Mandarin, etc.
On the opposite end of the spectrum, I often heard fears that no one would speak English and navigating the city would be almost impossible. Wrong on that account too. I would say 80% of the people I encounter speak English, or at least understands it.
9. It actually gets cold (in my opinion).
Ugh. What the heck. I came here because people told me it was summertime vibes all year round, and now it's early December and it's 60°F/15°C at night. I want a refund.
OK, so I'm dramatic. But I honestly assumed it was 90° weather year round, and now I'm asking my mom to ship me my leather jacket from home.
Go figure.
10. NO, not all women have to wear hijab. But seeing people wear hijab, kandura, abaya, and niqab becomes daily life very quickly.
Let me first say this: NO, foreign/visiting women do not have to wear hijab or cover yourselves completely at all times. You do not have to wear black. You do not have to wear long abayas. You do need to know when to dress appropriately. See my article on what women can wear in Dubai in 2019 for specific fashion advice and dressing scenarios.
Back in Virginia, I'd honestly be hard-pressed to see a woman in hijab. And if I did I would only be able to wonder where she was born or when she moved to the United States.
So initially, seeing so many women covered and men wearing the same white robes was an adjustment. I really thought every guy wearing the kandura (white robe with a long scarf on their head) was the Sheikh. Disappointingly, this is not the case.
But sooner than I realized, seeing this style of dress became the norm. I've learned so much about Muslim dress here it's really been incredible. Not just Emirati dress but Pakistani, South Indian, Omani, and other countries too.
For example, before I came here I would have thought it was disrespectful or cultural appropriation to wear hijab if you weren't Muslim. But I've learned anyone can wear hijab—it's just a scarf. And you don't buy it at a special hijab store either, people wear hijab with scarves bought from Forever 21.
Dubai always seems to get a bad rap in the media.
I'm not saying that all of it is without cause. There have been horrible things that have happened in Dubai from people getting detained and imprisoned for things they might not have been for in other places in the world. But every country has its pros and cons. Just because one country lives operates a certain way doesn't mean it's wrong—it means you need to open your mind and try to understand their perspective, even if you don't 100% agree with it.
If you don't want to come here, don't! You need a lot of paperwork to live here anyway.
But if you're interested in one of the most multicultural, excessive, adventurous, spontaneous, and gorgeous cities on the planet, Dubai will be waiting for you.
---
Have you ever been to Dubai? Have any more questions about it?
Let me know in the comments below.
[one_third]
[/one_third][one_third]
[/one_third][one_third_last]
[/one_third_last]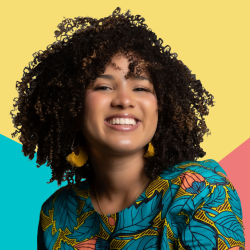 Latest posts by Gabby Beckford
(see all)