Reading Time:
7
minutes
This post may contain affiliate links – meaning that if you purchase something through a link, I get a small payment for it (at zero additional cost to you). It is a much-appreciated way to support this website!
Education abroad and study abroad scholarships are two elements of university life that are misunderstood, underutilized, and shrouded in mystery
Luckily, I've decoded the puzzle of applying to and successfully winning this form of financial aid, and to this day have racked up $69,264 in total, of which $41,027 in study abroad scholarships being used exclusively for my academic year abroad in Dubai.
($40,000+ in college study abroad scholarships… after graduating, I've won $100,000+ more in paid travel opportunities!)
Unfortunately, I know that the #1 most common reason that people don't travel is finance-related. How many times have you heard people say that all they want to do is quit their jobs and travel the world?
Study abroad scholarships are an incredibly underutilized funding method and can be easily attained if you know what you're doing. That's where I come in!
👑 You do not have to be a certain major, age, or even be a student to win funds to travel and study abroad! Our Packs Light Past Winners Wall proves that!
In this article, I'll share my process of finding study abroad scholarships, weighing my probability of winning them, applying to them, and ultimately winning them.
Read on, and you'll see the level of behind-the-scenes effort that it takes to win a study abroad scholarship.
So first I'll share my tips on how to find study abroad scholarships, and then I'll show you exactly which ones I won and how I did it!
Search for study abroad scholarships at your home university
I put this first because this is the easiest yet most underutilized scholarship resource.
Your university very likely has a department that specializes in studying abroad.
Don't blow them off just because they're in some admin office next to your school's library. They will have a huge supply of resources on which schools abroad are the cheapest, which universities they have an established relationship with, what type of study abroad you can do—direct exchange, alternative program, faculty-led program, etc.—and their department likely has study abroad scholarships itself.
If you haven't gone to your school's study abroad department yet, put down your laptop, put your Ramen noodles on your side desk, and go right now.
Search for study abroad scholarships at your abroad university too!
Surprised you there, huh? Who said you can only apply for scholarships at your home university? You're technically enrolled at both schools, so be sure to check the website and visit your abroad school's scholarship office if they have one.
Just remember to A.B.C.: Always be checking (for free money opportunities).
Apply, Apply, Apply. And when you get enough money… apply some more!
Do you really believe I am so knowledgeable and lucky that I applied to three huge scholarships and happened to win them all? Uh, no. I wish, but no.
I've applied to more than 150 scholarships, and to date, I have successfully won six of them of various award amounts.
6/150. I won 4% of all of the scholarships that I applied to in college 😅
Do I regret the time and effort it took to apply to all of those scholarships I didn't win? Not in the slightest.
Every application was a chance to hone my writing skills, tweak my resume, reconnect with old professors and mentors for letters of recommendation, and find a new perspective in which I could 'sell myself'. But, if you think money will fall into your bank account and add some zeroes on the end of that $20, I have bad news. Be prepared to put in the immense time and effort to get that moola.
'Pro/Con' every scholarship before you apply
Consider asking yourself the following questions about each scholarship before you decide to apply for it:
Am I a desirable applicant for this study abroad scholarship? Does my major, previous job experience, internships, social connections, etc. make me relevant for this?
Is the scholarship a substantial amount? Is it renewable? If so, for how many semesters?
How long is the application process, and what does it require (essays, letters of recommendation, previous experience, etc.?
What level of competition is there, and will I be competing against hundreds of other applicants or thousands? Is it worth the effort?
Don't waste your time applying for a scholarship you have a minimal chance of winning.
If you'll be competing for a scholarship against a million other applicants but this is the perfect scholarship for you, go for it!
If the scholarship isn't that fitting to you, but it's very obscure, and the competition is less stiff, still go for it. The point is, that you need to focus your energy.
Need help deciding what's worth applying to and what's not? Our Application Tool-kit includes a "Should I Apply to This?" Calculator!
We'll walk you step-by-step through the thought process and save you hours and hours of wasted time and headache by giving you a simple: YES or NO on whether you should apply to that scholarship and your chances of winning!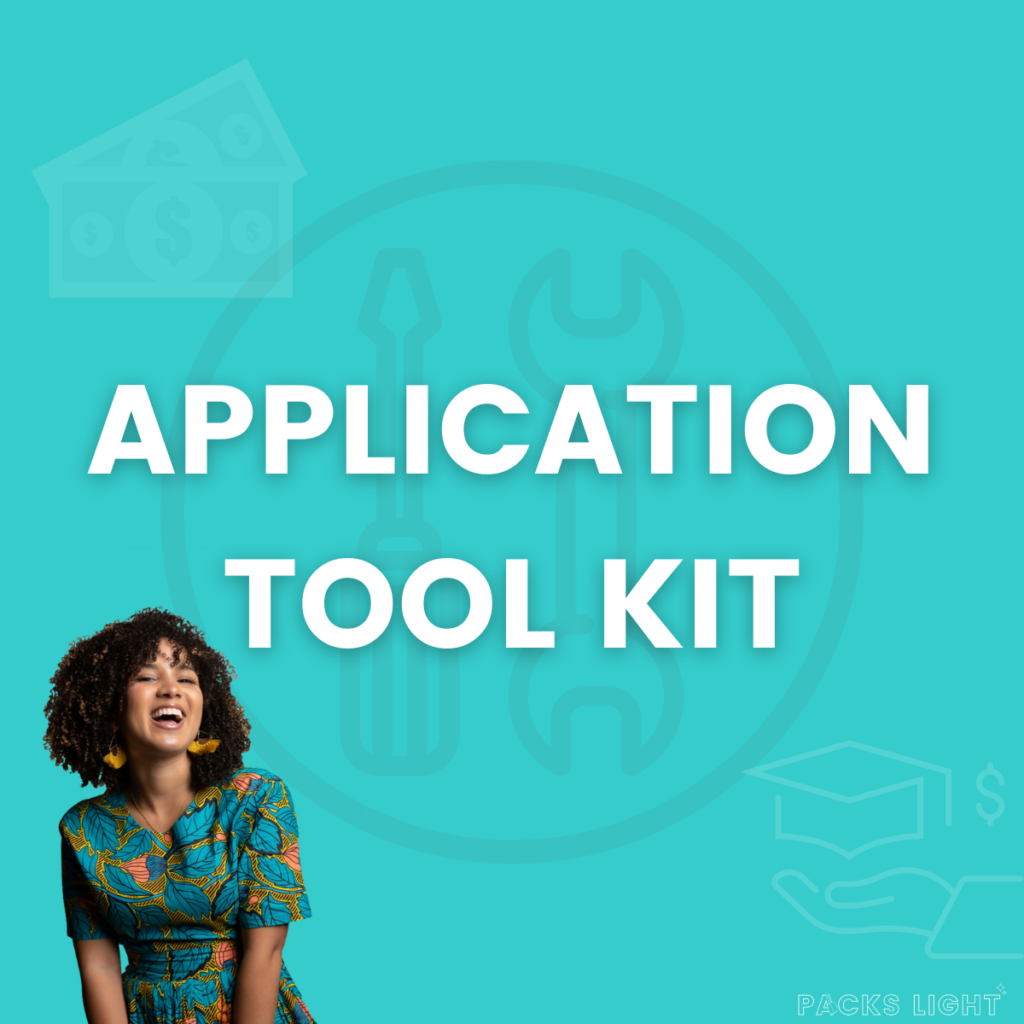 This leads me to my next point,
Find obscure study abroad scholarships
Why go through all the hassle of applying for a scholarship you may not win simply because of the statistics of the competition?
By looking for very specific, new, or local scholarships, you drastically increase your chances of winning. Usually, these scholarships are for smaller amounts since a smaller pool of people applies to them, but hey, money is money.
No. 5: Applying for more obscure and specific study abroad #scholarships increases your chances of winning. Gabby from Packs Light gives more advice here:
Click To Tweet
Focus on having a great application as a whole.
This may sound like common sense (and it really is), but successfully hitting all the marks of a bomb-a** application may not be as obvious as you think.
Firstly, you should always be selling yourself. Never put anything negative about yourself in an application. If they ask for self-critique, critique, but always spin it so that it's more of a point of improvement that you acknowledge and can fix. This also means playing to your strengths. I don't know why you would, but if you ever feel like you should downplay your experiences or accomplishments, throw that thought out of the window.
This application is your chance to brag. Include every relevant thing possible, and present it in an interesting and engaging way so that whoever is reading your application says, "Wow! This is such a unique and strong application." It's very important for your application to stand out from the rest, so don't be afraid to take risks!
In study abroad scholarship applications specifically, universities usually want you to describe the value you hope to find in your experience abroad and why you chose that country.
Be honest and raw in why you want to travel—I wanted to go to Dubai, UAE, because I knew nothing about Islam or the Middle East besides the mess that Western media portrays it as in the media. My school respected my desire to see their country with my own eyes and not judge before I experienced it.
Work on your essay writing skills
However, the pivotal aspect of a successful application is how well-written it is, hands down.
…Did you just gulp?
Writing is not usually a person's favorite pastime or even a strong suit. But the fact is, most scholarships require an essay section where you pretty much have to tell them why you deserve that scholarship over everyone else applying for it. And if your essay is not grammatically correct, spell-checked, and formatted properly, it doesn't matter if you have the best reasoning in the world; you won't have articulated it well enough for the person reading it to understand it.
Basically—it doesn't matter if you have the most poetic, ground-breaking thing in the world to say, you have communicated your story effectively or it's pointless.
Always have a friend, parent, or writing center read over your application before you click that send button.
Chances are, if you've been putting in the hours of work needed for a good application, you've missed little grammar mistakes and some other mishaps. It's worth the last few minutes of annoyingly fixing little mistakes to find out you've won that scholarship.
#Collegetravel doesn't have to be out of reach! Get 9 actionable application tips to win study abroad scholarships here:
Click To Tweet
Finally, my biggest piece of advice to encompass all previous bits of advice is,
And finally: start as early as you possibly can. But no matter what, START!
Don't be me, staying up all night balancing homework and writing these applications. Basically harassing professors and old high school teachers for letters of recommendation within the week before the submission date and pulling my hair out when they don't reply within 5 minutes. Trust me, it's not cute.
Start getting your application together well before the deadline. The final week before it's due should just be you casually reading and reviewing everything and making final tweaks.
Getting a head start on your application will give you the necessary time to make sure that a scholarship is worth the effort of applying for, it will let you make your essay stronger, it will let your professors make their letters of recommendation stronger, and it will give you the confidence you need to win!
The surprising fact is that I could've started applying for study abroad scholarships in middle school! Check out my article on travel scholarship/grants for KIDS grades K-12.
The following are the exact study abroad scholarships I won and the story behind how I won them. I hope it can give you a perspective of how much time and effort I put into applying for them and the real secret behind winning them.
I'm building an e-course!
Take the survey below to show what you would want most in a course, and to get a discount on the course and be the first to know when it goes live!
Study Abroad Scholarships I Have Won
David L. Boren Language Scholarship
AWARD AMOUNT: $20,000
HOW I WON IT: I found the Boren Language Scholarship quite simply: by Googling "study abroad scholarships VCU". Exactly that.
I applied right before the deadline. Why do I think I won it? For having exceptional writing skills, a creative perspective, and persistence.
For this scholarship, I had to write two very well-thought-out 800-word essays and get three letters of recommendation all basically convincing them that studying abroad would be very beneficial in my career path.
It was a lot of time and effort put into writing these essays and having a compelling argument why a STEM major like me, who is now a Mathematics major, would benefit by learning a foreign language and living abroad for a year.
Now, this scholarship has one string attached—I have agreed to work for the US government for at least one year in some fashion after I graduate, in exchange for this grant.
The William Jefferson Clinton Scholarship
AWARD AMOUNT: Complimentary tuition and board for one semester ($13,989 value)
HOW I WON IT: I found William Jefferson Clinton Scholarship, again, by Googling "study abroad scholarships AUD". Are you sensing a trend?
That's right, I applied for another scholarship already after I had just won a huge sum of money with the Boren. You might be wondering, why?
Uh…Why not?
I completed the application, including a health physical by my physician, a $50 application fee, and a 500-word essay of why I have an interest in learning about the Middle East and experiencing life there. When I got the email saying I had passed to the phone interview stage, I was shocked. When I found out I had actually won the scholarship, I was definitely in shock.
I won $40K in study abroad scholarships. See which ones, how I won them, and some more scholarship application tips here.
Click To Tweet
Virginia Commonwealth University's Deans Scholarship
AWARD AMOUNT: $3,519 x 2 semesters = $7038
HOW I WON IT: I won the Virginia Commonwealth University Dean Scholarship through my school, VCU when I was a high school student applying to attend VCU for my bachelor's degree. So this lesson is essential for those still in high school—your grades can matter! More specifically… how valuable you are perceived to be, matters.
This scholarship was given to me as an incentive to choose to go to VCU, I believe, for three reasons:
I had an above-average SAT score—my SAT score was 2010, and in 2013 the national SAT score average was 1498
I had an above-average GPA—having a 4.35 GPA thanks to the International Baccalaureate classes I was taking
I applied with the intent of pursuing a biomedical engineering major, a fresh and highly-funded degree program at VCU still thirsty for new students and willing to bribe us.
The scholarship would apply at least $3,250 for each semester of my college career (and does transfer for study abroad!), and the only stipulation was that I needed to keep my GPA above a 3.30 for each semester to keep it.
Was I surprised when I received a letter saying I was awarded the Dean's Scholarship? Absolutely.
But it would be a lie if I told you that the Dean's Scholarship wasn't a huge deciding factor in me choosing to go to VCU, especially when I found out that it transferred for study abroad. A first-hand example of how good grades and working hard in school could change your life!
Ready to start your study abroad scholarship search?
I hope my advice has inspired you to pursue some study abroad scholarships. Well, you can start right here! Here are some resources you can check out for an abundance of education abroad scholarships:
Those are the absolute best resources for study abroad scholarships that I've found. Click the above links and comb through every single scholarship to see if you fit the bill for any of them.
If you take away anything from all of this, it should be that you may not win all of the scholarships that I won, but you can win.
If you found this article helpful in your study abroad funding journey, you'll love our FREE online course on seeking and succeeding in paid travel opportunities. And share this article with a friend!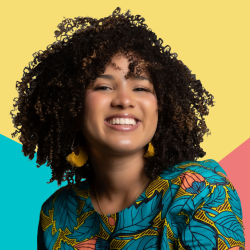 Latest posts by Gabby Beckford
(see all)