Latest posts by Salina Owens
(see all)
Reading Time:
4
minutes
This post may contain affiliate links – meaning that if you purchase something through a link, I get a small payment for it (at zero additional cost to you). It is a much-appreciated way to support this website!
The Young Traveler's Network series showcases candid guest interviews of young people worldwide and the inspiring stories of how they navigate their lives and travels. They share their stories to educate, inspire, and empower others to see the world!
This week a Young Traveler named Salina, 26, shares how she did a Spanish study abroad and how you can too.
---
Spain is one of the most popular countries that American students are interested in for studying abroad–and for good reason! A spring break trip or road trip through the country is great, but nothing will give you the cultural immersion, life-long friends, and appreciation for the country like a study abroad experience will.
Here are some tips to help you have a Spanish study abroad experience.
But first, some background on me and my experience: I am an American student and at 24 years old,—my first year abroad in Spa—I registered with a Spanish language academy to fulfill my visa requirements. I stayed there for two years, and in my third year, I decided I wanted to apply for a master's program in Spain as well. I was accepted into a Spanish university in Madrid for a Master's in International Education program, where I also completed my internship as an auxiliar de conversación.
To do all of this I needed a Spanish Student Visa, which you can get in 3 main ways:
3 ways Americans can study abroad in Spain
Studying abroad for a semester of undergraduates or graduate degree
Apply for a higher education program at a Spanish university. With this, you'll easily be able to apply for the Spanish Student Visa.
I got my Master's degree by studying abroad in Madrric as part of the Teach & Learn in Spain program at the Instituto Franklin of the Universidad de Alcalá.
What is the Teach & Learn in Spain program?
The Teach & Learn in Spain Program has been around for almost 15 years and offers native English-speaking students the chance to earn a Master's Degree and gain experience in a school in Madrid as a language assistant.
💡 Looking for program recommendations in Spain? Are you a computer science major? Get 100% of your tuition covered at the Univesidad Europea de Atlantico's full-ride scholarship computer engineering program, in Cantaabria, Spain!
Become a Spanish-English conversation assistant (Auxiliar de Conversación)
Think of this option as a work-study program, but in Spain.
This program is run by the Spanish Ministry of Education, Culture, and Sport and its aim is to facilitate a relationship between the Spanish education program and those of native English-speaking countries. In exchange for your work contributions, you are allowed a student visa in Spain.
The program that facilitates these jobs—the North American Language and Culture Assistants Program—is run by the Spanish Ministry of Education, Culture, and Sport. Its aim is to facilitate a relationship between the Spanish education program and those of native English-speaking countries.
What will you be doing as a conversation assistant? You will be placed in a Spanish school helping students with their English conversation practice. The kids can be anywhere from primary to high school age, and you can submit your preferences on where exactly in Spain you want to work, but ultimately it is up to the ministry to decide your placement.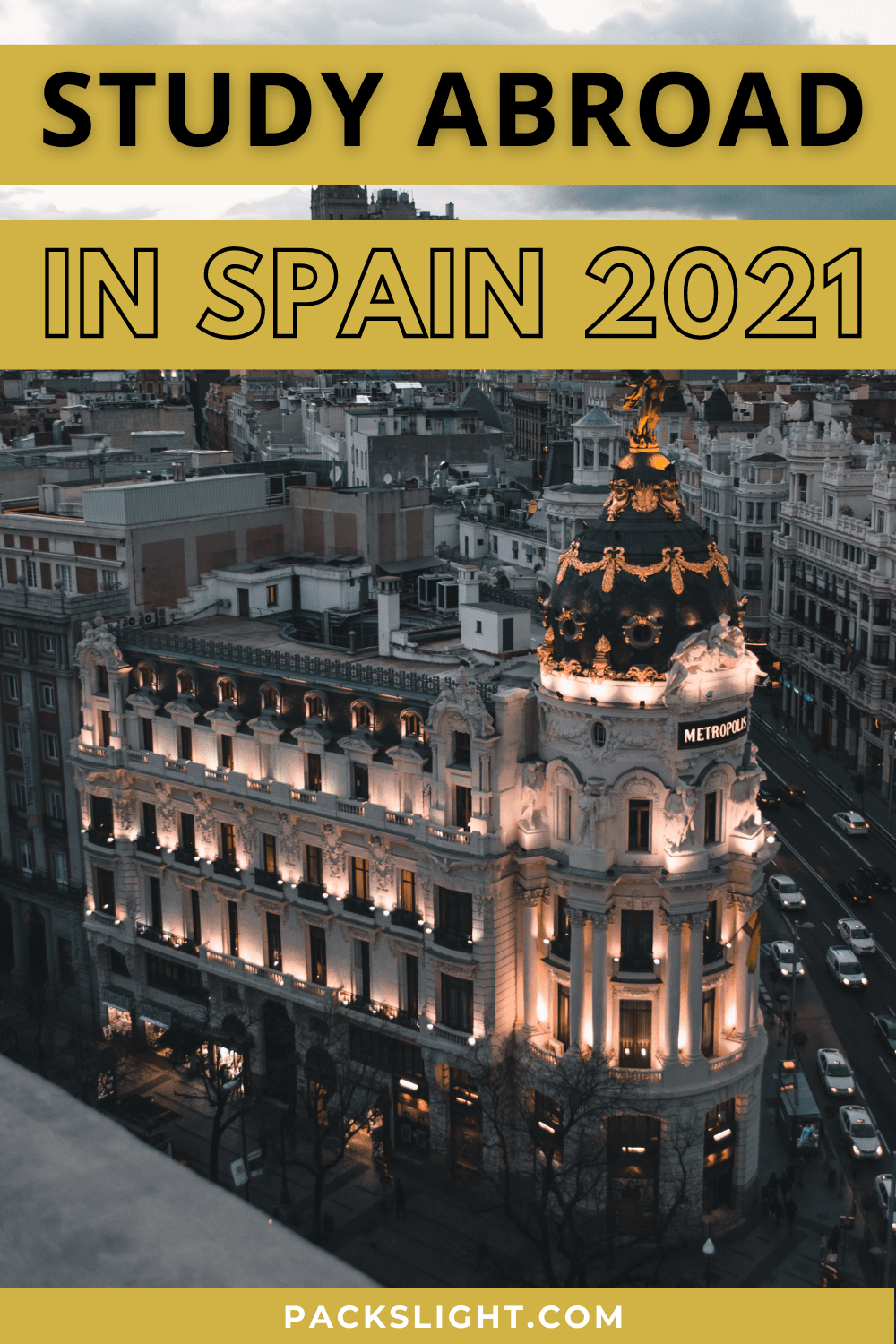 The program runs according to the school year, October to June and applications open from January to April for the fall semester. It's advised to submit them as soon as they open because the selection process can be competitive.
Interested in applying? Get more information about the program requirements and application process on the Cultural Assistants website, and see the Auxiliar blog to discover some of the ins and outs of being an Auxiliar.
Take Spanish language classes
Register with a Spanish language academy to take classes 'full-time'. Not technically a university degree program, but still studying. Most of these programs coincide with the school year, but you can apply at any time.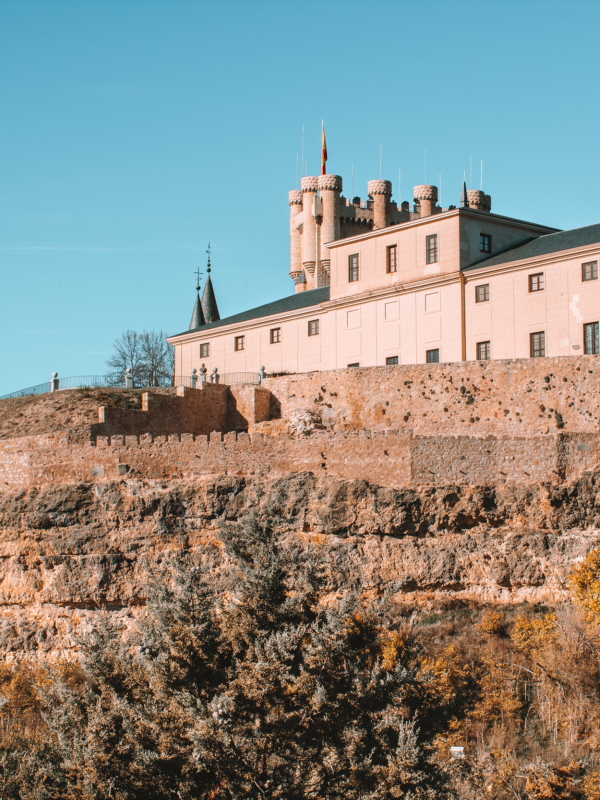 Tips to successfully apply to study abroad in Spain:
Start preparing a year out
I saved up for a year and lived with my parents in order to have enough savings to move to Spain. Some factors to consider when starting to save are health insurance, deposits, first month's rent for an apartment, plane tickets, language academy/university tuition for one year, food, and document fees.
The Cultural Assistant program provides its chosen candidates with health insurance, so if you apply for this option, you will not have to save for this.
Decide: where in Spain should you study abroad?
Spain is a very diverse country with a lot to offer! Big cities like Madrid and Barcelona are the most popular, populated, and have the largest job opportunity. The northern regions of Spain offer beautiful views and a rainy climate.
The southern regions of the country offer warm weather, constant sun, and very affordable living arrangements, like Sevilla, Valencia, Santander, and Bilbao. You can also apply for placement in the Balearic or Canary Islands which to many because of the wonderful climate and overall atmosphere.
But of course, at the end of the day, where you study likely depends on your degree program and the university and program that are the best fit for you in Spain.

Choose one of the study options
If you want to keep it simple the first time, the easiest route to go is to enroll in a Spanish language academy. Many are easily able to provide the documentation needed to fulfill the long-term student visa requirements as long as you have the funds to pay for a year of classes.
For my first-year student visa in Madrid, I studied at LAE Madrid .
Research a few academies in the city you choose and get into contact with an advisor. You can always change to a different school/study option if you plan to stay longer than a year, that's what I did!
If you're looking to study a specific field like education, dentistry, or economics, a Spanish university that has a mixed curriculum could be the best option for you, depending on your level of Spanish. A basic to intermediate level of Spanish is needed in most cases and will help overall with daily life.
Apply for the student visa
Review the required documentation from the consulate's website and start preparing! Bring all your required documents to your appointment at your consulate of jurisdiction. From there it's a waiting game to see when you'll get the OK to come to pick up your passport with your visa in it. On average, it can take anywhere from 1-3 months.
When I first decided to immerse myself in a study abroad program I knew Spain would be a great choice to improve language skills, travel around Europe, and capitalize on numerous job opportunities. My experience studying abroad hasn't been all sunshine and rainbows, of course, there have been obstacles like bureaucracy, loneliness, the language barrier.
It's all a part of the experience! If I could, I would do it all over again.
---
Are you looking to study abroad during the pandemic? Are you currently studying abroad and have advice for others? Share your thoughts below!