Reading Time:
6
minutes
I just got back from eight sunny days in Fiji!
Yup, Fiji – that little island paradise your parents were obsessed with visiting but never could because it's expensive.
Known as the soft coral capital of the world, this is a destination celebrated for its lush foliage, vivid blue waters, and the most incredible snorkeling imaginable. I got to spend a full week in this dreamy oasis, exploring the island's majestic landscape and soaking up the sun.
But you wanna know the best part? I didn't pay for anything.
Learning how to travel for free has completely changed my life, and I'm going to tell you how you can do this too!
I won a free trip to Fiji… here's how you can too!
Back in March 2020, I found a travel contest online offering an all-expenses paid trip to one of the world's most amazing destinations. Winners would get to spend a week exploring and working with a non-profit organization.
I didn't know if it was legit, but they weren't asking for my credit card details, private information, or anything suspicious.
All they wanted was my name and my email. It seemed like a low-risk, high-reward situation. Worst case scenario, I got added to a newsletter that I could unsubscribe from later.
So why not?
After I submitted to the contest, the world shut down because of COVID. I honestly assumed the contest was canceled, but two years later I got an email saying that I won!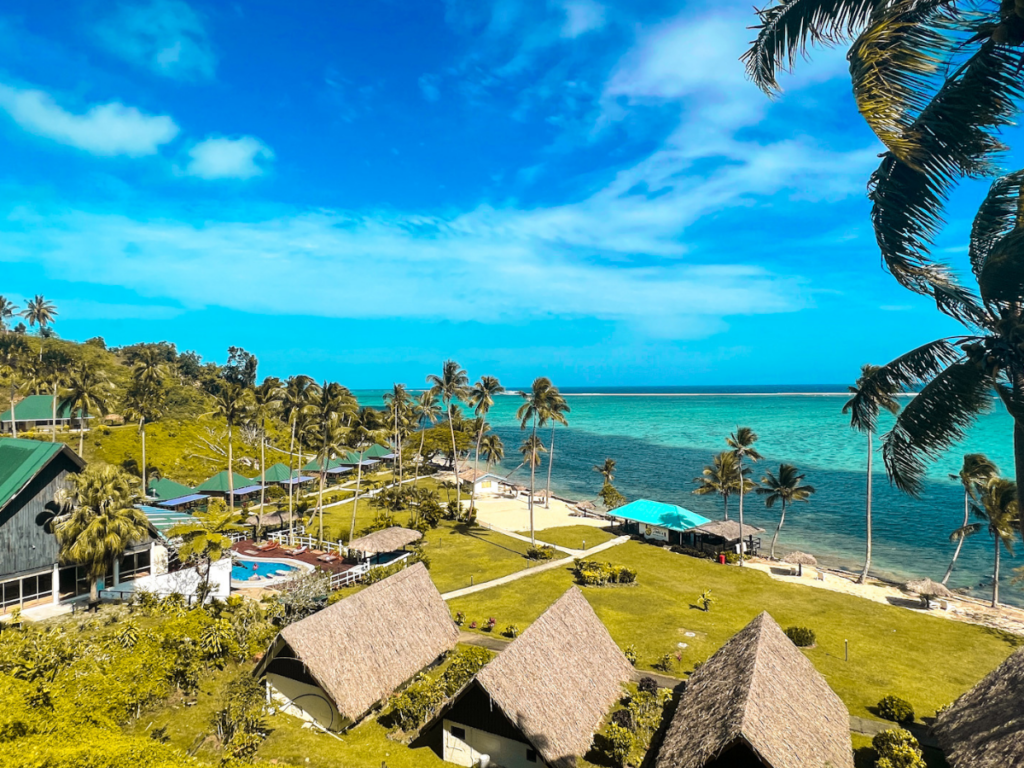 I spent eight days in Fiji with an NGO that provides clean water to less privileged communities around the world.
During the first few days, I got to learn about the company, meet some of the team members, and really understand how this organization benefits the lives of thousands of people every year.
But it wasn't just a seminar learning about clean water. I actually got to work with the team out in Fiji!
Putting my hands to work for such a good purpose felt incredible. Not only was I working toward an amazing goal, but I got to explore the beauty of Fiji while doing it.
A free trip might sound like a once-in-a-lifetime experience. But there are plenty of opportunities like this, and you could be one of the winners!
Did you know there are grants, scholarships, contests, and exchange programs around the world that will pay you to travel?! 🤫👀
Click To Tweet
If you want to travel more but you can't afford it…
I've crossed almost fifty countries off my bucket list. I've been to nearly every state in the U.S. and even revisited some of my favorite destinations.
A lot of those trips were only possible because of paid travel opportunities.
Unlocking the secret of how to travel for free
One of the most life-changing discoveries I've ever made was learning there are people and companies out there who want to pay you to explore the world. In college, I won $40,000 to study abroad in Dubai, funding my entire academic year in the UAE.
Once I unlocked the secret of how to travel for free, there was no going back.
Since my time in Dubai, I've won over $100,000 in scholarships and grants, applied to dozens of travel contests, and wandered the world on someone else's budget. For example, during this Fiji trip, all my expenses were covered, including:
Roundtrip economy flights
Accommodations
Meals
Free merch
Prizes will vary from one opportunity to the next, but anything that helps you travel on a budget, or provides a useful learning experience is 100% worth it. So, let me tell you a little more about the glorious gift of PTOs.
What is a PTO?
I wrote an entire article explaining exactly what a PTO is, so be sure to read that if you want more details. But here at Packs Light, PTO means "paid travel opportunity."
Many people believe the only way to travel and not fall behind in their education or professional milestones is by studying abroad in college.
Unfortunately, while studying abroad is a great option, it can be very expensive. Some students assume they'll have to pay out of pocket, so they are forced to sacrifice that dream because the cost is too much.
People also assume that once they've graduated college, they'll never have a chance to travel in an enrichment program again.
That's a huge misconception.
How can PTOs help you travel more?
If you want to travel more, but you can't afford a trip or plan a vacation, PTOs are the solution. And no, you don't have to be in college to win paid travel opportunities.
In reality, there are tons of travel programs that provide financial assistance for people of all ages to travel, including:
travel grants
study abroad scholarships
travel contests
exchange programs
cultural heritage programs
…and more!
These opportunities make travel accessible.
They allow you to travel without breaking the bank or stressing about organizing the logistics. Instead, you can focus on enjoying the experience and learning something new.
Where can I find paid travel opportunities?
If you just Google "paid travel opps," you might get overwhelmed looking at every random travel opportunity on the Internet. Instead, take a look at my PTO Dashboard. It's a database full of legit travel opportunities you can apply for right now.
Feel free to browse through all the PTOs, or refine your search by relevant categories if you are looking for a specific type of experience.
I also send out a weekly PTO newsletter with exclusive opportunities delivered right to your inbox. It's the best place to learn as much as you can about how to travel for free, and get advice on submitting a good application!
Win more travel opportunities with a kick a** application
Now that you know about PTOs, it's time for the hard part: applying.
Mastering the art of applications is crucial for two reasons.
The stronger your application is, the more likely you are to win PTOs! In every application, you want to present a strong story that convinces the reader that you deserve this chance.
Applications can be tedious. If you can master them now, you'll be able to apply to hundreds of opps without exhausting yourself.
Tools you need to improve your resume + application
There are a few ways to improve your application game which, in turn, will increase your chances of winning PTOs.
Start by looking at the five most common application questions and practice your responses. Learn how to answer in a unique, engaging way so you stand out from the herd of people who are also applying.
Once you feel confident in your application skills, start submitting to as many PTOs as possible. Even with the strongest application in the world, you need to play the numbers game. The more times you apply, the more opportunities you'll win.
Throughout the application process, make sure you are tracking your submissions! Using this Opportunity Tracking sheet is my #1 secret to application success.
It allows me to visualize my progress, organize my work, and improve my application strategy when I'm not seeing the results I want.
💡 If you want an in-depth lesson on how to improve your applications, check out my Kick Ass Application course to learn the art of submitting excellent portfolios for every opportunity.
Now for the real tea… how was Fiji?!
Now for the fun part, and the reason you clicked on this article in the first place: how was Fiji?!
Did this free trip to Fiji live up to the hype?
This trip delivered everything promised and more. I spent seven days on the main island of Fiji learning about the clean water crisis happening in the country, and the local NGOs that support it.
Me and the three other contest winners were given complimentary economy class tickets to and from our respective U.S. cities to Nadi, Fiji.
We then stayed at a Holiday Inn Express for the entirety of the trip in shared accommodations with complimentary meals throughout the day.
The contest staff was legit: kind, supportive, and knowledgeable about the organization and the work we were doing there.
Because of the nature of the activities, there was a lot of sensitivity toward local cultures, traditions, and respect for the communities. I learned a lot about Fiji that I never would have if I had organized my own trip.
How much did I pay out of pocket?
The organization promised to cover round-trip airfare, accommodations, daily meals, activities, COVID tests, and visa support – and they delivered!
The only expenses I had to pay out of pocket were any snacks and souvenirs that I wanted to bring home. I probably spent less than $30.00 out of pocket for the entire trip!
Not bad for a five-minute application.
What was my Fiji PTO experience like?
This trip was truly life-changing. Fiji is about 6,630 miles away from the United States, and is not easily accessible for a majority of Americans because of price, proximity, and fear.
You hear Fiji is a luxury resort destination and not much else.
Honestly, as a solo female traveler, it was not high on my list of travel destinations because of these reasons. But, winning a fully-funded travel contest gave me the purpose, support, and funds to make this trip a reality at only 27 years old.
I met people, learned things, and had experiences I never would have otherwise. That's the power of a paid travel opportunity: making your wildest travel dreams come true.
Start applying to PTOs right now!
Winning free trips like my full week in Fiji is not too good to be true.
I am living proof anyone can win these PTOs, no matter who you are! I'm a 27-year-old businesswoman and if I can do it, then you can too.
PTOs make travel accessible – as it should be. Don't let the world tell you that studying abroad in college is the only chance you'll ever have to have a meaningful travel experience. There are hundreds of opportunities waiting for your application, regardless of your age.
When I submitted to this contest in 2020, I had no expectations for what could happen. But, I won the most beautiful week in Fiji and a life-changing experience with an NGO.
Now, it's your turn to chase after what you want.
Start looking for travel opps that excite you right here and discover how to travel for free around the world!
Do you still have questions about paid travel opportunities? Comment them below and I'll help you understand everything you need to know!