Reading Time:
8
minutes
This post may contain affiliate links – meaning that if you purchase something through a link, I get a small payment for it (at zero additional cost to you). It is a much-appreciated way to support this website!
Buying gifts for a frequent flier or digital nomad can be complicated. What do you get for someone who lives out of a suitcase? How do you shop for people who don't want more, random stuff? Where do you find the best travel gifts?
Stop stressing, because I'm here to help you out, and just in time for those Black Friday and Cyber Monday sales!
This is a fool-proof guide featuring the best travel gifts for digital nomads that they'll actually want.
Whether you're shopping for a digital nomad, or you are a digital nomad looking for wishlist inspiration, this guide is for you!
This post may have affiliate links. Meaning if you buy something using them, I get a small % for recommending it. It doesn't change the price for you at all and it's a super easy and nice way to say thanks for the work I did writing this 🙂 Cool? Cool!
A unique gift idea for aspiring digital nomads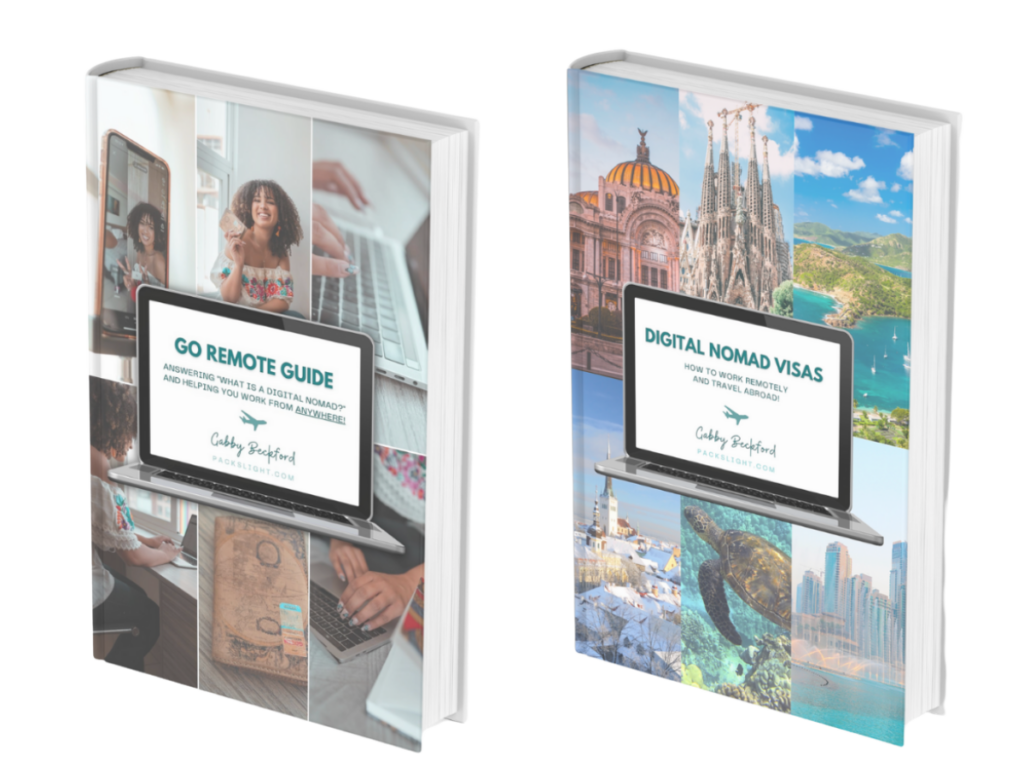 If you know someone who has been dreaming about going remote and traveling the world, but they haven't actually done it yet, I have a great gift idea. Give them my Go Remote Guide, which will teach them how to find remote work and grow a business that allows them to travel!
Wanna be their bestie? Bundle it with my Digital Nomad Visa Guide and give them some automatic destination inspo!
All the best travel gear that make excellent gifts
Sometimes the best travel gifts are the most obvious ones: things like high-quality suitcases or expertly designed backpacks.
Nomads will often prioritize spending their money on airplane tickets or a comfy place to stay, which means they probably aren't investing in good-quality gear. If you know a digital nomad who could use some upgrades, these are some gifts they will use on every trip.
The best carry-on suitcase for people who pack light
If you want to give a digital nomad something they'll use every single day, grab this Gear Warrior Carry-On Backpack. This is the best carry-on for people who prefer to pack light and stay organized.
It has a detachable backpack, laptop storage, and huge compartments for the essentials. Get this for the traveler who has been using the same cheap rolly suitcase, they'll love receiving an upgrade this year!
A laptop bag that every digital nomad needs
Anyone who travels full-time and works remotely is going to be lugging their laptop around everywhere. Replace their old travel backpack with something luxurious, like the Tortuga Laptop Bag.
This is one of my favorite travel bags for expensive equipment like laptops, cameras, chargers, etc. It's a great personal item that slides under airplane seats with ease and keeps everything protected inside.
The best packing solution for frequent fliers
One of the greatest inventions of our modern era has got to be these packing cubes, something any suitcase-lugging traveler is going to love unwrapping on Christmas morning.
Are they just glorified Ziploc bags? Maybe. Are they also the best suitcase accessory ever invented? 1,000,000% yes.
These Apple Air Tags can save digital nomads from a disaster
One fear every frequent flier shares is landing after a long flight to find out your luggage is lost. The Apple Air Tags will save any traveler whose bags go MIA. When it comes to finding lost luggage, these are honestly more helpful than any airline employee. I'm never traveling without them again!
Don't forget to grab these AirTag keychains too! These cases are waterproof and shockproof, so you can keep your Air Tags safe in transit.
Show your love with a travel insurance subscription
Worried parents, this one is for you! Every digital nomad will benefit from a 1-year subscription to Safety Wing, the best insurance option for full-time travelers! I have been a loyal Safety Wing customer for a few years, and I cannot recommend it enough.
These are the best travel gifts that digital nomads will actually want 👇🎁
Click To Tweet
Tech gifts that every digital nomad needs (even if they don't know it)
Obviously, one of the best times to grab tech gifts is during big holiday sales like Cyber Monday. But you also want to make sure that if you plan to give digital nomads some technology this Christmas, it's practical and portable!
Here are a few of the tools I use on a regular basis as a full-time digital nomad and content creator that make the best travel gifts.
The best camera for content creators 📸
If you want to help boost the quality of someone's content and encourage them to follow their passion, get them this camera.
The Lumix S5 is my favorite camera for documenting all my travels. Producing stunning imagery is a big part of building a successful social platform, so aspiring creators will love opening this up on Christmas morning.
Give them an iPad to improve their creative workflow
One of the best investments I made this year was buying an iPad. It's the perfect work tool for things like editing photos or graphic design, but it's also great for staying entertained on the go!
Give the creative traveler in your life this iPad Pro 13″ and they'll be thanking you forever.
The ultimate Santa gift for someone who needs a new laptop
If you have a very special person in your life who deserves extra attention this year, consider indulging them with a new laptop. I recommend this 16-inch MacBook Pro, my favorite remote work laptop. This gift is guaranteed to leave them speechless on Christmas morning.
The most helpful charging device for international travelers
Every digital nomad is going to have a few devices they need to charge on the go, and when you're jumping from country to country it can be hard to keep track of which countries need which charger. That's where this international plug converter comes in to save the day.
There's nothing worse than arriving at a hotel in a foreign country and realizing you brought the wrong plug. Giving a digital nomad this converter will save them from a future charging crisis.
An external hard drive that every remote worker needs
Running a business from your laptop takes a ton of space. Whether you're trying to photoshop some content, edit videos, or create new business strategies for 2023, keeping your computer organized is essential. Every digital nomad should have this external hard drive if they want to work efficiently while traveling.
A portable battery to keep them connected at all times
One of the most essential pieces of equipment for any traveler is a portable battery. Having something to charge your phone on the go will eliminate the fear of being stranded with no directions and no Google Translate. Giving someone a portable power bank is a great way to help them stay connected in every new destination.
Remote work tools that make unique gift ideas
When digital nomads aren't busy enjoying whatever new destination they're in, you will find them working hard at their laptops. Here are a few practical remote work tools that you can pass along as digital stocking stuffers, but what about some other gifts you can unwrap on Christmas morning?
If you want to help a digital nomad improve their business this year, grab one of these and support their big business dreams.
These are the best gifts for travelers and digital nomads that won't get thrown away immediately 🎁✈️
Click To Tweet
Gift someone the best VPN for secure browsing worldwide
If you want to give digital nomads something they'll use every day, get them a 1-year VPN subscription. It may not sound glamorous, but VPNs are the best way to keep any digital information private and protected. For easy, secure browsing anywhere in the world, my favorite VPN is Surf Shark!
This finance tracking bundle is a super helpful gift idea
Here's a gift for a friend who wants to launch their own small business: the Self-Employed Bundle from Traveling CPA Chick. This digital gift comes with a collection of tools that will help any remote worker organize and improve their financial situation. Using these tools will allow them to track their spending, save when they can, and file taxes the right way!
This bundle is an incredibly helpful gift that may sound boring, but there's nothing more exciting than financial freedom. Plus, if you use the code "PACKSLIGHT" at checkout, you'll get an extra 10% off!
A gift for the nomad who's staring at their screen all day
If you've ever spent all day staring at your laptop, you may understand the feeling of tired eyes and an exhausted brain. One way I've been able to reduce that strain is with these blue light glasses, an amazing accessory for anyone who works in front of their screens.
These glasses aid in regulating the body's circadian rhythm, aka the thing responsible for healthy sleep and energy levels. Grab this simple gift for any nomad who works from their laptop to help them improve their rest and reduce their technology headaches.
The best travel gifts are ones that focus on ✨experiences✨
Some digital nomads are all about that backpacking life. Others are all luxury, all the time. This can make shopping for travelers extra intimidating because everyone has a different lifestyle they like to maintain.
One foolproof way to impress any type of traveler is with experiential gifts! Everyone loves a fun activity, which is why these gifts are perfect for every type of nomad.
Give them a bucket list adventure
For a traveler who loves to book experiences and activities, put a GetYourGuide gift card under the tree! GetYourGuide hosts thousands of unique adventures around the world, so no matter where they are, your jet-setter is going to find a fun option.
From a wildlife tour in Australia to a day spent in the Swiss Alps – there are so many incredible options to choose from. This is one gift that will make their next trip unforgettable.
Spot their next stay with a VRBO gift card
If you know a traveler who would rather stay in a charming little rental apartment than a hotel, get them a VRBO gift card! VRBO has over two million vacation rentals worldwide, from city apartments to mountaintop cabins and beyond. Wherever they're traveling next, pay for their stay in one of these stunning properties!
A thoughtful gift where they can document their travel memories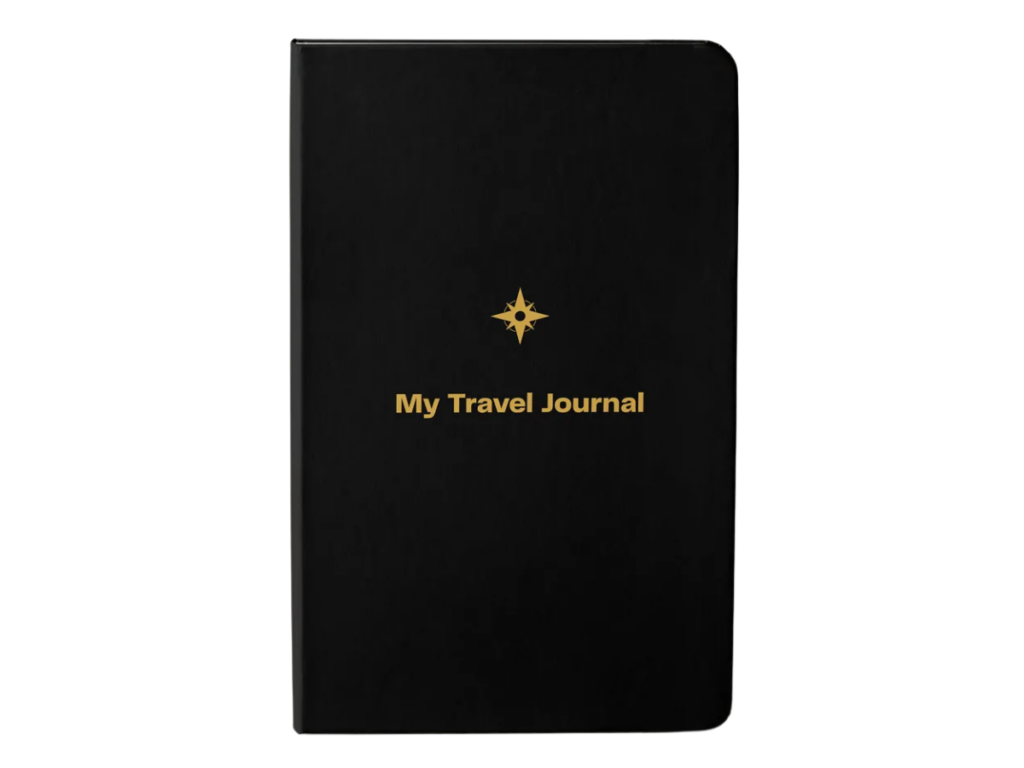 If you know someone who loves to document their trips, get them this travel journal. This booklet is full of thought-provoking prompts that encourage travelers to get creative with their entries. It's a gift that will make every travel experience feel extra special.
Plan a trip to Greece for your group of travel besties
If you really want to impress a digital nomad, plan a group vacation to one of the dreamiest places in the world! This 2-week Greece Itinerary is the most incredible island-hopping trip ever. Not only will you dazzle even the most seasoned travel friend with this gift, but you'll also be securing your spot on an unforgettable trip next summer.
If all else fails, this is the easiest gift for any traveler
Whether you're in need of a last-minute gift idea, or you just have a particularly picky traveler on your hands, the best travel gift you can give is some spending money. More specifically? A gift card for their favorite airline.
If someone got me this Southwest gift card for Christmas I would love them forever. Yes, it is a simple idea, but sometimes those are the most effective gifts!
Download the PacksLight gift guide for even more ideas
If you still don't see something that sparks holiday joy, then download the PacksLight holiday gift guide for every type of traveler. There are tons of unique ideas for solo female travelers, content creators, and more. The guide is 100% free, so browse through it and find something you love!
No matter what holiday you're celebrating this year, don't spend too much time stressing about gifts! Remember the greatest gift you can give is your intention, time, care, and love.
What are the best travel gifts for digital nomads?
If you're shopping for a digital nomad this year, make sure you give them something they can actually use while traveling the world. Take a look at the downloadable PacksLight Holiday Gift Guide if you're looking for even more creative gift ideas this season. And, when in doubt, get them a gift card that will help them pay for their next trip.
What are some unique gift ideas for travelers?
One unique gift idea that won't take up any space in a digital nomad's suitcase is a digital product or E-book. I have a bunch of travel-oriented products here, like this guide to Digital Nomad Visas that will help full-time travelers get some destination inspiration for 2023!
What other unique travel gifts would you want to receive as a digital nomad?
Comment what's on your wishlist below!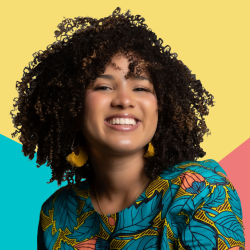 Latest posts by Gabby Beckford
(see all)