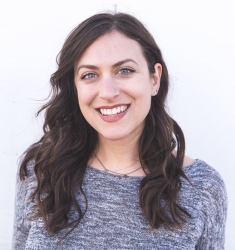 Latest posts by Kelsey Frey
(see all)
Reading Time:
8
minutes
This post may contain affiliate links – meaning that if you purchase something through a link, I get a small payment for it (at zero additional cost to you). It is a much-appreciated way to support this website!
The Young Traveler's Network series shares personal narratives and candid interviews of young travelers around the world and the inspiring stories of how they navigate their lives and travels. They share their stories to educate, inspire, and empower others to see the world!
Young Traveler Kelsey, 23, gives us a review of how she traveled through the southwestern United States for free while working with Americorps and the American Conservation Experience in environmental conservation.
---
I became a much more confident person after working and traveling throughout the Southwest in my early 20's. I'm glad I was able to work for American Conservation Experience (ACE)'s conservation corps program, as it allowed me to explore so much of the area.
The corporation connects youth with environmentally related work around the States for travel. They stem from the Civilian Conservation Corps, a program established in 1933 by President Franklin D. Roosevelt that gave young men jobs through conservation projects.
Here's why I decided to join, why I'd highly recommend it (especially if you want to travel), and how you can apply, too.
Native land acknowledgment: The work I did took place on O'odham, Tohono O'odham, Sobaipuri, Hokoham, Southern Paiute, Hualapai, Hopi, Havasupai, Pueblos, Western Apache, and Yavapai Apache land.
Recently graduated and totally lost? So was I.
At 23, I'd just graduated college (5th year, for the win!) and was aching to see the world. But, like most other college students, I was flat broke.
I moved home, snagged a remote customer service job that I hated, and squirreled away the money I made while I schemed.
I wanted to travel, but I also wanted to feel like I was doing something good for the world. I'd gotten a minor in wildlife biology hoping to pursue something along those lines.
But what? How could I travel and do something related to wildlife?
I wanted to travel, but I also wanted to feel like I was doing something good for the world.
Click To Tweet
My story: How I found out about the Conservation Corp and applied
One day after scrolling through Texas A&M Jobs & Opportunity Board for the one-millionth time (for y'all interested in a career in anything wildlife-related, it's the place to look for work), I came across something that looked intriguing: "ACE Conservation Corps AmeriCorps Member, Flagstaff, AZ".
I honestly had no idea what the Conservation Corps even was, but I was pretty desperate (living at home after living on your own in college is not business) so I was clicking on anything and everything that looked even remotely interesting.
I scanned the ad—duties ranged from trail building to habitat restoration to seed collection. I'm all about variety, as I get bored pretty easily, so the idea that I could be put on many different projects while I was there was really appealing to me. Although I'd be based in Flagstaff on off-days, the projects took place all around the state of Arizona so I'd get to travel.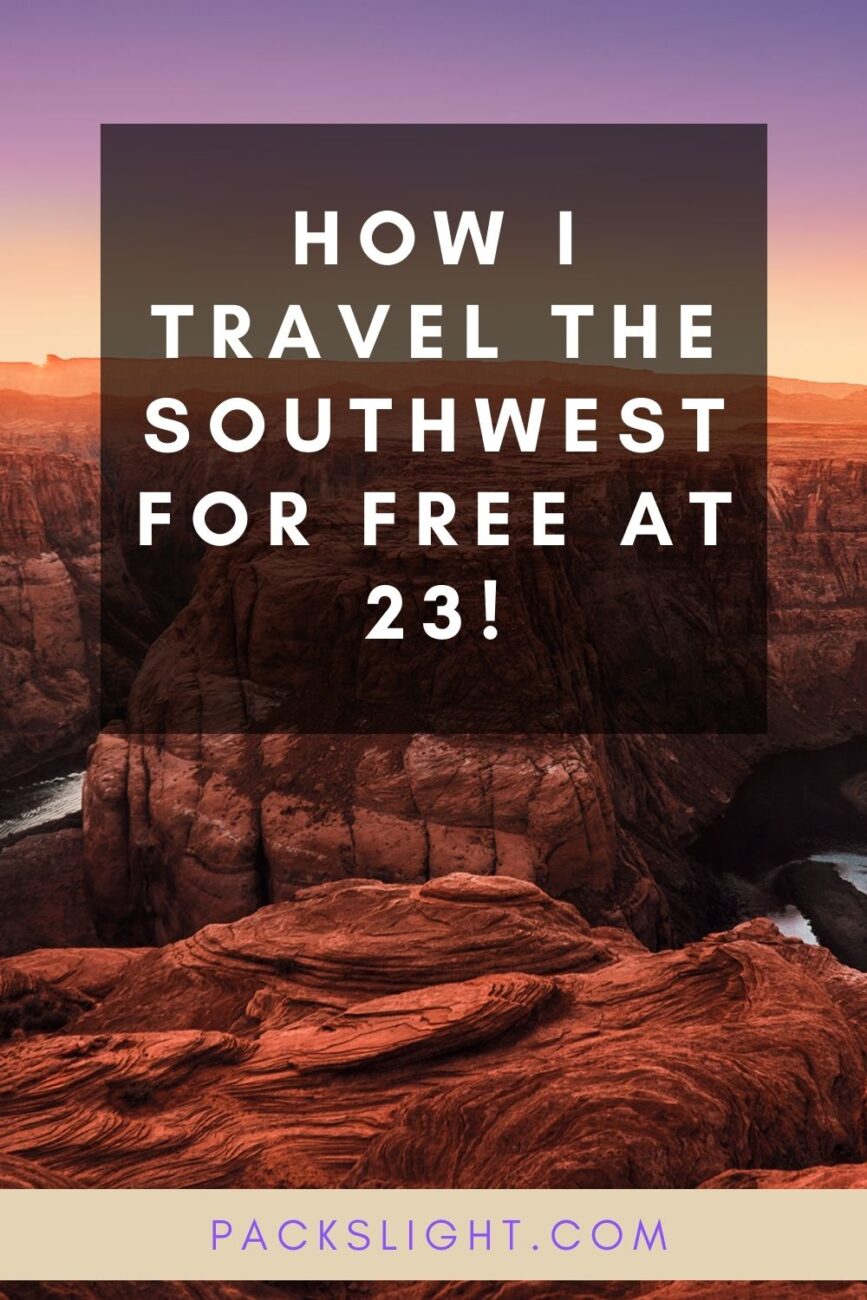 I'll be honest, Arizona was not my first choice, as I'm not much of a desert person. But when I googled Flagstaff, I immediately fell in love.
It was nothing like I'd assumed! What I saw from my Google search were tall, snow-capped peaks, wide-open spaces, lakes, and pine trees. It's what I pictured Montana would look like, not Arizona.
The Conservation Corps application process
I hurriedly applied for a term from February to April. And I mean hurridly—the application is a simple, minimal form. They contact you directly for further steps.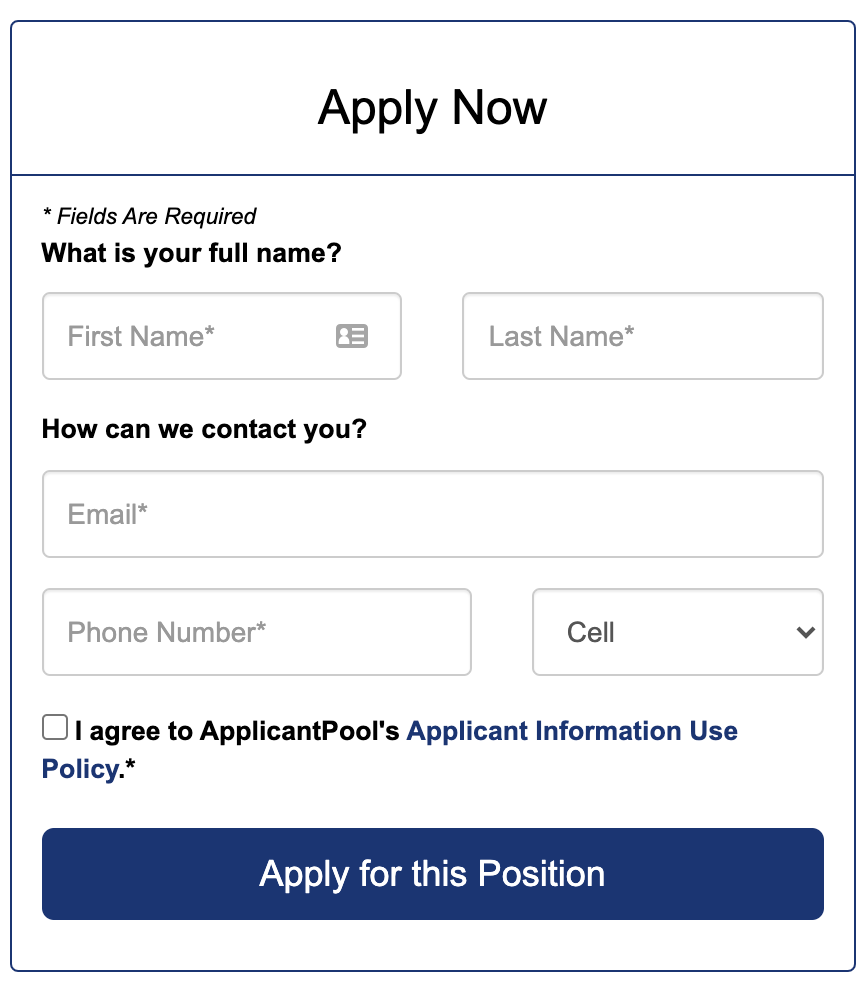 Although I had never considered myself a very "outdoorsy" person, and the ad stated that "applicants must be capable of performing physically demanding labor on environmental and conservation projects for 10 hours a day" in a variety of weather conditions, I felt like I was up for the challenge.
Looking back, I'm not exactly sure why. I was not particularly strong, or even a huge hiker, and I grew up in California where my idea of cold was anything below 60ºF.
To my surprise, I was accepted! They also emailed me a list of photos of items I needed to bring with me.
💡 Pro Tip: Used-gear sales at REI are great places to get amazing discounts on necessary items.
I had almost none of them and no clue what some of them were (like what in the world was a "dromedary"? Turn out it's a giant bag that holds lots of water). The other caveat; it snows in Flagstaff, and my California self had no idea what to even do about that.
After a month of gathering everything, I attempted to train for the 15-mile hikes I thought I'd need to endure (turned out the longest I ever had to hike on a project was 5 miles in the Grand Canyon) and explaining to every shocked person I knew that, yes, the thought going out into the wilderness without showering for a week at a time was my idea of fun.
My doubts: was I Ready?
When it was time to go I wore 5 layers of jackets on the plane to avoid paying an extra baggage fee. I stumbled off the flight, sweaty and clueless, and wandered over to the meeting spot.
I was the first one there, but another new corps member showed up shortly after. He told me he'd done quite a bit of manual labor helping out at his dad's landscaping business and asked me about my experience.
"…uh, I helped my dad build a shelf once," I said in response. I felt a lump swell in my throat.
I'm 5'3″, not muscular by any means, and had been quivering under the weight of my backpack. The most manual labor I'd ever done was carrying my heavy textbooks to class. Am I going to die out there? I thought.
But there was no turning back now.
A few more members showed up, and then the staff member who would drive us to Flagstaff from the airport in Phoenix. I looked out the van's window as the landscape changed from desert Saguaros to short bushy juniper trees to tall Ponderosa Pines during the 2-hour drive while we climbed in elevation.
💡 Looking for more paid travel opportunities? Check out our PTO (Paid Travel Opportunities) Dashboard, updated weekly with new funded programs, travel scholarships, and more! Make sure to join our email list, too.
Arriving at the Conservation Corp camp in Arizona
The first few days were spent adapting to my new home: a 16-person apartment with 4 people in each room) trying to remember a million faces and doing all the paperwork in the world.
The new recruits and I practiced pitching tents (which was fantastic as I honestly had no idea how to do it on my own). We were then loaned a tent, a pair of safety goggles, gloves, and a helmet for the duration of our term.
I was assigned my first project: tree planting. Relief flooded through me. That sounded fun and not at all like swinging pickaxes and sledgehammers that I'd been anticipating.
But my relief was short-lived.
A couple of days before I was supposed to leave on my first 'hitch' (corps lingo for "project"), I received a call that I'd been switched and would be trail building instead. I debated asking if I could be put back on my original project, but decided I wanted to challenge myself.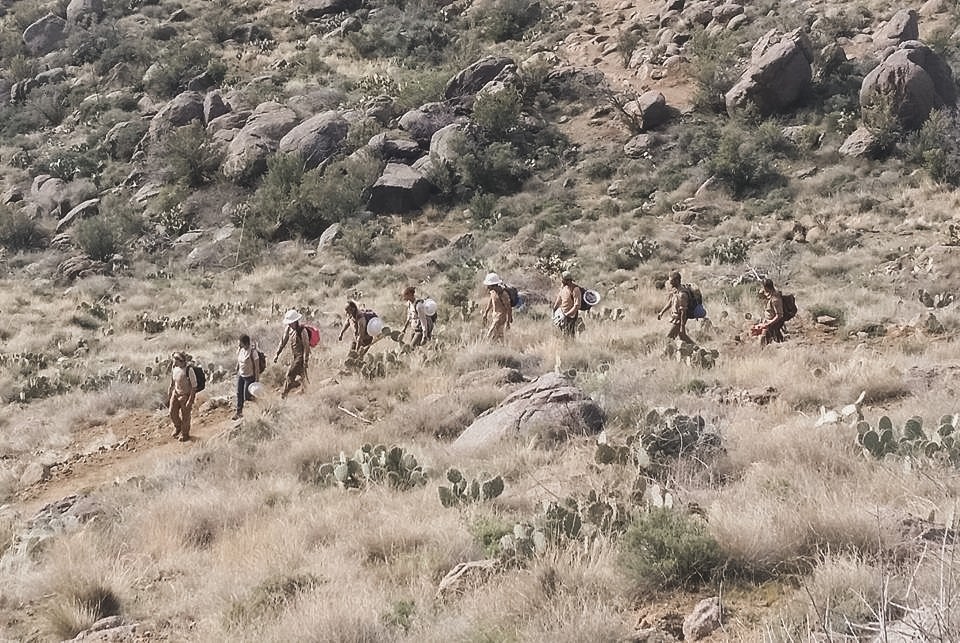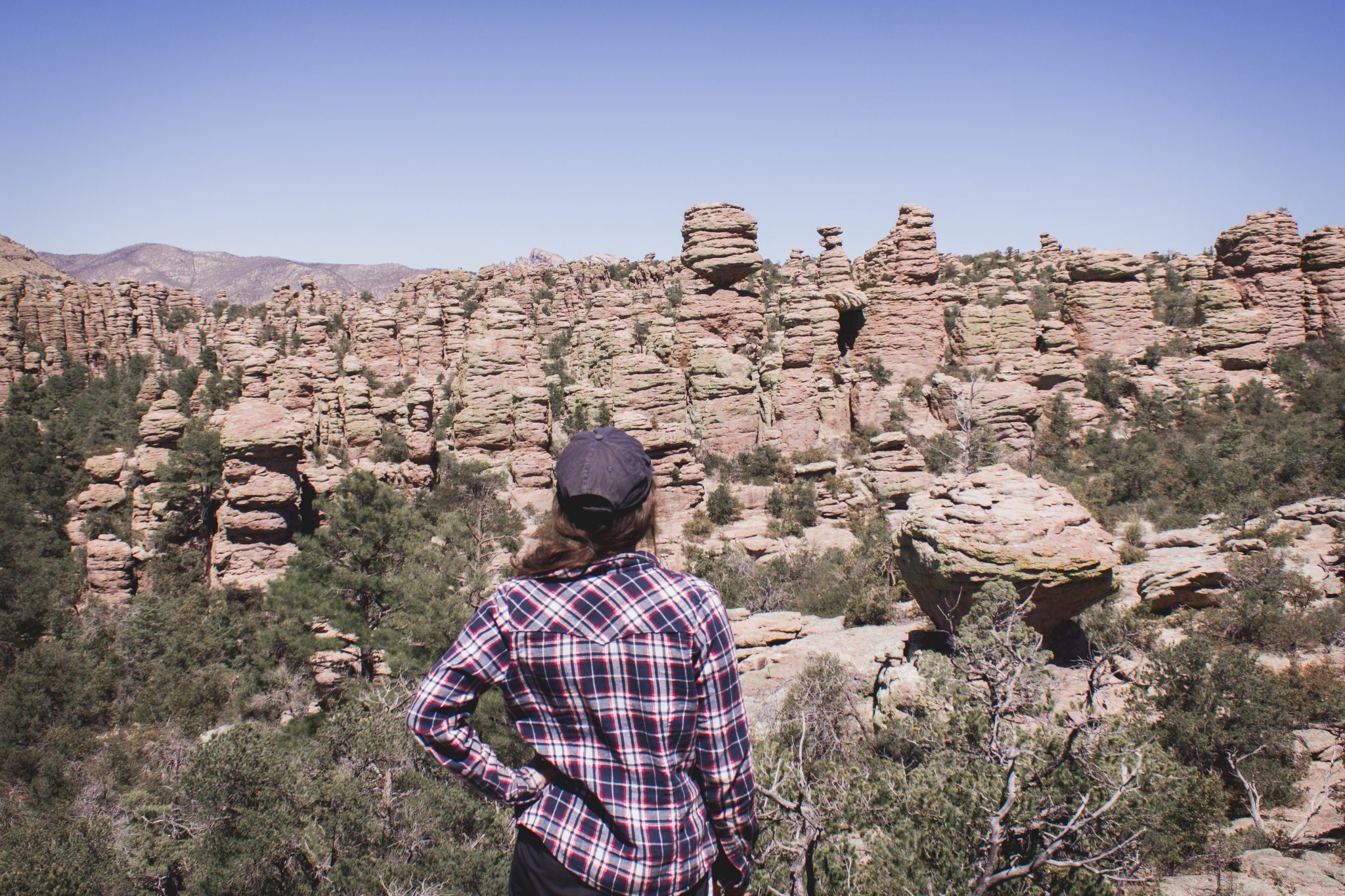 The night before, everyone was packing like mad. The room I shared with 3 other girls became a total tornado, with the eye of the storm nowhere to be seen. I analyzed the list I'd been given, threw stuff into my backpack, and obsessively checked it to ensure I didn't forget anything.
Lights went out at 10 PM since we had to be up early. After all the commotion, it was eerily quiet.
Heading to the first Americorps project
We were picked up in the morning, all of our stuff thrown into the trailer behind the van. Just like our drive from the airport, I marveled at scenery flying by but this time in reverse-tall pines gave way to stubby cacti as we traveled South.
Our campsite was on BLM (Bureau of Land Management) land, meaning there were no campsite amenities. And yes, that meant no bathroom. Instead, crew leaders dug a long hole in the ground behind a small hill. When you had to go, you took a brick with you that signaled to everyone else that the 'toilet' was in use.
I managed to set up my tent and meandered over to join the group for dinner. Everyone had a buddy and took turns cooking and cleaning for the group with the food provided. We were given meals to make each night, like "Chili Mac" and "Veggie Quinoa", along with specific directions to minimize disaster.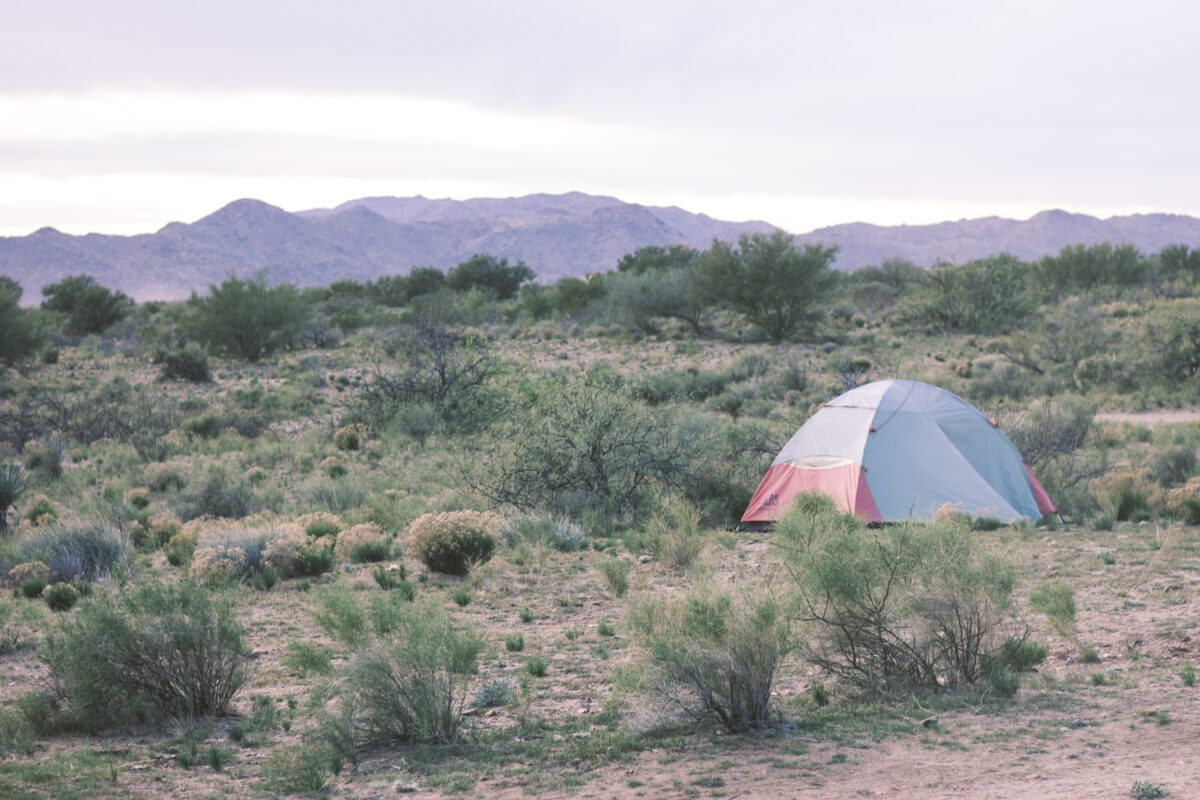 After dinner, we sat around the fire chatting. It was surprisingly chilly although we were in the desert-I forgot how cold the nature TV specials I loved watching had warned it could be. Just a week prior there'd even been snow.
I retired to my tent at 7 PM, as did most everyone else (while on the project, you were a rebel if you stayed out past 8!)
I read a book I brought and willed my phone to get a signal as I wanted to chat with my boyfriend back home. Nothing. I turned off my headlamp and tried not to think too much about tomorrow.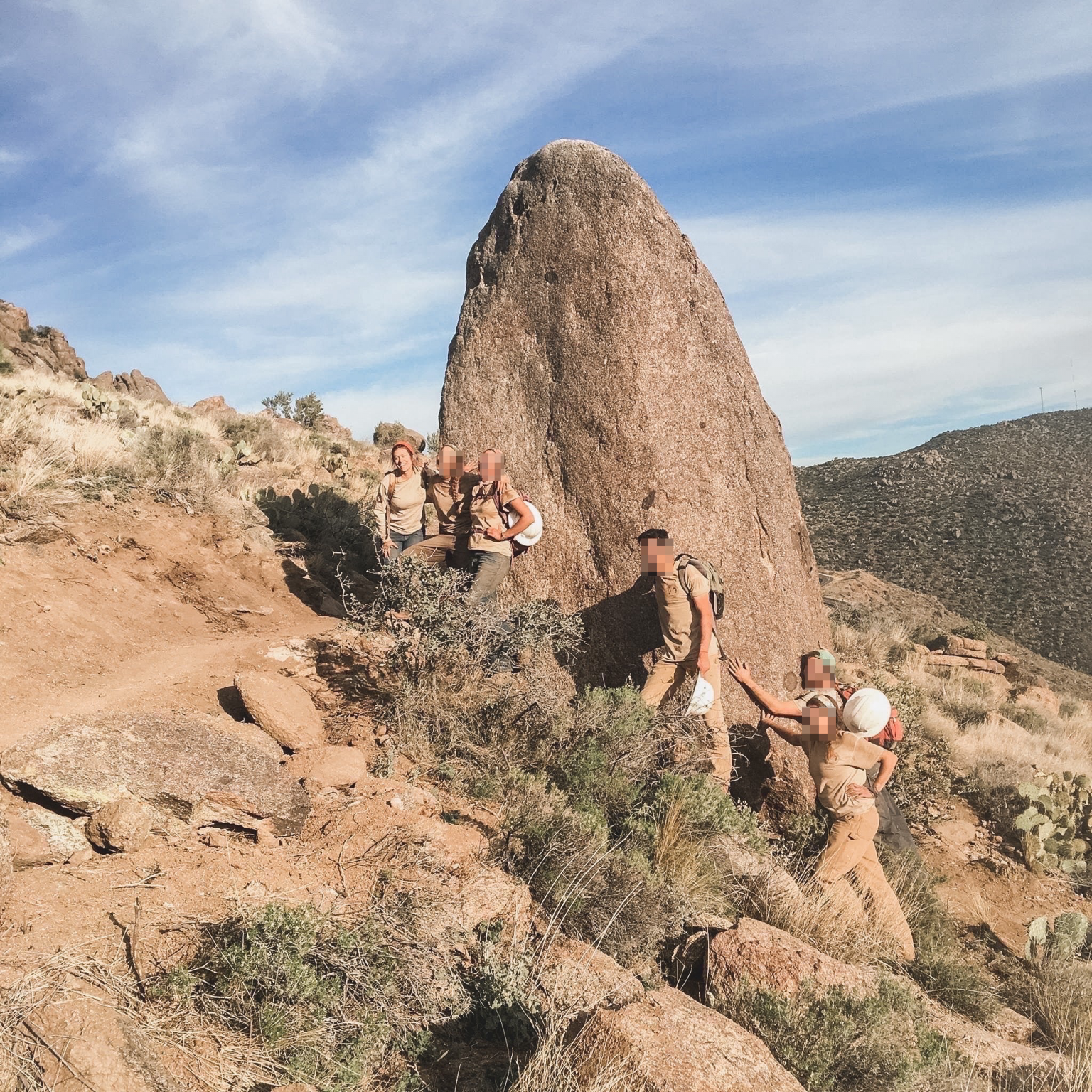 I woke at 5 AM, grabbed some breakfast, then hopped into the van to travel to the site.
We began in a "safety circle" and discussed precautions we could take to prevent getting hurt. They gave us our tools, assigned a project, and newbies like me had a more experienced buddy or crew leader to teach us how not to injure ourselves.
Although I found trail building to be challenging work, it was enriching and I learned so much.
For example, underneath some dirt trails are piles of crushed rocks! It was really interesting to hike on other trails after that-I saw them in a completely different way. I also discovered that there is nothing better than working hard for 8 days straight and having that first shower back at home.
More about my experience—I fell in love with nature!
I worked on a large variety of projects for 3 months in the Conservation Corps.
After two trail building stints, I did invasive plant removal, revegetation (cutting some cacti pieces and replanting them), and Saguaro surveys in Saguaro National Park. I helped with seed collecting in Lake Mead, and maintained trails in the Grand Canyon.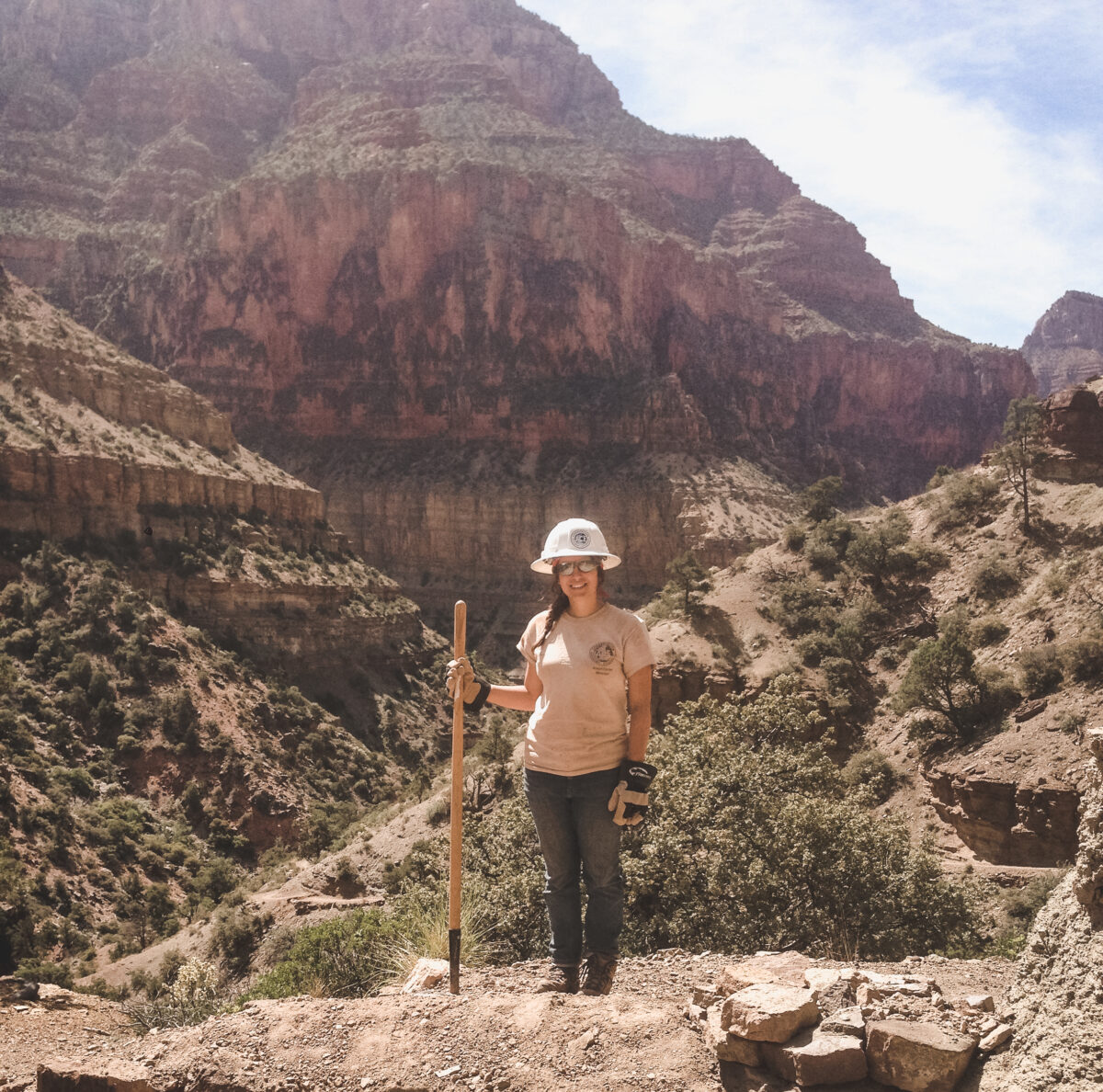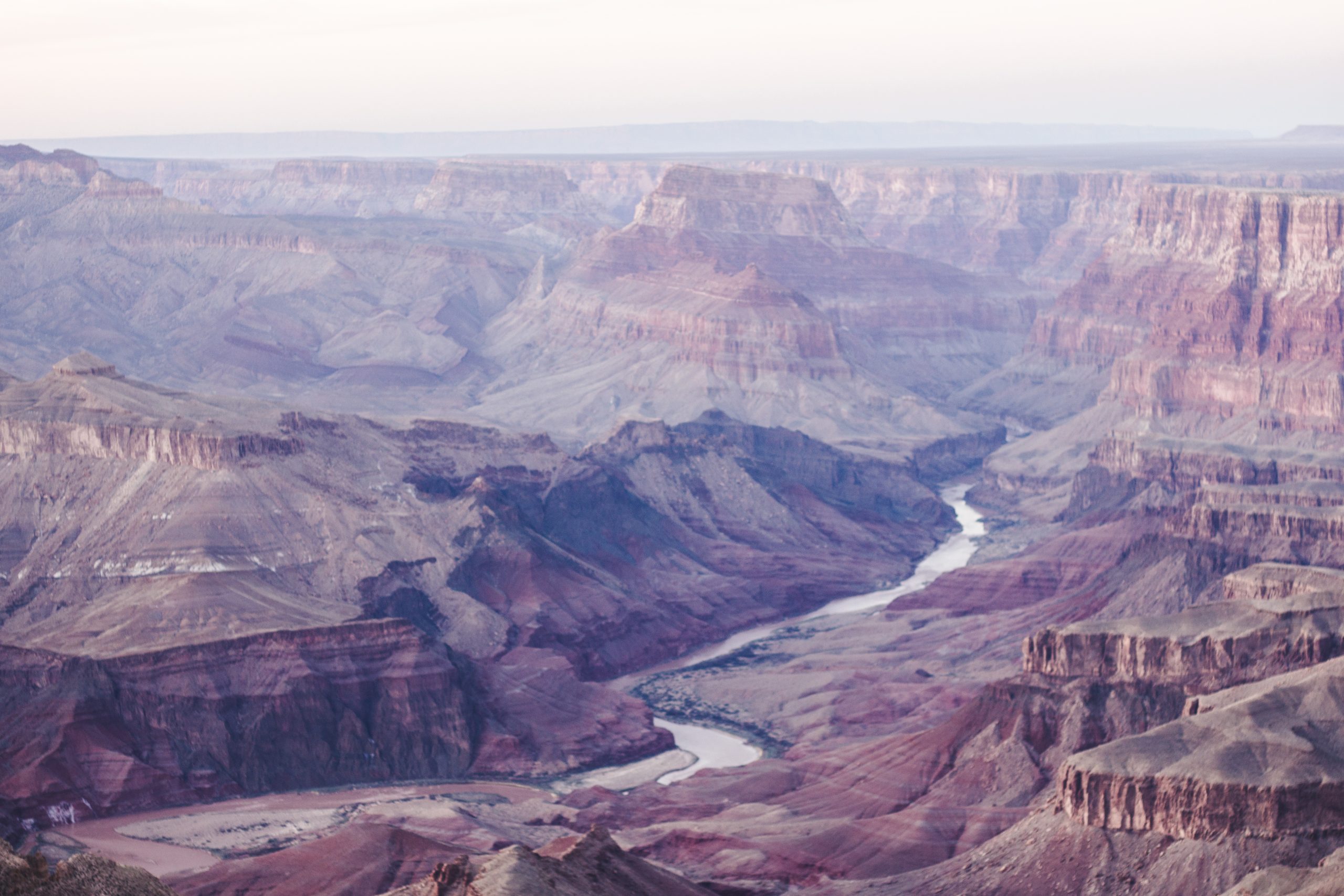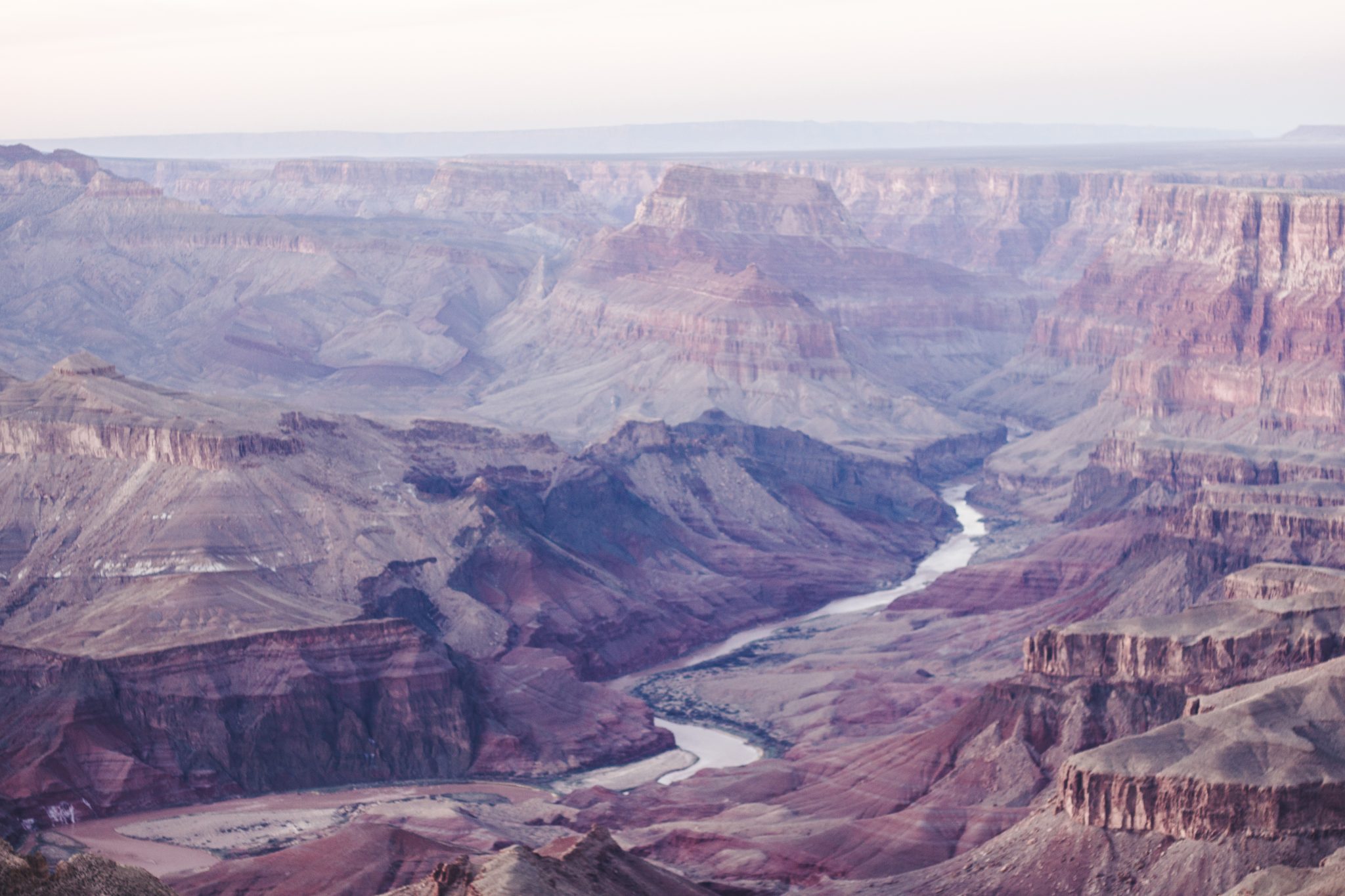 The Saguaro National Park project was a month-long, which meant we wouldn't be returning to Flagstaff on our off days. It bummed me at first because I wanted to explore Flagstaff, but it ended up being my favorite project. They allowed us to drive the van within a 100-mile radius of the project site and we took full advantage of this on off days.
We traveled the artsy town of Bisbee, spent a night at a hotel in Tucson, marveled at the rocky towers in Chiricahua, and checked out the giant greenhouses at Biosphere 2.
Campsites varied depending on the project.
🏕 Interested in more? Check out our article: Why Camping is the Perfect-Post Lockdown Adventure for Gen Z
For example, my first two hitches were on BLM land without any amenities. My second one, at Saguaro National Park, had bathrooms and we would set up a solar shower so we could hose off each day (we were working with herbicide, so it required us to shower after that).
In Lake Mead, we had a fully developed campsite next to other RV's and campers. In the Grand Canyon, we stayed at the Ranger's Cabin and were able to sleep in there if we wanted, but many of us slept outside under the stars without tents instead!
I also brought my car to Flagstaff and used it to my advantage. I'd highly recommend this if you have one and can swing it. I traveled to Sedona twice, Las Vegas for a night on my way back to California.
There are so many hidden gems in Northern Arizona, like Sunset Crater and Walnut Canyon National Monuments!
I fell in love with the desert through these projects. Although mountains and alpine lakes will always be my favorite, the quiet stillness I experienced in the Southwest will always have a hold on me.
I loved seeing the light change over the mountains, the tall Saguaros reaching for the sky, and the graceful Ocotillos stretching their slender arms out wide. The desert blooms as my term were in the spring. And let's not forget the wildlife!
While on a project, I saw a family of Javelina, Gila Monster, California Condors. There were scorpions, a horned lizard, a bajillion birds, and a desert turtle.
How you can join the Conservation Corps, too:
How to find program in your state of choice:
There are many different organizations you can apply to.
I would suggest Googling the state or region you want to work in along with "Conservation Corps". You'll find that there are plenty of opportunities.
Eligibility requirements: Do you need to work in environmentalism to join the conservation corps?
You also definitely don't need a background in the outdoor or environmental field to apply. During my term, I met people with all sorts of different backgrounds.
Many were taking gap years before, during, or after college, and they were often pursuing or planning to go down completely unrelated paths like accounting or medicine.
Most Conservation Corps have an age requirement of 18-25.
How much does volunteering with the conservation corps pay?
Well, the CCC's (California Conservation Corps) tagline is, "Hard work. Low pay. Miserable conditions… And more!"… So don't have the expectation they will pay you very much—I have received $110 every 2 weeks.
But they had granted a hefty education award (for 1200 hours, we received USD$4144.00) at the end of my term. We could use the education award for student loans or any accredited 4-year educational institution. The educational award was good for 7 years.
I'm not sure if that's still the case, and every corps is different, but the ad should specify compensation.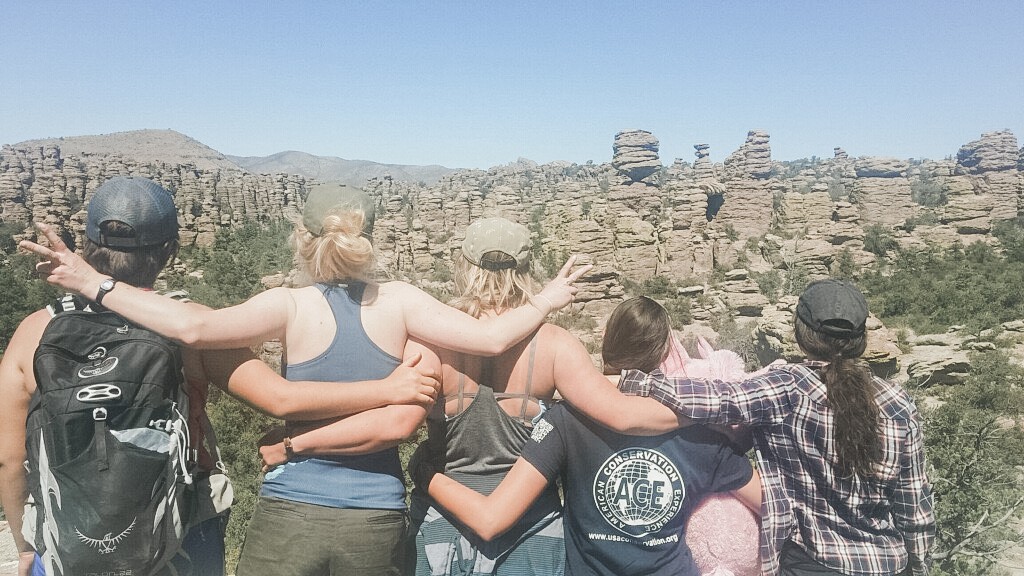 Did I enjoy the Conservation Corps?
But as cheesy as it sounds, I'm so grateful for my experience. I was only there for a 3-month term, but they have 6, and 9-month options as well. I wish I'd stayed longer!
---
Did you get more insight into environmentalism while traveling or are planning on doing environmental work for travel? Drop a comment below and join the Young Travelers Network Facebook Group!
Any interest in writing for Packs Light? Apply to become a contributor.