Latest posts by Sarah Krieger
(see all)
Reading Time:
3
minutes
If there's one thing us Gen Z's were excited for in 2020, it was traveling. Then the pandemic came along, but no need to panic! I'm going to share with you the perfect post lockdown trip, so you can still explore while staying safe. 
Camping has always been an enjoyable summer activity among young people and with travel limited due to Covid-19, exploring areas near your home is the go-to summer activity in my opinion. 
Camping won't break the bank
It is a more affordable trip than flying to a new city/country and supports your local economy. Many people in cities like NYC have been cooped up in their apartments for months and getting in touch with nature again will be a luxury that you can afford. 
You also are in more control of sanitation which is more important than ever.  Growing up in Upstate New York I spent many summers in the finger lakes camping, as well as in the Adirondacks. 
Camping is the perfect way to get away from the hustle and bustle of everyday life and be surrounded by nature. Nothing beats waking up hearing the birds chirping or smelling the crisp morning air. Click To Tweet
First things first: camping or glamping?
glamping (noun): a form of camping involving accommodation and facilities more luxurious than those associated with traditional camping.
There are some really cool glamping experiences available out there, you could sleep in a treehouse, a cottage or a fancy tent. You also don't have to travel far, you could pitch a tent in your backyard or go to a local camping ground and stargaze.
For those who want a more authentic camping experience but don't want to sleep literally on the ground look at some of these "elevated tent" options.
[one_half]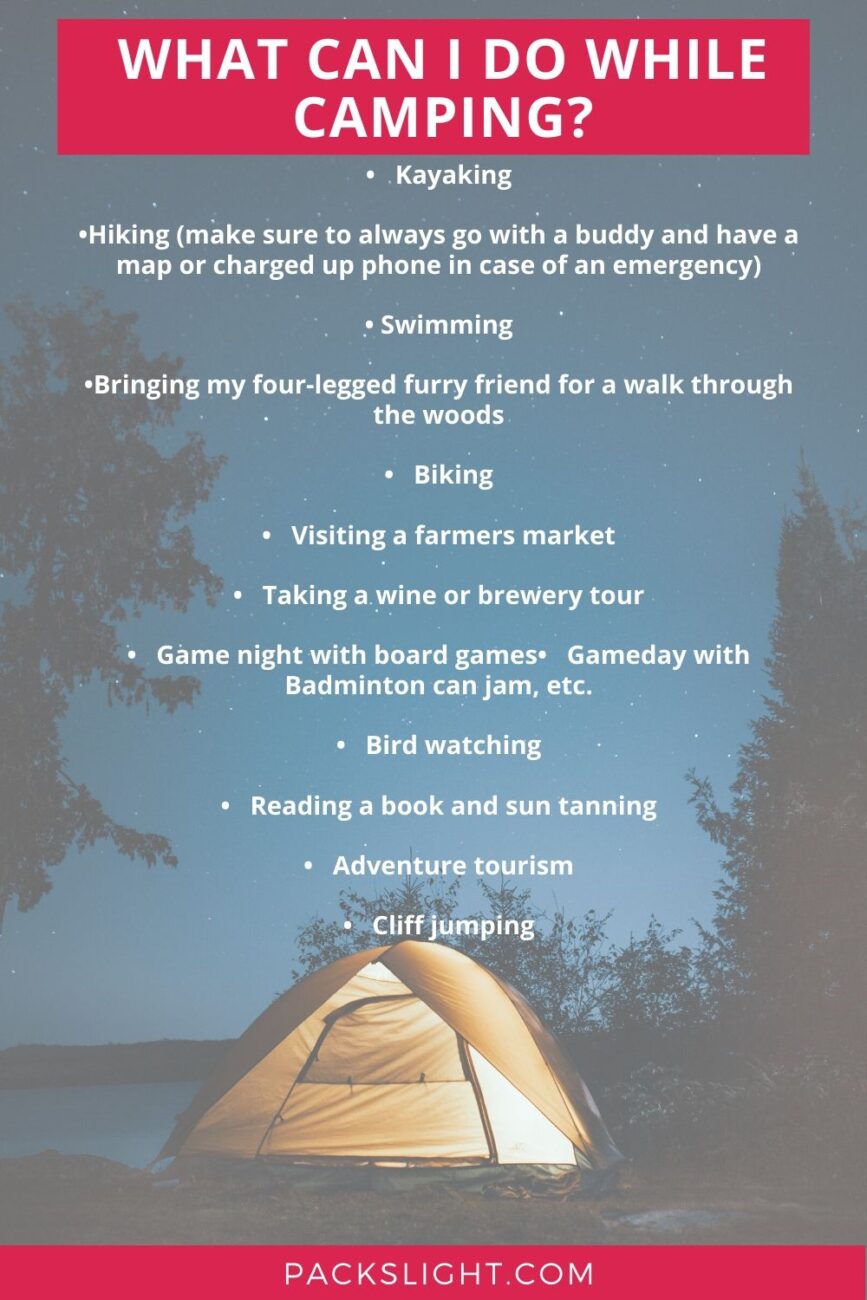 [/one_half] [one_half_last]
[/one_half_last]
What can I do while camping?
 To get the full camping experience you'll need activities to do as well. These are some of my favorites:
Kayaking

Adventure Tourism
Hiking (make sure to always go with a buddy and have a map or charged up phone in case of an emergency)

Swimming

Bringing my four-legged furry friend for a walk through the woods

Visiting a farmers market

Taking a wine or brewery tour

Game night with board games

Gameday with badminton, can jam, etc.

Bird watching

Reading a book

Sun tanning
What do I need to bring?
 Before you head out, you'll want to make sure you know what supplies will be provided at the site you are staying at, and what gear you need to bring yourself. Here are some of my suggestions:
bug spray

sunscreen

visor or hat

sunglasses

reusable water bottle

layers of clothing

rain poncho

sneakers

flashlight

doggy gear if you bring your furry friend

binoculars

snacks

water shoes with a back so you don't lose your shoes while in the water (hiking/walking)

camping chairs

first aid kit in case something happens while out for a hike

a good book to read

camping gear (tent, sleeping bag if they aren't provided at the place you are staying at…see if you could rent them!) If you are cooking on-site, and you aren't provided pots and pans you'll need to bring them!
You can find further travel essentials here.
Camping may seem like a thing of the past, however more and more young people are taking up activities in nature – which is what makes it the perfect post lockdown trip. The restrictions on travel right now are the perfect excuse to get out and explore what the areas around you have to offer.
Plus, you get to live out your teen movie fantasy, it's a win/win situation.
Happy Camping!
---
What post lockdown trips do you have planned? Drop a comment below.
Are you interested in writing for Packs Light? Apply to become a contributor.
[one_half]
[/one_half] [one_half_last]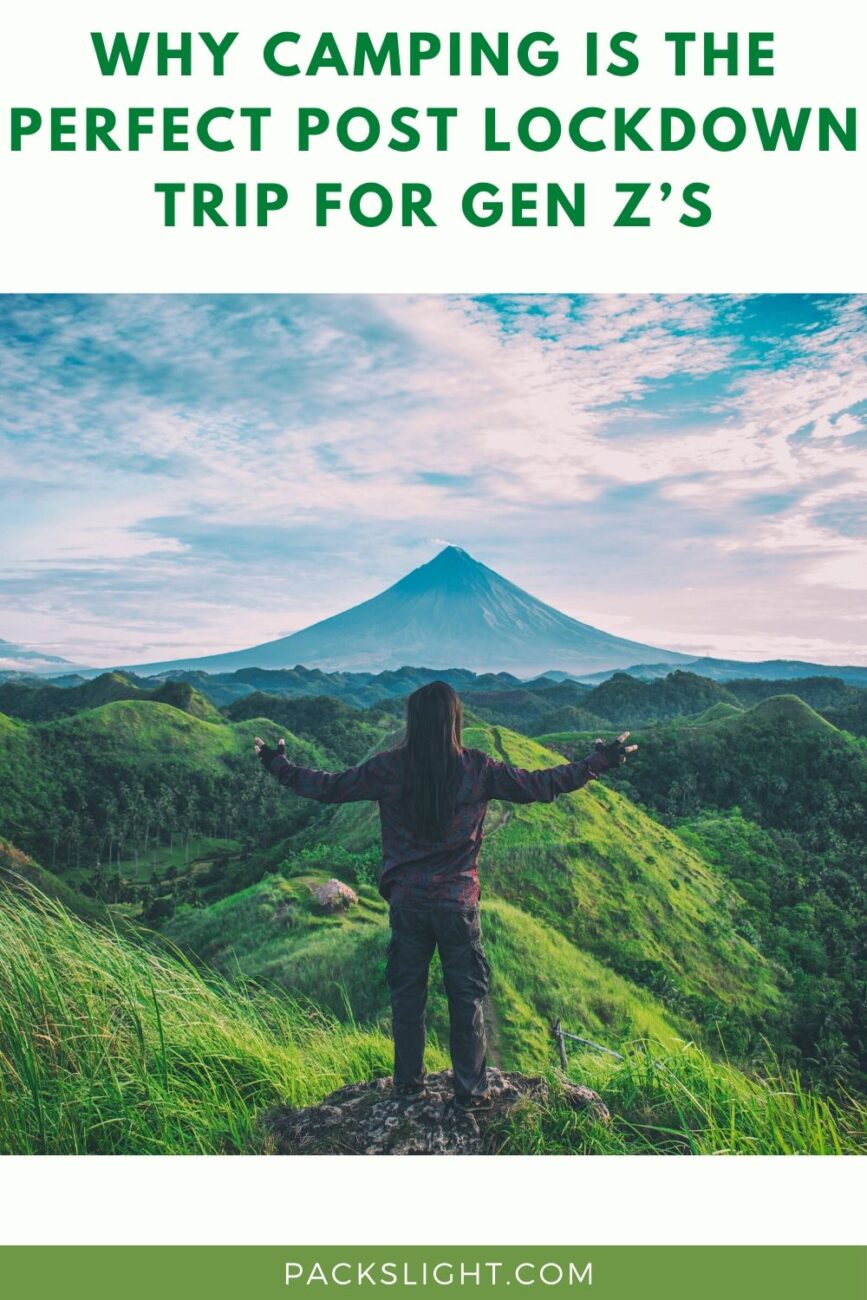 [/one_half_last]