Reading Time:
5
minutes
Most people know Groupon as a great site to purchase local deals at significantly reduced prices.
Today, I'll fill you in on if it's a viable option for travel deals specifically. By the way, this is NOT a sponsored post (but does contain some affiliate links).
I will be speaking from experience—in November 2016 two friends and I did a Groupon Getaway to Sri Lanka. I'll lead you through exactly how I went about assessing the validity of the Groupon and organizing the trip.
Why are some people hesitant to travel with Groupon?
I think the majority of Groupon's customers normally have no problem buying products or deals on Groupon because it seems like a direct transaction (though it's not), but buying a Groupon travel deal clearly goes through Groupon and a tourism company and I think that puts people off.
I believe the biggest reason people are unsure about planning a trip through Groupon is that Groupon is a middle-man.
What does that mean?
Groupon operates by entering agreements with local merchants and businesses to help sell whatever product or service that business provides, at some sort of benefit to that business. This benefit is a combination of reaching a wider audience through advertisement on Groupon's website and being able to sell deals in multiples.
Are Groupon Getaways legit? Click through to find out if they're a scam or a steal for your next trip!
Click To Tweet
Why does Groupon only sell travel deals in pairs? Are they trying to get more of my money?
As said above, selling deals in multiples is what Groupon does specifically for its travel deals, which they refer to as Groupon Getaways.
Every Groupon Getaway is sold in pairs. Meaning if you see a trip to the Maldives for 1000USD, that price is contingent on you buying two units of that particular deal. If you buy just one through Groupon you'll be subjected to a "singles" fee to compensate for not buying two.
Why does Groupon only sell travel deals in pairs? Are they trying to get more of my money?
Because of the pandemic, many local travel agencies and tour providers have softened on their usual "double occupancy" requirement.
Meaning: solo travelers, it's your time to shine!
You'll now find more and more deals offering the "For One" option shown below.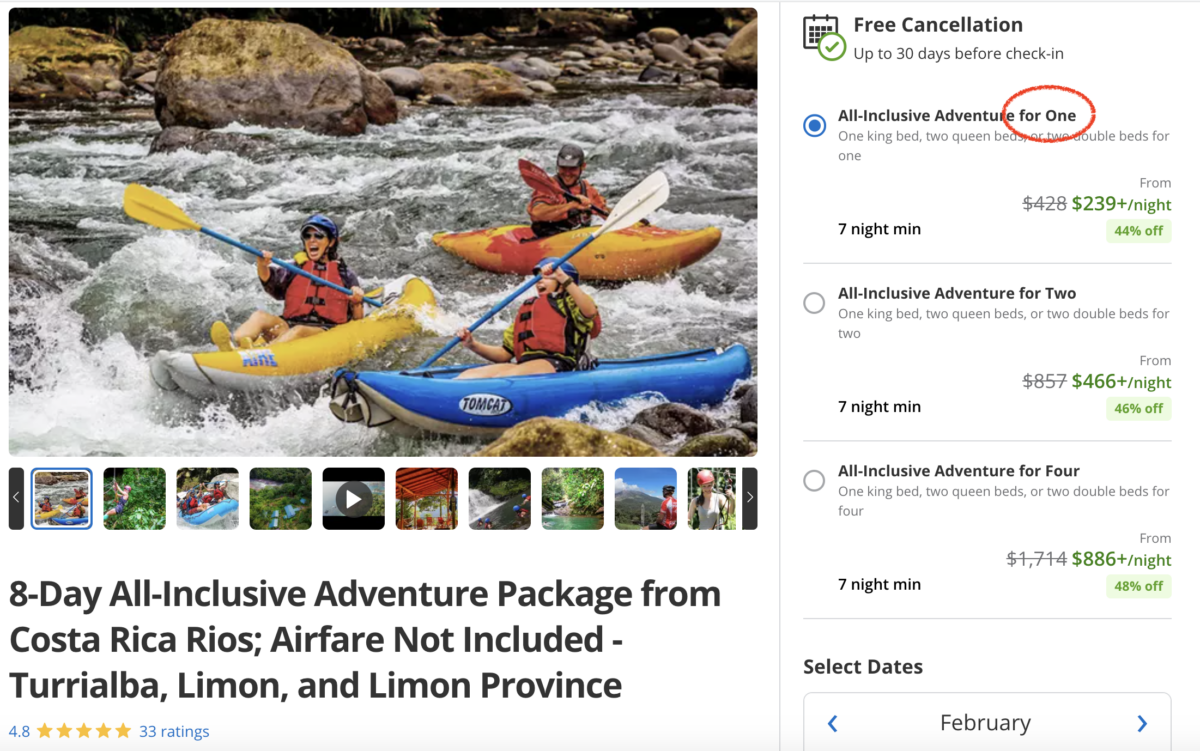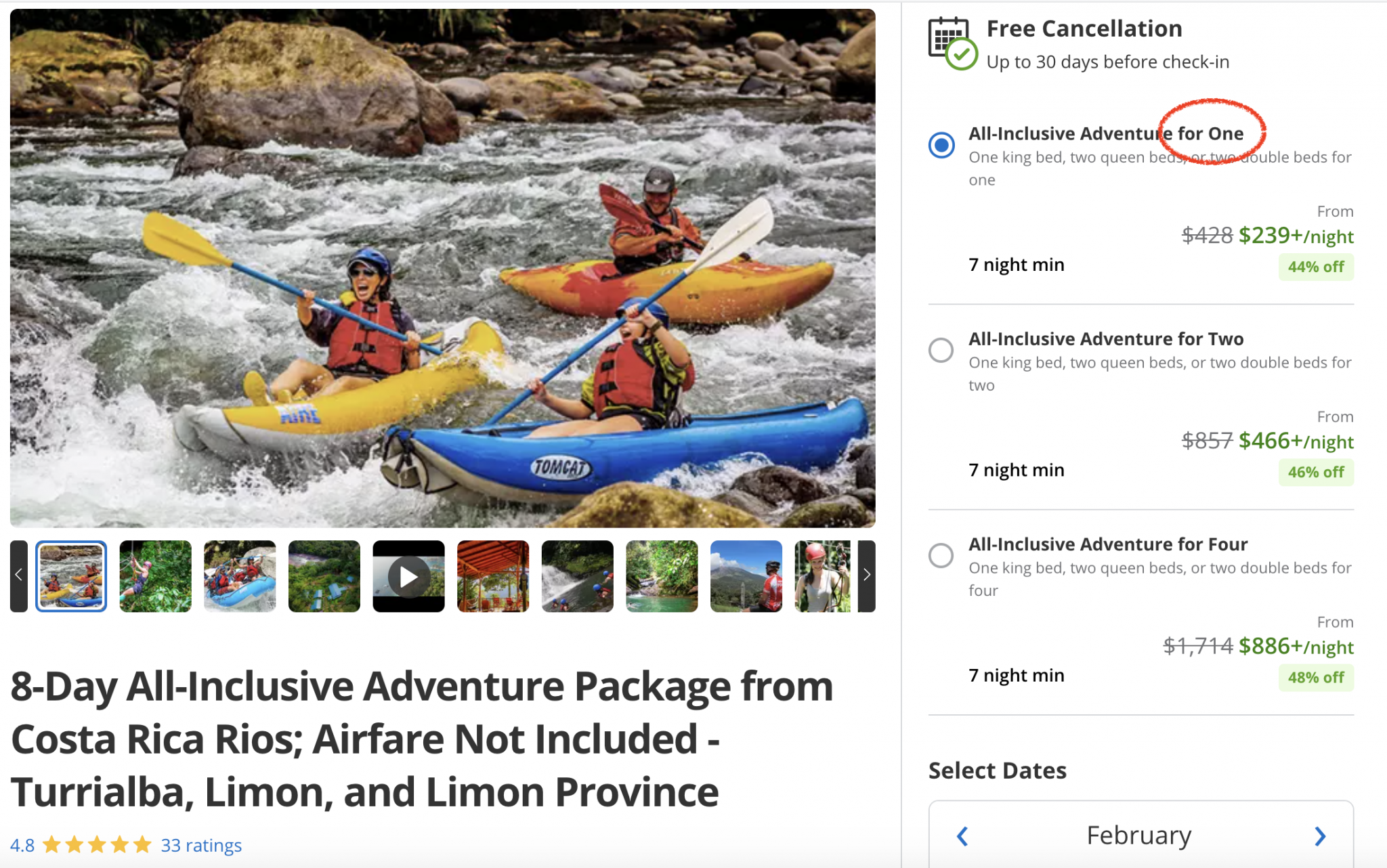 What should I be looking for in a genuine Groupon Getaway?
The first thing you should know is that Groupon does very in-depth research on each business and merchant they work with. Groupon does not want a bad reputation, or worse a lawsuit, from a customer's a bad experience.
With more than 48.3 million global active customers and over 90% Customer satisfaction, I'm inclined to trust most businesses advertised on Groupon.
But, you can't be too sure.
I'll walk you through the exact Groupon Getaway that I went on and how I was sure that it was legit, and the right Groupon for our trip.
Not a member of Groupon yet? Use my referral code to join and get $10!
Example: My Sri Lankan Groupon Getaway
Above is the exact Groupon Getaway that my two friends and I went on. You should know that I was living in Dubai at the time, so this price is in Emirati dirhams (it would be 323.99USD). Getting this price for a trip to Sri Lanka from the US would be a much different price.
Part of the reason this trip is so inexpensive is that it did not include flights.
How can you tell?
If it included flights you would have seen the flights as drop-down option to pick, and it's also specified in the listing, as well as in the listing's header, as shown in the example below.
You can see from just this screenshot the details it already provides, most important being the name of the tourism company that will be facilitating your trip. In the screenshot you can see it on the bottom right as "Nelum Holidays" along with the link to the company website right below it.
In any Groupon Getaway you purchase you'll see this, and be able to check out the specific tourism company. I highly recommend doing this, and doing some Google searches for reviews of that local tourism company.
If it's popular, the Groupon Getaway will have reviews posted directly on Groupon as well at the bottom of the listing. Those are invaluable as well.
Above you'll see details of the rest of my Sri Lanka travel listing. We wanted to make sure that we would have airport transport at the beginning and end of our trip as well as some meals would be included in our package. You're trip essentials will be listed under something along the lines of "Included with Package", as is in the right of this screenshot.
If you book this Groupon expecting every meal, transport, flights, free money showers, etc. all included in your stay but you don't see it in that section, DON'T BOOK.
Read the fine print, or better, call the local company to know exactly what you're getting in your Getaway.
Groupon's expiration date, cancellation policy, upgrade options, and booking instructions are all things to diligently read before confirming your booking.
Well, how did my trip turn out?
In a word, incredible.
[one_half]
[/one_half][one_half_last]
[/one_half_last]
We booked the Getaway as a group of 4 people, and when that turned into 3 people I thought it would be a huge hassle negotiating with the local company and/or Groupon.
Luckily for us, the tourism company was kind enough to adjust the deal to let us 3 use our Groupon deals without a fourth person, and just put an extra bed in the one room. So my advice is when negotiating, always start with the local company as they're more likely to be flexible.
They sent us our itinerary in the days before our trip and I noticed that the days scheduled were moved around during the week (apparently the itinerary posted on Groupon is just a generic itinerary and they adjust for availability and weather), but it didn't bother us.
Each hotel we stayed at was exactly as described on the website, and by paying an extra 200AED each to get the deluxe deal, it felt absolutely 5-star. Our guide's English wasn't perfect but it was functional and for 3 women alone in Sri Lanka, we felt absolutely safe and comforted having a local guide us through the country.
Have you ever traveled through @Groupon? Click here to learn how to find select the best vacation deals! Click To Tweet
In summary…
I freakin' love Groupon and have never had a bad experience, but always read the fine print and do your research.
Groupon does extensive research on the businesses they work with, but its better safe than sorry. Read reviews of the specific tourism companies on both the Groupon website and on Google.
I did an international trip to Sri Lanka, and by reading the fine print and communicating with the tourism company directly, we had a once in a lifetime adventure!
A final tip: Use Rakuten!
You should not be using Groupon if you aren't signed up for Rakuten!
By signing up and activating Rakuten when you're using Groupon (or any other horde of websites), you'll automatically get 6% cashback.
For example: if you book a 1000USD trip on Groupon and activate Rakuten before you purchase, you'll receive 6% cashback or 60USD back to you, usually via PayPal.
Like I said, Rakuten gives different amounts of cashback for more than 2000 websites, so it's definitely worth it to sign up.
Use my referral code and sign up now: My Referral Code
---
Will you be booking your first Groupon trip now? To where?
Let me know in the comments!
[one_half]
[/one_half][one_half_last]
[/one_half_last]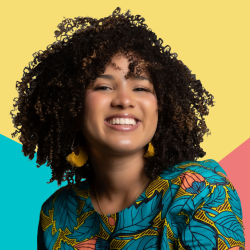 Latest posts by Gabby Beckford
(see all)