Reading Time:
6
minutes
The Young Traveler's Network series showcases candid guest interviews of young people worldwide and the inspiring stories of how they navigate their lives and travels. They share their stories to educate, inspire, and empower others to see the world!
This week a Young Traveler named Nadji Grizzle, 25, shares his story about being a young black adventurer who seeks an adrenaline rush in all corners of the world.
---
Happy to have you in the series! First, some background, if you please.
Hi! I'm Nadji. I'm 25, and I currently reside in Maryland and work as a Content Strategist for Booz Allen Hamilton.
So, what first got you interested in adrenaline and adventure travel as a young black American male?
I wouldn't say I focus on adventure travel exclusively, but it is definitely a prominent aspect of my travels. For me, nothing beats the rush of adventure and adrenaline—the wind in my face makes me feel alive. I couldn't tell you what I did at work yesterday, but I will remember sledding down a volcano for the rest of my days. Adventure adds a layer to the trip that is irreplaceable for me, it's like a mini-action movie starring you!
Make no mistake; I'm a huge nerd and love museums, art & history lessons, mom-and-pop cafes, and local festivals when I'm traveling. But a trip definitely feels a tad incomplete without at least a little bit of adventure.
I thought to myself: Why is so many people who look like me seem reluctant to try things like this?
Click To Tweet
I remember a video that was shared in a Facebook group of a guy paragliding off a cliff into a sea of clouds in Switzerland. It looked sensational, and I knew automatically I wanted to try it one day, but to my surprise, the comments were all negative!
The person who posted it captioned it, "Issa no for me dawg", and the comments were pretty much all iterations of that sentiment...
I thought to myself: Why is so many people who look like me seem reluctant to try things like this?
The rest is history.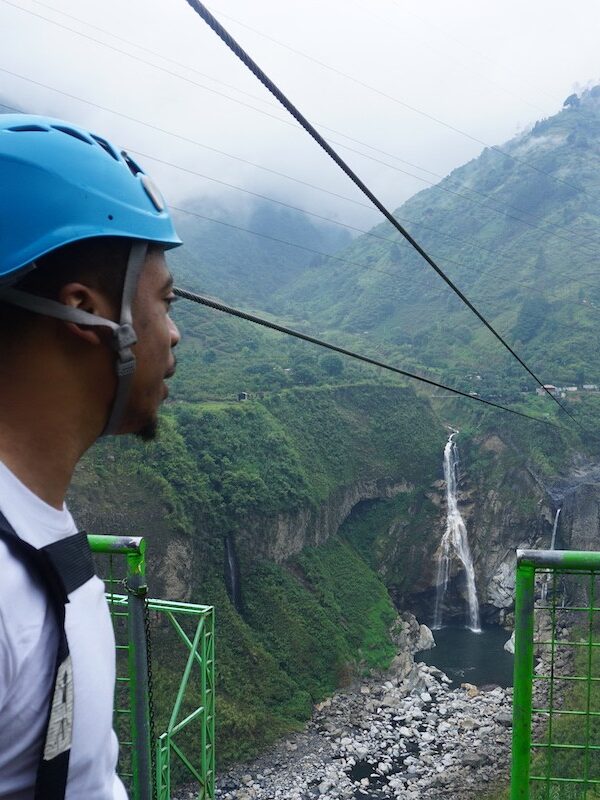 As a black adventurista, I completely relate. Often I'm the only black person and woman on adventure travel tours. On that note, what are some of the biggest adventures you've had so far, and where were they?
I've traveled to 32 countries in total now and embarked on quite a few adventures along the way.
If I had to choose the most memorable few, I would highlight:
Mountain Carting was probably the most memorable of all my adventures. Despite a slight mishap…
A mishap, you say? Explain!
Well, I took quite a spill on a steep turn and nearly tumbled down the mountainside. I'll paint the picture…
Mountain Carting is offered in the hills of Grindelwald, Switzerland, which is a mountainous region in the Alps. You have to take a 45-min cable car ride to reach the very steep summit. You sign a waiver (which in hindsight may have been a red flag), and then they give you a helmet and a quick overview before letting you take off.
The carts don't have pedals, motors, or a seatbelt, so it's just you, gravity, and two handbrakes (one on each side). I jump in, and I'm soon coasting down the mountain with the wind in my face and a sensational view of the countryside. I'm picking up speed and loving every second of it, breaking slightly to drift around corners and releasing the brakes to reach top speed once again.
Suddenly, there's a particularly sharp turn, and I'm moving entirely too fast. Add that to the fact that my brakes weren't great, and you have a recipe for a disaster. I squeezed the right break a tad harder than I squeezed the left one and the next thing I knew I was spiraling horribly out of control and heading straight off the cliff!
I flip out of the cart at the last second, and I remember lying there on the side of the hill watching my cart tumble and flip all the way down! One of my shoes flew off and so did my go pro, which was strapped to my helmet; so, after I gathered those two things and caught my breath, I contemplated what my next step should be.
I realized my backpack was still strapped to the cart, so I had to hike all the way down a steep mountain and then all the way back up in hot and humid temperatures in high altitude (I left the cart, no way I could push it back up. The workers told me to leave it and that they would retrieve it later).
In the end, everything was fine, and we had a great laugh about it afterward. I even recorded myself sitting on the mountain after wiping out. It really was an amazing experience up until that point, and I would probably do it again, honestly… But slower.
Definitely check out MAPD Episode 5 Part 1 to see it all play out. Skip to 34:08.
What do your parents/family think of your adventure travels? Do they support you or worry about you (especially as an African-American! I know my dad has basically given up on me, ha!)
Definitely both. They support me and love the fact that I aspire to see as much of the world as possible, but at the same time, they worry about my safety and wellbeing.
My brother and cousins usually travel with me, and we are very protective of each other, so we are usually in good hands when navigating around and mingling with locals, etc. We, of course, can't always protect each other during extreme activities, so, naturally, our family was nervous watching us sled down volcanoes and cart down mountains.
My parents definitely weren't thrilled about that mountain carting incident.
What is MAPD, and why is adventure travel one of its biggest elements of it? What is your goal with your platform?
MAPD is a documentary-style travel vlog created to inspire viewers to seize the day every day, and to inspire my fellow African-American millennials, in particular, to broaden our horizons and look beyond domestic party hot spots when traveling.
The name MAPD stands for Make Art Precede Death and is inspired by a quote from a man named Arsene Wenger, who once said:
"The only way to deal with death is to transform everything that precedes it into art."
I found it a beautifully fitting mantra to live by, especially as it pertains to traveling, and, from it, my vlog was born!
I am frustrated by the reluctance of some black millennials to venture into the world due to irrational fears and misinformation. It seemed that too often when I saw some young black travelers (there are many exceptions, of course), they were frequenting the same few party spots: Miami, Vegas, Cancun, and the Dominican Republic.
I'm not an elitist or travel-shamer, but it always bothered me slightly that there seemed to be a real divide.
I decided to embody the change I wanted to see. I wanted to show that we, too, could embrace the virtues of adventure and exploration. There is an art to immersing yourself in unfamiliar cultures, mingling with those from different backgrounds, and really venturing into the heart of your destination as opposed to staying in a secluded hotel or resort.
Above all, though, I want all MAPD viewers (not just fellow young black travelers) to realize how accessible travel really is.
As a society, we're spoon-fed an ideology that working a 9-5 job and working your way up the corporate ranks is all life has to offer. I aim to show that travel is not reserved for the rich and famous and retired and that with the right preparation, normal, everyday people can and do travel the world.
Staying in hostels and AirBnBs instead of hotels and resorts, finding flash sales and error flights to secure low prices, implementing budget hacks, packing light ;), and using public transportation help make travel as affordable as possible. I share these tips and tricks with the viewers to make MAPD a really relatable platform.
The only way to deal with death is to transform everything that precedes it into art.
Click To Tweet
So, a huge question: you must have travel insurance, right?
I actually don't use travel insurance on my adventure travel trips, although I probably should!
Initially, I thought travel insurance was unnecessary and expensive, but after giving it more consideration, I see its merit and would like to purchase some. I would recommend it—it's better to have it and not need it than need it and not have it.
Packs Light's travel health insurance recommendation is Safety Wing! They're a leading health insurance for digital nomads because if their wide coverage and use in almost all countries.
Remember: travel health insurance is definitely something you'd rather have and not need, than need and not have!
What advice would you give to another 20-something who wants to travel and live a bit more dangerously, but is scared?
I'd say to remember that life is short and that you will always regret the things you didn't do more than the things you did.
Time waits for no one, and if you aren't careful you will spend your life helping to build someone else's dream instead of living your own. Start small if you have to, find a crew to join you and support you, join a community, go for it.
I absolutely love that. Thanks so much for your insight into adventure travel, Nadji! Any closing comments you'd like to share, go ahead.
I'll leave you with this, traveling is just as much a spiritual journey as it is a physical one.
By learning new cultures and languages and embarking on new experiences, you add layers of perspective that subconsciously strengthen your ability to navigate life itself.
"The journey changes you; it should change you. It leaves marks on your memory, on your consciousness, on your heart, and on your body. You take something with you. Hopefully, you leave something good behind."

– Anthony Bourdain
Nadji's Blog | Nadji's Instagram | Nadji's YouTube
---
What adrenaline-pumping adventure travel have you experienced?
Drop a comment below & don't forget to add yourself to the Young Travelers Network Facebook Group!
Are you interested in writing for Packs Light? Apply to become a contributor.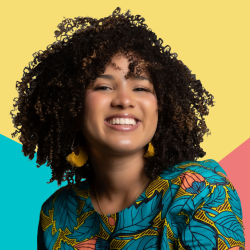 Latest posts by Gabby Beckford
(see all)