Reading Time:
5
minutes
What is special about the Mexican hot springs at La Grutas De Tolantongo? What should you know before you visit? Is it worth it to do a day trip from Mexico City? This is the Las Grutas de Tolantongo review you need!
After spending 3 months exploring Mexico's diverse and beautiful landscapes, there are some that I think everyone must visit once in their life.
I got to enjoy the bustling major cities, indulge in relaxing beach days, and eat my way through the country's culinary offerings.
One of the most remarkable experiences, however, was Las Grutas De Tolantongo. These Mexican hot springs found in the countryside are a cant-miss opportunity for every traveler!
This post may have affiliate links. Meaning if you buy something using them, I get a small % for recommending it. It doesn't change the price for you at all, and it's a super easy and nice way to say thanks for the work I did writing this 🙂 Cool? Cool!
About Las Grutas de Tolantongo
The canyon and hillside that make up this unique destination are laced with underground thermal waters. Natural hot springs decorate the landscape, creating a collection of stunning turquoise pools. Las Grutas de Tolantongo offers everything you could need to splash, play, bask, and relax for days.
Out of all the hot springs I've ever been to, these are some of the most rejuvenating!
Here, you're not just soaking in hot water. There is a tunnel full of naturally heated water, with steam rising up the walls of a cave centered around a massive, hot waterfall. You can bask in the natural hot springs of this little oasis as you lounge in the man-made pools carved into the mountain.
There's even a beautiful, clear river to swim and wade in with many stunning waterfalls to explore.
Adrenaline-filled activities are also offered here, which is rare for a natural spring park!
For the kids, there's a big water slide to play in while the adults chill in the tub. Cross the swinging bridge, and you'll end up in La Gloria Tolantongo. This lesser-known property has an abundance of waterfalls, a zip line, and more pools to splash around in! When you walk into this neighboring destination, it honestly feels like you've unlocked the most magical bonus level.
Where are these Mexican hot springs?
Las Grutas de Tolantongo is a four-hour drive from Mexico City and can be reached by car, bus, or private taxi.
It's located in the state of northern Hidalgo. Hildago is home to attractions like the Basalt Prisms of Huasca De Ocampo, giant stone prisms formed by slow-cooling volcanic rock, and Real De Monte, once one of the biggest mining towns in Mexico.
How much does Las Grutas de Tolantongo cost?
🎟 Entry ticket: 150 pesos
🚐 Transportation: 300 – 2000 pesos
Travelers looking for an excursion that feels luxurious while staying on a budget have a few options when it comes to these Mexican hot springs.
You can travel to Las Grutas de Tolantongo by private driver, bus, or tour. Luckily, it's a beautiful 4-hour scenic drive by car through the countryside! But if you get car sick easily, be careful, because the roads become very winding during the last hour. The public bus is a great affordable option at only 300 pesos (USD $15) and takes about 6.5 hours.
The entrance fee at Las Grutas de Tolantongo is 150 pesos (USD $7.50). Shuttles to different areas inside the park are 10 pesos (USD $0.50) per person. Lockers are 50 pesos (USD $2.50).
If you decide to stay the night, you'll need to pay the entrance fee for the next day as well. Room prices are from 800 pesos (USD $40) to 1800 pesos (USD $90) per night. You could get a room, pay the entrance fees, and use a locker and shuttles for around 1400 pesos (USD $69) per night.
For those who want to make this a day trip, there are private tours starting at about 1600 pesos (USD $79) per person. Unfortunately, these tours don't include time for visiting souvenir shops or eating at the on-site restaurants. However, tours do get you to and from the springs in one day which is something that would be very difficult to do otherwise.
Plus, you'll have the added benefit of a tour guide who already knows all of the local travel tips!
🧖🏽‍♀️ Looking for more hot springs options around Mexico? Check out these trips to natural hot springs in Puerto Escondido, and Mazatlan!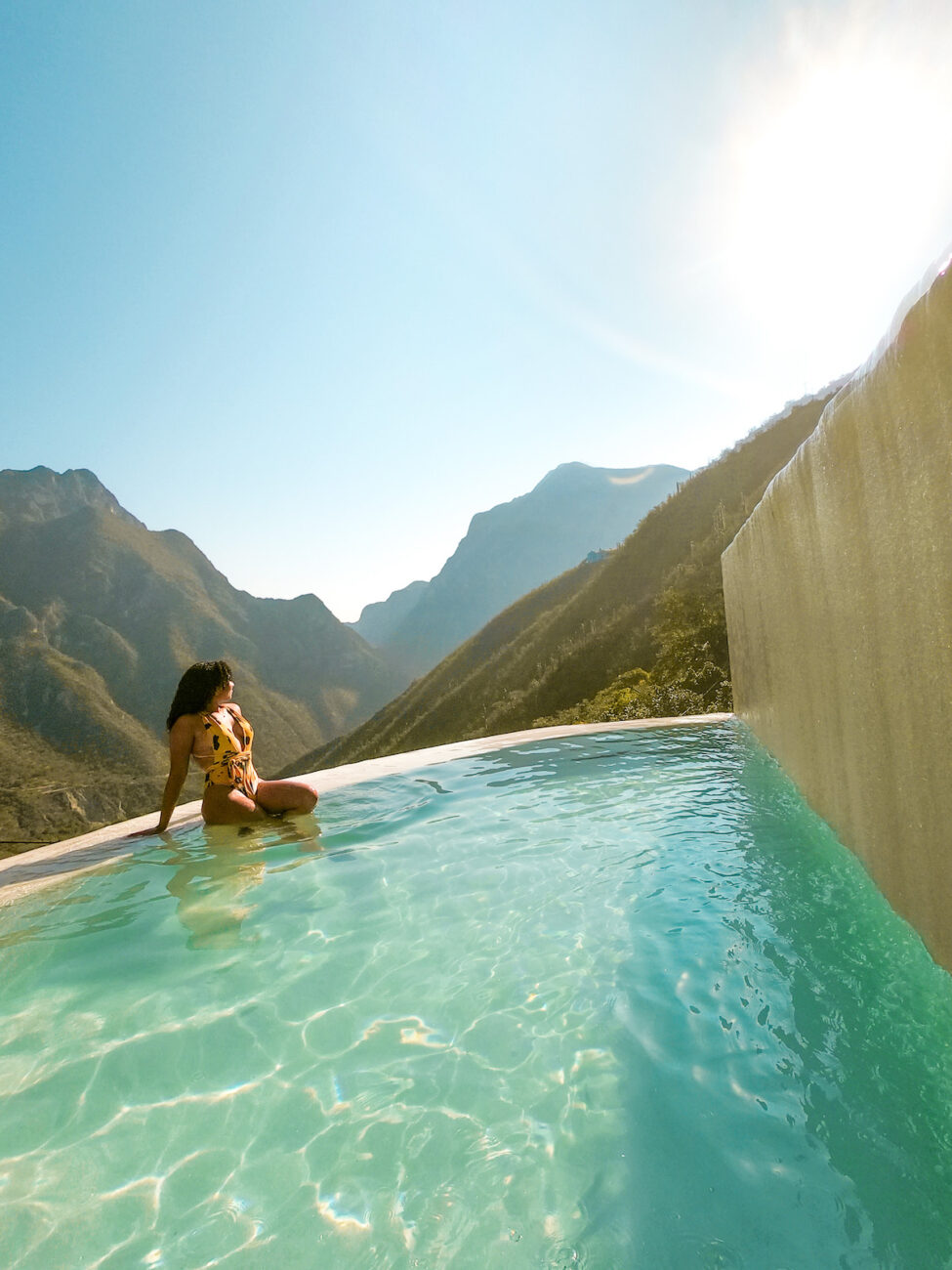 Visit the resort for a full luxury vacation
You could easily make a full vacation out of a trip to these Mexican hot springs. The canyon and surrounding hillsides are packed with natural attractions. With everything from hotels to restaurants onsite, there's no reason not to stay for a couple of days.
For the energetic and outdoorsy, there's a zip line and a cave where you can swim in some strong currents. For the kids, there's a water slide and a river to play in.
There are naturally heated pools for those who want to have a relaxing wellness day. If you want to explore, there are multiple tunnels and a swinging bridge with plenty of waterfalls on the other side of it.
If you're in need of a place to get your mindset right and heal your inner child, this just might be the place.
All of us need to play in a flowing river of turquoise sometimes!
Accommodation options
Beyond all of the different attractions already mentioned, this place has the works when it comes to hotels and accommodations. There are five different hotels located within the park and plenty of camping areas.
Everything in the park operates on a cash-only basis and the hotels do not take reservations. That means you won't be able to reserve a room until you arrive at your destination. To secure your spot, the park's website recommends arriving between 7 and 9 AM if you want a room.
If you show up and no rooms are available, don't worry! You can still rent camping equipment and take the rustic route. Most people there are doing the most to have a good time, so be prepared for music and partying.
To me, diving into the Mexican hot springs during the day and living it up at night sounds like a whole vibe to me!
Inside the park, there are multiple restaurants serving a variety of Mexican cuisine. You're unlikely to be disappointed by the abundance of tacos, quesadillas, fajitas, sopas, and chilaquiles.
If you're in need of a place to get your mindset right and heal your inner child, this just might be the place 😍✈️
Click To Tweet
How accessible is Las Grutas Tolantongo?
Truthfully, this is not the best park when it comes to accessibility.
Las Grutas Tolantongo is made of many different parts and covers the side of an entire mountain. We're talking small springs, crowded springs, secluded springs, oh my!
You'll need to be prepared to do a bit of walking if you want to see all sides of these Mexican hot springs.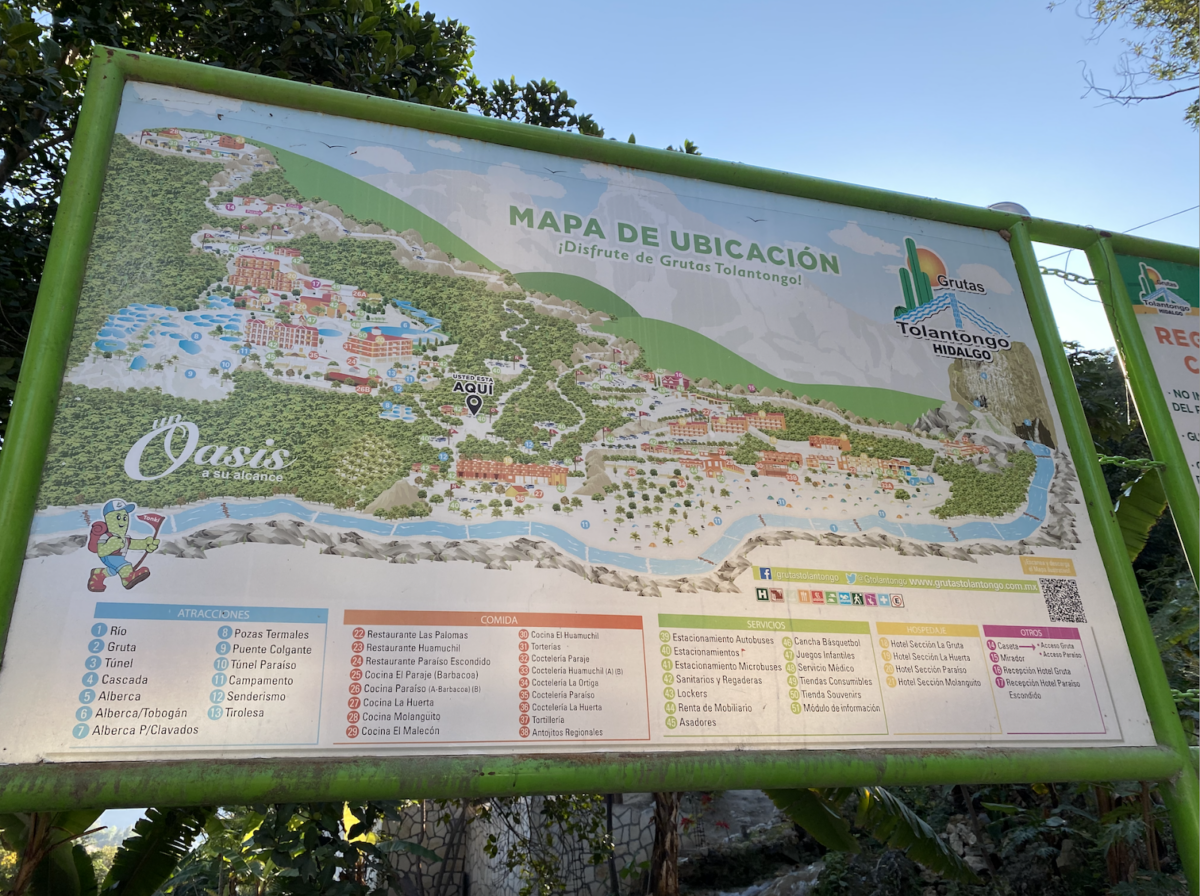 There were very strenuous parts of the connecting trails, and the main pools aren't accessible for older people or those in wheelchairs.
Some people may find the buses helpful, making it a bit easier to travel between a few of the pools. Even still, there are limestone stairs which can be very slippery with people fresh from the waters walking up and down them. The waterfalls aren't accessible via wheelchair either, as they require many steps to access the river and waterfalls.
For travelers who don't mind a bit of activity with their relaxation, Las Grutas de Tolantongo is a good option for you! There are more activities than typically offered at this kind of park. Instead of being just about relaxation, there are fun adventures and treacherous sites to see!
This is a great destination for solo female travelers, a small group of friends to visit, a couple looking to get away on a romantic adventure, and families who want luxury and thrills on their trip.
Is Las Grutas de Tolantongo worth it?
These unique hot springs are absolutely worth visiting if accessibility is not a factor in your vacation. The park is a stunning sight to see, and there are tons of activities here!
Is it safe to visit Las Grutas de Tolantongo?
Las Grutas de Tolantongo is a regulated park with security. Since it's a tourist attraction, there are lots of people around at all times. Speaking Spanish will help you navigate your experience and feel more comfortable, of course, but I would tell any solo female travelers and women of color that they would be fine visiting.
If you still feel nervous, I would recommend booking a tour!
---
Have you been to any Mexican hot springs? What was your favorite part? Share in the comments below!
And if you're looking for more solo travel spots or digital nomad recommendations, be sure to sign up for my newsletter for some essential travel tips.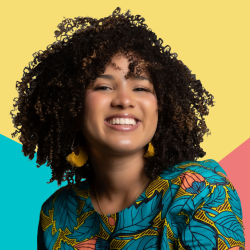 Latest posts by Gabby Beckford
(see all)