Reading Time:
8
minutes
What is the best time to travel to Greece? Where should you go during your trip to Greece this summer? How many days should you spend in Greece?
This post may have affiliate links. Meaning if you buy something using them, I get a small % for recommending it. It doesn't change the price for you at all and it's a super easy and nice way to say thanks for the work I did writing this 🙂 Cool? Cool!
If you're reading this, you probably have a dreamy mood board somewhere, outlining your perfect girls' trip to Greece that feels like a Mamma Mia island-hopping fantasy. But getting that group trip out of the group chat might be a little more difficult than you thought…
That's where I come in!
Planning your dream trip can feel overwhelming, so I've outlined everything you need to know about traveling to Greece this summer, including a full 2-week itinerary! After spending last summer island-hopping and soaking up all that Mediterranean sun, I'll make sure this energy of your trip to Greece is unmatched.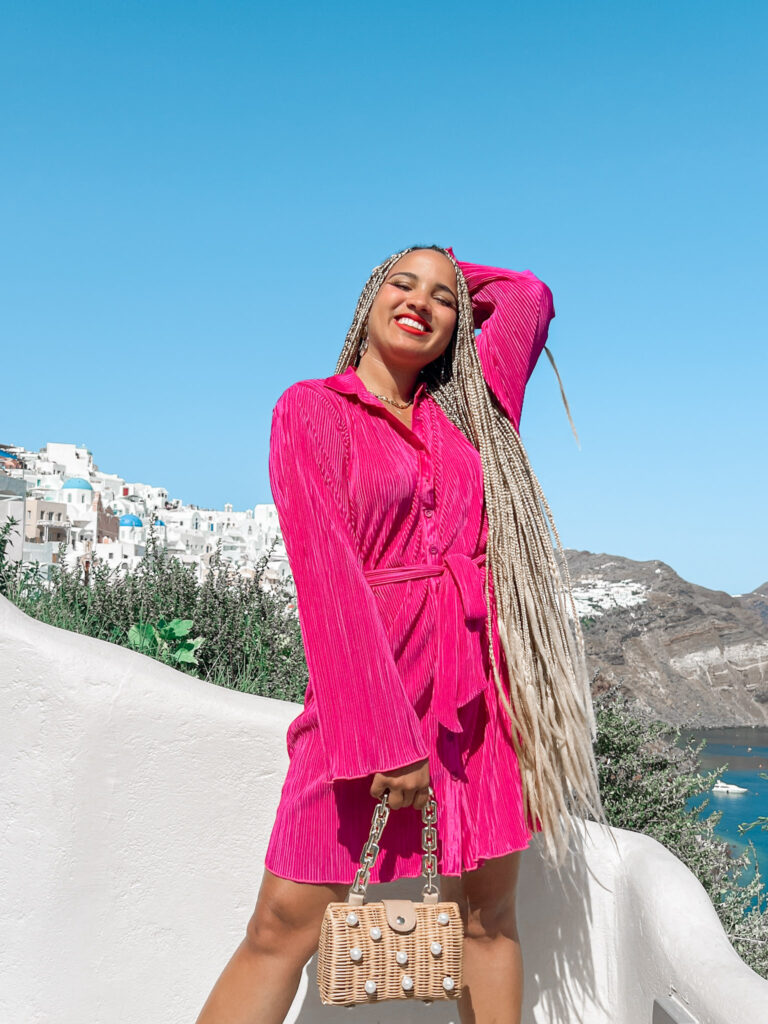 How much does a 2-week trip through the Greek Islands trip cost?
As you're getting ready for summer in paradise, you'll want to think about your budget. Some of the islands can get really expensive when it's tourist season, while others are affordable year-round. You can adjust the itinerary based on your budget, but I'll give you a few guidelines to help you plan.
Obviously, flights will vary depending on where you're flying from, and which island you are landing on. During the summer, prices will range anywhere from $700 – $1,200 for a nonstop flight from NYC to Athens. If you want to keep costs low, start with flexible travel dates and explore different options on Expedia's flight tracker.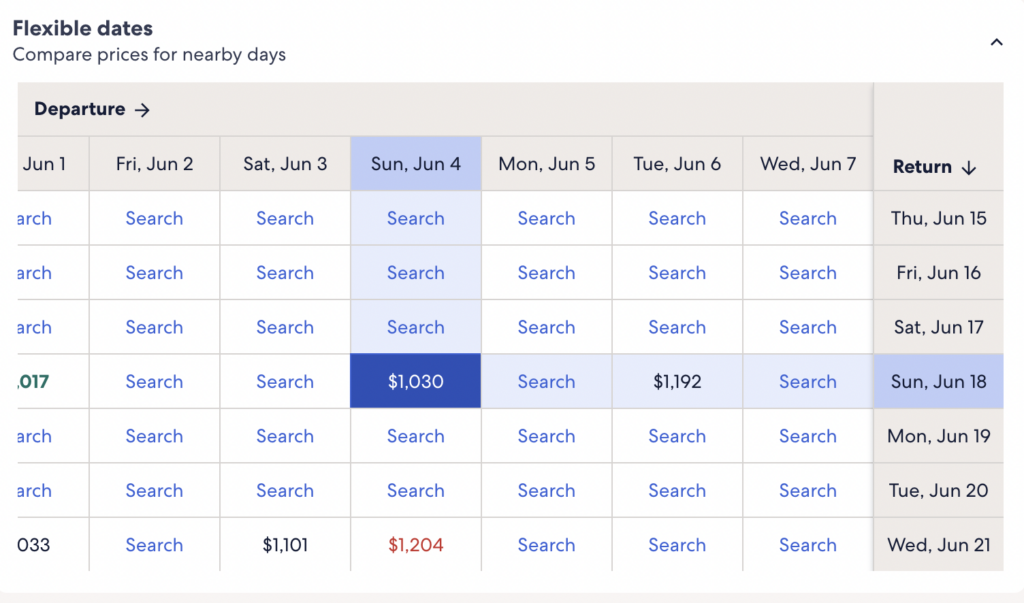 The tool lets you compare different travel dates and prices, making it super easy and efficient to save on airfare.
If you're planning to island hop around Greece, you'll have to jump between different accommodations, giving you plenty of chances to splurge or save depending on where you decide to stay. Places like the Athens Quinta are super affordable (only $50 a night!) while having positive customer reviews and comfortable space.
There are also tons of boutique hotels and rental homes to choose from, but those will cost a little more.
Personally, I'd recommend going with a rental home for a group trip. You'll all be able to hang out, get ready to go out together and enjoy a villa vibe.
Tips for traveling to Greece on a budget
Listen, I know we all wish we could have a luxury villa in Santorini as our summer vacation home, but if you want the group trip to happen, you need to spend smart.
There are a few things to keep in mind if you want to visit Greece for cheap:
Book everything in advance! You don't wanna be organizing anything last minute, especially since the summer is the busiest tourist season (which means prices will keep getting higher).
Prepay for your baggage!!! You're spending two weeks in Greece. You're probably gonna need to check a bag. When you prepay, you save a couple of bucks here and there, but those little costs do add up.
Always check in for flights early (you may even get upgraded to first class for FREE if you do this… just saying).
Buy a Greece Destination Pass for the islands with lots of activities so you can get free admission to the top attractions.
Take advantage of free activities, such as hiking and swimming.
Eat at local restaurants instead of tourist traps.
Avoid buying souvenirs at the airport. They're pricey and less cool than finding local boutiques to shop at.
And remember, just because you're on a budget doesn't mean you have to sacrifice seeing everything! You can still visit places like Oia and experience the magic of Santorini. Just visit for a day or two instead of a whole week.
Transport 101: the best airlines from the U.S. to Greece and exploring the islands
One of the best ways to hack a cheaper flight when you're traveling from the U.S. to Greece is to choose your airline wisely. Using up travel credits and membership points is a really smart way to save some money without having to buy that sketchy airline ticket with 8 layovers and no refund options.
(If you learn how to travel hack, you can start saving points now to use on your trip.)
For traveling around Greece, I recommend renting a car. Taxis are expensive and when you're on a group trip, you don't wanna be wasting money on two or three cars every time you go out. Plus, having a car will help you see some of the more off-the-beaten-path destinations!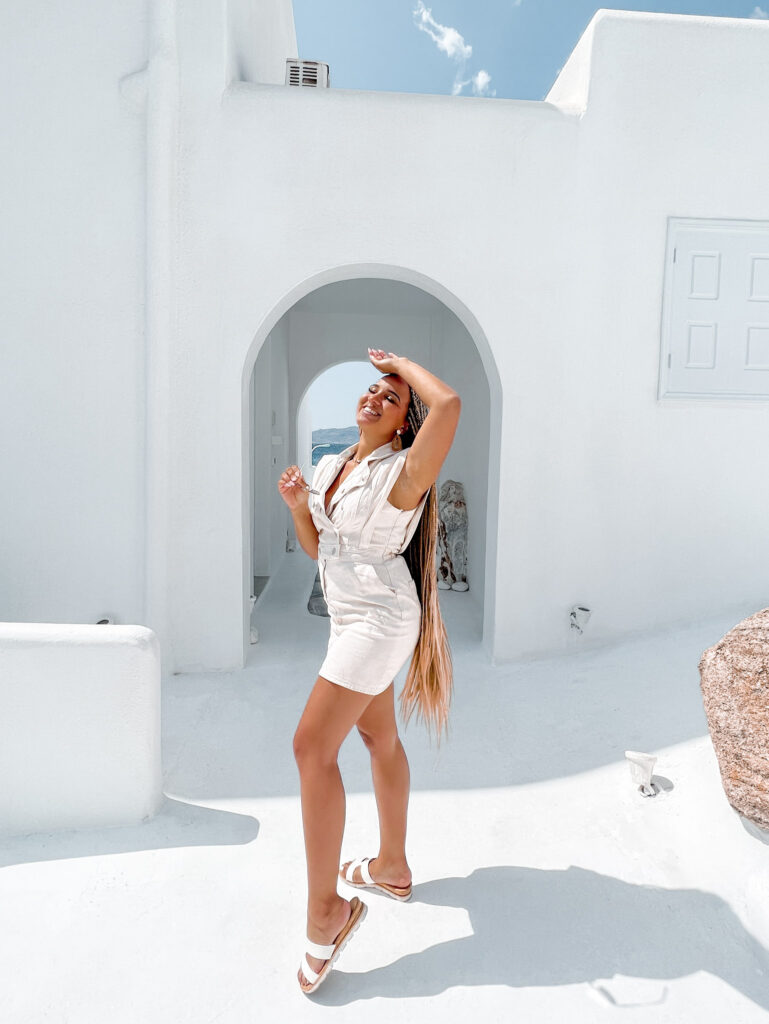 Some things to keep in mind before your trip to Greece
Here are some important things to note as you're planning your trip:
The best time to visit Greece is during the shoulder seasons (April-May and September-October), when the weather is mild, and there are fewer tourists.
Greece is a relatively safe country, but it is always a good idea to be aware of your surroundings and take precautions against petty theft!
The official language of Greece is Greek, but English is widely spoken in tourist areas.
The currency of Greece is the euro.
Greece is a member of the European Union, so US citizens do not need a visa to visit.
You will need a valid passport to enter Greece.
You may want to consider purchasing travel insurance in case of any unexpected events. I recommend Safety Wing!
Your 2-Week Greek Islands Itinerary
Okay, time for the fun part! I did a trip similar to this last summer, and the vibes were absolutely immaculate. A group of my girlfriends and I island hopped, partied, relaxed at the beaches, ate so much good food, and every moment was 100% worth it.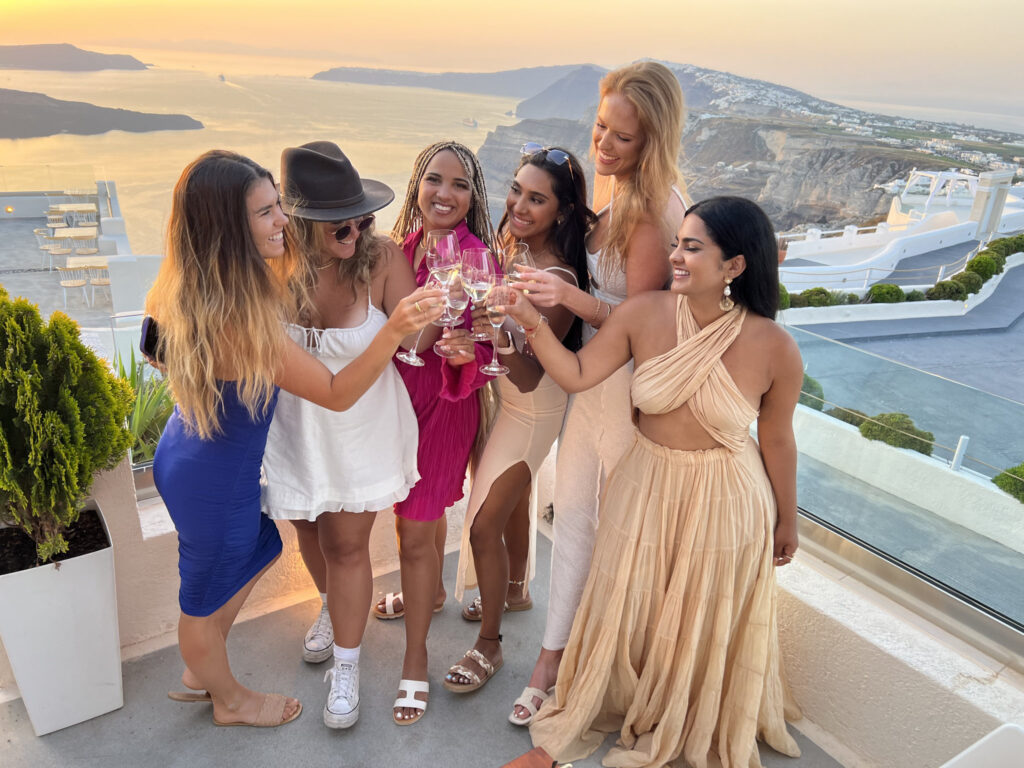 Remember, this itinerary can be customized to fit your lifestyle! For example, if you are interested in history, you could spend more time visiting archaeological sites. If you are interested in nature, you could spend more time hiking and exploring the islands.
Days 1-2: Explore the history of Athens
Starting your trip to Greece in Athens is easiest, since most international flights land here. Day 1 is really just about arriving safely, getting to your hotel, and chilling as you adjust to the timezone.
Day 2 is where the fun really begins. Spend the day running around this ancient city, exploring some of the most notable ruins in history. Take a mythological walking tour of Athens and see the island's iconic landmarks, including the Acropolis, the Parthenon, and the Temple of Olympian Zeus.
When it comes to food, Greece will not disappoint. If you're feeling a little fancy, book a table at Hytra. This Michelin-star restaurant is the perfect treat-your-self spot to kick off the vacation! Or, if the girls wanna keep it lowkey and enjoy some street food, try this food tour and eat your way through the Varvakios Agora market.
Day 3: Time for a day trip to Delphi
Just a few hours from Athens is one of the most important sites in ancient Greece called Delphi. This town was considered to be the "navel of the world," and served as an important religious site since the Temple of Apollo was built there.
A full-day trip to Delphi is a worthwhile experience for culture and history lovers. You'll get to explore the archeological site, visit the museum to see the treasures recovered here, and enjoy some lunch in the town nearby.
For any nature lovers out there, Delphi is also an amazing place for hiking. One of the most popular trails leads to the Corycian Cave in Parnassos National Park. This cave was once a place of worship, where people would come to praise Pan, god of the wild. The trek is only about 3 miles from Delphi, and every step through the Greecian countryside will leave you in awe of how stunning this place is.
Get the girls' trip OUT of the group chat!! This 2-week itinerary is essential if you're planning a trip to Greece this summer 🇬🇷☀️💃
Click To Tweet
Days 4-5: Fly to Mykonos where your Mamma Mia fantasy begins
Exploring ancient history is one of the perks of traveling to Greece. The other? Stunning beaches, charming local culture, and tons of places to relax and enjoy a slow summer. Mykonos is definitely the island for that.
Mykonos should be full of nothing but soaking up the sun and exploring the island. A few of the best beaches include Paradise, Super Paradise, and Paraga. They're known for having a chill party vibe, ideal for any good girls' trip.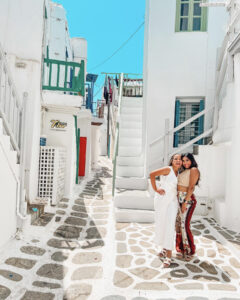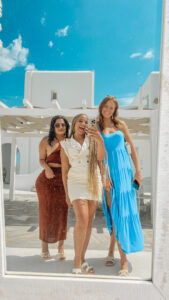 And don't miss out on Mykonos shopping! I loved exploring the local boutiques around the island. There are shopping hubs like Nammos Village or Matogianni Street, but the entire island is full of amazing small businesses selling clothes, jewelry, art, and souvenirs that you'll actually use. You can even book a guide and personal shopper who will take you to the best stores on the island!
Day 6: Take a boat trip to Delos, an uninhabited island with ancient ruins
Take a boat ride from Mykonos to Delos and explore some of the most important ruins in Grecian history. The entire island is a UNESCO Heritage Site, known as the "birthplace of the immortals." You'll be walking through ruins that are paramount to Greek mythology, including the house of Dionysos and the statue of Cleopatra.
Dive deeper into the cultural significance of Delos at the archeological museum located just north of the Temple of Isis. They have a collection of Delos artifacts dating all the way back to the 7th century that history lovers will find fascinating.
After sailing back to the mainland, enjoy a traditional Mykonian dinner and wine tasting. Is this something your parents would probably do on vacation? Yes. But can't the girls enjoy a little culture before heading out to the Mykonos clubs…? 100%!
Day 7-9: Visit the best spots in Santorini
One of the most popular islands in the summer is Santorini, so it's a must-see during your group trip. Lounging on the beaches is an easy way to save some money here, but if you wanna splurge I'd rent a catamaran and sail around the island's caldera (flooded crater).
Boating around Santorini not only gives you some of the most magical views ever, but you'll also be living like royalty sipping wine, eating all the Greek food, and throwing your own private party in the Mediterranean.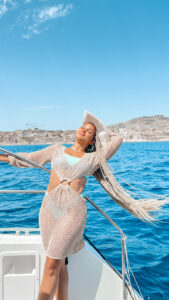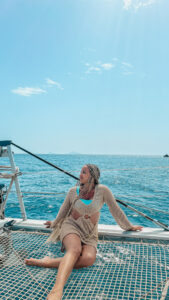 For a more educational day at sea, head to the surrounding natural landmarks, like the volcanic island Nea Kameni. This boating tour takes you to the island where you can relax in the natural hot springs or hike the unique, rocky landscape.
Day 10-13: Get in touch with Greek culture in Crete
Finally, it's time to go explore the largest of the Greek islands, Crete. After your flight there, spend a night getting settled and indulging in a leisurely dinner at one of the local restaurants.
Crete is known for having some of the best food in all of Greece, so you definitely want to try as many spots as you can.
After a good night's rest, get ready for an excursion to Knossos, the largest palace complex on Crete. The best way to experience this spot is to take a private guided tour from an expert who can tell you all the secrets and history of the palace. You'll get an in-depth look at one of the oldest civilizations in Europe, and get access to all the highlights in a complex with over 1,500 rooms.
If you can only afford one activity during your trip, I strongly recommend taking this authentic cooking class. Cook a meal with the freshest local ingredients, get an exclusive wine and cheese tasting, and learn about the history of each dish from the expert chefs of Crete.
For me, cooking classes always end up being some of my favorite experiences, so it's worth the spend.
This two-week trip to Greece will give you the Mediterranean summer of your dreams ✈️👀
Click To Tweet
For the last full day in Greece, take some time to disconnect and savor the beauty of the island with a hike through Samaria Gorge. This spot is one of the best hiking trails in the Mediterranean, weaving through white canyons, across crystal blue streams, and even looking at ancient ruins that casually decorate the scenery.
If you want to make the hike extra special, you can get fancy and book a private guided tour through Samaria Gorge to ensure you find all the best photo moments and lookout points.
Day 14: Say goodbye to Greece
By day 14, you'll have experienced so many unique parts of Greece. Food, culture, history, partying, shopping, and relaxing on the beach– all enjoyed with your closest friends in one of the most stunning parts of the world.
Trust me, on your flight to Athens and then home, you'll already be planning your next trip back.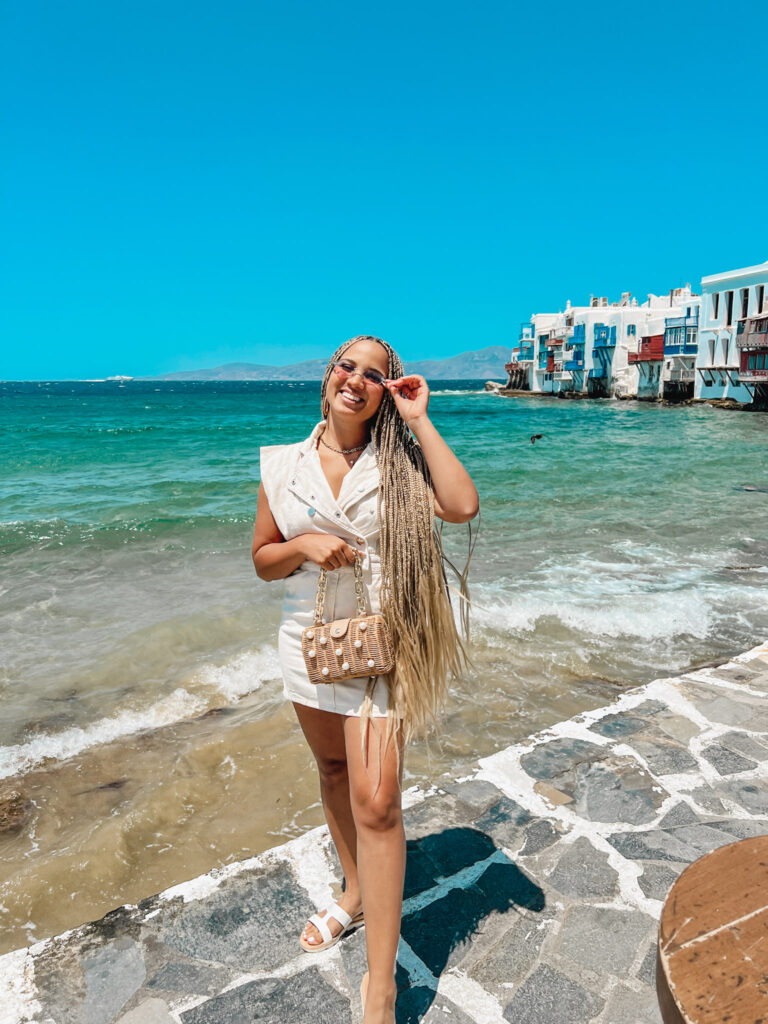 Example budget breakdown:
Here is a possible budget for a 14-day trip to Greece:
Airfare: $750
Accommodation: $1,000
Food: $500
Transportation: $200
Activities: $300
Total: $2,750
You can mix and match these numbers depending on what type of trip you're looking for. If you're planning to stay in luxury hotels the entire time, that cost is going to go up quite a bit! But if you only wanted to explore free activities, stay in hostels, and eat locally, you could finesse down a good amount.
Whether you're working on a budget or looking to live in luxury, Greece is an amazing group trip destination to enjoy the Mediterranean summer of your dreams.
What is the best month to go to Greece?
Travel during shoulder seasons!! If you're planning a summer trip, aim to visit Greece between April – May or September – October. Flights and hotels will be cheaper, beaches will be less crowded, and you'll enjoy the big archeological sites with fewer tourists.
How much is a trip to Greece?
Just like any big destination, you're going to find some more pricey areas of Greece targeted at tourists. The best way to experience Greece on a budget is by booking your trip well in advance, exploring local gems, and staying in hostels or rental homes. For two weeks full weeks in summer, you could spend as little as $1,800 depending on accommodations and airfare.
What's the best way to travel to Greece?
In my experience, island-hopping is the best way to see all the best parts of Greece. You'll get to explore history, culture, cuisine, nightlife, nature, and more in just 14 days thanks to how diverse each island is.
Have you ever been to Greece? What was your favorite experience?
Leave a comment to inspire other travelers!!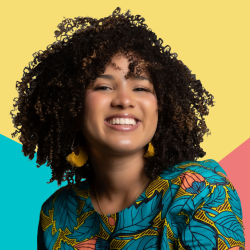 Latest posts by Gabby Beckford
(see all)