Reading Time:
6
minutes
This post may contain affiliate links – meaning that if you purchase something through a link, I get a small payment for it (at zero additional cost to you). It is a much-appreciated way to support this website!
Whether you're just taking a day trip to Berlin or spending the weekend exploring, there are plenty of Berlin tourist attractions to keep you entertain and in awe. From Berlin beach days to rooftop
Indulge in a Ketwurst, found only in East Berlin
Okay, at first sight, you may wonder what in the world have I ordered… Before you run the other way, give Ketwurst a try. What's the worst that can happen?
This strange concoction is a mix between an American hot dog and a corndog.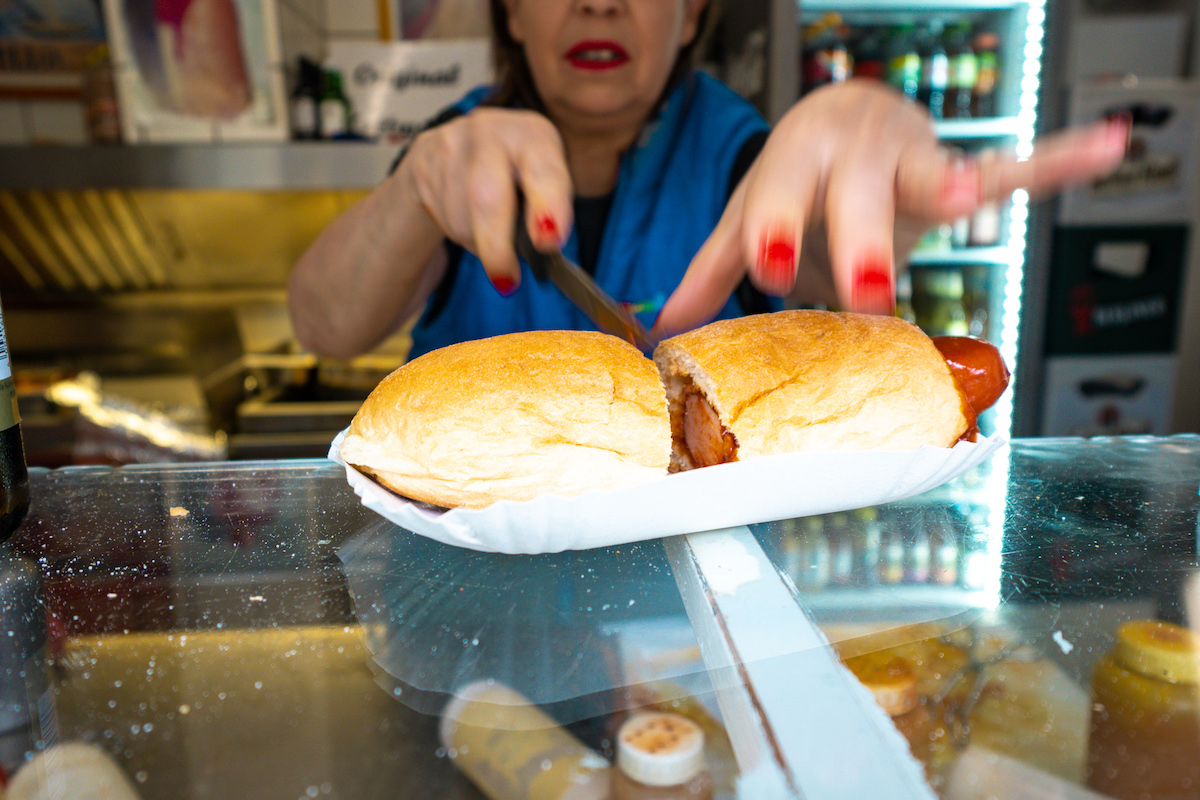 To explain: a bockwurst (hot dog) is cooked in boiling water, and at the same time a long bread roll is pierced with a hot metal cylinder. The wurst is then dunked in ketchup and put inside the perfectly interior toasted roll. It's easy to eat, cheap, and filling, and only found here!
It's so specific to this region that even some West Berliners may not have heard of it!
If you take a tour through East Berlin (I recommend Fork & Walk) keep your eye out for a Ketwurst stall, grab your feast and watch the world pass by while you enjoy your oddly Instagram-worthy lunch.
Kayak through Berlin's Little Venice
While it may feel like every city in Europe has its version of 'Little Venice' (maybe you've heard of the one in west London or Dublin?) Berlin's rendition is still quite a contender.
You'll find the canals in southeast Berlin's Neu-Venedig neighborhood—which translates to New Venice—just 20 minutes outside of the city by bus.
This haven is tucked just enough out of the way that it hasn't been overrun by tourists, yet it's only a 10-minute walk from the Freybrücke station bus station.
Once here you may be surprised that this peaceful canal system is built in a prestigious housing area. Five canals and 13 bridges connect the local boroughs of colorful houses, well-groomed gardens, and docked sailboats. The only way to grasp the beauty of Berlin's Little Venice is to hop in a canoe and spend an afternoon paddling down the quaint river.
You can rent a canoe, kayak, or paddleboard on-site through WhatSUP Berlin, and within moments, you'll leave behind the bustling city and settle into the peaceful pace of nature.
When you've finished enjoying the picturesque houses, water lilies, and swans, stop for an eat at Salt n' Sugar; a charming restaurant on the Haval riverbank surrounded by wildflowers and a biking trail.
Cyclists often pass by and turn round to stop in for a meal, where you'll find a menu filled with fresh, locally sourced ingredients for meals like beef carpaccio and mushroom risotto. Best of all its riverside location affords you the best of Spandau: cold lemonade, butterflies, and a view of the weekend sailors' colorful boats as they breeze by.
Veg, vino, and vibes at Berlin's first vegetarian cocktail bistro
Especially for my vegan and vegetarian travelers, it can be difficult to find a food spot where you can literally eat everything on the menu. Bonvivant is Berlin's first vegetarian cocktail bistr0 and the perfect place to enjoy a long dinner and drinks with friends.
The term "bon vivant" is French and refers to a person who enjoys living 'the good life–so you know this bistro is going to be something special. You can order multiple courses and have a light but filling meal accompanied by uniquely crafted cocktails to get your fix in modern Berlin.
Servers are always happy to point you in the right direction if you're feeling a bit lost navigating the menu, or you can YOLO out and opt for their multi-course meal with a cocktail pairing and you can trust the chef will bring out his best.
PTO Hack: Why pay to visit Berlin when you could go on a scholarship? Consider applying for a program like the FASPE Fellowship, where you could spend two weeks studying professional ethics and ethical leadership while exploring both Berlin and Poland!
Stay at a Berlin Bucket List Worthy Hotel
It won't be challenging to find a unique and charming place to stay in Berlin. I visited each of these three hotels during my stay, and each has its unique touch.
Hotel Oderberger
The best thing to do in Berlin is book a luxury midnight swim at the Hotel Oderberger's Olympic-sized swimming pool.
Here you and a +1 can reserve their 20m long, 100-year-old swimming pool and sauna all to yourself! Included, you'll get a bottle of sparkling rose, bathrobes, slippers, and a portable speaker to set the mood.
Pour one out for the €400 price tag, but it's well worth it for a special occasion. Or, just some stunning photos.
And if you'd still like to enjoy the pool but don't mind company, hotel guests pay a special price of €4 for the pool and €12 for the pool and sauna.
25 Hours hotel Bikini Berlin
Ever dreamed of being woken up to the lovely sounds of grunting monkeys and trumpeting elephants? As wildlife conservation and animal enthusiast, I had the time of my life staying at the 25 Hours hotel Bikini Berlin!
The hotel pulls inspiration from its neighbor, the Berlin Zoo, to be a truly unique place where the wild jungle and Berlin's urban jungle meet.
Throughout all 8 floors, you'll find animal motifs in its decor, hotel amenities that contribute to water and wildlife saving initiatives, and ivy branches draped around you (the hotel's rooftop restaurant, NENI, is literally inside a refurbished treehouse!), interwoven between industrial metal, neon lights, and extremely modern elements.
Almost half of the rooms overlooking the zoo come complete with a hammock, so you can nest up and watch the wildlife playing below.
When you're ready for company, either head to their rooftop Monkey Bar for panoramic views and regular DJ sets, or, for a more relaxed evening, head to Bikini Island, which is a specially created area for like-minded travelers to chill.
Hotel De Rome
If you've got money to blow and are looking to add a little boujee to your bucket list, book a stay at the Hotel De Rome. Located in Bebelplatz, the 5-star hotel was once the headquarters of the 19th century Dresden Bank and the ultimate wealth and prestige once found here are still ever so present.
Tip: Whatever you do, don't skip out on Hotel de Rome's amazing breakfast buffet. The only word to describe it is magnificent.
From the outside, the hotel might look like a museum, but when its grand wooden entrance doors swing open you're greeted by a neon light fixture and moody red design that hint that the hotel is more than just your average hoity-toity hotel.
Need more proof? If you're visiting in the Spring or Summer months, head to the 4th floor for The Rooftop Terrace's incredible views.
Super bonus bucket list challenge: Be like me and visit during the city's Fall Festival of Lights in the Fall.
Discover Berlin's history on Museum Island
Ready to spend an afternoon learning about the intriguing history of Berlin? Museum Island is the ideal spot to wander museums and discover the intimate secrets of Berlin's past.
For €19 (€9.50 if you have a student ID!), you can get an all-day pass to five large Berlin Museums that each house unique and awe-inspiring collections. If you don't have time to visit them all, here's a quick rundown of what you'll find at each:
●  Pergamon Museum – the most popular museum on this list, Pergamon Museum displays some of the most important pieces of Greek and Roman art in the world.
● Bode Museum – showcases works from the likes of Donatella, Bernini, and Canova with a focus on the Middle Ages to the 19th century.
● Neues Museum – reopened in 2009, the Neues Museum is home to the renowned bust of Nefertiti (crafted in 1345 B.C.), along with the Egyptian Museum, Papyrus Collect, and other interesting pieces.
● Alte Nationalgalerie – inside, you'll find many Romantic and Impressionist masterpieces. this building itself is a sight to see, rising above the rest of the museums on a high stepped pedestal.
●  Altes Museum – a visit here will introduce you to intricate jewelry, vases, and sculptures from Greek and Etruscan art, among other things. The Altes Museum was first built on the island, and Altes is easily recognizable by its vast circular dome and antique-style building.
Feel the power of music at the Stand By Me Tree
Only in Berlin will you find the lyrics of a classic song carved into a tree in a random park, and visited by tens of thousands of people every year. Best of all? It's pretty difficult to find and so it involved a bit of a treasure hunt!
It's located in Tiergarten Park which stretches over 520-acres with more than its fair share of trees. From the entrance, you'll find the tree about a 10-minute walk away at the intersection of Großer Weg and Großer Sternallee.
When you know you're in the area, just look for a tree with Stand By Me's lyrics etched into the bark (or a bunch of young teenagers taking photos with it).
Frequently asked questions about visiting Berlin
What is the COVID situation like in Berlin?
As of my trip in September 2021, a large majority of Berliners were vaccinated or waiting on their second dose. Masks are required in public transport and inside official establishments. The clubs had just re-opened but required vaccination certificates to enter.
What's Berlin like?
If you are American, I would say the closest comparison might be Washington DC.

There's the main city center that is very hustle and bustle, and very industrial. But there are still green spaces to be found in the city. Public transport is affordable and accessible and will need you to outside Burroughs that can be grungy, extremely gentrified, or somewhere in between. And of course, there are suburbs that can be like the countryside (Spandau). Generally, the city is extremely diverse and safe to visit for tourists.
How is accessible/intuitive is public transportation in Berlin?
Extremely accessible! The city has a network of buses, overground trains (U-Bahn), and underground trains (S-Bahn). I recommend getting a 72 hour Berlin Card, which includes access to many major tourist attractions in Berlin like the museums, as well as a public transport pass that can even get you to/from the airport.

You can also do a day trip to Berlin from major cities in surrounding countries including Amsterdam, Prague, Bratislava, Budapest, Vienna, Basel, Berne, Interlaken, Poznan, Gdansk, and Warsaw on multiple train services each day. By overnight train, you can also reach include Minsk, Moscow, Paris, and Zurich.
Is Berlin LGBTQ/BIPOC friendly?
Yes. No destination is perfect, but in general, Berlin is extremely diverse in the nationalities that live there, religions that are practiced openly, and very excepting of different sexualities and ways of life.
This press trip was hosted by Visit Berlin.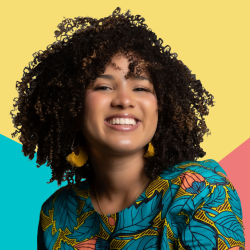 Latest posts by Gabby Beckford
(see all)