Reading Time:
5
minutes
This post may contain affiliate links – meaning that if you purchase something through a link, I get a small payment for it (at zero additional cost to you). It is a much-appreciated way to support this website!
Most people use the holiday season to go home and watch Elf on repeat for two weeks. While that sounds… super fun…I prefer spending the holidays traveling to new places! But what are the best places to go for Christmas? What unique holiday travel destinations are there? What are the best Christmas traditions around the world for travel lovers?
Visit Santa's hometown of Rovaniemi and unwind in a sauna
Nothing screams Christmas quite as loud as "the birthplace of Santa." If you want a charming and cheesy holiday season, book a trip to Rovaniemi, Finland.
Rovaniemi is full of festive activities for all ages. Start the day with a visit to Santa Claus Village, where you can meet some reindeer, embark on a snowmobile safari, and even go on a journey to see the Northern Lights.
Make your trip even more special by staying in one of the unique hotels, like the Arctic SnowHotel. If you're feeling adventurous you can sleep in a bed carved from snow and ice. It's a little rugged, but for campers and nature lovers it's a rare hotel experience that will literally melt away in a few months.
If you've ever seen pictures from my trip to Iceland, you may have an idea of how well I do in the cold… so personally, I'd be booking a Glass Igloo for something a little less rustic while falling asleep staring up at the Northern Lights.
But, the best part of spending Christmas in Finland is participating in their most famous holiday tradition: a long steam in the sauna. It gives you space to meditate and reflect on the last year, which is one of my favorite things to do at this time of year.
Plus, who doesn't love a relaxing spa moment?
These are the most bucket-list-worthy Christmas traditions around the world if you're looking to travel this holiday season ✈️☃️
Click To Tweet
Wander the Christmas markets in Munich, Germany
Today, you can find little holiday markets almost everywhere. But did you know that Germans are to thank for this tradition?
Head to Munich, Germany to shop in some of the OG markets that date back to medieval times.
There are tons of markets to explore in the city. The one in Marienplatz square is among the best and oldest in the world, so definitely add that to your itinerary. Shopping here doubles as a little history lesson, so any money you spend is technically for educational purposes, right?
Munich also hosts an annual Krampus parade if you want to add something spooky to your itinerary.
Krampus is the scary demon that punishes children in German lore. Basically, he's Santa's evil twin.
Hundreds of adults come to Munich every year to dress up in costumes and run through the city. It's strange and scary, but also kinda hilarious.
If you want to take some extra time exploring Germany, be sure to check out some of my favorite spots in Berlin for an unforgettable trip (that's also safe for my solo female travelers!).
Discover the British Christmas tradition most people have never heard of
There are a lot of similarities between the American and British holiday seasons. Festive trees go up, stockings are hung, and friends get together to drink in a local bar or pub.
But there's one British tradition you may not know about: a full-blown drag performance also known as Pantomime!
Every year, Pantomime shows are put up in theaters for families who want a little extra fun during the holidays.
These wild performances star men in drag recreating a hilarious, melodramatic version of a well-known childhood story. Think of Cinderella, but the evil stepmom and stepsisters are 6 feet tall in campy full glam.
The most famous performances take place in London, so if you want to see one of the most theatrical traditions around the world, you should book a trip to England right now.
Some of the most highly anticipated shows this year include Jack and the Beanstalk at the London Palladium and Mother Goose at the West End theatre. Anyone who lives for chaos and comedy will love this experience!
"Hangi" out in the sun, and do Christmas in New Zealand!
If you're anything like me and are looking for a way to escape the cold, travel to New Zealand for Christmas down under.
Locals often take advantage of the warm summer weather by lounging on the beach enjoying a big family barbecue, or "Hangi" as it's called in Maori culture.
Hangi is a cooking technique that involves burying meats, fish, veggies, and potatoes underground and cooking for several hours. Hot stones and earth cover the dish, and the slow roast produces a tender, rich final product that should be savored.
Make some friends with the locals to earn a Hangi invite, or book a Mitai Maori Village tour which is complete with an authentic feast! Cultural experiences like this have always been my favorite part of traveling, and a trip to New Zealand will give you a chance to learn all about indigenous holiday traditions.
Instead of sitting at home on your parent's couch, book a flight and experience these Christmas traditions around the world! ✈️🎄☃️
Click To Tweet
Christmas in Kenya means feasting like royalty
Christmas in Kenya is fairly similar to the U.S. Families get together, go to church, and exchange gifts. But there's one incredibly delicious difference: the traditional Kenyan holiday feast.
Travel to Nairobi and you'll get to try nyama choma, Kenya's national dish. Depending on who's cooking, this dish features roasted goat, beef, chicken, or other meat. Served with various sides like corn hash and fresh stewed veggies, it's a hundred times better than any casserole we're cooking in the states.
While you're here, you might as well enjoy some other adventures, too!
Take a game drive through Nairobi National Park for one of the most memorable excursions ever. Seeing big game like lions, buffalos, and leopards lounging in their natural habitat is an unreal experience that will leave you speechless.
After your encounter with the wild, step back into history with a day trip to Malindi, a city full of Gedi Archeological Ruins.
Learn why this UNESCO-protected ghost town was abandoned during this tour of Gedi. For travelers who love an action-packed itinerary, Keyna is where you wanna be!
Travel to Mexico if you want never-ending Christmas activities
In Mexico, Christmas is happening all month long with big community get-togethers. Because this is a predominantly Catholic and Christian country, the holiday is an especially important cultural event for locals.
One of the most fun things to do in Mexico during this season is to attend the "posadas" which take place from December 16 to 24.
While posadas started as a way for Spaniards to tell the nativity story, they evolved into big fiestas with all the essentials. Get ready for piñatas, tamales, ponche navideño (AKA spiced punch with some tequila or rum), and tons of music!
Head to Oaxaca and you'll be able to see the one-of-a-kind "Noche de Rábanos" or the "Night of the Radishes."
Yup, an entire tradition dedicated to just radishes is a real thing, and it's amazing.
Locals sculpt tons of festive figurines out of radishes, showing off their skills with edible art. The festival doubles as a contest, and whoever presents the best radish displays can win a few prizes and the prestigious title of best radish carver.
While traveling through Oaxaca, treat yourself to some rest and relaxation. I recommend you visit the Hierve el Agua hot springs where you can soak up some wellness before the new year. (Bonus perk, this is a great spot to grab some photos to update everyone back home where you're spending the holiday!)
Spend Christmas in Italy and experience massive holiday festivals
One of the most common Christmas traditions around the world is attending a church service. Millions of families enjoy their own traditional ceremonies, with beautiful music and grand spectacles of faith.
The biggest of these gatherings has to be in Italy; more specifically, in Vatican City.
Every year, the Vatican hosts a stunning midnight mass and Christmas concert to honor the story of the birth of Jesus. But, you don't have to be religious to appreciate this incredibly ornate ritual. It's just a great place to feel like part of a community and witness something magical.
Next to the election of a new pope, this is one of the most popular events hosted in the Vatican. There's also a glittering Christmas tree in front of the church, and a life-like nativity scene that is crafted by different artists every year.
Italy also has its own version of Santa who comes to visit on January 5. Her name is La Befana, and she's a witch who delivers presents while riding on the back of a broom. You'll have to travel from Rome to Urbania if you want to celebrate the La Befana festival!
Their enormous holiday carnival has dancing, juggling, singing, and delicious festive treats you can enjoy while watching hundreds of people dressed as La Befana wander the streets.
Let travel become your new Christmas tradition ✈️✨
There's something incredibly special about spending Christmas in a new place every year.
I've spent a few holidays solo traveling around the world, and while it may not be the most "normal" Christmas, it's such a fun way to spend the season!
And, if you don't want to spend Christmas day away from family, use the holiday to prepare for all your adventures in the new year. Start by bringing some of these Christmas traditions from around the world into your home so you can explore different cultures without booking a flight.
Then, ask for some travel gifts that will turn you from a novice flier to an expert nomad. If you need ideas about what to shop for, download my Holiday Gift Guide designed for people who love to travel!
Wherever you are for the holidays, remember to surround yourself with good people and do something you love.
What are the best Christmas vacation spots?
If you're looking for some holiday travel plans that give off festive Christmas vibes, then head to some of the world's most jolly destinations like Finland, Germany, and London! But if you're looking for something a little less Hallmark, try traveling solo to some places where Christmas is less popular, like Dubai!
I'm spending Christmas alone – what should I do?
If you're spending the holidays solo, give yourself the gift of a solo travel adventure. Learn everything you need to know about solo travel here, and then book a trip that will make your season extra special.
Are you traveling this holiday season?
Let me know where you're going in the comments below!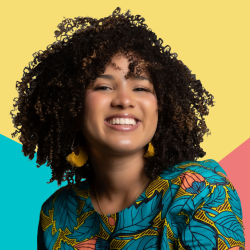 Latest posts by Gabby Beckford
(see all)