Reading Time:
10
minutes
Mexico City is known as an ancient Aztec metropolis that continues to evolve, with a dynamic culture and rich history. But what should you expect if you're traveling to Mexico City? Is it safe to visit? And what are the best things to do in Mexico City once you arrive?
After spending a few months here, I can honestly say this is one of my favorite cities of all time. The food is bomb, the experiences are 10/10, and the people are some of the nicest I've ever met.
Traveling across Mexico has given me so many bucket list experiences. I've visited hot springs near Oaxaca, and gone whale watching in Baja California Sur. But nowhere has felt more like home than this energetic capital city!
Here are all of the best things to do in Mexico City for solo travelers, digital nomads, and anyone who wants to live like a local!
This post may have affiliate links. Meaning if you buy something using them, I get a small % for recommending it. It doesn't change the price for you at all and it's a super easy and nice way to say thanks for the work I did writing this 🙂 Cool? Cool!
Where to stay in Mexico City
Picking a place to stay can make or break any vacation. Luckily, CDMX is full of unique accommodations for every type of traveler. You can find plenty of safe and affordable housing options here, as long as you know where to look!
These are my recommendations for where to stay in Mexico City, including which "barrios" are the best for travelers.
Best neighborhoods in Mexico City
Before booking a room, make sure you're looking in the right neighborhoods. From artsy bohemian vibes to historic city centers, there are a few charming communities you can choose from.
The top three best neighborhoods in Mexico City are:
Roma Norte for an artistic and culinary hub, populated by tons of young, trendy residents.
Centro Historico is the beating heart of CDMX, full of historic landmarks
Colonia Napoles is a cozy family neighborhood, with charming cafes and peaceful streets
All three offer unique experiences and plenty of accommodation options. They are close to Mexico City's main attractions and are safe for tourists!
Book an Airbnb
If you love finding the cozy, locally-owned rental homes while traveling, you're in luck! There are tons of adorable Airbnb options to choose from across Mexico City.
If you want something in the trendiest neighborhood, stay in the Lumina at Noma Condesa located in the central Roma-Condesa neighborhood. These apartments are perfect for solo female travelers or a couple of besties who want a simple place to enjoy a taste of local life.
For something with all the extras, stay in this private loft which comes with a turquoise pool, rooftop garden, and art gallery!
Or book one of these suites if you want impressive views of the city with your home. It also makes a great space to work remotely while traveling in Mexico.
The best hostel in Mexico City is Selina
Just a short walk from the city center, Selina offers private and shared rooms for young and energetic travelers. Co-working spaces ensure that you won't have to go searching for wifi if you plan to work remotely.
And, with amenities like an art gallery, movie room, shared kitchen, and library, your stay here will feel extra special.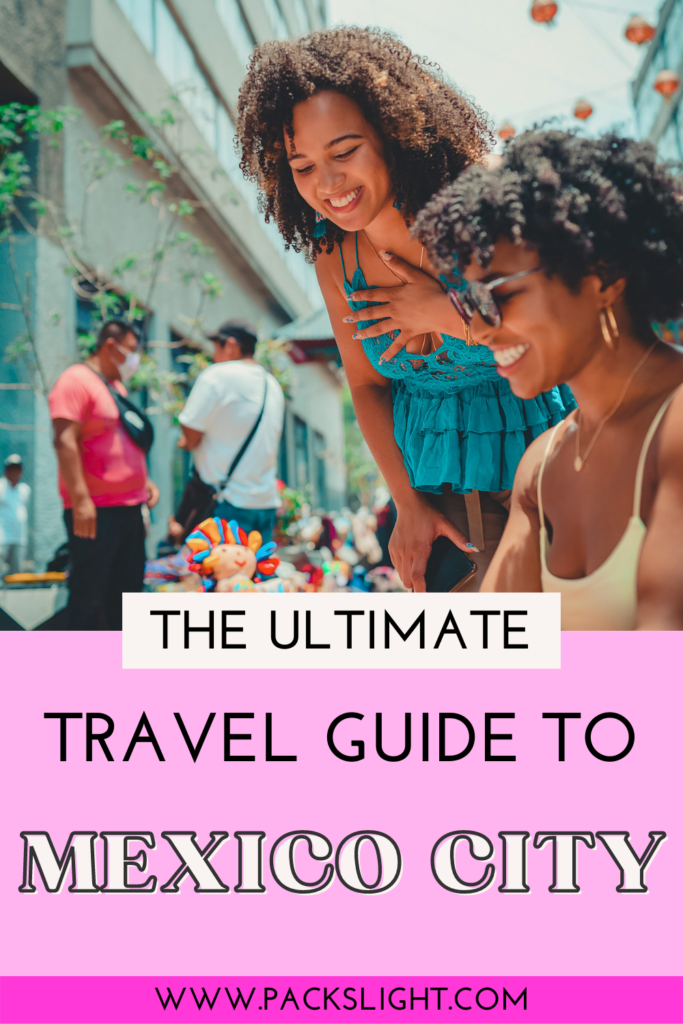 How to get around Mexico City
Just like any major U.S. city that you're accustomed to traveling in, Mexico City is serviced by Uber drivers. But their local version, the Didi app, is even more affordable and safe to use.
You can also easily navigate the city with public transportation. Mexico City has a great metro system that is worth utilizing if you plan to stay for more than a weekend.
Where to eat in Mexico City
One of the best things to do in Mexico City is eat.
There's no shortage of spots to enjoy here. From cheap street tacos to luxurious restaurants, you'll find some amazing culinary options.
To get your food tour started, here are the best restaurants in Mexico City I loved during my trip!
Where to find the best tacos in Mexico City
Looking for some good a** tacos? If so, then Taqueria Gabriel should be your first stop in Mexico City.
Taqueria Gabriel offers tacos of every kind with all kinds of salsa to top it off. They also serve up other local favorites like burros, entradas, and tostaditas – one of the most famous dishes here!
If you're looking to go hard with the tacos, check out this taco and mezcal food tour for three delicious hours of exploration.
Dining at Pujol is a can't-miss experience
If you visit Mexico City, you need to eat at Pujol.
Chef Enrique Olvera believes Mexican cuisine, like any other, should be enjoyed in every type of restaurant. From markets to street booths, and casual cafes to fine dining establishments. That is why he opened Pujol.
While most fine dining in Mexico City involves Italian or French cuisine, Chef Olvera starts with a purely local selection. Authentic colors and flavors are used to produce elegant versions of Mexico's most important dishes, like mole or tostadas.
Pujol has landed on the World's 50 Best Restaurants list several times thanks to its elevated take on Mexican food. This is a great spot for a romantic date night for couples or any solo female travelers who love that table-for-one life!
If you're looking for a party spot, Rosa Negra is IT
For the material girls 💅🏽, Rosa Negra is a beachside spot that celebrates all kinds of Latin cuisine. Think of it as a trip across Central and South America, a tour of the continent's most luxurious dishes.
Indulge in a Wagyu steak, Nigerian Tiger shrimp, super colossal octopus, ceviche, and more. Plus, sip on gorgeous cocktails that are as Instagramable as they are delicious.
Rosa Negra also passes the vibe check if you want to dance the night away after enjoying your dinner!
The best spot for late-night cravings is El Moro Churerria
Luxury, fine dining, and long menus aside, where do the young and hungry go for a late-night snack? El Moro Churerria.
Besides the 8 types of hot chocolate (try "chocolate especial" for something not-too-sweet), El Moro is famous for large, sugary orders of churros.
There are five locations, but I love the original location in Centro Historico. It's open 24/7 so those midnight cravings will be cured even at the most ungodly hours of the night. Let blue-aproned staff serve you a sweet treat in the cozy restaurant.
Pair your sweet churros with a walking tour of the best bars in town for a night of local favorites.
Visit Fifty Mils for a boujee evening out
If you're looking for something a little stronger than hot chocolate, Fifty Mils is it.
This sumptuous space brags that it's home to the city's best mixologists. The creative group of bartenders designed Fifty Mils to transport you across the time-space continuum. It's truly a one-of-a-kind bar experience.
There are two things worth noting about Fifty Mils. First, the cocktails. Here, you'll find sweet and fruity drinks created by bartenders who make serving you a whole performance.
The second noteworthy detail is the patrons. Fifty Mils is the place to mingle with the city's most stylish locals and elite international visitors.
Dress to impress and embrace your inner socialite for an evening at this luxurious bar.
Head to Handshake, a charming underground speakeasy
Feeling a little scandalous? How about sneaking into a hidden bar? Come on, you get to enter through a fridge!
The Handshake speakeasy is not just a gimmicky underground bar. Stocked with a collection of vintage bottles collected from around the world, this lounge exudes elegance. Sipping a drink in this dark wood-paneled room will make you feel like you've stepped into a fantasy.
Enjoy breakfast at Lardo and Freims
POV: It's the morning after your cantina crawls and bar adventures. Your head is pounding, but it was worth every sip! No regrets, just some smudged mascara, and an empty stomach.
It's time for breakfast in Mexico City.
The best place to cure any hangover has to be Lardo and Freims.
Technically, you can visit this Mediterranean restaurant at any time of the day. But here, the eggs are delectable (seriously, don't underestimate them), the coffee is strong, and the pastries are all homemade. It's a natural breakfast choice!
The best brunch in Mexico City? Helena
How about some of your favorite brunch favorites with Mexican flair?
Helena makes all the classics, like pancakes and french toast, along with the most important part of any brunch: mimosas. You've had mimosas for brunch a hundred times, but have you ever had them in Mexico?
Enjoy a leisurely morning at their family-style table chatting it up with the locals. As much as I love a good night out, grabbing brunch here is one of the best things to do in Mexico City.
The best restaurants in Mexico City for a group of friends
For romance, core memories, or photo ops, the rooftop Balmori is perfect. This spot is a literal oasis that gives you a little escape from the fast-paced city life.
The decor is geared toward plant lovers, surrounding you in a sea of greenery. The menu is designed to be shared, featuring unique creations like Oaxaca bombs (filled with melted cheese) and grilled octopus with banana chips.
For a sexy drink with a skyline view, try Terraza Catedral which boasts incredible architecture in the heart of the city. The atmosphere is playful and laidback, perfect for making new friends and dancing.
Best things to do in Mexico City
So you know where to eat, drink, and where to stay in Mexico City.
But what about some adventures? Mexico is a diverse, vibrant country, and its capital city is the heart at the center of it all. There are so many unique activities to do in and around Mexico City, but these are a few of my personal favorites.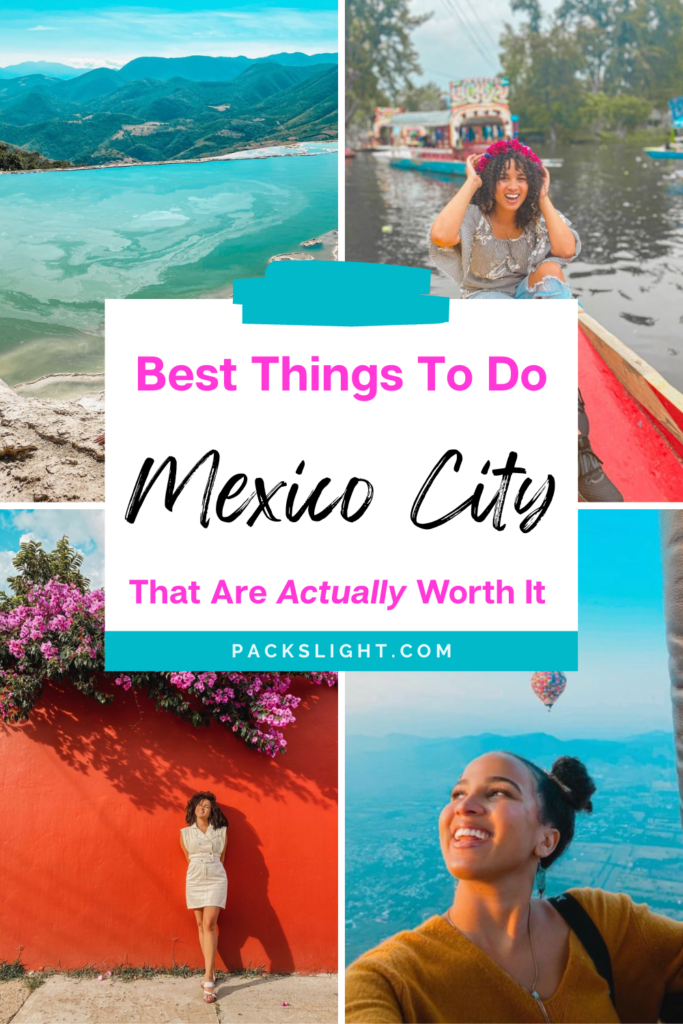 Salsa lessons in Parque Mexico
If you want to make some friends while immersing yourself in a cultural tradition, take salsa lessons from ISM Salsa. This little dance community has people from all over the world come together for a little party in the park!
And no, you do not need any dance experience to join the class. Just strap on your salsa shoes and learn some moves that you can take to the clubs.
Wander the town of Coyoacán
Make your way to a pre-Hispanic neighborhood with cobblestone streets and beautiful architecture.
Visit the oldest university in North America, shop for local art, ride a bright red tram, learn about the San Juan Bautista church, and encounter majestic street art. If you want to see a bit of everything here, book a tour to see all of Coyoacán's highlights!
Tour the Frida Kahlo Museum
Touring the Blue House is a can't-miss experience while you're visiting Coyoacán. This little "piece of sky" was painted blue inside and out, where Frida Kahlo lived most of her life.
She wanted to leave it as a museum, and today you can view her paintings and imagine her life there. The museum tends to fill up quickly, so try to visit on a weekday to avoid the crowds.
If you want a seamless experience, book your ticket and guide in advance to enjoy the museum as stress-free as possible.
Sail through Xochimilco, the "Venice" of Mexico
Venice isn't the only place where you can travel by boat. In Xochimilco, you can traverse a network of floating markets interspersed with gardens.
The network of canals that makes up Xochimilco is all that's left of an enormous lake from Aztec times!
Exploring Xochimilco by boat is the most fun when you go with a group of friends. Make this a day trip to remember for you and your new Mexico City besties.
Venice isn't the only place where you can travel by boat 👀 These colorful canals have been here since Aztec times and are a must-see in Mexico City!
Click To Tweet
Today, the islands range from small flower gardens to land big enough to construct buildings. Floating through the canals in an open-air trajinera (a colorful, flat-bottomed boat) is like a party on the water.
Other trajinera's will sail next to you, selling food, flowers, and souvenirs as you pass mariachi bands and party boats.
Ask to visit the Island of the Dolls, a slightly creepy destination with a haunting backstory. Legend says a young girl drowned in the canal, and the man who found her suspended a doll to calm her spirit. Unfortunately, he started hearing voices and seeing strange sights. The man kept hanging dolls to calm the spirits, but to no avail.
See if you can hear the spirits when you sail past the island!
💡 TIP: We've already mentioned that it can be difficult to decide what to do in Mexico City. There's a lot to see. As a solution, consider booking a tour that takes you to Coyoacán, the Frida Kahlo Museum, and Xochimilco. 
Explore local culture in Plaza Garibaldi
As far as entertainment goes, Plaza Garibaldi provides the best the city has to offer.
Garibaldi is an outdoor plaza teeming with mariachi bands. Their mission? To persuade you to buy a song!
With all the song-selling going on, though, you shouldn't have any trouble listening in on someone else's purchase. The plaza is also surrounded by bars, so you can listen to your Mariachi music while having a few drinks.
If you're less impulsive when it comes to travel plans (like me), explore Garibaldi with a group for an easy guided experience of drinking and dancing.
Wander Coyoacan Park for a peaceful afternoon
Coyoacan Park offers the complete opposite vibe: sunny, quiet strolls through an enclave-like wonderland. The park is surrounded by brightly painted houses and a cathedral filled with bright greenery and cozy plazas.
Don't miss the central attraction in the park, a fountain with a statue of the park's mascot – the coyote. Grab some ice cream from one of the trucks along the edge of the park to enjoy while you wander. Mandarin paleta, anyone?
Visit the historic Almeda Central Park
Almeda Central might not be as quiet and magical as Coyoacan, but it brings its own appeal to the table. Marble paths lead to vintage French-style fountains in this spectacularly beautiful park. Almeda Central is the place to visit if you like people-watching and historical significance.
Originally the site of an Aztec marketplace, Almeda has undergone many eras. From the days of Spanish conquistadors to the visits of Empress Carlotta, it is now a lush park where people come to celebrate simple pleasures. This is the perfect spot for photos with fountains and statues or a brisk walk under tall, wispy trees.
See a Lucha Libre show live
A wrestling match between superheroes and villains, the Lucha Libre takes place in arenas packed with cheering spectators. Luchadores focus on trick moves and acrobatics with epic stories supported by colorful costumes and masks.
While you watch the show, sip on some beer or tequila and munch on a few snacks. If you visit Arena Mexico, the home of Lucha Libre, you can grab street tacos after a night of cheering for your favorite villain!
Grab your wrestling tickets in advance to skip the line and enjoy complimentary tequila while the show unfolds.
Take a hot air balloon ride over Teotihuacan
Teotihuacan is the site of one of the world's most ancient and largest cities. Even before the Aztecs lived in the area, Teotihuacan was a bustling metropolis. Today, all that remains are two massive pyramids.
These pyramids were called the "birthplace of the gods" by the Aztecs, who visited them on spiritual pilgrimages. The best way to experience this spot is with a sunrise hot air balloon ride, soaring over the landscape in a thrilling adventure that explores Mexico City's ancient history. (You'll need to be okay with a very early morning, as you'll be leaving your hotel at 4:30 AM!)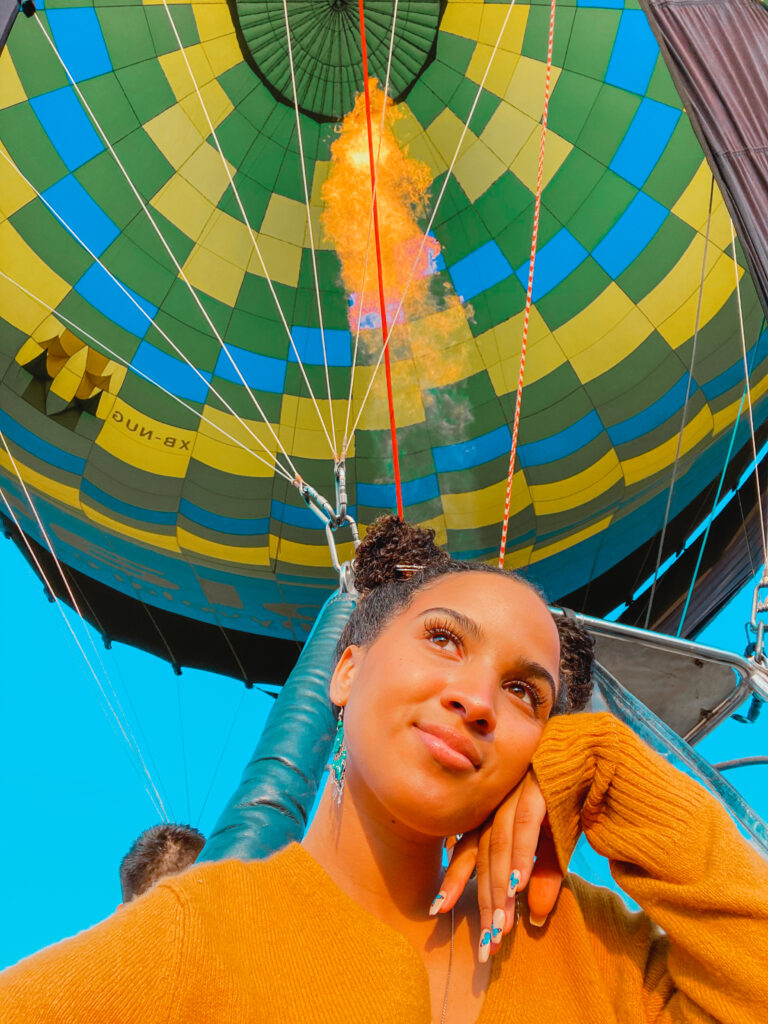 Stroll through La Condesa for a quiet day out
Maybe all these sightseeing adventures are a bit more structured than what you're looking for. Maybe you're more interested in knowing which part of the city to stroll through on a sunny Sunday morning. If so, I recommend La Condesa, the most romantic part of the city.
You'll find small cafes, colorful architecture, and delicious restaurants among the tree-lined avenues and cute boutiques. It's a safe area close to the center of the city, perfect for a low-stress date or a slow morning.
Experience the Chapultepec Castle night picnic
Once a month, the ultimate romantic evening pops up in the forest surrounding Chapultepec castle. Picnickers come out in droves to drink wine and eat treats under the moon in the shadow of the castle.
Take yourself on a solo date, or get bold and ask a friend you've made during your stay!
Shop in the markets of Mexico City
One of my personal favorite things to do in any new city I visit is strolling through local markets.
It's a chill activity but brings me so much joy shopping for local produce and artisanal products. If you want to shop like a local, these are the best markets to explore in Mexico City.
Grab a bite at Mercado Roma
Mercado Roma is a three-story market for foodies, with a charming patio, food court, and a rooftop beer garden. It features the best wines and cheeses, offers vegan options, and even has a foosball table in case you get bored.
You could also embark on this bike tour full of taco stops if you'd rather save your steps.
Buy some souvenirs at Mercado de Artesanías la Ciudadela
While snacks are available here (they don't want "shop 'till you drop" to be literal), this is the market for souvenirs and keepsakes. You can find embroidery, jewelry, wood carving, toys, rugs, hand-painted dishes, and many other art forms.
The Mercado was created in 1968 in preparation for the Olympics coming to Mexico City and has survived ever since thanks to the popular demand from tourists!
There is so much to see and do in Mexico City. Whether you want to take a weekend trip or live here for a few weeks as a digital nomad, you'll find plenty to do during your stay.
---
FAQs
Are there things to do in Mexico City that aren't too touristy?
Mexico City is the fifth largest city in the world, so you're going to get a combination of very touristy activities and super local adventures – you just have to know what to look for! Make friends with some locals and ask for their recommendations like I did if you want to find some unique things to do.
Is Mexico City safe for solo female travelers?
Based on my experiences, yes. Mexico City is a huge, wide city with some areas safer than others. And of course, there is no denying the statistical significance of women-related abuse and murders here. However, for tourists, and where you are most likely to say when you visit here, it is absolutely safe.

Especially as a black woman, I was comforted by the amount of black American immigrants in the city who were eager to let me join their community. The local Mexicanos in this city were very friendly to me and often would take time out of their day to help me find my way, sometimes even without me needing to ask. I would recommend Mexico City to any solo traveler.
How expensive is Mexico City?
Mexico City is affordable compared to the United States. My monthly rent for a very nice apartment cost me about $800, and that was a splurge! Anyone looking for a budget-friendly destination will thrive in this affordable urban heaven.
Have you visited Mexico City before?
Let me know what you thought in the comments!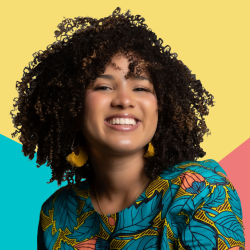 Latest posts by Gabby Beckford
(see all)