Reading Time:
5
minutes
When can you see gray whales in Mexico? What are the best companies to go whale watching in Baja California Sur? Is it ethical to touch gray whales during a whale-watching tour?
Only 500 miles south of San Diego, California, you'll find the Baja California Sur peninsula. Famous for the touristic city of Cabo San Lucas at its lowest points, the pueblos magicos (magic towns) or Loreto and Todos Santos, nature and wildlife preserves, and of course the annual whale migration that happens each year during the months of December to March.
Why should you go whale watching in Baja California Sur, Mexico instead of California?
The gray whale was only recently rediscovered in 1946, and Mexico was one of the first countries to protect gray whales from hunting and border protection.
That's why Baja California Sur is the perfect place to view and interact with gray whales (and blue whales, sperm whales, dolphins, stingrays, etc.) in the most ethical way possible, and more up close than any experience in California could get you.
It's less touristic than Cancun or Puerto Vallarta, with all of the wonder and activities you're looking to do.
Map of Baja California Sur, Mexico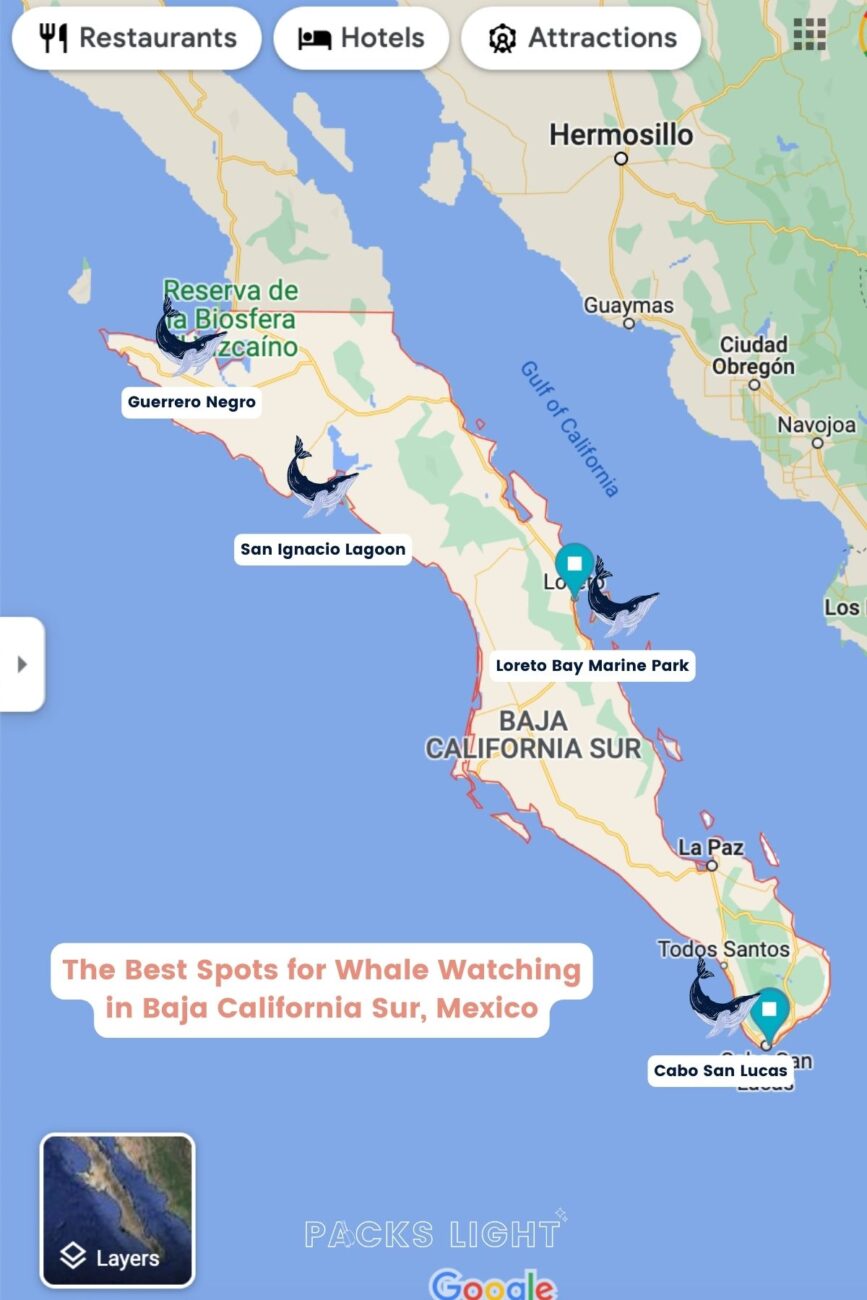 How to fly into Baja California Sur
Flights to the city of La Paz—down south closer to Cabo San Lucas—are the most common so you may look for cheap flights there. I took a flight from LAX (Los Angeles) directly to LTO (Loreto) which was at three hours and $400 USD.
But flying is not your only option! Baja California Sur is a popular road-tripping and RV destination for travelers across the world—mostly Americans and Canadians—who want to escape the winter.
Baja California Sur is for roadtrippers
If you're open to a long haul, you can rent an RV and drive across the Mexican-American border through Tijuana and down the coast into Baja California Sur. Camping is extremely accessible and beautiful, and you'll find a community of campers to have done the track for decades.
What's great about traveling through Baja California Sur is that you can always find a free place to park and camp as well, which is great for the budget traveler.
The 4 best places for whale watching tours in Mexico:
Guerrero Negro
If you book a whale watching experience with Mario's Tour's in Guerrero Negro, you'll start with a 15-minute brief on the safety considerations for the whale watching tour. They explain the history and biology of the gray whale quickly and then go into a safety brief about being on the boat and what to do if/when a whale approaches your boat.
I'm glad they did because gray whale watching turned into gray whales bumping up next to our boats really quickly.
For more than half of the time cruising through Ojo de Liebre Lagoon, the whales were almost at our fingertips. I truly am a proponent of ethical animal tourism and so I went into the trip believing there is it was unethical to touch the whales or be near them in any capacity.
But having gone and actually experienced it myself, I see just how intentional the whales are about seeking out the boats if they want to. They scratch the barnacles on their skin off on the bottom and show obvious signs of seeking human touch—I imagine less for the bonding and love, and more for the pinpoint scratches to areas they normally can't reach.
They are truly such social animals—they authentically seem to enjoy human interaction! Again, our guides gave us a safety debrief and instructions to not touch the whale's eyes, fins, teeth, or tails because of their sensitivity.
The not-as-magical side was being absolutely soaked from the boat spray and wind. The boats seat 8 to 10 people and even with a life test and Ranco, you will inevitably get pretty wet and with the high winds, it's not very comfortable.
🏨 Where to stay in Guerrero Negro:
• Hotel Malarrimo, Guerrero Negro USD $38.00 per night
Whale Watching in Cabo: Whale Watch Cabo
Whale Watch Cabo is the best, and most reviewed whale watching tour company in Cabo San Lucas, Mexico. They also claim to be the #1 conscious and eco-friendly whale watching tour in Cabo. Their 2.5-hour tours are $89 for adults and $59 for kids.
I didn't have a chance to personally experience the whale watching tours in Cabo, but this is the company most recommended to me.
🏨 Where to stay in Cabo San Lucas:
Ecoturism Kuyima Laguna Whale Camp, San Ignacio
Another gorgeous opportunity to see and interact with gray whales in Baja California Sur is the Kuyima Laguna Whale Camp in San Ignacio. The camp has somewhat remote accommodations, including small cabins and camping spaces year-round, and whale watching tours between the months of December and March.
Many Europeans (French, Spanish, Italian, etc.) come to this area not only to interact with the whales but to decompress from the hustle and bustle of life and meet up with long-time vacation friends who have also been coming to this spot for decades!
Compared to whale watching at Guerrero Negro, this experience was a lot less windy and intense. The water was very calm, and the whales were clear to see. One whale followed our boat for close to half an hour, scratching itself on the bow and taking a curious look at us. On this four-hour excursion, we also saw sperm whales and dolphins.
🏨 Where to stay in San Ignacio:
• Motel Oasis Baja, San Ignacio USD $27.00 pesos average, per night
Loreto Bay Marine Park
The open waters of Loreto Bay Marine Park give whale watching enthusiasts the opportunity to see gray whales, and their bigger cousin, the blue whale.
The blue whale is the largest animal on the planet, and it takes part in the annual migration past Baja California Sur to mate and feed in the warm waters. This experience is highly regulated, and there are a limited number of whale watching passes given out annually. Mexican Government officials patrol the waters, making sure no one is chasing or disturbing the whales.
But, this was our least eventful day. We caught a glimpse of a blue whale in the distance, but they are very fast for such large animals and can hold their breath and dive very deep for long periods of time.
We also saw a gray whale mother and baby come up for a breath, only to disappear immediately and not be seen again. But we came across more sperm whales, dolphins, and jellyfish which upped the excitement, and the stunning mirror-like blue water always makes the trip out to sea worth it.
🏨 Where to stay in Loreto:
• Hotel Rosarito, Loreto USD $110.00 us average per night
• Hotel Santa Fe, Loreto USD $90.00 pesos average, per night
Is touching gray whales ethical?
Getting close enough to touch the whales is not easy, and is a rare occurrence.
This type of experience doesn't happen every day—it only happens during the migration season when a tour operator is able to secure a permit and the stars align and the whales are feeling particularly friendly.
The whales are not being fed, coerced, caught, or contained in any way. These are wild animals that approach the boats of their own free will!
But yes, this is not the norm across the globe and San Ignacio in Baja California Sur is a completely unique situation.
In Baja California Sur, I believe: Yes
The boats sit sometimes for hours with their engines off and the whales will approach the boats for scratches, or just out of curiosity.
Travel writer Johann Read has also done this experience, and in her Forbes whale watching piece she has the same questions about whether whale watching and touching the whale is ethical or exploitative animal tourism.
She saw what I saw: that the boat operators are trained to leave escape routes for the whales, to discourage touching in certain ways like the blowhole, the eyes, or the fins, and the huge whales come and go as they please. When the whales were bored, they simply dived down and left us.
But whale watching tours and interactions are not ethical everywhere. Or even in most places.
But negative whale watching experiences like this in this National Geographic article are why people have hesitations. Most whale tours are unethical, and the high concentration of boats means the risk of propeller injury can be high.
Dylan Walker, the CEO of World Cetacean Alliance (and by the way, whales are cetaceans), has said that in his professional opinion "the most responsible whale watching is one in which humans and whales can interact and coexist in a way that's not detrimental to either party and where the autonomy and power is completely in the hands of the whale."
The experience in San Ignacio Lagoon in Baja California Sur Mexico is different because the wild whales have the autonomy to come and go as they please.
Touching gray whales is not always legal.
It's good to have these concerns because it is in fact illegal in the United States to come close to whales under the Marine Mammal Protection Act—it's illegal to get within even 300 feet of a gray whale in the U.S. It's not illegal to be in proximity to them or touch them in Mexico.
I hope this article and videos inspire you and make you more interested in the stunning gray whales!
This article was sponsored by the Visit Baja California Sur tourism board, but all thoughts are my own.
Can touching whales make you or the whale sick or spread disease?
Putting aside the ethics of touching a wild whale, is it safe for your health? According to Oregon State University:
The overall incidence of transmission of disease-producing agents from cetaceans to humans is low. However, whales and other cetaceans can be extremely dangerous in the wild due to their size and sometimes playful nature.

When interacting with whales in captivity, there are a number of agents that are found in aquarium water that has the potential to be transmitted to humans. In general, humans contract diseases through eating infected tissues or aquarium water, or by contamination of an open wound. If you have an immune-compromising medical condition or you are taking medications that impair your immune system (steroids, immunosuppressive drugs, or
chemotherapy) you are at greater risk of infection.
How should you tip for whale watching tours in Mexico?
The waiters, guides, drivers, and crews received gratification for their services (not for FITUES employees). Generally in a restaurant, 15% of the bill minimum or 20 USD. For excursions and activities the same, tip 10% to 15% or more if you had a good experience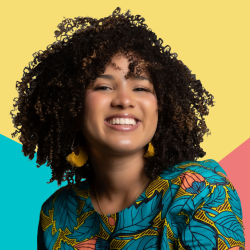 Latest posts by Gabby Beckford
(see all)