Reading Time:
5
minutes
The Young Traveler's Network series showcases candid guest interviews of young people worldwide and the inspiring stories of how they navigate their lives and travels. They share their stories to educate, inspire, and empower others to see the world!
This week a Young Traveler named Sojourner White, 24, shares her professional travel journey with 2 degrees and a few very interesting international gigs and why this is just the beginning.
---
Hey, Sojourner! Thanks so much for sharing your international professional story with the community! Go ahead and introduce yourself.
Hey, y'all! I'm Sojourner, a Black-American traveler who loves chocolate, wine, and sleeping. I'm originally from Milwaukee, WI, but I'm pursuing a Masters of Social Work in St. Louis, MO.
Currently, I'm completing an internship in Berlin, Germany for my graduate program at a Think-Do Tank that focuses on social impact, social entrepreneurship, and gender empowerment. I also work in Global Programs at my university and run my own travel blog.
So, how did your love of international travel begin? 
After a childhood of road tripping and family vacations in the U.S., my first international experience was Spring 2015 in Granada, Spain. I studied abroad for 5 months where I stayed with a host mom, volunteered, took Spanish classes, and of course, traveled! My interest in Spanish began in the 6th grade and continued through high school, but, by college, I was sick of reading and writing classes. I was ready to go abroad and wanted to use the language more to become fluent. 
I never intended to go to Spain because I never learned "Spain Spanish." All of my Spanish teachers at that time were from Latin America so that's where I envisioned myself.
However, it turned out that Granada was the most popular program for Spanish majors like me. After doing my own research on Granada, talking to past students, and finding out I could use my FAFSA to pay for it, I decided to go! There were about 15 students in our cohort and it was a partnership between my school and two others in Iowa and Rhode Island.
Tell me more about your Fulbright travels! How was your experience with the program?
I won Fulbright for the 2016-2017 year. I did the English Teaching Assistant program in the northern region of Spain called La Rioja. I taught 3 to 12-year-olds English, Natural Science, Social Science, and special lessons such as Black History Month using popular songs to teach conjugation skills.
Their favorite was "Sorry" by Justin Bieber and I loved my students! Teaching? Not as much as I thought I would. I knew I wanted to do international work after Fulbright, but I also knew teaching wasn't my true passion.
Fulbright also taught me a lot about setting boundaries: personal, social, and professional, and especially how to do that in an intercultural environment. As a Black woman, it was an eye-opening experience to what it was like to live in a small town with little diversity and have to explain my hair and my history, as everyone assumed I was born in an African country.
However, I did travel a lot and went to about 10 wine tastings, since La Rioja is Spain's wine region! I visited Portugal, Belgium, the Czech Republic, Hungary, Greece, the Netherlands, and Germany, in addition to my Spain adventures. It was a whirlwind of a year and I'm glad I took the leap to do it.
At 24, you've done some impressive stuff! 

In your pitch, you said you'll have 7 "careers" at this point, and have 5 more to go? What does that mean?
I got the "7 careers" thing from articles I read online, but I believe there's some truth to it since we live in a globalized and unpredictable world.
For me, after teaching with Fulbright I went home to Milwaukee to serve in AmeriCorps' non-profit and social justice program Public Allies. I attended over 300+ hours of diversity and inclusion training weekly and worked as a Community Outreach Advocate at Girl Scouts, where I co-led school troops around the city teaching the Girl Scouts curriculum. I taught my first undergraduate class on Race/Ethnicity last semester and now I'm having my first experience as an International Social Worker as I work in gender empowerment in Berlin.  
As far as my next (possible) 5 careers/jobs, I don't know them all but I always have ideas!
I envision actually working in cross-cultural exchange one day for an organization such as Fulbright since it shaped a large part of who I am today. I've also considered working in diversity and inclusion at the organizational management level to apply my Public Allies knowledge. Then there's always working for a social enterprise to apply more of my social impact/grad school knowledge.
My Master's of Social Work gives me limitless options after graduation next year and I'm excited to find out what I can get into next.
How did the travel programs dictate your career? 
I'm an interdisciplinary woman. In undergrad, I double majored in Psychology and Spanish with a minor in Women's and Gender Studies. Now my masters has 3 components. My interests are constantly evolving as I grow, learn, and unlearn. I like versatility, acquiring new skill sets, and I believe life is too short to be in one spot! My path crossed over into Fulbright because in undergrad I thought I wanted to be a School Psychologist and was told to get experience working with kids. I pursued internships where I was a Camp Counselor (residential and not-residential), and by default, I became a Teacher or Teaching Assistant in every camp experience.
I chose Fulbright because of those internships and I thought I wanted to traditionally teach or work in International Education with a focus on cross-cultural exchange. However, doing AmeriCorps/Public Allies helped me understand my passion for girls' education. I became interested in what gender empowerment and social justice work looked like on an international level, and how to promote cross-cultural exchange that way. My MSW program gives me the flexibility to combine all these interests. 
The common thread between each career is education. While being a "traditional teacher" in Fulbright and doing after school programming in Public Allies weren't the move for me, I truly believe knowledge is power.
Whether you acquire that knowledge in a fancy private school or community college or through Google or traveling the world, you can literally free your mind. I anticipate that my careers will reflect that type of growth through various types of education.
Did you meet people while doing those programs that influenced your career moves?
I didn't meet any other International Social Workers in either program. However, part of my study abroad program included the 
Morocco Exchange Program
and I met a Peace Corps Volunteer who talked about his program and Fulbright as opportunities to work abroad. That's when Fulbright really came on my radar. I also considered the Peace Corps but decided on AmeriCorps. I knew many people in Milwaukee who had done Public Allies like me, yet no one was an International Social Worker. I found the career because I found my grad program and it all clicked for me.
Do you think if these careers didn't travel, that you would still pursue them? If you couldn't travel at all (a nightmare, I know!), what would you do for work?
A true nightmare! But I think I would have ended up in Social Work regardless, just not the international branch.
Being in Public Allies helped me understand how much I value diversity, inclusion, and social justice. I would probably work in that arena with organizations or higher education institutions to better address those issues, but even then that could be career numbers 4 or 5.
The combination of Fulbright and AmeriCorps definitely influenced my grad program. Initially, I was looking at International Development and International Education grad programs in NYC, DC, London, and Dublin, but a lot of them were missing the social justice-component that Social Work programs possess. Had I not done Public Allies with AmeriCorps, I definitely would have just gone into one of the International Education or Development programs abroad over my MSW.
However, once I pieced together that "International Social Work" was a career and gave me the flexibility to do a cross-cultural exchange or gender empowerment work or even social impact (which is new territory that excites me), I jumped at the chance.
Graduating from college soon? Terrified of the real world? Ease the blow by considering travel programs and let them guide you into the right career, like they did for Sojourner.
Click To Tweet
You are absolutely awesome, so happy to have you in the series, Sojourner. Do you have any closing comments you want to share? Advice for pursuing a travel program, a movie quote, a thought?
Actually, a movie scene that would summarize my experience explaining my ethnicity to Europeans is from Mean Girls. When it's Lindsay Lohan's first day and Tina Fey assumed the Black girl is the new student from Africa and not Lindsay. I am the Black girl… only I'm from Wisconsin!
My advice for those looking for a career change or those figuring out what the heck they want to do, program-based experiences like Fulbright, and AmeriCorps propelled me into the work I'm doing today. There 10 to 12-month opportunities available for you to learn and gain a new experience.
If you have the chance to pursue a similar program, I highly recommend them. They can be challenging opportunities and help you understand what you do and don't want for your life and career. Feel free to reach out to me if you have questions and good luck!
Sojourner's Blog | Sojourner's Instagram | Sojourner's Twitter
---
Are you interested in travel programs, like Fulbright? 
Drop a comment below & don't forget to add yourself to the Young Travelers Network Facebook Group! 
Are you interested in writing for Packs Light? Apply to become a contributor. 
[one_half]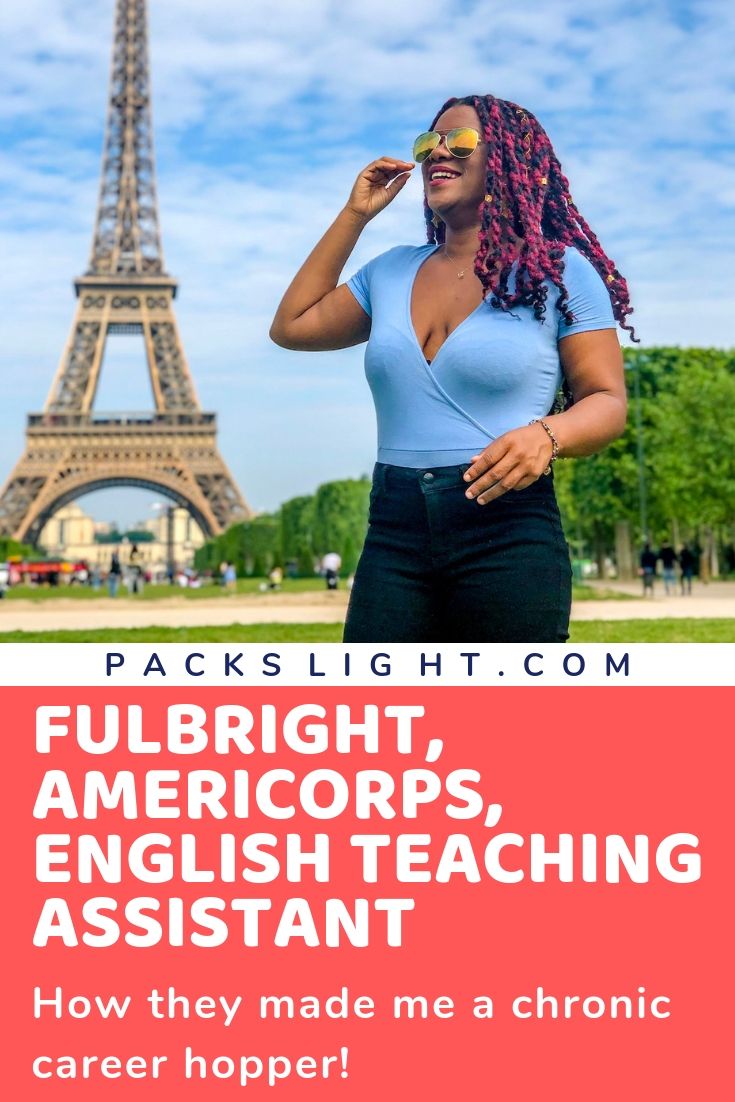 [/one_half][one_half_last]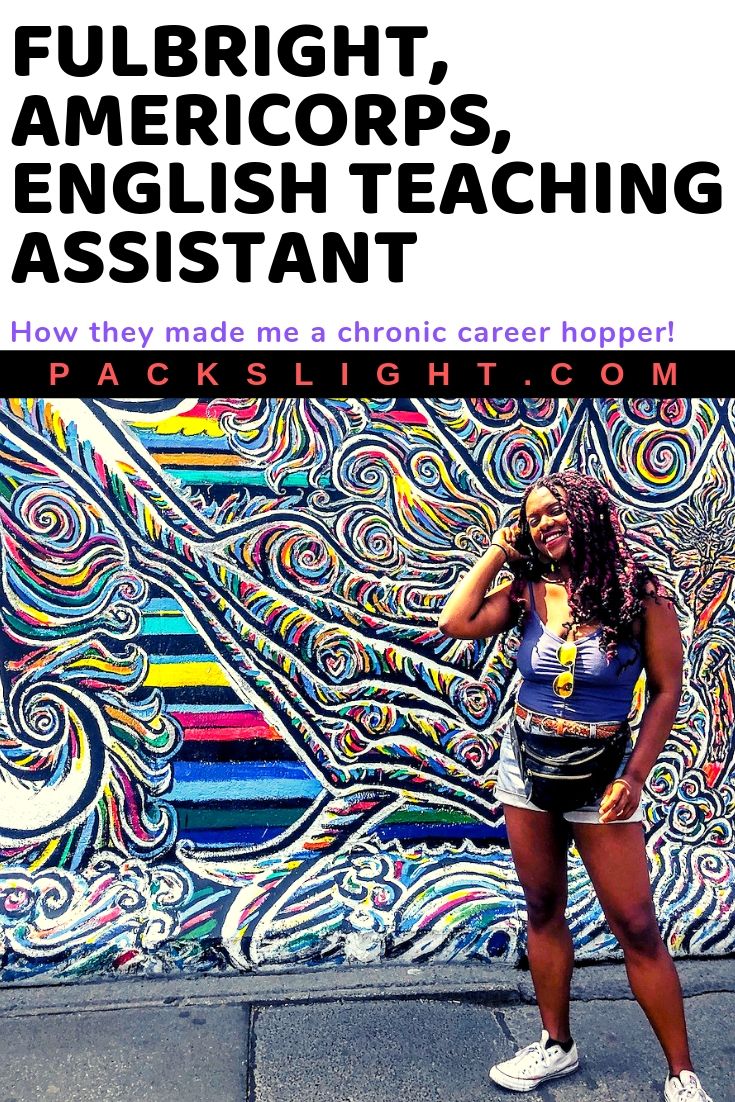 [/one_half_last]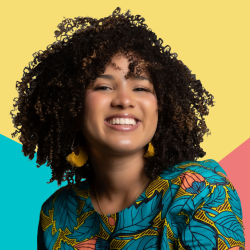 Latest posts by Gabby Beckford
(see all)