Reading Time:
5
minutes
The Young Traveler's Network series showcases candid guest interviews of young people worldwide and the inspiring stories of how they navigate their lives and travels. They share their stories to educate, inspire, and empower others to see the world!
This week a Young Traveler named Amiera, 25, shares why she chose to take a gap year after college, and specifically why she chose to spend that year charitably volunteering with disabled youth in Turkey.
---
Hi, Amiera! Please introduce yourself.
Hello. My name is Amiera Shakina and I am 25 years old at the moment. I am a college graduate with a Bachelor's Degree in Medicine, currently based in Malaysia as a freelance tutor and writer while waiting for medical residency placement. I also enjoy spending my time seeking experiences around the world.
What prompted you to take a gap year?
As soon as I completed my study in medicine, I'd been aware of the long waiting period for medical residency placement in my country. I felt it natural for any traveler to be curious to know more about the world around us and to want to seek out experiences for our own personal development. For these two reasons, I reached my decision to take a gap year and travel.
Volunteering while traveling is a great option for those seeking purpose in their travels.
Click To Tweet
The culture and the norm of living in different countries, the kindness of human nature, and the simultaneous need to serve local communities keeps my nomadic soul wandering. It feeds my want of world knowledge and offers help to those in need. Volunteering while traveling is the most fitting option for those who still question the purpose of globetrotting.
Did you use a specific program to facilitate your gap year travel? What were your feelings about traveling to Turkey at that time?
I've constantly used Workaway.Info as my platform to concurrently travel and volunteer. Among the countries I visited, Turkey has been the most geographically and culturally inspiring country.
I know many people may have been shocked that anyone was willing to travel to Turkey at this moment with their current political situation, but I always hold in principle to believe the good of unconventional decisions. So, I took the risk despite the shallow picture mass media had been portraying on Turkey.
The reality is that the citizens were often the most giving and willing to extend a great length of helping hands to
foreigners. It was not only because I was privileged for being a Muslim traveller in another Muslim country, their culture discards xenophobia. I promise that any traveller scared to visit Turkey would feel ridiculous after doing so.
Tell me more about your volunteer experience in Turkey. Where did you go, and what were your responsibilities?
In total, I spent two months within Turkey and visited a few cities and villages from the Eastern and the Western sides including Trabzon, Mardin, Sanliurfa, Adiyaman, Cappadocia, Antalya, Kas, and the capital Istanbul.
In Cappadocia, specifically, I volunteered in a non-profit academy for disabled children named Little Prince Academy. The place was inspired by Le Petite Prince Book by a French author, Antoine de Saint-Exupery. It was simply my favourite book. Venturing in Cappadocia you feel like you are stranded on a different planet with a fairy-tale landscape while learning valuable life lessons.
While there I was responsible for organising activities for the mentally disabled children with Down Syndrome, Autism, and other psychiatric-related problems. Although language was a barrier, I worried not as playing with the kids requires only fun and games. The academy has been organising horse-riding therapy as well and would soon like to develop farming activities for the kids.
As for accommodations, they provided dormitories that could fit 20 volunteers during the summertime.
In the Mediterranean region of Turkey, I volunteered to be a photographer, writer, and artist with a local mosaic artist. The best part of that is that I have been living in an independent house by the mountain and sea, with the small-town vibe perfect for a nature-seeking traveller.
What skills did you pick up from your gap year that you found valuable? 
Some of the skills that I learned include:
Coping with mentally disabled children—To raise these 'special kids' is beyond the standard parenting level. It requires anyone to be highly patient emotionally and cognitively. I have much respect for their parents and the academy for providing for and understanding the different needs of these 'special kids.'
Animals Care–as I've lived in a suburban area where the nation doesn't grow its own foods and rear animals, living in a farm surrounding developed my hands-on skill regarding feeding the animals such as chickens, cows, sheep, and horses. Such a great gift of farm life when every day you cook from your build-up grocery store.
Art and Creativity–A creative soul and scientific mind are crucial for my living principle. In building my self-innovation, I couldn't be more grateful to be offered a chance to learn and expand my art skills based on mosaics and glasses techniques.
Interview series with millennials who are determined to experience the world while their young, and want to inspire, educate, and empower other young people to do the same.
Click To Tweet
What are some amazing moments from your volunteering that stand out?
I believe amazing moments are created from our own processed-thoughts while encountering a certain situation and a reflection of our inner-self. But to list a few of moments that I created as a traveling volunteer:
– Meeting and exchanging culture with other fellow volunteers and locals.
– The food, always the different taste in food created the best moment to bond with locals, whether you cooked the food or are eating out.
-The intellectual talks with the people I met have expanded my perspectives regarding many things that I was ignorant about before.
– Being able to explore the nature and cities as a whole while volunteering at places distinct from my own surroundings.
What advice would you give to another 20-something who wants to volunteer for their gap year, but don't know if the benefits outweigh the hardships?
I would say, don't be afraid to give a helping hand while self-indulging in the exquisite beauty of the world. There are many volunteer opportunities that suit your needs and skills. Be it in a third world, second world, or first world nation.
We live on this Earth co-dependently with each other, regardless of genders, races, religions, or social statuses. The hardships will always there, what makes us different from each other is our determination and ways to overcome every hardship we face.
Do you have any closing remarks that you'd like to add?
I will end with my favourite poem.
Go placidly amid the noise and the haste, and remember what peace there may be in silence. As far as possible without surrender, be on good terms with all persons.
Speak your truth quietly and clearly, and listen to others, even the dull and ignorant; they too have their story. Be yourself. Especially do not feign affection. Neither be cynical about love – for in the face of all aridity and disenchantment is it perennial as the grass. Take kindly the counsel of the years, gracefully surrendering the things of youth. Nurture strength of spirit to shield you from misfortune. But do not distress yourself with imaginings.
Many fears are born of fatigue and loneliness. Beyond a wholesome discipline, be gentle with yourself. You are a child of the universe no less than the trees and the stars; you have a right to be here. And whether or not it is clear to you, no doubt the universe is unfolding as it should. Therefore be at peace with God, whatever you conceive Him to be, and whatever your labours and aspirations, in the noisy confusion of life keep peace with your soul. With all it's sham, drudgery and broken dreams, it is still a beautiful world.
– Max Ehrmann, Desiderata: A Poem for a Way of Life
---
Did you take a gap year? If not, where would you go if you did?
Drop a comment below & don't forget to add yourself to the Young Travelers Network Facebook Group! 
Are you interested in writing for Packs Light? Apply to become a contributor. 
[one_half]
[/one_half][one_half_last]
[/one_half_last]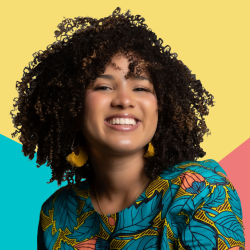 Latest posts by Gabby Beckford
(see all)