Reading Time:
5
minutes
If you're here, you're likely planning your Caribbean vacation soon and wondering: what are some interesting facts about the U.S. Virgin Islands? Do they have a unique history? What should I know about the U.S. Virgin Islands before I visit?
This post may have affiliate links. Meaning if you buy something using them, I get a small % for recommending it. It doesn't change the price for you at all and it's a super easy and nice way to say thanks for the work I did writing this 🙂 Cool? Cool!
Where are the U.S. Virgin islands?
The U.S. Virgin Islands are a gorgeous set of almost 50 Caribbean islands in the Lesser Antilles that neighbor the British Virgin Islands, and trickle between the countries of Puerto Rico and Anguilla.
The mainland United States is only 1,104 miles away as the crow flies, and to get to St. Thomas's Cyril E. King Aiport it's about a 3-hour flight from Miami.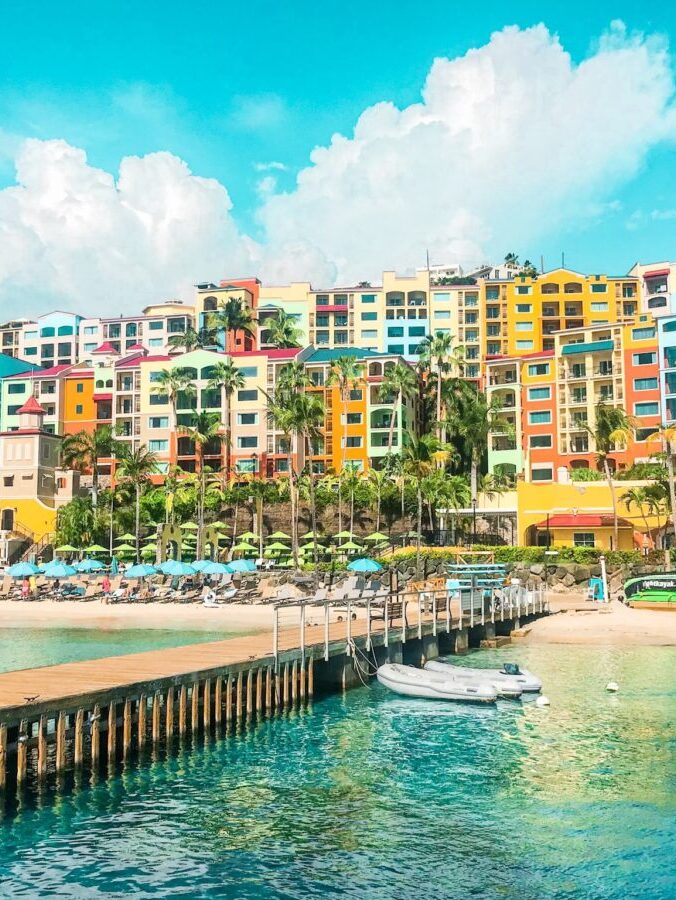 The U.S. Virgin Islands' main islands of St. Thomas, St. John, St. Croix, and Water Island are popular tourist destinations because of their beautiful climate, stunning beaches, and Western infrastructure (yay, tap water!)
But what are some need-to-knows and fun-to-hears about this string of islands? Here are a few interesting facts you should know to enrich your trip.
1. They haven't always been the United States' Virgin Islands
Over the centuries, different sections of these islands have been claimed and reclaimed by Spain, France, Holland, Malta, Britain (who kept some, known as the British Virgin Islands), and most recently Denmark who sold the Danish West Indies to the United States in 1917 for $25M in gold.
This is a unique story in itself: the brokerage of the islands took more than 50 years, but the real push for the U.S.to finally purchase them was so that Germany couldn't.
During WWI military has intercepted messaged that they may try to use for a strategic position.
2. It's true—if you're an American citizen you do not need a passport to visit
You do not need your passport to travel to the U.S. Virgin Islands if you are an American citizen. Kinda.
Because the U.S. Virgin Islands is a territory of the United States, U.S. citizens can visit without a passport. U.S. citizens have the same privileges to travel to other U.S. territories like Puerto Rico, Guam, American Samoa, and the Northern Mariana Islands
However: when I was leaving St. Thomas through U.S. Customs & Border Patrol, the agent said it is their official recommendation that travelers bring their passports to avoid delayed processing times at Customs.
So if you have a passport, bring it! It can only make your travel life easier.
Pro-tip: for maximum comfort and ease while traveling, be sure to book your airport pick-up service ahead of time to avoid long taxi lines or confusion when you land.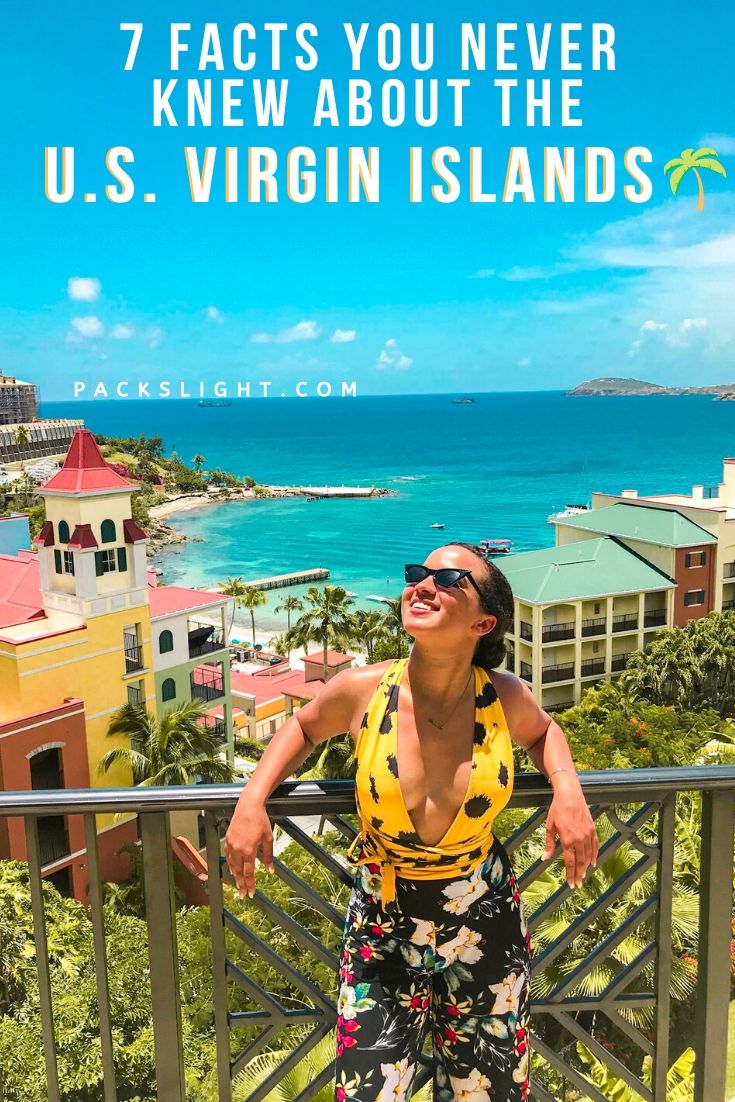 3. Yes, the U.S. Virgin Islands were a 'Pirates of the Caribbean' brought to life.
In the late 1600s, the Virgin Islands were on some heavy Pirates of the Caribbean vibes. Its corrupt governors became rich when they let themselves be paid off by roaming pirates in exchange for safe haven.
A few notable ones include Captain Kidd, Jean Hamlin, Stede Bonnet, Tempest Rogers, Bartholomew Sharp, and Black Sam Bellamy.
Just off the east end of St. John is Norman Island (named for a pirate), the setting for Robert Louise Stevenson's Treasure Island, and nearby is Stevenson's Dead Chest Island. The archaeology of piracy in the park is underway and we have found two sites that just may very well be 17th-century pirate hideouts.
Maybe the swashbuckling history of these islands is why the movie franchise chose to film here! (Either that or because the beaches are absolutely cinematic.) You can actually take a tour of the Pirates of the Caribbean filming locations one day, and explore the real pirate islands the next if you want a full sea-faring adventure!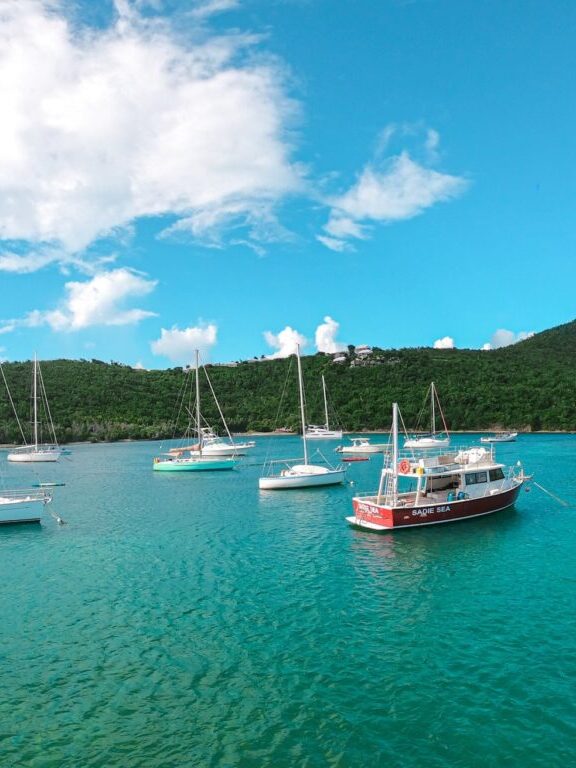 4. The U.S. Virgin Islands has more than 50 islands—and most are uninhabited.
When you hear friends talk about visiting the U.S. Virgin Islands, you most often hear of four main islands: St. Thomas, St. John, St. Croix, and Water Island.
The natural beauty of these main islands is overwhelming and getting a closer look with something like a kayak and hiking tour of St. Thomas is a fantastic way to learn about the ecosystems here.
But did you know the U.S. Virgin Islands consist of more than fifty inlets, islands, and cays?
These smaller islands may not have as much to offer in terms of accommodations, but a snorkeling tour around the islands is a great way to see the little land masses that make up this glorious archipelago! No matter which of the main islands you're staying on, I highly recommend getting out in the ocean for a day trip to see these smaller paradises.
5. Unlike on the mainland, in the USVI you drive on the left side of the road
As mentioned, a few other countries owned the U.S. Virgin Islands including the British, who are notorious for driving on the left side of the road. We can only assume that this was established by them.
The even weirder part? Because it's under U.S. control, the country's cars are U.S. imports, so the steering wheel is on the left side of the car and you drive on the left. Definitely not the British way.
This may take a bit to get used to, so if you're nervous driving around St. Thomas during your visit you can call a taxi or hop on public transport, the Dollar Ride bus. Super safe, and just a couple of dollars will take you around the island.
There are also amazing day tours of St. Thomas that include sightseeing, shopping, and beach excursions so you can do it all in a day with your own personal chauffeur.
6. The islands are named after actual virgins by *shakes fist* Christopher Columbus.
Christopher Columbus (*crowd boos*) did, in fact, name the islands when he landed here in 1493. Though he simply landed and left, as he was immediately chased away by the indigenous tribes called Caribs.
But while he was sailing away he admired their peaceful beauty and dubbed them the Santa Úrsula y las Once Mil Vírgenes after the 11,000 virgin followers of St. Ursula.
This, of course, was a ridiculous mouthful and they were later shortened to the Virgin Islands.
7. Some establishments don't have street addresses.
Common in countries with less established infrastructure such as Costa Rica, Ghana, or Colombia, the U.S. Virgin Islands is just one of those places where street addresses like 123 Main St. are not used.
When giving instructions, you're much more likely to see instructions like the one we have with our Airbnb reservation: describing the location as "in Frrenchtown, across from the blue bus stop"
And the best places don't even have names!
A food tour of Main Street will prove that if you have a local guide or a well-informed friend to show you around, you'll discover some of the most delicious flavors at completely unmarked restaurants.
My local friend Kellyn took us to an amazing West Indian restaurant in French Town where I had oxtail, salt fish, mac n' cheese, red beans and rice, and more. ' As we're leaving I'm looking around for a sign so I can remember to recommend the establishment to friends…
Kellyn tells me the diner has never had a name for as long as she's known it!
If you want to spend a few hours exploring destinations like this but don't know any locals with the hookup, try out a St. Thomas flavor tour eating at multiple restaurants and making your own rum cocktails.
If you visit the U.S. Virgin Islands, don't expect every establishment to have an address. In fact, the best local spots won't even have signs.
Click To Tweet
8. Their water glows in the dark. Yup, bioluminescent bays!
No, this isn't Puerto Rico. The U.S. Virgin Islands have not one, but two bioluminescent bays of their own.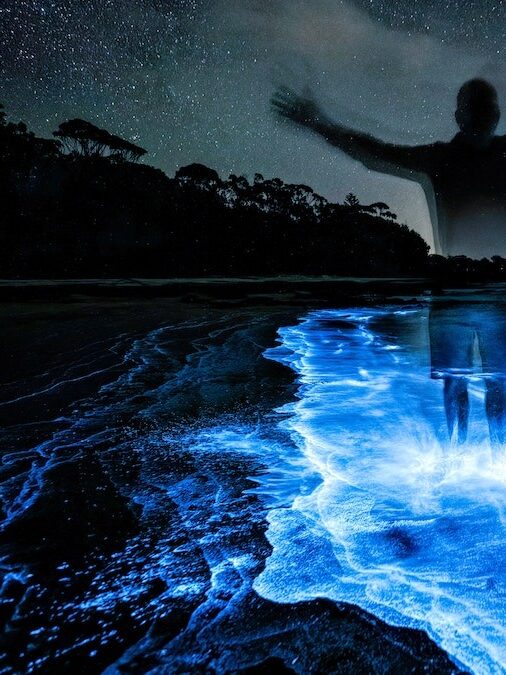 They say Salt River Bay and Altona Lagoon, located on St. Croix, are some of the best places in the Caribbean to view the glowy algae.
The brilliance of the bioluminescence is dependent on a lot of factors such as weather, time of year, and phase of the moon, so make sure to book a local tour guide not only to best visit these glowing marine plankton and jellyfish ethically but to see them in their best form.
Can you drink tap water in the U.S. Virgin Islands?
Yes! Almost all public water, hotel, and restaurant tap water is safe to drink. When in doubt, just ask. The US Virgin Islands rely on ocean water desalination and rainwater for freshwater supply.
Is the U.S. Virgin Islands part of the British Virgin Islands? Are they one country?

The US Virgin Islands and the British Virgin Islands used to be one territory. Different pieces of the islands were conquered and reconquered throughout the centuries by Spain, France, Spain, Malta, Britain, Denmark (1733), and finally the United States bought the Danish West Indies from Denmark in 1971.
Are the U.S. Virgin Islands a state?
No. The U.S. Virgin Islands are an unincorporated territory of the United States. U.S.V.I citizens are full U.S. citizens, but the territory has no electoral votes to cast for the president or vice president of the U.S.
Where to stay in the U.S. Virgin Islands? What are the best all-inclusive resorts?
Marriott's Frenchman's Cove
The Westin St. John Resort Villas
Palms at Morningstar
---
How many of these facts did you know already? How many were new? Tell me in the comments!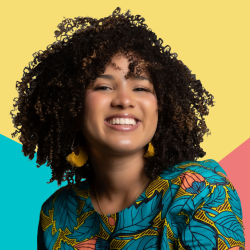 Latest posts by Gabby Beckford
(see all)