Reading Time:
5
minutes
This post may contain affiliate links – meaning that if you purchase something through a link, I get a small payment for it (at zero additional cost to you). It is a much-appreciated way to support this website!
Well, I made it! I've yet to be in a mysterious travel accident, contract some weird water-born parasite, or fall off of the Burj Khalifa. One month down on my 8-month study abroad experience in Dubai.
To read more about how I ended up in this gorgeous, man-made city check out my previous article: Why Dubai?
After packing my two checked bags and two carry-ons, my flight from Washington DC Dulles International Airport left at 6:30 PM EST, connected through Zurich, Switzerland, and landed at Dubai International Airport on September 1, at 8:30 PM GMT +4.
First impressions arriving in Dubai
What was my first impression of Dubai? BOY, IT IS HUMID.
In my research, I had found out that Dubai was humid and not a dry heat as most people think, but seriously, no one warned me that it was a rainforest-hot-shower-hell here. Especially at night!
Really, don't be surprised when you walk outside and your glasses fog up because it feels like you just stepped into a sauna.
The taxi from the airport to my university was about 20 min, and of course, on the drive down Sheikh Zayed road, I caught my first glimpses of the Burj Khalifa, the Burj Al Arab, and the rest of the stunning buildings.
I arrived at my new uni, the American University in Dubai, got my room assignment in the dorms, and moved in.
Inside the Dorms
My move into the dorms was easy, the beds are comfortable and it's very clean and spacious.
I haven't had a roommate besides my best friend from home since my freshman year so I was nervous about sharing a single room with a stranger.
However, I'm lucky my roommate is really nice—she's from Bahrain and though she doesn't speak much she lets me share her mini-fridge and control the AC setting, and that's the international sign of friendship isn't it?
It's been an adjustment buying things all over again (shampoo, conditioner, hangers, etc) and it's sort of annoying that this dorm has a full kitchen but absolutely no utensils!
Getting supplies (which is not hard to find in such a massive city!)
But it was easy to head to the Mall of the Emirates, which is only 3 metro stops away, and buy these cheap things at Carrefour which is sort of the Target/Walmart of the UAE.
Making friends
In terms of friends, I've been able to meet with the other study abroad students here, including the other Clinton Scholars like me.
They're amazing—they range from all over including Germany, Italy, the United States, Madagascar, and even some local Dubaians! Not joking, we all hang out every single day, made easy by the group chat on Whatsapp that we're all in where we talk.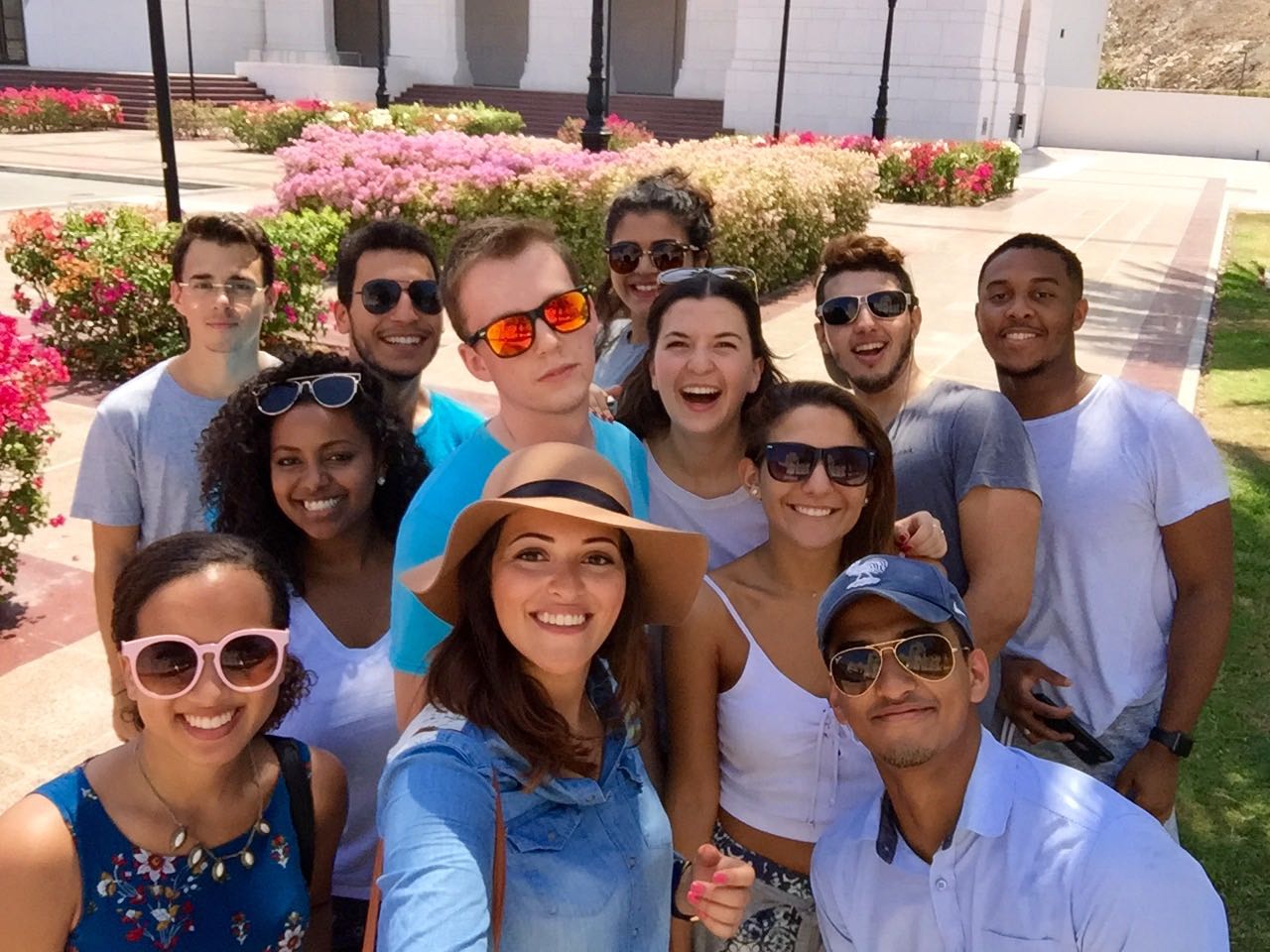 Around the AUD campus
The campus itself is pretty small, and you can walk across it in less than 4 minutes total. The architecture of it is pretty spectacular though, and everything looks brand new and clean around campus.
The dorms themselves are relatively new I believe, and each dorm gets a maid service that cleans the room and bathroom once a week.
There are four restaurants on campus in the cafeteria on the second floor of C-building and a lunch-room-style buffet on the first floor of C-building. I practically survive purely off of Bella Donna, the Italian restaurant in C-building.
This is good because I absolutely love Italian food, and they make theirs spectacularly (the lasagna, ugh!). However, it's bad too because I feel like I've turned into one big carbohydrate and am not really having much cultural immersion yet.
Making friends with the local women
The locals here, at least the women, are very cliquey, which makes sense as there are not a lot of universities here, so most locals know each other or even went to high school together.
Those who are attending AUD from other countries, which I think are the majority of people here, are very nice and welcoming. I've made a few friends that go here from Japan, Madagascar, Nigeria, and Korea.
Making friends with the local men: women, you're in charge!
I've gotten the sense here that it's not customary in most instances for men to approach women even in casual ways for fear of disrespecting them.
So, basically, men and women are often friends here but the women usually have to be the ones to initiate the first meeting.
How do you dress for college in Dubai? Louboutin or sweat pants?
The women walk to class in abayas and hijab, but an equal amount walks around in t-shirts and jeans. The same, men can be seen wearing the thobe (the long white "dresses", which are more like long cloth shirts), or jeans and t-shirts as well.
The dress code at my university is similar to that of my American high school: shoulders and knees covered, no excessive midriff or cleavage, no open backs, etc.
I don't mind the dress code at all because when surrounded by so many somewhat modestly dressed people all the time, it feels odd if you wear something revealing. When you get here, you realize you just don't need to dress provocatively or scantily if the occasion doesn't call for it.
Although when going to the clubs and bars in the nearby Marina, it's okay to wear whatever you like! Crop tops, cut-out dresses, and mini skirts included.
My school schedule is: MEST 101 Intro to Arabic, MEST 210 Intro to Middle Eastern History, MEST 329 Islamic Art and Architecture, and ENG222 Numerical Methods in Engineering. While here, I'll be pursuing the school's Certificate in Middle Eastern studies.
1-month check-in summary thoughts
My overall first-month feelings are that I love it here. The hardest adjustment thus far has been how expensive clothes and shopping are here (H&M and Forever21 are not cheap here!), the fact that I don't have a private kitchen, and the fact that I don't have my own car to drive around when I please.
Also, the restrictions between men and women are customary but coming from the U.S., they do seem sort of ridiculous. I always have to think twice before hugging a guy friend or making eye contact too long with a male stranger. Sigh.
Hopefully, I can become a digital nomad while I'm here too!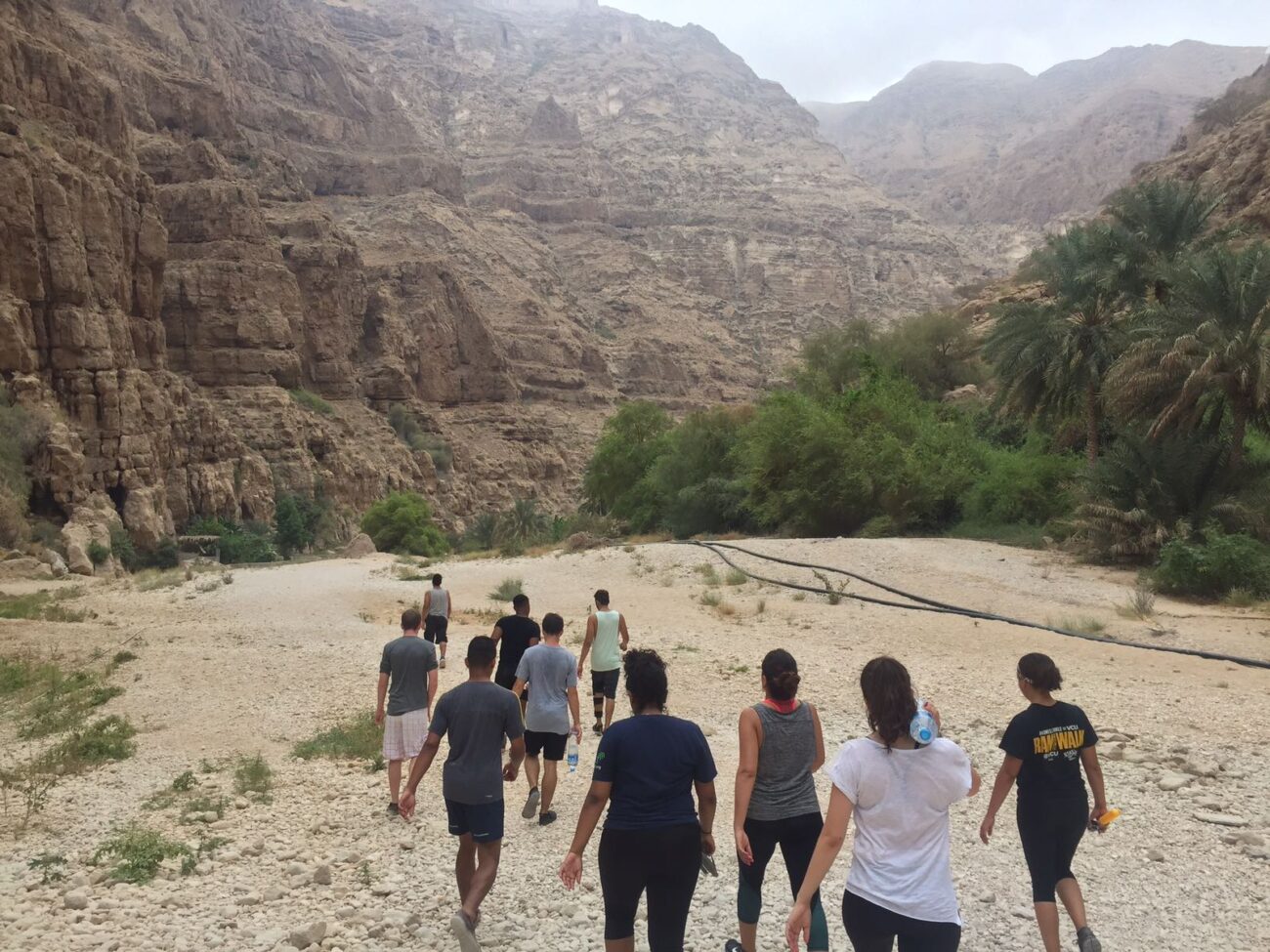 I have my student residence visa, health insurance car, and Emirates ID.
I also just went on a visa run with everyone to Oman (which I didn't have to do but, uh, OMAN), and had an amazing time adventuring including cliff-jumping.
Read this: My Oman Outdoor (Mis)Adventures: Getting Lost in Wadi Shab
That's it for my first month's update. I'll check back in November with more updates. Until then!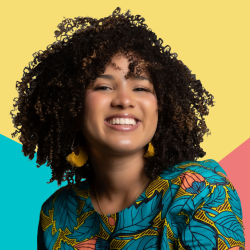 Latest posts by Gabby Beckford
(see all)