Reading Time:
4
minutes
When you think of cliff jumping, what do you think of as the best locations for it? My first thought is Colorado in the United States, or maybe off of the coast of Australia.
Little did you know that Oman was recently declared the most underrated hotspot of cliff jumping and general outdoor adventure! (Recently declared as in, just now, by me).

My friends and I's most recent visa run was to the UAE's southern neighbor,  Oman. One of our stops during our four day trip was a hidden place called Wadi Al Arbaeen (وادي الـعـربـيـيـن). Wadi, in Arabic, means valley, and the Omani Tourism Board recognizes more than 23 unique wadi tourist areas in Oman!
Located in the Al Sharqiyah region of Oman, and would be a 6 hour drive from Dubai, or a 2 hour drive from Oman's capitol of Muscat. It's a bit dodgey getting there because a certain lack of signs, arrows, or general directions, and 4-wheel drive is a must, but part of the adventure is the journey!
The below photo was our view driving into the wadi, and you can see the steep descent (we took option 2 to get to theWadi).
How to I get there?
There are two ways to get into Wadi Al Arbaeen:
Drive south/south-east on Highway 17 until you reach Dibab, and exit into the village. Follow the road for about 7km until you see the bridge over the wadi and drive up the wadi road to park your car.
On the high-way to Sur, take a right turn where the sign says Wadi Al Arbaeen. The sign says 17 km to Wadi Al Arbaeen and will lead you to a straight road, the end of it you will see a turn to the right or left. This is where paved road ends and turns into dirt road!
Take the left turn and then the second right turn. Keep driving on this road, don't take the right turn that comes a bit later, you will eventually see a sign that points to Wadi Al Arbaeen to the left. Turn left and keep going on this rocky road—you will pass a small village on the left, pass it—and you will reach the Wadi!
When you arrive the fun begins! You can park your car wherever there's room, just check the emergency break as it will likely be at an angle.
You can see in the above video (if you liked it, head over to my YouTube channel and give it a thumbs up!) video cliff jumping is very popular.
There are two points at which to jump off of on either sides of the deepest pool which looked about 4-5 meters deep . Aside from the deep pool we jump into there are shallow pools less than a meter deep where kids and mothers usually stay. When we went it was not that crowded, probably around 40 people there total including our group of 12. None of these pools have a strong current so don't be afraid of being washed away, you can bring a floaty and relax even!
At this wadi there were no signs of trash which was phenomenal, and everyone was enjoying themselves. We shared water with and talked to some of the locals that were there, them encouraging us to jump and us pushing them to do tricks!
Before you come, I would advise you to bring the following.
Preparing to come to Wadi Al Arbaeen:
 4-wheel drive on your vehicle is a MUST! Also make sure to fill up on gas well before you head here. I don't remember seeing an gas stations very close, and the walk out of the valley would be no bueno.

Swim gear: swim suit, goggles, towel, water shoes (optional, the water floor is sand and small rocks so you don't need them)

Plenty of water (it's hot, stay hydrated!) and snacks

First aid kit. We all got some small cuts and bruises from messing around on the rocks, it wouldn't hurt to have some bandaids and antiseptic on hand in the middle of a remote valley.

Sunscreen and/or hats

Camera for beautiful photos. If you happen to have a GoPro, this is the occasion to bring it!
A place to stay, if you need one. I suggest camping for sure, to get the most out of the wadis and Oman's nature.

Good spirits! Everyone we met this day was so welcoming and kind, be prepared to chat with the locals and make friends. Cliff jump together, introduce yourself, share stories! That's what travel is all about. 
What should I wear?
For ladies I would say a one-piece bathing suit, and for men swimming trunks are fine. If you do see local women there they will be in burkinis and covered, but it was no problem for us visitors to wear a one piece.
There were a majority men there, so I would say a bikini would have made me uncomfortable (not because of men's eyes, but because I would feel disrespectful).
As I mentioned before this beautiful oasis was trash free  when we visited, so if you make it to Wadi Al Arbaeen PLEASE keep it that way. The locals pride themselves in the purity and natural state of the wadi, so help them keep it clean by taking all of your rubbish with you!
Most importantly, enjoy! Oman is a gorgeous country with kind locals, and having an entire canyon and natural waterpark to yourself doesn't happen to most every day.
---
Have you ever traveled to Oman, or would you like to after reading this article?
Let me know in the comments below. Extra points if you had already heard of Wadi Al Arbaeen!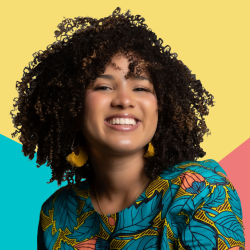 Latest posts by Gabby Beckford
(see all)