Reading Time:
10
minutes
This post may contain affiliate links – meaning that if you purchase something through a link, I get a small payment for it (at zero additional cost to you). It is a much-appreciated way to support this website!
If you're reading this, you probably hate your 9-to-5 job and are looking for an escape. You know there's more to life than a stuffy office with a crusty boss and you're reaching a breaking point.
You're bored at home, and looking for a change, the kind of change only a big trip can give you.
Traveling the world sounds glorious, but you still want to be able to earn your bag on the go.
You're tired of living for the weekends and are done with the entire concept of saving up minuscule paid time off just to squeeze a vacation in.
If you're feeling ✨seen✨ then you probably want to build your life around travel—and you're ready to learn what it takes to be a digital nomad!
Where do you start? How do you make money while traveling? How do you choose destinations? It's a big life change, so it's probably causing some stress.
Don't worry! When I started traveling full-time I was nervous as hell.
Being a solo female traveler prepared me to visit new places alone, but I wasn't traveling 24/7. My journey to digital nomadism was a slow burn. It took a minute, but after the chaos of 2020, I committed hard and began living on the go.
Learning how to travel year-round while working remotely takes a little time, some innovation, and a lot of confidence. But if you're ready to make travel a top priority in your life you've come to the right place! I've go everything you need to know about becoming a digital nomad with no experience necessary.
This post may have affiliate links. Meaning if you buy something using them, I get a small % for recommending it. It doesn't change the price for you at all and it's a super easy and nice way to say thanks for the work I did writing this 🙂 Cool? Cool!
What is a digital nomad?
Let's start with the basics.
A digital nomad is a person who lives on the go, traveling from one destination to the next while earning a living remotely.
Not all remote workers are digital nomads. Some people choose to sit in their living room instead of an office and that's it. But nomads are not work-from-home people, they are work-from-anywhere people!
Some digital nomads are content creators (like me), but many of them are just normal people who live their lives wandering the planet while working from anywhere. All they need is a WiFi connection and a latte.
After the series of quarantines, lockdowns, and restrictions caused by the COVID-19 pandemic, people are itching to travel. Some are cool with a two-week vacation to the Virgin Islands, but others need a more long-term solution.
All my Gen Zers are feeling this hard. Seeing the world is a top priority after years of being stuck in one place. Now it's time for your life of adventure.
Packing up a suitcase and hitting the road may sound intimidating. But trust me, it's worth it. And with this beginner's guide, you'll learn how to be a digital nomad with no experience necessary. Seriously, if you work hard, anyone can do this!
Ask these questions before you become a digital nomad
You might be reading this from your corporate desk chair, your boss lurking in the shadows, counting down the minutes until your one-hour lunch break. If you are… we gotta get you out.
Or you might be finishing up your last year of school, planning for what comes next. You already know a "normal" job isn't for you; you're ready to get your degree and get onto a plane.
It's 100% possible to become a digital nomad with no experience. But before you fully hit the road, there are a few questions you'll need to ask yourself:
"Where should I travel as a digital nomad?"
Everyone should have a bucket list, but this is especially true if you want to travel full-time.
Are you a domestic traveler? Or do you want to go further? Travel planning changes vastly if you're flying across the U.S. versus going from one hemisphere to another.
Decide where you want to start. It's definitely easier to explore your own backyard, but if you're committed to visiting the other side of the world you can start planning accordingly.
Domestic digital nomads don't have to think about passports, visas, or data plans while traveling. They may not even need to purchase travel insurance. People like me who hop around the world have a bigger list of logistics to figure out.
For example, many remote careers do not allow their employees to travel freely. If you want to work and live abroad, you'll have to make sure your main source of revenue doesn't come with a strict no-travel policy.
You'll also have to decide how long you want to stay in one destination. Do you want to take your time in every city? Or would you prefer seeing as many places as possible within the next year?
What kind of digital nomad do you want to be: a slowmad or a gomad?
There are two types of people who travel full time: a slowmad and a gomad.
Slowmads are travelers who take their time in a destination. They thrive during longer stays, at least one month but as long as a year, so they can embrace a truly local lifestyle.
This type of digital nomad is for people who want to feel rooted when they travel. Instead of hopping borders, slowmads prefer to experience new places little by little. Traveling slowly often feels less stressful and can be more budget-friendly when done right.
If you're the type of person who likes to cook for themself, enjoys learning languages, wants immersive cultural experiences, and generally prefers to feel relaxed in the midst of traveling, slowmadding is for you!
But if you're feeling adventurous or you want a faster-paced lifestyle, you may be more of a gomad. These are travelers who spend as little as a few days to several weeks in a location. They jump on flights frequently and visit dozens of places in a year. This type of nomadism requires detailed planning, itineraries, and someone who loves the thrills and challenges of being in a new place.
Deciding what type of nomad you want to be can help you outline your calendar better, clearly organize your trips, and have more fun in each new city since you're traveling how you want.
What do I want my life to look like?
Time to start manifesting your perfect daily routine and allow that dream to inspire your destination list.
Do you want to wake up early and get your work done by lunchtime? Or would you rather explore all day long and do your work in the evenings?
Are you someone who loves the outdoors and wants to spend time hiking, swimming, skiing, and working out? Or do you prefer to sit back and chill on the beach?
If you already know you need to be in bed by 10 pm, don't go live in Istanbul when your clients are based in L.A. That's a 10-hour time difference, so any afternoon meetings in California will require you to stay up well past midnight.
When you're just starting to travel full-time, it may be smart to stay closer to home and learn how to adjust to time zones while working remotely. But that goes for every part of your daily routine!
Everything from what weather you enjoy to what food you want to eat should be taken into consideration.
Detailing what you want your digital nomad lifestyle to look like will not only help narrow down your destination options but also help you feel excited about your journey.
What are my minimum monthly expenses? How can I reduce them before I go?
Even if you're not a "budget traveler", you'll want to organize your finances before becoming a digital nomad.
Being smart about money is always a good idea. But it's essential for digital nomads since you'll likely face some unexpected costs that you want to be prepared for.
Obviously, the location you're visiting will change your budget pretty rapidly. You should also consider what accommodations you'll stay in, the cost of food, coworking spaces, travel expenses, activities, etc.
Before you uproot your life and start traveling, try reducing your regular expenses.
Can you cancel gym memberships? Streaming services that you no longer use? What about rent? Do you need a home base or are you comfortable with just a storage unit?
In order to make digital nomadism profitable, you'll have to eliminate expenses that drain your bank account. Take some time to outline your spending behaviors, and see what you can get rid of! Then you'll have a better idea of how to budget for each trip without worrying about random extra costs.
How do you become a digital nomad with no experience?
In my opinion, anyone can become a digital nomad as long as they a) want to travel and b) will put in the work to make it happen. But before you quit your day job and hit the road, it's an excellent idea to find a hustle that can help support your travels.
I know some of you may be tempted to YOLO it and abandon everything on a whim but that is not sustainable. I've made plenty of impulsive decisions as a digital nomad, but only because I was certain I could pay for them 😅
Luckily for you, the digital nomad industry has exploded since 2020. Plenty of companies are aware that people want to work while traveling, and there are a few ways you can take advantage of remote work options.
Stop looking for a "digital nomad job"
If you spend all day searching "digital nomad jobs," you'll end up on page 16 of Google with zero hope. Remote opportunities have skyrocketed in the last two years. Searching for any remote gig will probably make you feel overwhelmed and quit before you even begin.
Instead, tailor the search to you. Find the right industry and job title to match your current skill set. Just because you're a digital nomad with no experience, doesn't mean you're a human being with no experience. I promise you've got qualities that people will want in a remote employee!
Write out 1-3 things you're already good at. Refine this list until you feel confident you could use those skills on a daily basis.
Then, look for job titles that already require the skills you possess. For example, if you're a talented graphic designer, you can earn money creating custom art for brands or merchandise companies.
Simplify the job hunt so your remote career is easy and as stress-free as possible!
Decide what kind of remote work you want as a digital nomad
Landing a lucrative remote gig is the key to balancing travel with your career as flexibly as you want.
As you plan your digital nomad lifestyle, ask what version of remote employment works best for you. If possible, do you want to shift your current job to a remote setting? Do you want an entirely new job at a different company? Or do you want to become a freelancer to have as much freedom as possible?
The comfort that comes with working remotely for an established company is a luxury. If you can find an employer who is cool with your travel schedule, you can avoid the stress of searching for new clients or managing a business.
But, if you want to set your own schedule and earn what you deserve, freelancing is your best bet. Being my own boss let me transform a little blog into a full-fledged company that pays me to travel. It takes a little extra work at first, but pays off when you stick with it!
Here's how you can be your own boss, make your schedule, set your rates, and do work from literally anywhere you want 👀✈️
Click To Tweet
Take inspo from other digital nomads
There are so many travelers out there who want to help make digital nomadism attainable, like me!
Instead of letting your TikTok FYP rot your brain, curate your social media profiles to be a source of inspiration! If you scroll through my TikTok, you'll find content all about my travel experiences, paid opportunities, and general digital nomad tips like how to get free upgrades on your flights.
A positive social feed can be a great source of motivation. It's my favorite way to way to stay encouraged and improve my travel game. Think of using social media as a way to surround yourself with friends who support you and wanna see you win.
Get the Go Remote Guide
If you want to figure out how to go remote so you can ease into digital nomad life easily, then you need to grab my Go Remote Guide! This is the ultimate tool to help you find a remote job so you can fund all your travels from anywhere in the world.
Inside you'll find a 5-step system that will help you figure out what remote jobs work for you, instead of trying to fit yourself into an entirely new career you don't even enjoy.
Keep this e-book on hand and you'll always have an easy, quick resource to look at when you're in need of some career inspo and guidance.
Digital nomad essentials: everything you need to work while traveling
Once you have a remote job on lock, you're one step closer to actually packing a bag and hitting the road. As the resident expert in packing light (*ahem* I'm @packslight for a reason *ahem*) I have plenty of tips about what you should always keep in your suitcase.
If you're a digital nomad with no experience yet, this is the gear you should grab before heading out.
Tools to help you find flights
You'll probably be purchasing quite a few plane tickets. Instead of picking a destination and hunting down cheap flights, why not let the destinations come to you? Signing up for a travel email list like Scott's Cheap Flights is a great way to find affordable travel options, and pick unexpected destinations!
For all my digital nomads in training, Cheap Tickets is a great company to get student discounts for all your travel needs.
Travel gems that help you in any part of the world
Once you're ready to start spending, I highly recommend setting up a credit card that gives you rewards for your travels. I use the Chase Sapphire Reserve card everywhere I go, and it's 10/10.
You can get lots of perks with the card as well, like TSA Pre-Check and airport lounge access, so definitely give it a peek if you plan to book lots of trips in the future.
I'd also recommend getting a VPN, like Surfshark, so you can keep your work private and secure no matter where you're logging on from.
What's the best travel health insurance?
One of the most confusing things about being a digital nomad is your insurance policies. Instead of breaking my back trying to figure out international coverage, I like to protect individual trips with a travel insurance company like Safety Wing.
Safety Wing was designed specifically for nomads who work remotely and travel the world. You can get coverage plans that protect your trips and medical needs internationally. Insurance can be a scary topic, but I've found everything to be very seamless through their website.
This is a place where everyone can come to get protected without the nonsense of other travel insurance companies.
Tech essentials to help you get work done
Whether you want to become a content creator during your travels, or you just need to be able to work remotely anywhere in the world, these are the gadgets I have in my carry-on 24/7.
If no one else has my back, I have my own back. This is why I have a million charging cables when I travel. I got multi-head charging cables, multi-port charging blocks, external batteries, international plug adapters… the list goes on.
Some destinations will make it fairly easy to get a new charger if something goes awry. But what are you gonna do when you're on a remote island with a busted cable, no Apple store in sight, and not a single gas station for miles…
Yeah, get the cables now, and thank me later.
If content creation is your goal, I recommend bringing a little microphone along so you can record audio on the go!
These days, iPhone cameras are mind-blowing so you don't necessarily need a big fancy camera, but I'm a classy b!*ch so I like to carry my Sony everywhere ☺️
Packing list for solo female travelers
So now you have some tools to work remotely for your professional life, but what about you?
Every busy traveler needs a little self-care moment, whether it's throwing on a face mask mid-flight or lighting a candle in your hotel room.
These are all the things I use to fight homesickness, and I cannot recommend them enough, especially if you are new to digital nomadism and need help feeling chill in new places.
Keep some sort of air freshener in your luggage so you can have a familiar scent in every new hotel room or rental home. Our brains are easily triggered by scent memory, so use this as a way to ground yourself and feel at peace every time you travel!
I also do research for each destination I'm traveling to so my wardrobe fits in with the culture. You don't have to replicate the local styles, but if you're visiting a more conservative part of the world, it's smart to bring some long skirts and simple dresses rather than jean shorts and crop tops.
You'll also want a few cozy pieces to keep with you in every location, like a big scarf that doubles as a blanket, cozy compression socks, and a sweet eye mask. These make long-haul flights so much more bearable!
Look into digital nomad visas
At this point, you may be wondering how can you actually live abroad for more than a month. More than six months? A year? Even if you're planning to destination hop every couple of weeks, there will likely come a time when you want to relax somewhere and recharge.
How can you actually live abroad for a more long-term stay?
The answer: digital nomad visas!
More and more countries are adding digital nomad visas to their immigration industry, which means there is an ever-expanding list of options for where you can apply to live long-term.
Tourist visas permit visits for shorter periods of time, usually a few weeks and up to six months, but the rules are very strict and nuanced. Working around them is hard when you just want to live like a local while working remotely.
That's where the beautiful digital nomad visas come in! These allow you to move abroad and relax. You can work remotely, take your time exploring the country, and stop stressing about seeing everything all at once!
I dive deep into these life-saving documents in my All About Digital Nomad Visas E-book, breaking down which countries offer them, what you need to apply, and tons of answers to the most common questions about these visas!
For all my slowmads, AKA slow nomads, who want to take their time while traveling, this e-book is a one-stop shop that makes the visa process super easy.
If you've ever thought about being a digital nomad, this is your sign to GO FOR IT 👀 Live your best life working remotely and traveling full time ✈️🗺
Click To Tweet
Can anyone really become a digital nomad with no experience?
1000% yes, anyone can start their life as a digital nomad with no experience. I'm not going to lie to you, there will be challenges.
You'll have days where time zones are making work feel impossible. You might grow a little homesick, miss your family or friends, long for a good long sleep in your old bed…
But the freedom you gain as a digital nomad is unlike anything else.
The friendships you make while traveling are deep and unique, with unforgettable memories from your time together traveling the world.
Travel teaches you more about yourself than anything else, giving you an air of independence and confidence that others will notice when you enter a room. And, of course, travel teaches you about the world, the people, and the cultures that make up the beautiful planet we get to explore!
If you've ever thought about trying out the digital nomad lifestyle, I say GO FOR IT! Take baby steps. Test out how you like working abroad by applying to PTOs or taking a solo trip for a few days.
There is so much adventure awaiting you out there. And with a little time, preparation, and intentional work, anyone can learn how to become a digital nomad without experience!
Digital nomad FAQs
How much do digital nomads make?
You may hate me for this answer, but: it totally depends! There's no fixed income for digital nomads. Content creators make something different from copywriters, who make something different from graphic designers. If your goal is to make money from traveling, check out the PTO dashboard for jobs and scholarships to help you find opps that will pay you to visit a destination!
What are the best places to be a digital nomad?
As long as you can access a strong WiFi connection, there are no limits to where digital nomadism could take you. But if you want my advice, his up my IG Guides section for a full review of all the places I've lived and worked as a solo female traveler!
What are the benefits of being a digital nomad?
My favorite part of nomadism is simple: ultimate freedom. You're in control of where you go, how long you stay, what you eat, what sites you see… It's a fantastic way to immerse yourself in different cultures while still advancing your career!
Have you thought about becoming a digital nomad?
What questions do you still have?
Leave a comment below!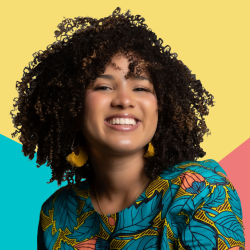 Latest posts by Gabby Beckford
(see all)