Reading Time:
5
minutes
This post may contain affiliate links – meaning that if you purchase something through a link, I get a small payment for it (at zero additional cost to you). It is a much-appreciated way to support this website!
Which digital nomad Reddit channels are worth joining? What are the best places to find other solo travelers? Where can I find a group of digital nomads to give me travel tips?
This post may have affiliate links. Meaning if you buy something using them, I get a small % for recommending it. It doesn't change the price for you at all and it's a super easy and nice way to say thanks for the work I did writing this 🙂 Cool? Cool!
There are a bunch of digital nomad Reddit pages popping up across the internet as this type of lifestyle becomes more popular. But no one has time to read through them all, so which ones are actually worth it?
If you're new to the Reddit world, welcome! I promise this is not just a website for men to talk about Call of Duty and share memes.
Sometimes I think the site gets a bad rep because people don't know how to use it to their advantage. Much like Facebook groups, Reddit is an amazing place to find a community with the very niche interests or hobbies you have!
Like traveling the world while working remotely 👀
These 5 channels are active, friendly group chats that you can visit when you have a question about how to become a digital nomad, where you should explore next, or anything else related to traveling full-time!
The Most Popular Digital Nomad Reddit: r/digitalnomad
Overall Award:
Best for Beginners 🏆
Let's start big, shall we?
This page is probably the first thing that pops up when you type in "digital nomad Reddit," which makes sense since it has almost two million members! Digital Nomad is a great starter channel that covers all your bases.
Pretty much every kind of question is asked and answered on this channel. One person comments asking how they can find a digital therapist to use while traveling, followed immediately by a question about handling finances and taxes, followed by a story about *X* destination.
Having almost two million members means you'll probably always get an answer if you post a question. The discussions are very active, and it's rare to see that horrendous "0 Comments" sign that means there's no one who knows how to help.
But, it does mean you'll probably just be floating in a very large social circle. It's unlikely this channel will be the one for making close friends or getting super niche recommendations.
The Ultimate Tool for Remote Workers: r/remotework
Overall Award:
Get That Bread Bestie 💰
Half of being a digital nomad is traveling the world, but the other half is working remotely so you can support yourself while you travel.
Luckily, there's a place where digital nomads come together specifically to discuss remote jobs! The Remote Work channel is a perfect place to go for info about how to work from anywhere successfully, with everything from personal tips and advice to companies posting job listings.
There are 27.3k members on this channel, giving you a pleasant and small community of remote workers to talk with on a regular basis. Plus, there are lots of world nomads here that share their stories about how to make work-from-anywhere a successful profession.
Helpful articles are posted regularly, as well as companies that are hiring, tips for advocating for yourself, and ideas for expanding your business. If you're looking for some extra help, try these remote work tools to start getting organized.
Everyone here is very friendly and polite, but at the end of the day we're talking about work, so it's probably not a place to recruit your new travel buddy. To me, you join this page specifically for very useful information and practical advice.
Even if you feel like you have your remote career in a good place, I think a majority of us would feel extra supported by a community of people who know the ups and downs of working while you travel!
These 5 Reddit channels are active, friendly groups that you can visit when you have a question about how to become a digital nomad 💻✈️
Click To Tweet
An Essential for Digital Nomads Who Want to Pack Light: r/onebag
Overall Award:
Best For Becoming a Pro-Traveler Who Packs Light 😉
Listen, if you're planning to be on the go, all the time, you need to think about how to minimize your travel luggage. As the queen of PacksLight, I had to include a place that provided some tips and packing lists!
One Bag is pretty much exactly what it sounds like, a channel made for digital nomads who need to learn how to put all of their stuff into one suitcase that you can take anywhere.
With 462k members, you're sure to find tons of resources for becoming an expert packer. Start off by sorting through their curated collection of threads targeting specific interests.
If you're curious about detailed packing lists, you can find a whole subsection of other nomads sharing what they brought to a destination, what they used, didn't use, and what they wished they had!
Many of the nomads on this page are minimalists, but even if you have the most eclectic style and can't get behind the idea of a capsule wardrobe, you will still be able to find useful insights about what you will most definitely need versus what you can leave behind when it comes to the "essentials."
This is the perfect spot if you want a digital nomad Reddit page that provides practical information about how to avoid overpacking. If you're ready to commit to the one-suitcase-lifestyle, you'll need to get this suitcase, which is my personal favorite carry-on bag.
Best for Digital Nomads On A Budget: r/shoestring
Overall Award:
Most Creative Itineraries 🗺
Shoestring is a perfect Reddit page for any digital nomads who don't have too much extra cash lying around and need to keep their travel spending small.
What I love most here is that it's not just backpackers or minimalists. Those types of travelers pop up in the feed every now and then, but this is a page that any digital nomad can come to and use freely.
At 1.7 million members, you'll be blessed with plenty of exciting recommendations if you have specific questions about a destination!
There are all kinds of budget travel tips here. Everything from road trip ideas, using flight finders like Scotts Cheap Flights, booking cheap accommodations, and more.
Learn about hidden gem destinations, perfect for young travelers who want to travel but don't have the funds for some of the boujee Kendall Jenner vacation spots that are all over their IG feed.
Even if you're not super concerned about your bank account, I would join the Shoestring page, especially for my adventure lovers out there. Budget travelers always have extremely creative itineraries with a lot of off-the-beaten-track activities. The low cost is just a bonus!
When You're Ready To Travel Full-Time: r/iwantout
Overall Award:
Best for Internationally Focused Digital Nomads 💻
For any digital nomads who are focused on international travel, I Want Out is specifically designed to help people looking to live in another country and put down roots.
With user-curated guides about moving to a new country, government visa advice, and other subreddits personally recommend for ex-pats, this is the dream info dump for travelers.
For example, you might be wondering how to get health insurance while traveling. Here, you can learn about programs like SafetyWing and find out how people use their digital nomad insurance plan!
Any digital nomad that's focused on spending time abroad will find this to be a very helpful resource. While many of the community members are looking to relocate semi-permanently, I think expatriates have some expert insights that casual travelers don't typically have!
You don't have to be an ex-pat to join this channel, so don't let that intimidate you. You'll learn about local cultures, expectations, and destination insights that tourism boards or Instagramers typically look over.
That means you'll stumble into some less-than-glamorous stories here. Yes, there is some very cool travel inspiration, as well as realistic expectations for what life in other countries is like.
I'd join this digital nomad Reddit channel if you're looking for real experiences outside of the big tourist attractions and resorts.
Digital Nomad Reddit Channels That Deserve A Honorable Mention
There are a few digital nomad Reddit channels that I think are worth mentioning in case you want even more content. Some of these may have been too niche to earn a spot in the top 5. Others are useful for every type of traveler but weren't specific enough to call a Reddit for digital nomads.
If you want general travel inspiration, r/travel is one of the biggest and best options out there.
Long-Term Travel is for anyone who wants to dive deeper into traveling as a lifestyle. Digital nomads who spend most days on the road will find useful information in a lot of the threads, especially logistical stuff that you may not stress over for a shorter vacation.
Why You Should Join These Digital Nomad Reddit Channels Now
Use these online communities as a way to meet other travelers and make friends! Or just pop in, ask your question, get an answer, then go back to watching the conversations unfold quietly.
Becoming a digital nomad isn't always fun or easy, and Reddit is a great place to get the motivation to keep going.
I would also extend your search for like-minded communities on Facebook! Come join the Young Travelers Network which was created to help Gen-Z travelers, solo female travelers, and digital nomads.
And check out the 50+ most active Facebook groups with a bunch of different specific interests!
These digital nomad Reddit channels are an amazing place to find personal stories, ask your own questions, and get advice from other travelers who have actually gone out and explored the world while working remotely.
Even if you're traveling solo, you never have to travel alone when so many lovely places like this exist to support you on your adventures!
What are the best travel Reddit channels?
For general travel inspo, the r/travel page is a great place to start looking! You can also find destination-specific pages by visiting country or city channels. These will usually be titled exactly what the destination is, for example, "r/thailand".
What is the best digital nomad Reddit channel?
All the pages I listed above are great for digital nomads, but if you're only going to read through one, I'd recommend going with r/digitalnomad for an all-in-one site to learn about the travel lifestyle.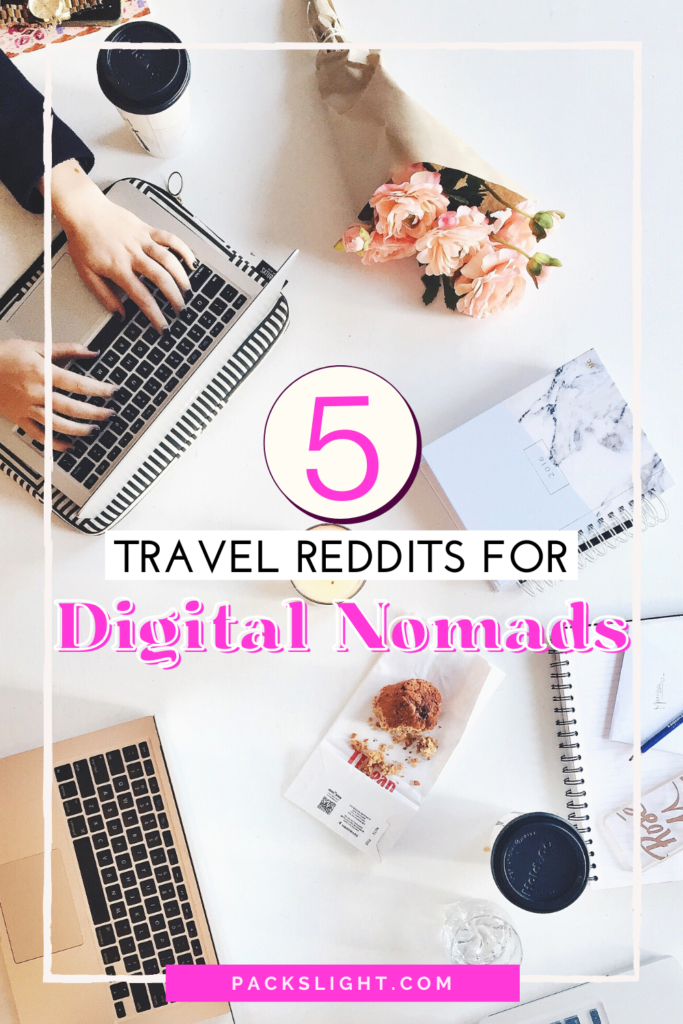 Want more advice on how to become a digital nomad?
Make sure to sign up for the mailing list belo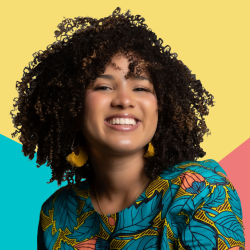 Latest posts by Gabby Beckford
(see all)