Reading Time:
4
minutes
This post may contain affiliate links – meaning that if you purchase something through a link, I get a small payment for it (at zero additional cost to you). It is a much-appreciated way to support this website!
Are you heading out on a road trip with friends and trying to figure out the logistics? Can you rent a car if you're not 25 years old? What is the best car rental service for young people?
The logistics can be frustrating if you've been dreaming of the ultimate road trip but don't own a car yourself.
Especially as a Gen Z traveler: a lot of people believe that if you're under 25, there is no easy way for you to rent a car and make your road trip dreams come true.
But luckily you found this blog and therefore the answer to your prayers!
Let me break down how to rent a car when you're under 25, so you can make that dream road trip a reality.
You might think you hate renting cars because…
I think the biggest myth about renting a car is that you have to be 25 years old. Seriously, I travel all the time and even I was convinced that you had to be 25 to book a rental car until I literally turned 25.
The truth is young drivers can book rental cars, but hefty fees usually make renting a car way more expensive than they should be.
And in this economy, that is not the vibe.
Maybe you've seen your friends rent cars before and moan and groan about the process. The insurance rates are too high, gas is expensive, there's a mileage contract, and the logistics of it all are too stressful when we're all barely holding on by a thread as-is.
The answer to that question is: you shouldn't.
Enter Avail Car Sharing: the ultimate road trip service for Gen Z travelers!
If you're a safe driver who just happens to be 19 years old, why should you dish out more money than everyone else for the same rental car?
Click To Tweet
What you get when you choose Avail for your road trip:
When thinking of car sharing, imagine your neighbor is loaning you their car for a few days while they're out of town. Except with so many more benefits.
With Avail, people age 18+ can rent a car with zero extra fees. That's right, Gen Z: for once you're celebrated instead of punished for being young!
Beyond giving Gen-Z travelers easy access to rental cars, Avail has an incredible list of features that have made my experiences 10/10. From travel safety to roadside assistance and even earning money for yourself, this is essential information to keep in mind as you book your ride.
Traveling often but ensuring it's safe is one thing Gen Z travelers know how to do. Luckily, Avail takes care of everything for you!
Hella Mileage
Every driver is given 150 miles per day before charges are added: and even then, it's only $0.50 per extra mile. So on a long weekend away (maybe 4 days, if you drive like me!), you could drive the 6.5 hours from New York City to Washington D.C and back and be within the mileage limits!
Avail promises you a car that's cleaner than clean.
Every car is inspected before being rented, so all the necessary maintenance and safety measures are up to date.
Plus, Avail requires every vehicle they lend to be less than 10 years old and have a mileage of less than 125,000, so you'll have the highest quality ride possible.
Essentially, Avail worries about the boring stuff, so you don't have to.
You're auto-insured, baby!
Drivers are automatically protected with an Allstate insurance plan the second you reserve the car.
In the unlikely case that you get a flat tire or run into car trouble on your adventure, roadside assistance is literally a phone call away!
Do you hate driving? Me too. Add your friend (for free!) as an additional driver with Avail.
One extra detail I love about Avail is they make it easy to share the car with everyone on your road trip.
Adding an extra driver to the reservation is absolutely cost-free. So, if I start feeling tired while driving, I'm gonna let my bestie take the wheel while I catch my beauty sleep.
This way, no one feels the stress of giving the car over to someone else, but you stay safe on the road at all hours of the day.
Where can you find Avail rental cars?
Every lot is conveniently close to the airport, so when you land at your destination, you'll be able to catch a free shuttle, grab the car keys, and go fairly easily.
Currently, Avail is available at 15+ airports and is found in 1 in 4 states including California, Oregon, Pennsylvania, Utah, Washington, Georgia, Illinois, North Carolina, Texas, Florida, and Colorado.
Flying into an airport like LAX is already stressful enough. This is my favorite way to eliminate the chaos of those other parking lots and drive out of there as quickly as possible.
Did you know you can make travel money with Avail too? 💸
If you're heading on your own vacation and want to make some money without thinking about it, become an Avail owner and give other travelers the luxury of renting your car!
Sharing your car with Avail might sound intimidating, but let me break it down for you:
Example: How does sharing your car with Avail work?
Let's say you're planning to spend the next month backpacking across Europe. You've booked your tickets, found the hostels, and rented out your apartment, so you don't waste a month of rent money! You might even charge the subletter a little extra to make some easy money.
Avail is exactly the same—just using your car.
Instead of letting it sit in the garage for a month, earn extra money without thinking about it!
And don't stress: no one will be handling your car uninsured because full All-State coverage is complimentary when you work through Avail. Plus, each car goes through a thorough cleaning protocol, so your car might even come back cleaner than you left it!
With locations conveniently placed close to airports, you can drive yourself to your flight and skip the overpriced parking. And help out a fellow traveler!
They get a car, and you get some passive cash… to spend on more traveling, of course 😉
Repeat after me: Avail is the best way to rent a car if you're a young traveler!
If you're looking for the easiest way to rent a car under 25 years old, or you want a sustainable alternative to big rental companies, Avail is my go-to. My ride or die (pun intended).
No matter what age you are, this is the simplest way to book a ride for your next road trip adventure!
*This blog post is sponsored by Avail Car Sharing*
(though all thoughts are my own! Seriously!)
What is Avail's incident and cleanliness policy?
are protected. They even provide roadside assistance to all drivers, so if anything comes up help is just one phone call away! If you are thinking about becoming an Avail partner and sharing your car, the Allstate insurance policy will keep your car covered when you are not behind the wheel.

Every car also goes through Avail's cleanliness check before and after every borrower. No matter what, you get your car back in the same (or better!) condition than when you gave it! When I borrowed from Avail, they gave me a 2021 electric car with 50,000 miles in pristine condition. I love how attentive the Avail attendants were, walking me through their cleaning routine and answering any questions I had at the lot before I drove away.
What happens if something happens to your car?
The Avail website states, "All trips are covered at no additional cost. We provide borrowers with $100,000 in liability coverage or their state's minimum requirement (whichever is higher).

Owners can rest assured, as Avail provides excess coverage compared to other rental companies. When you share your car, you receive up to $1 million in primary liability coverage, so in the rare case something happens to your car, Avail works with you to cover the costs and find the best solution for you. "
Are you ready to start planning your own ultimate road trip with Avail?
Let me know where you're heading in the comments below!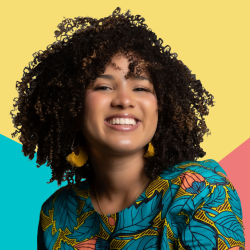 Latest posts by Gabby Beckford
(see all)