Reading Time:
7
minutes
Welcome, I'm Gabby Beckford. While in college I was awarded more than $70,000 in financial aid, including travel grants and scholarships that helped me study abroad in Dubai, one of the most expensive cities in the world—allowing me to travel the world for free.
Now 2 years past my graduation, I share paid travel opportunities (PTO, as I call them) for people of all ages, all nationalities, and all phases of life. I've become known as the "Opportunity Expert" at seeking, applying to, and successfully securing creative funding for travel.
Disclosure: I am not funded by or associated with Hotel Tonight in any way, and I'm using this (now expired) PTO exclusively for educational purposes.
Today, I'm going to walk you through my mindset of an application with a very specific example—Hotel Tonight's Spontaneity Contest. I'm using this holiday competition in particular because there are elements to the opportunity that I think can be learned from and applied universally.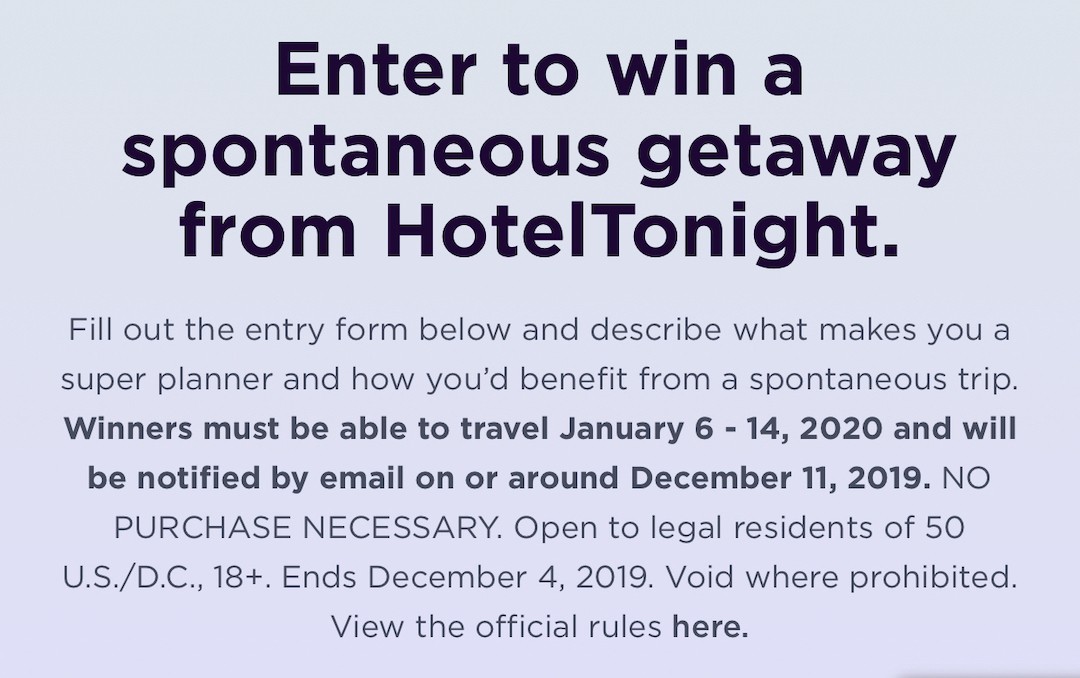 The Opportunity: HotelTonight's Spontaneity Contest
The following were the advertised contest details:
"Fill out the entry form below and describe what makes you a super planner and how you'd benefit from a spontaneous trip. Winners must be able to travel January 6-14, 2020 and will be notified by email on or around December 11, 2029"
It's implied that it will be all-expenses-paid meaning flight, accommodations, food, etc. will be covered for the winner. You essentially just have to show up and enjoy the holiday, which makes it an opportunity completely worth applying to!
This leads to my first point: understanding why they are hosting this travel contest in the first place.
Don't like reading? Learn from the video!
Why are they hosting the competition in the first place?
In my expert opinion, based on this opportunity's requirements and the structure of this competition, they are giving away these trips for marketing purposes.
If you research HotelTonight you will find that they are a company associated with Airbnb, whose mission is to provide last-minute accommodations at a reduced rate. From their Apple app description:
"HotelTonight brings you amazing hotel deals for tonight, tomorrow and beyond! Hotels give us discounts on their empty rooms, and you reap all the benefits…"
That knowledge, along with the contest's specific theme of "Spontaneity" is likely one of the company's core business drivers and can give you an idea of their motives. In this case, they are specifically asking applicants to "describe what makes you a super planner and how you'd benefit from a spontaneous trip".
My guess is that they plan on using the super planning entrant's applications and subsequent adventures to convince other super planners who are not HotelTonight's usual customers (as over planners are rarely spontaneous) that it's a viable option for travel.
The competition is meant to tap into a clientele, over planners, who usually would never use a service like this. Make sense?
How to strategically address the prompt
Only asking for your name, email, birthday, and prompt answer, this contest has a relatively short application. You don't have to be an expert in anything, have any experience, or be any sort of person… So they say.
But it's important to get into their mindset, the judging criteria, and who would make the most sense for them to select.
The prompt says: describe what makes you a super planner and how you'd benefit from a spontaneous trip.
A standard entrant's answer might be as followers:
"I'm such an over-planner, like, Exhibit A. I always plan ahead, I can't imagine being spontaneous. I would never do something like this! Which is why I deserve to win this trip."
Imagine that 95% of people's applications follow that obvious template. You definitely want yours to break that mold to—to catch their eye and stick in their memory.
How can you do that? You need more information.
Doing the work: there is always fine print
If you look closely, you'll see that after the terms and conditions it says "view full terms here", with a hyperlink.
Well, what do we have here?
Extremely long, elaborative contest details that most people won't read because they aren't applying strategically and are essentially throwing their name in a hat and hoping to be selected. By delving into the fine print we are doing that little bit of extra work that most people wouldn't, which will very likely set us apart and make our application extremely competitive.
I think Clause 4: Submission Guidelines and Content Restrictions, Clause 5: Judging Criteria, and Clause 6: Prizes.
Clause 4: Submission Guidelines and Content Restrictions
By entering, each entrant agrees that his or her Submission conforms to the Submission Guidelines and Content Restrictions as defined below (collectively, the "Guidelines and Restrictions") and that Sponsor, in its sole discretion, may remove any Submission and disqualify an entrant from the Contest if it believes, in its sole discretion, that the entrant's Submission fails to conform to the Guidelines and Restrictions.
Submission Guidelines
The Submission must not exceed 1000 characters in length (including spaces).
The Submission must be in English.
Content Restrictions
The Submission must not contain material that violates or infringes any rights of any other party, including but not limited to copyright, trademark, privacy, publicity or any other intellectual property rights;
The Submission must not in any disparage Sponsor or any other person or party;
The Submission must not contain material that is inappropriate, indecent, obscene, hateful, tortious, defamatory, slanderous or libelous;
The Submission must not contain material that promotes bigotry, racism, hatred or harm against any group or individual or promotes discrimination based on race, gender, religion, nationality, disability, sexual orientation or age;
The Submission must not contain material that is unlawful, in violation of or contrary to the laws or regulations of the United States or of any jurisdiction where Submission is created.
The Submission cannot promote illegal drugs or firearms (or the use of any of the foregoing), or any activities that may appear unsafe or dangerous, or any particular political agenda or message;
The Submission must be consistent with the image and values of Sponsor and be consistent with and satisfy the purpose of the Contest.
Each entrant acknowledges that other entrants may have used ideas and/or concepts in their Submission that may be similar in idea or concept to what is included in entrant's Submission. Each entrant understands and agrees that he/she shall not have any claim against any other entrant or Sponsor arising out any such similarity or be entitled to any compensation because of any such similarity.Sponsor's decisions are final and binding in all matters relating to this Contest, including, but not limited to, interpretation and application of these Official Rules. By entering the Contest, entrants fully and unconditionally agree to be bound by these rules and the decisions of the judges, which will be final and binding in all matters relating to the Contest.
The submission guidelines are good limitations to keep in mind as you begin brainstorming the content of your application.
💡 They specifically forbid libelous or disparaging comments. So something as simple as an inappropriate joke or a rude comment could get you automatically disqualified!
Read the guidelines to make sure that you're able to even be considered as an entrant. To be disqualified on a technicality would be a waste!
We'll come back to Clause 5, but let's dig into Clause 6 for a second—they give you a lot more details than the initial advertisement does! And therefore, more information than 95% of the other entrants will have.
Clause 6: Prizes
Five (5) winners will each receive a trip valued at $10,000 to a U.S. destination to be selected in Sponsor's sole discretion, including round trip, economy class airfare for winner and one guest; a 3-night hotel stay at a HotelTonight partner hotel; daily per diem for food/incidental costs; and admission to select activities to be determined by Sponsor prior to trip in Sponsor's sole discretion. Travel will take place between January 6, 2020 and January 14, 2020.
Trip consists of a three (3) night trip for winner and a guest to a U.S. destination of Sponsor's choosing. Trip includes round-trip economy airfare from major gateway airport nearest winner's residence and double occupancy hotel accommodations. Taxes, meals, gratuities, incidentals, amenity fees, travel upgrades, or any other expenses not covered by the daily per diem or specifically listed herein are the responsibility of winner. Travel and accommodations subject to availability; certain restrictions and blackout dates may apply.
Winner must be able and willing to travel between January 6, 2020 and January 14, 2020, or prize will be forfeited and may be awarded to an alternate. If winner is considered a minor in his/her jurisdiction of residence, travel companion must be winner's parent or legal guardian. Winner and guest must travel on the same itinerary and guest must sign travel release prior to ticketing. Guest must be of the age of majority unless the winner is travel companion's parent or legal guardian. Winner and guest will be solely responsible for obtaining valid identification relating to acceptance and use of the travel prize packages, including but not limited to, any identification required for any travel and/or hotel accommodations If in the judgment of Sponsor, air travel is not required due to Grand Prize winner's proximity to prize location, ground transportation will be substituted for roundtrip air travel at Sponsor's sole discretion. Sponsor will not replace any lost, mutilated, or stolen tickets, travel vouchers, certificates, belongings or luggage. Sponsor shall not obtain or provide insurance of any kind related to the prize or use of the prize. Winner is responsible for obtaining and paying for any form of insurance relating to the prize, including any life, travel, accident, property or other insurance relative to winner and guest's use of the prize.
Hotel terms and conditions, expiration dates and blackout dates apply. Hotel accommodations are subject to availability and certain restrictions may apply. Standard cancellation policies of the participating hotel apply. Sponsor is not liable for delays, cancellation or unforeseen events related to any flights or hotel accommodations. Sponsor is not liable for any damaged or lost belongings or luggage. Sponsor is not liable for any property damage, personal injury and/or death which may occur in connection with, preparation for, travel to, or participation in the Contest, or possession, acceptance and/or use or misuse of the prize, including as a result of the trip prize (e.g., air transportation, airport transports, meals, and events or participation in any Contest-related activity and for any claims based on publicity rights, defamation or invasion of privacy.
Total ARV of all prizes combined: $50,000 but actual value may vary depending on air flight fluctuations and distance between departure and destination. Winner will not receive the difference between actual and approximate retail value. Prizes are non-transferable. No substitutions or cash redemptions. In the case of unavailability of any prize, Sponsor reserves the right, in its sole discretion, to substitute a prize of equal or greater value. All unspecified expenses are the responsibility of winners. Limit one prize per person or household.
They give you a lot more information than the initial prompt does, and more than most people who don't read the fine print will get.
💡 The trip that they're offering is only 3 days, not 6 days like one might assume from the initial dates in the ad. Also, the trip will be domestic (they don't specify a destination), and you can bring a friend. New information not initially shared in the promotion of the opportunity.
This might influence the direction that you go with your essay's application.
Finally, the Judging Criteria is the most critical aspect of the contest that could really set your application apart.
Clause 5: Judging Panel/Judging Criteria
All eligible Submissions will be judged by Sponsor on or around December 5, 2019 through December 9, 2019. All Submissions will be judged based on the following equally weighted judging criteria ("Judging Criteria"): (a) Creativity; and (b) Most persuasive in explaining why entrant needs a spontaneous winter getaway. In the event of a tie, the highest score in the Creativity category will determine the winner.
Clause 5 expresses that your persuasiveness—your storytelling ability, the shock value of your answer—will be assessed. However, the creativity of your application—the uniqueness of your answer—is the most important aspect to focus on.
What story you tell is more important than how you tell it. Important to keep in mind!
And that makes sense, based on why we established they were hosting this contest: publicity.
A good story can be revamped, repackaged, and resold a million times and make them a million dollars. And all it took was to get you on this one $10,000 trip.
Is it beginning to make sense for companies in the travel industry to host these funded programs and grants?
A good story can be revamped, repackaged, and resold a million times and make them a million dollars. And all they had to do was offer you a free trip!
Click To Tweet
My Brainstorm: Strategic ways to approach travel competitions
We've now walked through why this specific company is hosting a travel contest and why it's a strategic business decision for them, why you should delve deeper into the organization, its mission, and its history before writing your very first word, and how to think outside of the box in your application.
To wrap up this lesson, I want to share some examples of how I might have approached this prompt had I entered:
"In the past I had tried to be spontaneous but it failed miserably…"
"I've been a Type A person my entire life and would never do something as spontaneous as an unplanned trip…"
"I've had a job with PTO limitations that didn't allow me to be spontaneous, but I'd recently gotten a new position that allows for more flexibility…"
"My New Year's Resolution is to be more spontaneous, and winning a competition like this could be the perfect opportunity to implement that…"
Any of these approaches answer the prompt in a way that will no doubt provide a unique, and compelling response that also tells a story.
Having a story surrounding your response makes it easier to understand, more entertaining to read, more unique, and more memorable.
Winning this opportunity, and beyond!
You can apply this methodology of:
Assessing the opportunity
Getting into the mind of the organization, judges, and/or decision-makers
Making sure you stand out, strategically.
And investing the time in executing a competitive application
…on any opportunity. Not just this specific contest, and not just in the travel space—any competition, scholarship, fellowship, job application, etc.
I hope that helped you take a peek into my brain and the methodology that has helped me win scholarships, grants, and funded trips, and more.
If you're interested in more tips to winning paid travel opportunities, look into my online courses where (if you can believe it) I walk you through even more expert application tips and even give you full lists of databases to find them!
---
Did you learn something new that you'll keep in mind in your next application? Let me know the most valuable gem in the comments.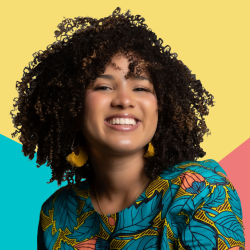 Latest posts by Gabby Beckford
(see all)