Reading Time:
8
minutes
This post may contain affiliate links – meaning that if you purchase something through a link, I get a small payment for it (at zero additional cost to you). It is a much-appreciated way to support this website!
I'm Gabby and a run a travel inspiration and opportunities platform—this one right here, Packs Light!
I'm a full-time, award-winning travel content creator, Gen Z marketing strategist, community manager, public speaker, ebook writer… That's a lot of words even for me, so I usually say digital storyteller, travel entrepreneur, or influencer.
I've previously shared my story of how I got to where I am, full-time digital nomad moving countries every 2-4 weeks, making 6-figures all online.
But now I'm here to break it down so plainly that you'll have no doubt you can become a full-time influencer too.
Note: I write this with the assumption that you have a basic amount of information about influencer marketing and content creation. You generally know the what, but what you're looking for is the no B.S. how of success in this field. Also, there may be one or two affiliate links in this post. Cool? Cool.
1. Share valuable information
Decide what you want to share, and make it valuable.
What is valuable content? Content that: entertains, educates and/or inspires.
Click To Tweet
Content that does these things moves the consumer, and people want to feel moved. That's why they follow you!
Whatever niche you're in, make sure you're sharing what you know, what your audience needs, and what you authentically enjoy.
Making sure your creativity is centered around these 3 pillars is essential for doing this long term. If any of these facts fall to the wayside, so will your business.
2. Share valuable information, consistently.
Now that you know what you like to do, you need to develop the discipline to do it consistently. Choose a day and time, and start weekly, or bi-weekly, or daily if you can. Trial and error until you find a pace that works for you and your life.
By doing this, you'll gradually fall into a more specific niche if you pay attention to what gets the biggest engagement, the best feedback, and brings you the most joy—and you lean into that.
I won't lie to you: Step 2 took me from 2013 to 2016—about 3 years—to get down consistently. I was working and in college, but still, it doesn't have to take you 3 years. It can take you 3 months if you are dedicated, and especially if you skip the trial and error.
Your Travel Influencer Bag (YTIB), is a monthly membership for travel influencers who want to get consistent, quality partnerships, passive income, and successfully grow their brands.
For $25/month, you can have instant access to all past content on pitching, securing long-term partnerships, content creation, and direct access to the same brand partnerships that have helped me surpass my 6-figure revenue goal in my first month of business.
3. Build an audience
You're now sharing valuable information consistently. Woo!
Now, you're worth following.
But just because someone is talented doesn't mean they're famous, right? And to influence, you need at least somewhat of a following (though despite what all signs point to, follower count is not the most important thing. Vision is.)
How many followers do you need to make money as an influencer?
You don't need 1 million followers to be a successful, moneymaking influencer. You don't even need 10,000!
The minimum need for success is a small group of extremely dedicated, engaged, and intimate followers who trust you enough to influence their purchase decisions. It usually ends up that
Of course, having a healthy base of followers can only help! For Instagram, read my article 10 REAL Tips to Gain REAL Instagram Followers (Without Instagram Pods) where my #1 tip is: get off of Instagram. Trust me.
Read: Blue Ocean Strategy* by W. Cha Kim
What platforms should I build my audience?
Again, you have many platforms to choose from and ultimately none is better than the other. There is only what works for you, what you enjoy, what is realistic, and where your audience is. You could build a presence on through…
Facebook
Instagram
Snapchat
YouTube
Twitch
Twitter
Pinterest
Podcast
TV show
Email newsletter
and more!
First, I would say think about where your audience is.
For example: If you're looking to reach teenagers and college students, I would look at building your platforms on TikTok and YouTube. If I were looking to target 50+ travelers and families, I might start a podcast or build a presence on Facebook.
Then, think about what content is most sustainable for you. We all know that video is king content right now, but will you really reliably film, edit, and post a video on a consistent basis? Do you enjoy creating video content? Do you have a knack or skill for filming videos? Or are you terrified of being in front of the camera?
No matter what the statistics and research say, the best content is the one that you authentically enjoy making.
4. Build credibility
In one of my favorite books on marketing, Made to Stick: Why Some Ideas Survive and Others Die* by Chip and Dan Heath, they talk about the two main ways to be credible: credibility by popularity, and credibility by formal recognition.
Popularity = Building an Audience
Humans trust humans that a lot of other humans trust.
It's in our evolutionary design that if all of our friends jumped off a bridge, we would feel instinctively compelled to do so too. So when you have a large audience of people that engage and trust you, any new person who stumbles across you and your content will automatically have a level of interest in trust for you too.
Enter, celebrity culture.
How many celebrities can you name that are, as it is, talentless, but still have million-dollar brand endorsements and appear as public speakers for international events? Now imagine You have that same sort of likable magic, and provide relevant, valuable content, consistently.
You'll be unstoppable!
Step 4 Takeaway: Make people's lives as easy as possible. (We'll revisit this in No. 5 but truly: it pays to be likable!)
Experience = Building your portfolio
The more partnerships (read: work experience) you have, the more trustworthy and expert you appear.
A portfolio of past work showing what you did, who you did it for, and the short and long-term impact it had on that campaign or company will show your value. This is why data & analytics are so powerful in the influencer world, and why if you can understand the numbers of your work, you're way ahead of the game.
Creating a portfolio of your past works can be as simple as a slideshow presentation, website portfolio, or separate folders in a Google drive organized by campaign.
Click To Tweet
Like, "Get more high-value brand partnerships"…OK? How? So often brands keep going back to the same creators because they
Formal recognition = Press features
Again, the more publications—especially well-known, reputable publications— vouch for you as an expert in your area, the more credibility you build.
In my online community, YTIB this is something we go into in depth. The write byline, feature, or mention can give you the precious kickstart you need to begin being considered for speaking engagements, awards, press trips, campaigns, and more!

5. Build relationships
As you build your credibility through work experience, building a dedicated audience of followers that love you and your content, and racking up credible press features, you should be building relationships all along the way.
As in most industries, the most successful people are the ones that are authentically good human beings that others simply enjoy interacting with. You can be an incredibly talented Creator, and have a standoffish personality, and it will make your life difficult.
You could be a mediocre creator, but be extremely charming, responsive, and pleasant to work with, and the business will keep coming back!

So all along the way:
Make positive, powerful first impressions
Underpromise and overdeliver
Be flexible (but don't be taken advantage of). If adding in one reshoot or posting an extra Instagram story will solidify a relationship: do it.
Ask for feedback and testimonials from partnerships. Testimonial pages go miles for your credibility!
At the end of every partnership, interview, or interaction, asked to be kept in mind about future opportunities. You might also offer to check in with them once a quarter to as frequently as once a month to see if there's any way that you can support them again.
Add key players on LinkedIn to stay up-to-date with each other's activities in a professional capacity.
And in that vein: post on LinkedIn often! show people what you're up to, what you're interested in doing, and what you're looking forward to in the coming quarter. If there is a relevant connection, it gives others the opportunity to reach out.
6. Raise your rate 📈
Now you're posting valuable information (consistently), building your credibility, and really becoming established as a brand.
Influencing has moved from a side hobby to something strategic that takes up more than 15 hours per week of your time, which means it's only a matter of time until you hit a breaking point.
Ways to make money as an influencer
You may be making money in a number of different ways (or combination of ways!):
Brand partnerships
Website Ads
Sponsored content
User-generated Content (UGC)
Digital products
Webinars
Physical products
Affiliate sales
Speaking engagements
and more!
But there will be a time when you are saying yes to so many things that you become unable to respond to all of the emails you get or miss completely. You commit to campaigns and realize midway that you are working too much on weekends and late nights. Your quality of work begins to suffer because you're so overwhelmed!
Rule of thumb: if you're saying Yes to everything, you aren't charging enough.
Time to raise your rates!
Rule of thumb: if you're saying Yes to everything, you aren't charging enough. Raise your rates.
Click To Tweet
Start by taking your current prices and begin by doubling them. So if you were charging $1000 for an Instagram static post, you should start charging $2000 as a minimum. If you are still getting more than 90% yes', add more and more to your rate for each campaign until you are at a 60% yes rate.
This is important: at first, it will seem like you're running off all of your business. Because in a sense, you are.
But imagine you're able to get $5,000 for 1 YouTube video, instead of $5,000 for 5 YouTube videos. Fewer clients, fewer deliverables, less headache, and more value for your time.
Only taking on clients who fit your brand mission to a T and paying your minimum rate will help you assert yourself even more as an expert of high quality.
So yes, raise your rate! But really, raise your standards.
7. When you begin saying no to money because of bandwidth: scale.
Hire Someone! You don't have to do it all alone
Another solution to your inevitable availability crisis—an overload of emails, meetings, consultations, content creation, editing, strategy, life, etc— is to begin building your core team. If you can't lower your workload anymore without losing money color it's time to expand your working capacity!
Step 7 Exercise: Identifying Your Time Bottle Necks
1️⃣ Step 1: For two weeks list every task you do for your business in a spreadsheet. In the column next to the tasks, have a column listing who should be doing that task.
It might be…
You
Social Media Manager
Virtual Assistant
Blog Editor
Community Manager
2️⃣ Step 2: Go through the list and see which job title shows up most frequently (aside from You).
This is the order of people you should look at hiring most immediately.
You can find qualified candidates through freelancing directories like Fivver and UpWork. But my personal favorite is through more direct channels like word of mouth recommendations from friends, and posting on my social media.
It's always better to hire someone who already has an affinity for you and your brand!
Invest in Premium tools
If you can't afford to hire someone yet you can look into some tools to begin to pay a premium for some online tools you use.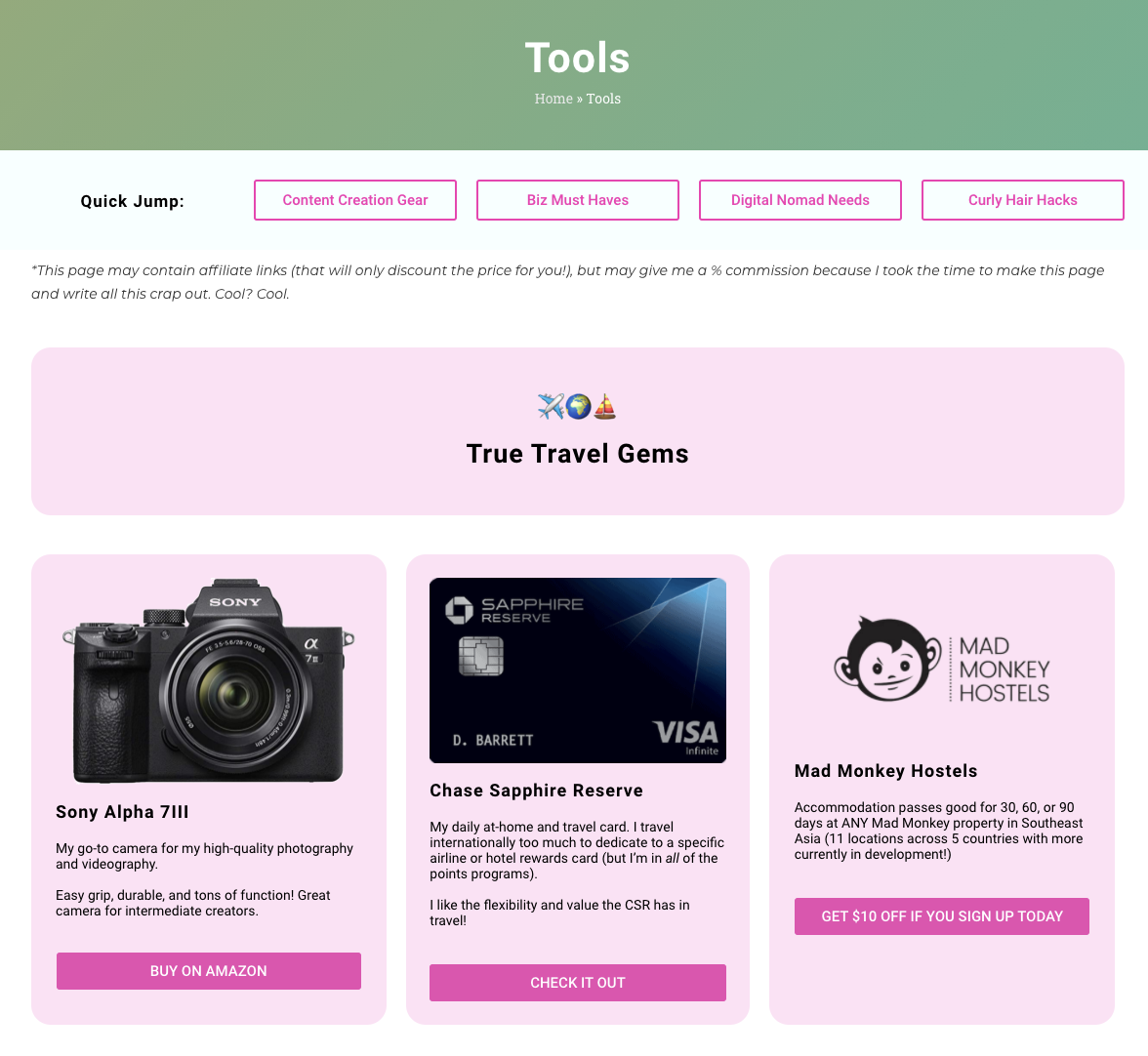 You can see my favorite business tools on my Tools Page, but I pay a monthly charge for the premium version of Notion, my business credit card, my email newsletter service, my Instagram engagement tools, Canva, etc.
This way you can really have those online tools working for you at full-capacity.
8. Innovate
You are now an established influencer with confidence in your niche, your value, your rates, and your team.
And it feels so good, right?!
This is the place you've always been waiting for! Income is coming in, you have (or are close to) the financial freedom you've always wanted, and you are officially an influencer and entrepreneur.
I want you to be comfortable with the idea that you can never be too comfortable. If you think you've found a formula to success, be ready to let it go at any moment for the sake of adaptation.
This is what it means to remain relevant.
Business owners, creators, and even huge multibillion-dollar companies will inevitably fail unless they can adapt to changing Trends. When Tik-Tok first came on the scene, I saw so many creators Instantly reject the new platform. Instead of investigating and testing the new shift too short-form, trendy content, they were desperate to cling to their long-form blog content and 10-minute YouTube videos.
Because I jumped right in creating a Tik-Tok account and testing the platform, it's now my largest account with more than 200,000 followers.
And while you can't hop on every bandwagon that rolls into town, you can investigate your time availability, if you can reuse old content, the audience on that new platform, and the time investment it will take. If it will be a minimal time investment and your target audience is there—get up and go!
If you think you've found a formula to success, be ready to let it go at any moment for the sake of adaptation. This is what it means to remain relevant.
Click To Tweet
Repeat… infinitely!
You've done it. You're here. You are finally a successful influencer!
And I invite you to join the Your Travel Influencer Bag community! Especially if you're somewhere in Steps 1 to 5.
We foster a community of women who want to up-level their influencer journey by connecting each other with real opportunities from time-sensitive brand partnership offers, creator scholarships and grants, content creation and entrepreneurship advice, and my first-hand experience growing from blogging newbie to 6-figure influencer business, and full-time digital nomad.
Join us for instant access to every past campaign I've shared, video response I've made, and piece of valuable influencer info I have. Our next AGA (Ask Gabby Anything!) live session is on October 5, 2021. Will I see you there?
---
Drop a comment below and tell me which stage you're in, from 1-7, and your biggest pain point getting to the next step!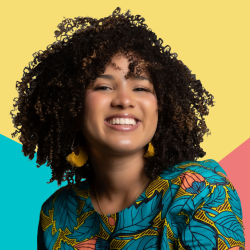 Latest posts by Gabby Beckford
(see all)