Reading Time:
5
minutes
I recently returned from TBEX Stockholm which was July 14-July 16. 
TBEX, actually called the Travel Blog Exchange, describes themselves on their website as follows:
"TBEX is the world's largest gathering of travel bloggers, writers, new media content creators, and social media savvy travel industry professionals."
Which is a mouthful. Essentially, each TBEX conference is an opportunity for travel bloggers, brands, and companies alike to assemble once a year and network with each other, work on professional development, and maybe make some business deals. But most of all, we talk about travel.
I had already made arrangements to be in Scandinavia with my family on a trip before I'd learned of the TBEX conference, and when I saw the dates I thought… this is fate! My blog is less than a year old, but I've always been an opportunist and I knew that going to a conference like this would only be beneficial in me finding mentors and setting new heights to reach with my blog.
So whether you're attending your first TBEX in the near future or you feel as though you haven't gotten the most out of the previous TBEX conferences you've been to, these tips are for you.
1.) Be proactive in your research
This seems obvious, right? As a new blogger, I figured I would go to the first Keynote Speaker on the day I arrived, feel things out, and when I got home that night I would research the companies that and brands I was truly interested in meeting the next few days.
Lemme tell you, that's not what happens. You get sucked up into talking to people, you say "hey, what the heck, I'll go to dinner with this group, networking is important?"… And the next thing you know you're spending $20 for an Uber back to your flat.
No matter what city the TBEX you're going to is in, this is what happens. It's the TBEX effect!
So, before you even get on the plane there, do your research. Look at the companies that interest you, assemble some basic information on them, and print that page out. Study the keynote speakers, look at the schedule of speakers and decide which talks interest you, and of course study the companies that will be at TBEX and make your hit list of your favorite you just have to talk to.
I severely underestimated the amount of time there was to ask questions and get advice, and I wish I'd had more questions on hand. You'll see these speakers at lunch, at after parties, and everywhere in between. To get the most out of their knowledge (and maybe impress them) I suggest having well thought-out, specific questions to ask when you get the chance.
2.) Lead with what makes you unique
If there's one thing that's obvious at TBEX, it's that there are a lot of bloggers. Really, seeing even a small percentage of all bloggers in one building talking about their craft and their approach, is kind of a big reality check, in the best way.
Going to TBEX really solidified to me how important your travel niche is. First of all, if a person sees your blogs and it's similar if not the same as hundreds of other blogs, what is the incentive to be interested in you? Why should they care?
And from a business perspective—if a brand meets 500 bloggers in a day…  How are you, personally, going to stand out in their mind by the end of it?
Every blogger can have a large social media followings, experience with sponsored posts and press trips, had their site for 10 years, etc. Those are Blogger 101 things.
I relate it to applying for medical school. Everyone has straight A's and internship experience—it's sort of expected, right? But… what else?
Focus on your "what else"! Sell your unique perspective, your unique market, and don't be afraid to be completely different from everyone else. We need more of it in this world,
3.) It's okay if you don't get many (or any) speed dates
Especially if it's your first TBEX. Especially if you're a new blogger.
Tons of experienced and established bloggers attend TBEX, and are well versed in how to sell their brand. And sometimes the particular brands that attend that TBEX may not be the best for your niche. It happens.
There are a lot more things to take away from TBEX than a press trip!
4.) Most people are as nervous as you are
No matter how much you feel like the new kid in at high school and everyone else has already been friends since 6th grade, you're not.
TBEX is designed for bloggers and brands who are there to learn and develop their skills. I personally met a majority of people for whom this was their first TBEX conference—I also met a blogger who said this was his eighth conference! When I asked him why, he said you meet new people and learn new things at every single conference.
So be confident, rep your brand and your go in there like you're on a mission!
5.) Go to everything you possibly can.
First of all, let's start with the fact that you paid to be here. You bought the plane ticket, made the accommodations, and adjusted your schedule to be here and learn.
Don't allow jetlag, a hang over, some local hottie (oh, you sly fox!), or laziness mess that up for you.
Even if you're tired, get up and go to every single thing that TBEX plans for you! It's for you. And you'll find the real bloggers, who care about networking and getting the most out of TBEX will likely be at every event.
6.) Network with everyone, whether you've heard of them or not.
Brands. Organizations. Bloggers. Speakers. Dogs. Strangers.
"Networking" is an annoying technical term for meeting and establishing a connection with someone. If you walk in their with a business-only mentality and try to see what use every single person can be to you, you will fail. But if you walk in there with absolutely no intent, you will also fail.
Meet with as many people as possible and don't force your blog down everyone's throats, but also don't forge to establish the connection. You should feel the right time to slide a business card-swap into the conversation.
Speaking of business cards, you have them, right? At TBEX Stockholm I ordered 500 and at the end had only 250.
The point of networking is that you never know who will be able to help you in the future—whether with advice, mentorship, business connections, or just becoming a lifelong friend! It will be tiring, but make a point of meeting and having a personal moment with as many people as you possibly can.
7.) Take advantage of your TBEX perks.
I personally had no idea the extent of the free stuff that is included with your attendance at a TBEX conference. Every person got a welcome bag with little trinkets like pens, bracelets, postcards, etc… But we also got a Stockholm City Pass which allowed us access to tons of local museums, amusement parks, and other tourist attractions in Stockholm, and we also got a complimentary 72 hour metro pass to get around.
What more excuse do you need to get out and do what we travel bloggers do best—explore!
TBEX goes out of their way for each conference to partner with the local tourism boards and get the best perks for it's attendees, so take advantage of it.
8.) TBEX doesn't end the last day—always follow up.
Alas, TBEX must at some point come to an end! But the connections you made along the way definitely should not.
You should have left with a whole lot of notes, a whole lot of other people's business cards, and a whole lot of ideas on how to improve your brand. It's all fine and dandy to collect the information, but what's most important is to organize and implement it!
Go through your notes and make a list of the things you want to do and research further to develop your blog. Follow up with all of those people you met with, "Hey, so nice to meet you" messages, and hopefully add them on social media to keep in touch!
Finally, write post like this, so you can help the next new TBEXer on their professional development journey.
---
Did you find this article helpful? Have you been to TBEX before and have your own tips to contribute? Link your articles in the comments, and let me know if you agree or disagree with any of the tips I mentioned!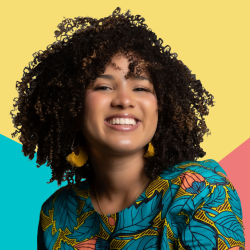 Latest posts by Gabby Beckford
(see all)