Reading Time:
4
minutes
Instagram's newest feature—no, not IGTV. Not Shop. It's called Instagram Guides.
You can now collect past Instagram static posts, Reels, and IGTVs into swipeable groups that serve like listicles. Think of them as public Collections that you can add commentary to!
Here are 5 tips from a full-time influencer and content creator on what you need to know before you hop on the IG Guide bandwagon…
1.)

They look like articles. But they aren't.
I understand the allure of Instagram Guides, namely in that you feel that you can do all of your content creation on one social media platform. "Why have a blog that my followers have to struggle to click to, when I can just make an Instagram guide?"
That's the exact thought that Facebook and Instagram want you to think. And I'm here to stop you!
The only platforms you can ever truly own and control are your website and your email list. Instagram updates and changes way too often to have all of your ideas and content on that platform. Don't do it!
Your website is still your bread, your butter, and your baby. Instead of replacing it with Instagram Guides, enhance it.
Your website is still your bread, your butter, and your baby. Instead of replacing it with Instagram Guides, enhance it. Click To Tweet
Use guides to hint, or introduce concepts that you go more in-depth about in your blog posts.
2.) Your mindset should be: repurpose, repurpose, repurpose.
Guides will be great for both repurposing your old Instagram posts and giving them a new chance for engagement, which you can do by also repurposing your past blog listicle ideas. 5 Things to do in Bangkok can become a super easy Guide using your past IG posts and Reels.
I foresee Guides incentivizing creatives to repurpose and repost content from other platforms like TikToks, YouTube videos, and Tweets onto the Instagram platform with the purpose of bundling them into Guides.
No thoughts. Just reduce, reuse, and recycling your own content.
3.)

You can combine others' content and your own.
Want to make an Instagram Guide on "The Top 10 Things to Do in Washington D.C." but missing photos a few of your favorite suggestions? No worries!
Just make sure you've saved the outside content you're looking to use in your Guide beforehand and you can mix it into your content to make a cohesive bundle.
This is a golden opportunity to earn brownie points with other influencers or potential brand partners 👀
4.) Links are not clickable. Womp.
Sadly, links are not hyperlinked (yet?) in Instagram guides. Obviously, Instagram does not prefer us to drive our followers off of the Instagram app. You have to wonder why…
Knowing this, here are your two options:
Make the links typable.

Use custom link-shortening service like bit.ly/ to make your links short, and easy to type into their browser.

If you have swipe-up capabilities,

make every IG Guide an Instagram story highlight. Share the Guide to your stories, and then add a hyperlink to the associated blog posts. Then, drive IG Guide readers to your IG Highlights.
New Guide readers flow will then be: Guide ➝ IG Highlight ➝ blog post.
5.) Instagram Guides

do not

have analytics.
Instagram Guides do not have any way to let you know how many people viewed, scrolled, or clicked through your guides. I expect this will roll out in the coming months.
Until then, keep that in mind when creating them and leveraging them in brand partnerships.
6.) Quickly begin thinking of Guides as another avenue in brand partnerships.
A new feature means a new way that you can use to bring value to partnerships and your own products. Because there's no way yet to track analytics, Instagram Guides are likely best used to package with Instagram Posts, Reels, or IGTV content deliverables for now.
ex. Packaging 2 Static Posts, 2 Reels, and 1 Guide of those deliverables, to combine them all into a cohesive reference point. You can add
Here are some talking points about adding Instagram Guides to bring value to a partnership:
Instagram always rewards using their newest features with increased exposure…
New features tend to garner the most interest from app users, no matter the content…
Guides will make sponsored content packages easier to find and engage with…
Instagram Guides do not have a sponsored function (yet?) so a sponsored guide can be recognized by the platform as organic…
How can you use the new Instagram Guides feature in your brand partnerships? Start with these ideas. Click To Tweet
7.) People (and brands!) can see when you use their content in your guides.
This is the most intriguing, and valuable aspect for me. When you use a person or business' IG Reel, IGTV, or Post, they get a notification in just like "someone liked your photo" except saying "someone used your content in their Guide".
You just can't help but click on a notification like that!
And if you've taken the time to add an intentional title and subtitle to their content and promote it in a flattering way, who knows? Maybe they'll send you a thank you, or even better, be interested in officially working with you.
Instagram Guides have the potential to help revive your older content and get saves, likes, and comments on your new content as well. This is hopefully your sign to be more intentional about batching your content ideas as well!
So much potential with this new feature. Play around with it, see how it can best serve your content.
---
Are you going to try out Instagram Guides soon? With what content?
[one_half]
[/one_half][one_half_last]
[/one_half_last]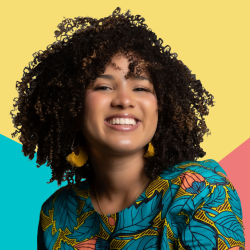 Latest posts by Gabby Beckford
(see all)