Latest posts by Erin-Marie Huyser
(see all)
Reading Time:
5
minutes
The Young Traveler's Network series showcases candid guest interviews of young people worldwide and the inspiring stories of how they navigate their lives and travels. They share their stories to educate, inspire, and empower others to see the world!
This week a Young Traveler named Erin-Marie Huyser, 26, shares her local tips for enjoying Nantucket, MA.
---
Planning a trip to Nantucket? Great, you're already doing something right! This tiny island in Massachusetts off the East Coast of the U.S. is a summer vacation paradise. In the winter, or "off-season", Nantucket is your quintessential New England seaside town. Whether you're a nature-lover, partier, or just in search of some high-end retail therapy, Nantucket has something to offer.
During the high season (May to October), the island transforms from a sleepy town to a vibrant tourist destination with great nightlife, gorgeous beaches, and all the summer fun one could dream of.
As an islander myself, here are my top suggestions so you can make the most of your time here.
Getting to ACK
Nantucket or "ACK" (a popular nickname for the island based on the airport code) really is 30 miles out to sea—and no, there is not a bridge! In fact, you're not only traveling 30 miles out to sea, but to the second most eastern point in the United States.
The best option is to take the high-speed ferry which will get you from the mainland to the island in an hour.
Pro-tip: get yourself a Bloody Mary to sip on while enjoying the view. Make sure you head up to the outdoor deck in time to catch your first glimpse of Nantucket harbor!
Is Nantucket budget-friendly?
In short, no. Nantucket is notoriously expensive (think the Hamptons, but more exclusive. Plus, it's an island so space is at a premium).
Expect NYC prices when dining out, and don't bank on finding a cheap motel, the average price of a hotel room on the island averages well over $300/night in the high season.
Budget accomodation options in Nantucket
In terms of accommodation, Airbnb or VRBO are your best bet. Look for something near "town" (meaning the area surrounding the ferry docks and Main Street) so that you have easy access to a variety of places to shop and eat.
Nantucket is extremely walkable, with sidewalks lining the downtown area and bike paths covering much of the island. Plus no matter where you stay, you're never too far from the beach!
wherever you stay in Nantucket you're never far from the beaches
Click To Tweet
Another great (and definitely the most affordable) option for where to stay is HI Youth Hostel, the island's youth hostel. The Youth Hostel is a practically beachfront property, located right next to Surfside Beach, one of the island's most popular beaches.
What to do during a weekend in Nantucket
Nantucket Beaches
First and foremost, you come here for the beaches—Nantucket is iconic for its coastline!
Check out Nobadeer Beach on the Southside of the island – popular amongst surfers and locals. If waves aren't your thing, stick to the Northside of the island where you'll find calm water and the best sandbars.
Get into the History
If you're not a beach person (is that a thing?)… don't worry, Nantucket is steeped in history. It's most well-known for being the whaling capital of the world of the 1800s, inspiring Herman Melville's Moby Dick.
Check out the Nantucket Whaling Museum's 46 ft. sperm whale skeleton!
Enjoy the Nightlife and Bar Scene
The nightlife is universal, whether you're looking for a wild night at the bars in town or an acoustic sing-along at a starlit bonfire on one of the island's beaches.
The great thing about a night out on Nantucket is that you can bar hop on foot! The downtown area has countless options, all nearby to one another, and exploring by foot is the best way to find the vibe you're looking for.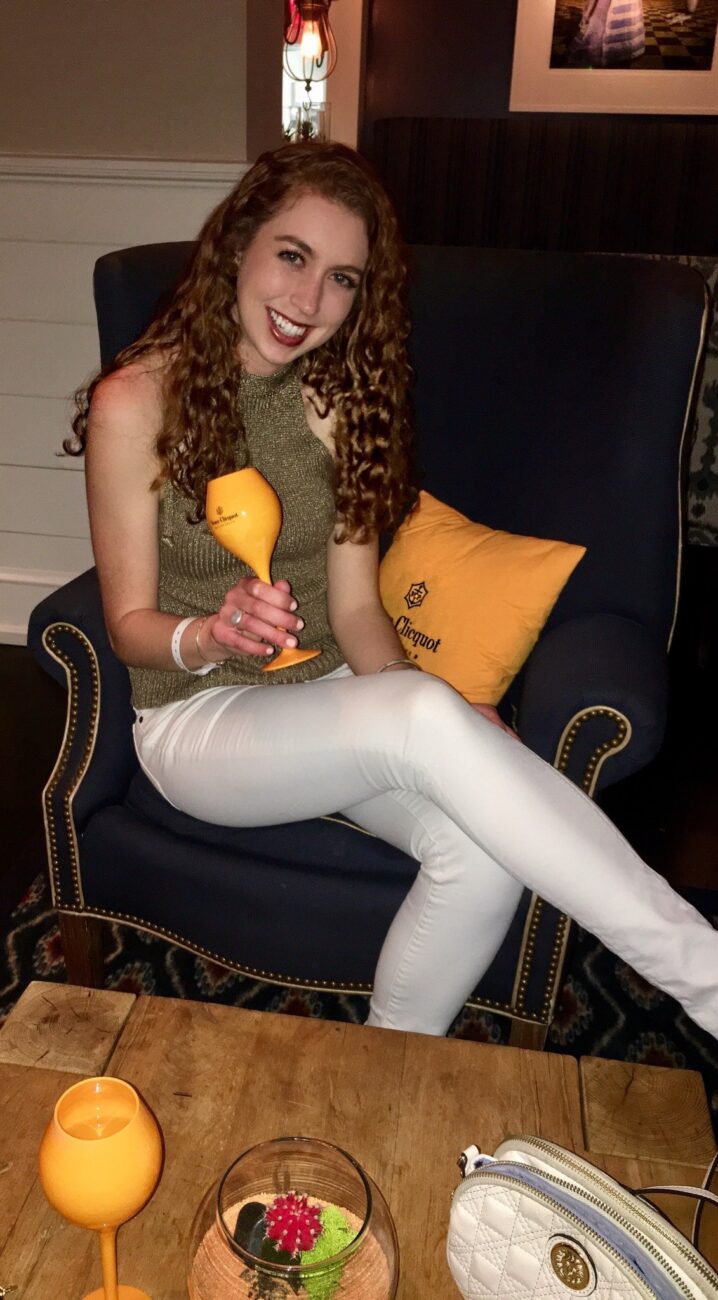 PSA: stilettos and Nantucket's cobblestone streets don't mix. Ladies, if you want to dress up I recommend wedges.
Getting around Nantucket Island
Rent bikes! It's the best way to get around, beat traffic, and take in the island. The bike paths will take you almost anywhere you need to go. Plus, this way you can bike directly from the beach to the brewery.
And for those late night, Uber will be your friend.
The Best Eats for the Beach
Cook's Cafe
There's nothing more satisfying than a good sandwich on the beach!
After you rent your bike from Cook's Cycles, head next door to Cook's Cafe and grab a wrap or two from their menu of internationally inspired + healthy wraps. This place is a favorite amongst many locals and Cook's is also very vegetarian/vegan friendly.
I suggest the Bangkok Chicken (trust me, you will be dreaming of the spicy peanut sauce for months to come…) or the Falafel Wrap.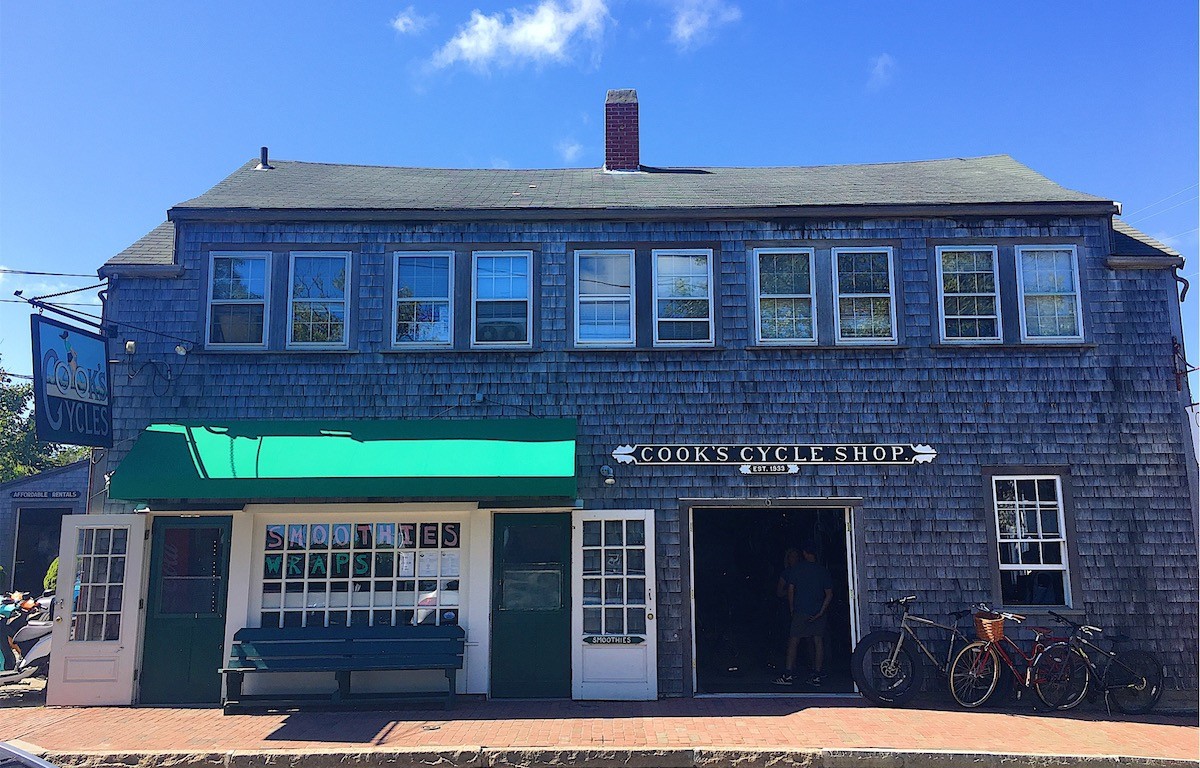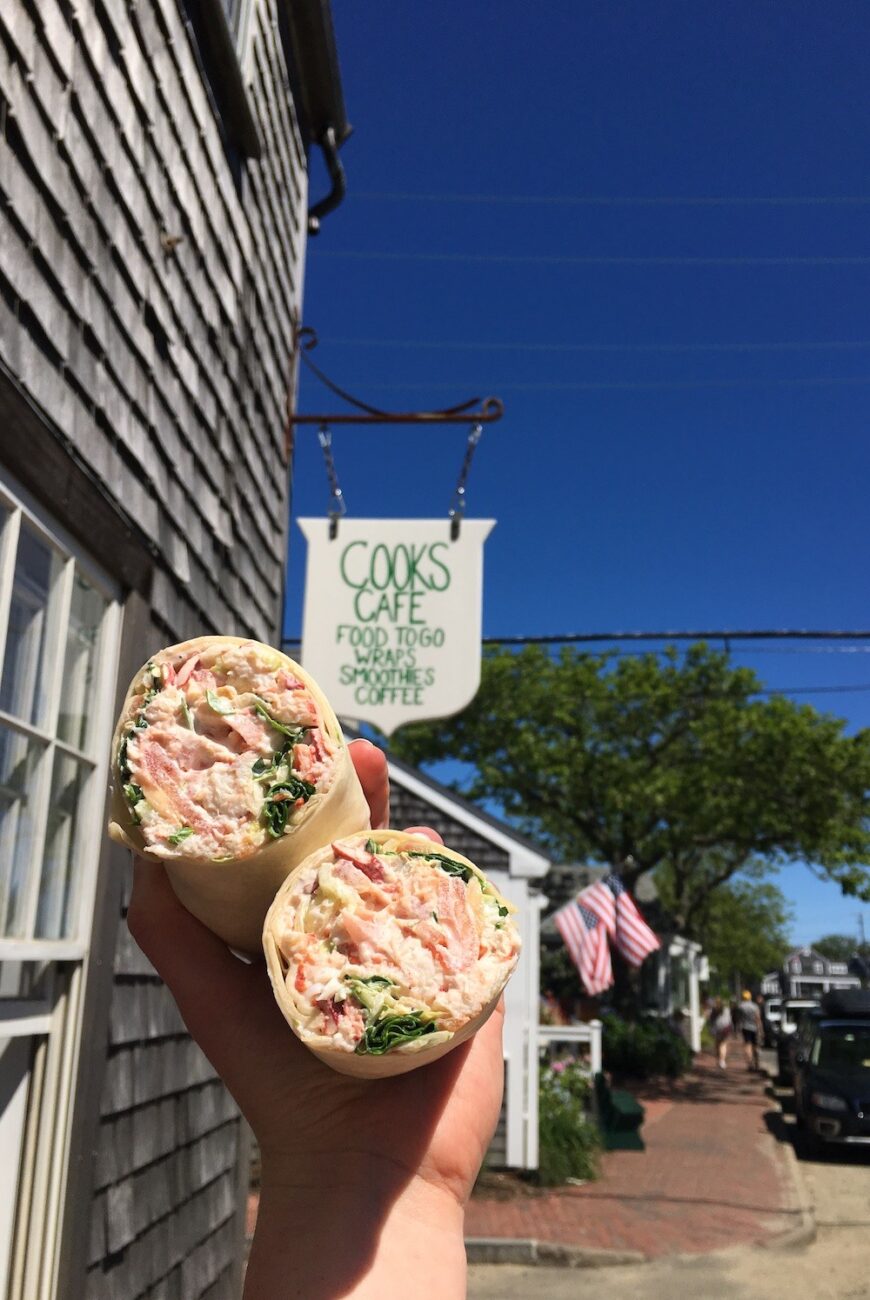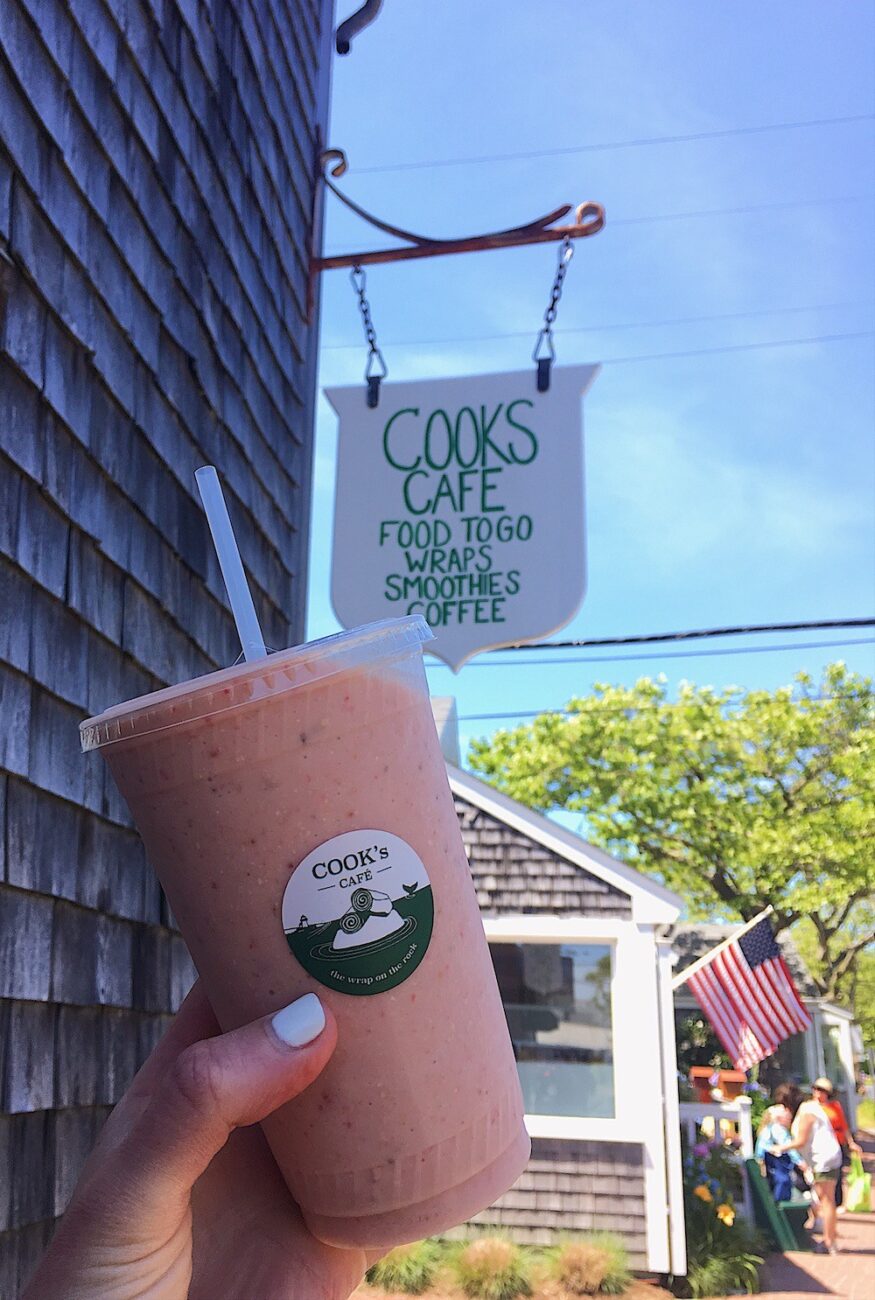 Something Natural
This bakery and sandwich shop is an island institution, entering its 50th season this year. Something Natural is famous for its massive sandwiches, stuffed with fresh ingredients and served on the freshest bread you have ever tasted.
Try the Portuguese Bread! But then again, you really can't go wrong here.
Cisco Brewers
You haven't done your beach day right unless you finish it off with a trip to Cisco Brewers. Literally, roll up with sand still in your pockets and grab a drink. Whether your thing is craft beer, infused vodkas, cider, or wine… this place is for you.
The best time to hit the brewery is between 4 and 7 PM – just in time for the live music.
In ACK? You gotta try the Pineapple Express or the 888 Blueberry Lemonade. If you're hungry, grab a lobster roll or Nantucket bay scallops wrapped in bacon from the Lobster Trap food truck.
Click To Tweet
Sandbar
"Buck-a-shuck" $1 oysters and clams?! Get yourself to Sandbar (from 3 – 5 PM) and don't forget the frosé.
One of the only spots you can actually eat on the beach on Nantucket!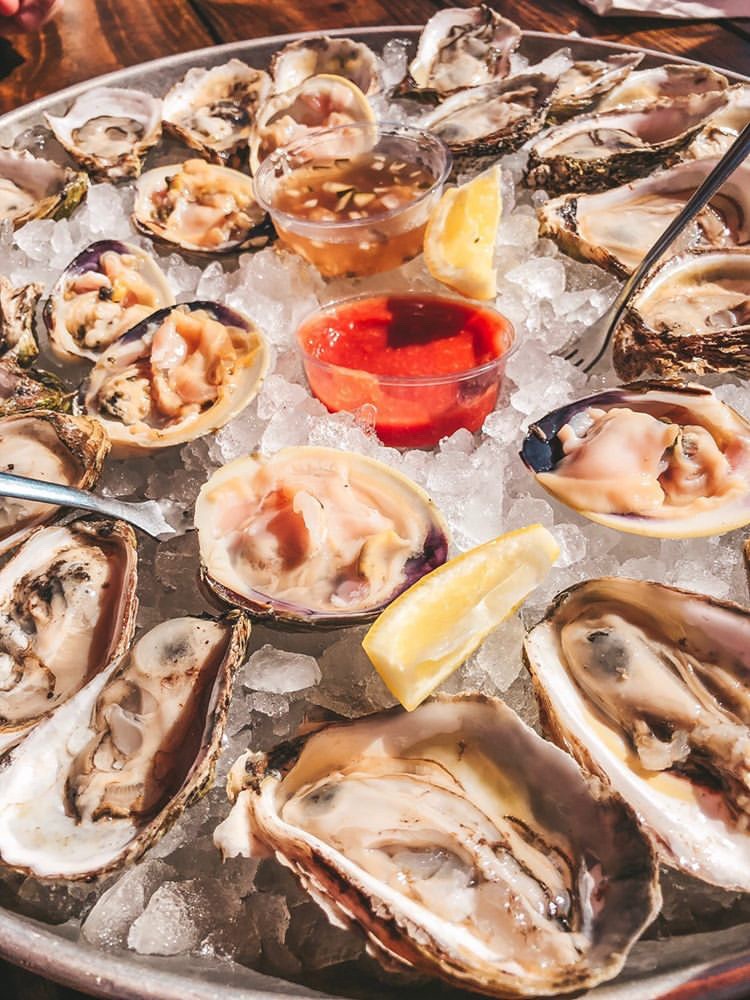 Juice Bar
Pick any of the dozens of homemade ice cream flavors at the Juice Bar and stick it in (what I can guarantee will be) the BEST waffle cone of your life.
The line is obscenely long, but honestly, if you love homemade ice cream and waffle cones, it's worth the wait!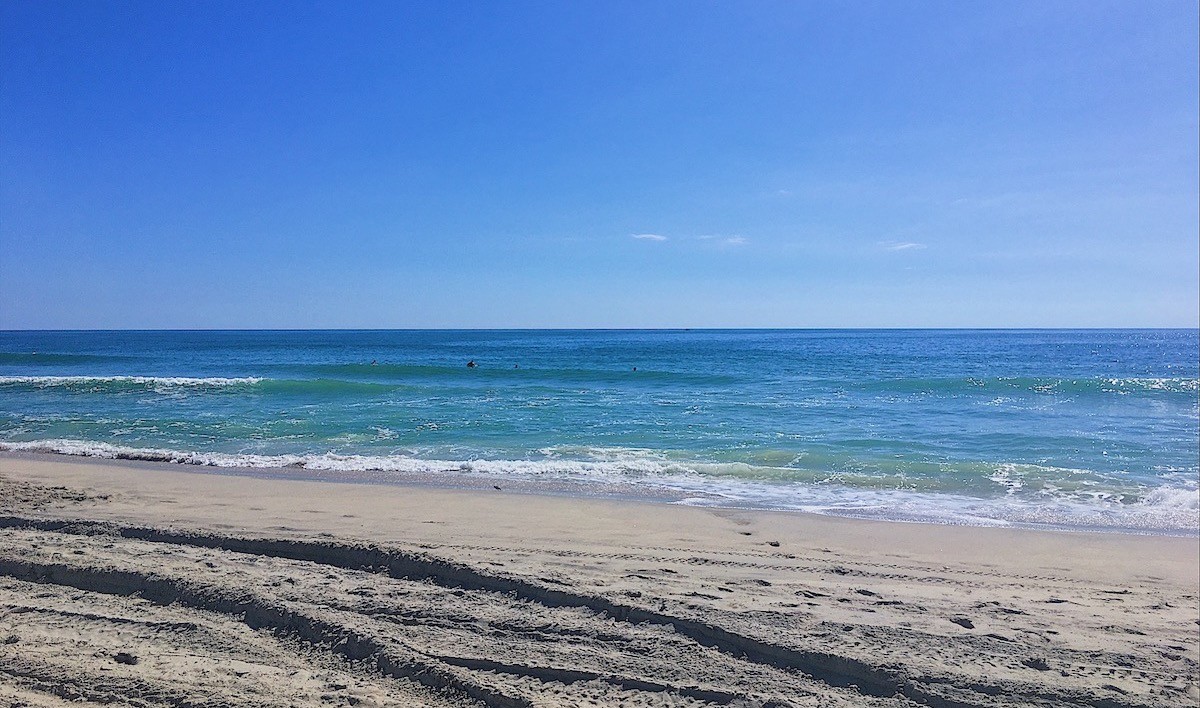 Late Night Eats
If you want the full island experience, there's only one place you can end up, and that's The Chicken Box. Live bands, cheap booze. This is your glorified local dive bar. Enjoy!
On the way home, grab some fried food at Stubby's. This is your classic spot for late-night munchies, and the after-bar scene here can be almost as fun as the bar scene. You'll find Stubby's located on Broad Street, known to the locals as "The Strip".
What does "Nantucket" mean?
The name, Nantucket, is adapted from a similar Algonquian (the local Indigenous American tribe) name for the island, meaning "faraway land" or "island".
What state is Nantucket in?
Massachusetts.
How far is Nantucket from Boston?
A 3 hour 40-minute drive and ferry ride, or a 45-minute direct flight on Jet Blue.
What's the best way to get around the island?
Rent bikes!
---
Do you have any recommendations for Nantucket Island? I'd love to hear them, comment below!