Reading Time:
5
minutes
Welcome to Tbilisi, Georgia! You're in for a great trip, and a great stay.
Perhaps you're here because you caught one of the new Gulf Air or FlyDubai flight deals here like I did, maybe you've heard about the amazing food and wine here, or maybe you were trying to catch a flight to Georgia the American state and you just ended up here (hopefully not, but enjoy anyway!).
Either way, you're here now, and you will no doubt have an amazing time!
This article gives a great brief of the country and some logistical things like visas, transportation, and the local culture.
Tbilisi is the capital of Georgia and is truly a one-of-a-kind city. It combines old–post-Soviet era, hundreds of years of history and culture, and stunning natural landscapes–with the new–splashes of modern architecture, theater, and a buzzing art scene!
Not to mention the best wine I've ever tasted in my life (no exaggeration, at all), and gigantic portions of the local food.
Tbilisi definitely isn't short on fun things to see and do. So the remaining question is: where will you stay?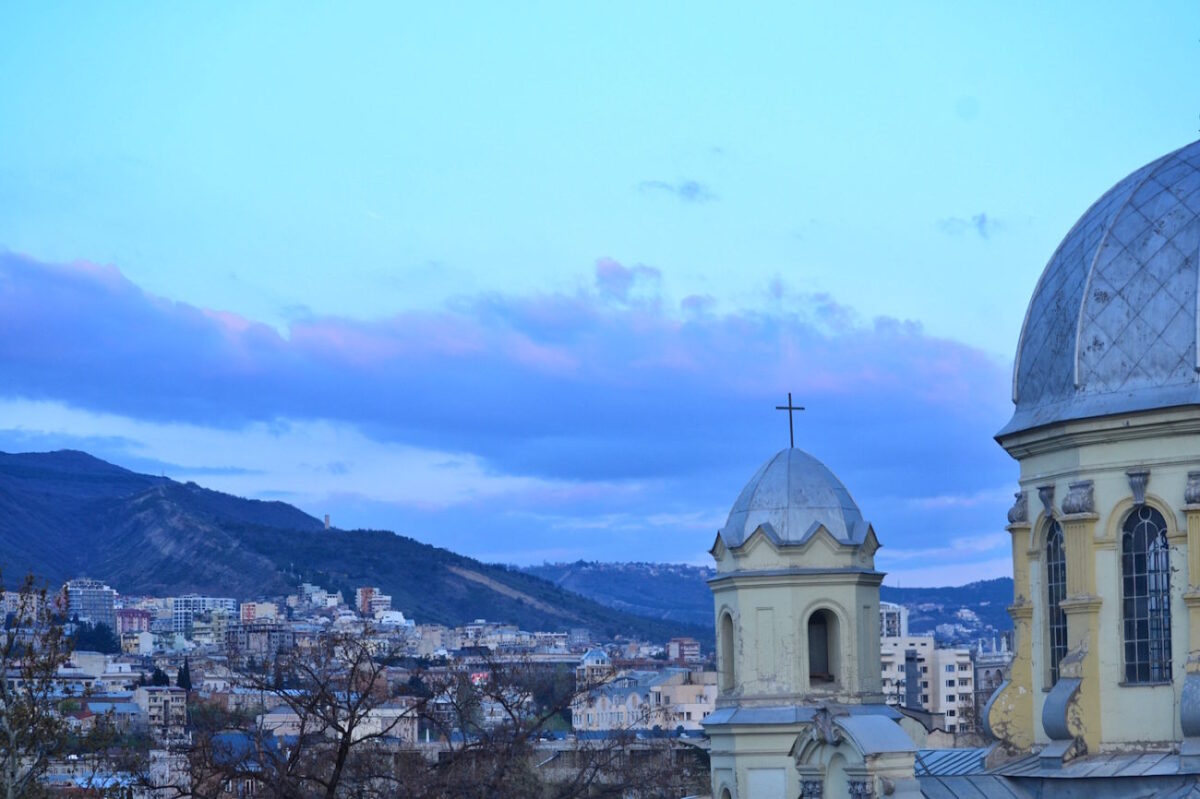 The best way to decide this is to plan ahead and make sure you consider all of the details of your trip so you can find the place that fits you best.
For example, location–near as close as possible to the center of the city, or a little out of the way?
Also, what sort of experience do you want–do you want a quiet place for a family or a place with awesome night life?
What price range do you want to stay in, and what outside factors should you consider too for the total cost? Will breakfast be included? Will you need to taxi to get there, or do you want walking distance?
As you juggle all of these things in deciding where to stay, you'll probably consider the obvious options.
Airbnb is an amazing option, and you'll for sure find an abundance of cute apartments, homes, and housing available for a Georgian (meaning very affordable!) price. And of course, there's the option to stay in one of the many hotels in the area. Yawn.
Listen. Finding a place to stay in Tbilisi isn't impossible, or even difficult on that measure. However, finding the best place to stay to make your trip perfect from beginning to end can be tricky.
But, there's no need to roll the dice with an Airbnb where the host and the quality of the accommodation could end up different from the website listing. And I believe staying in a hotel won't allow you to experience the real Tbilisi, with a chance to interact with locals, get first-hand experience with the culture.
When you come all the way to Tbilisi, it's better to be safe than sorry when it comes to where you rest your head and where you start each day!
That's why when I went on my last-minute adventure to Georgia, I was recommended to stay at the Fabrika Hostel by multiple people. And after staying there, I can't help but recommend it to anyone else who wants to stay in Tbilisi at a place that is young, artistic, affordable, and honestly suitable for every age and travel style.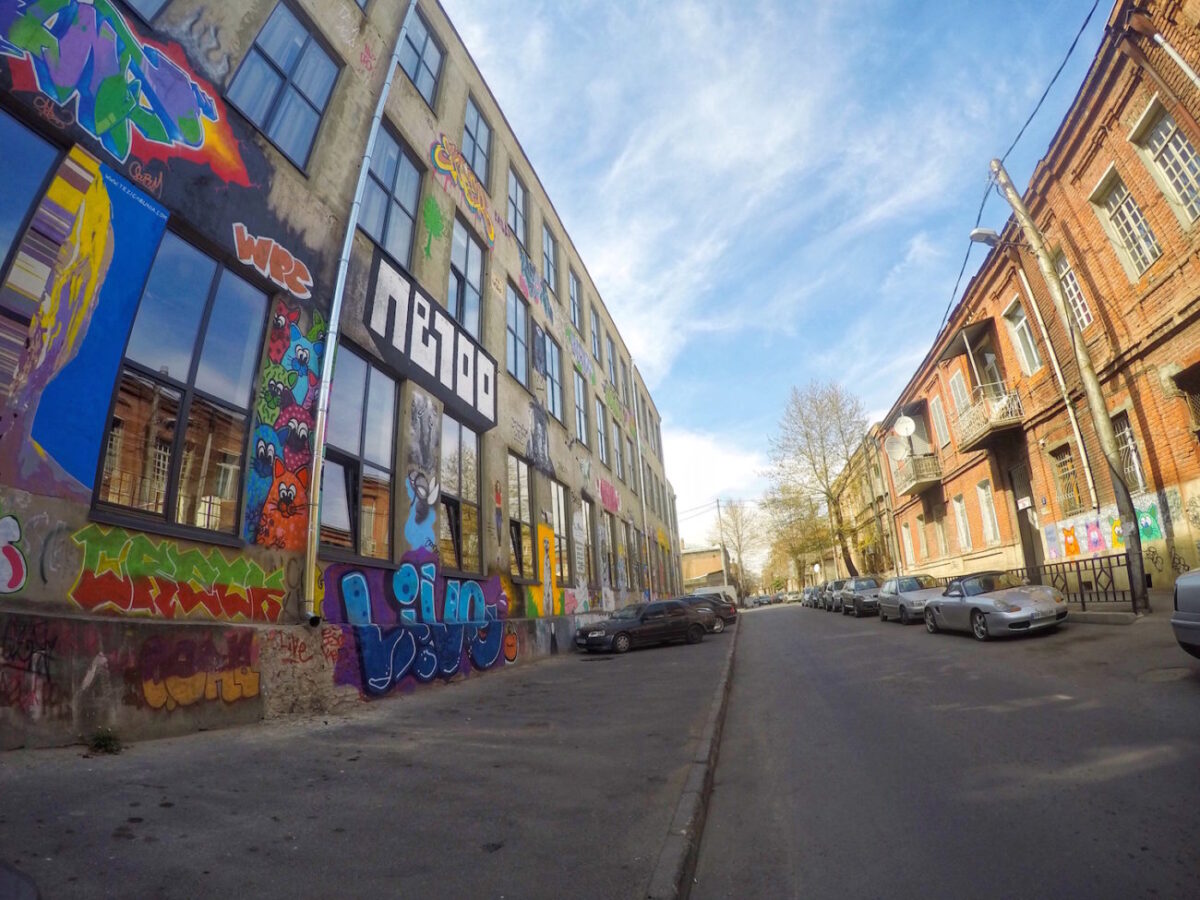 The hostel has more than 98 rooms with a price range to fit any group or solo traveler—from $9 per night mixed dorm rooms to $99 per night full apartment suites to fit a family of four.
So, first of all, the hostel itself is renovated Soviet sewing factory. How cool is that? They incorporate the building's history in the present-day design, in the funky, comfortable furnishings and many cool mix-match carpets on the floor!
Straight from their website, here is a list of their amenities:
24/7 reception
FABulous social spaces
Multi-purpose event room
Private suites & Dorms
Luggage Storage
Laundry Room
Secure key card access
Free Wi-Fi
Delicious Breakfast buffet
Bar
Outdoor courtyard loaded with various cafe/bars, artistic studios, workshops, concept stores, co-working space, creative education school and ever-changing one-off events!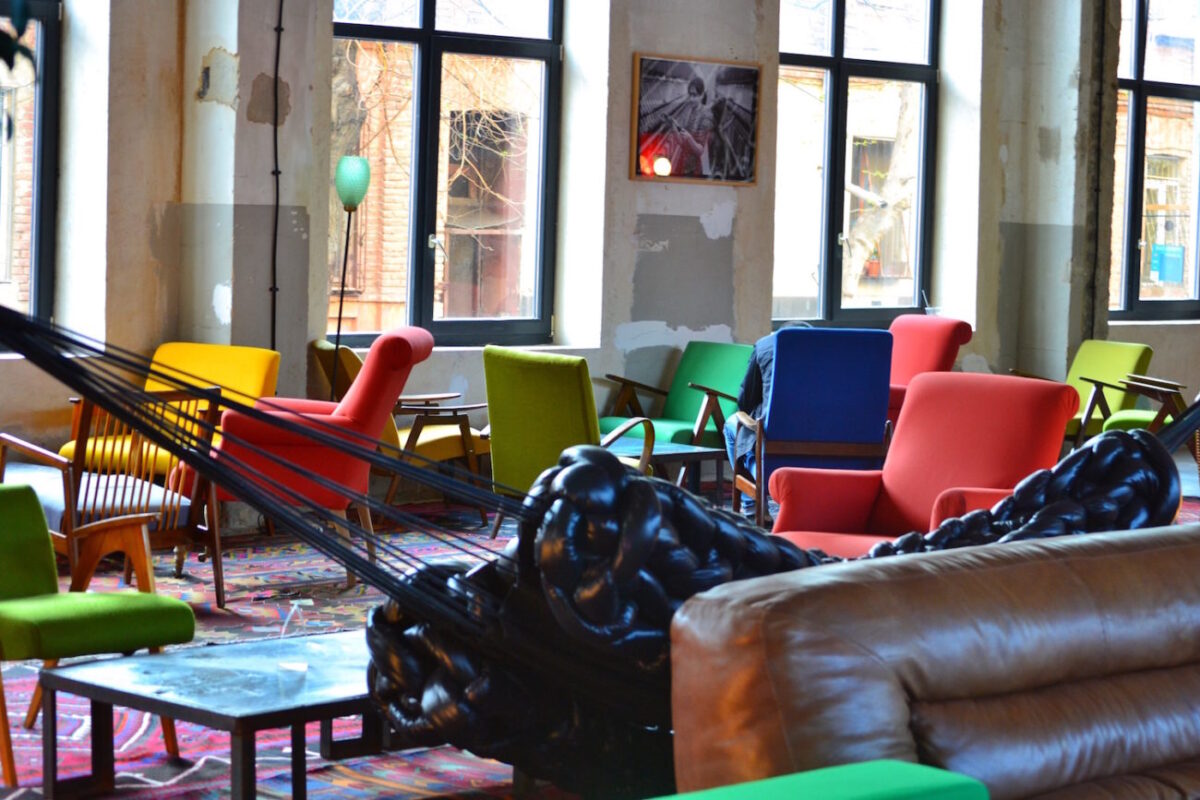 In terms of actual living space, you won't be disappointed either.
I was lucky enough to stay in the terrace apartment-style suite, and "bang for your buck" does not begin to describe my experience!
I mean, look at this room!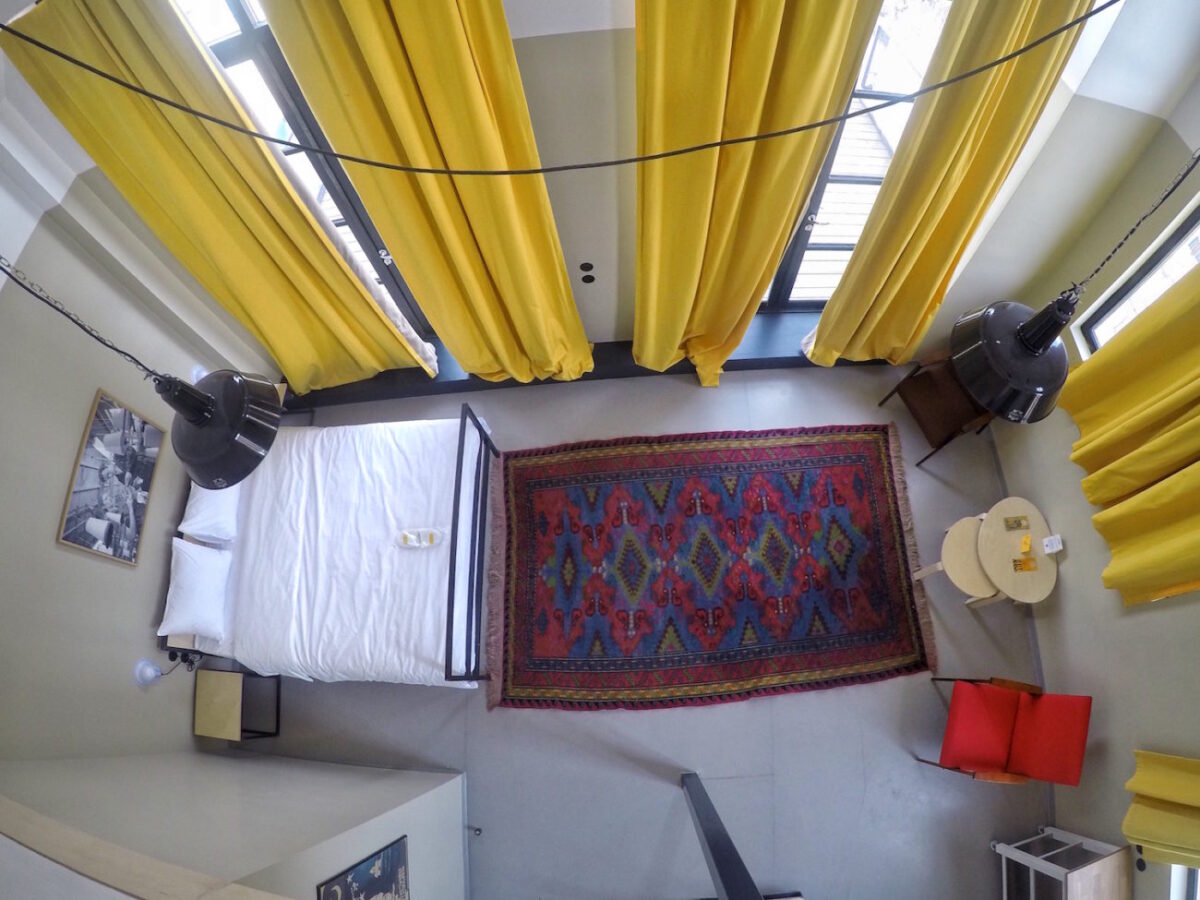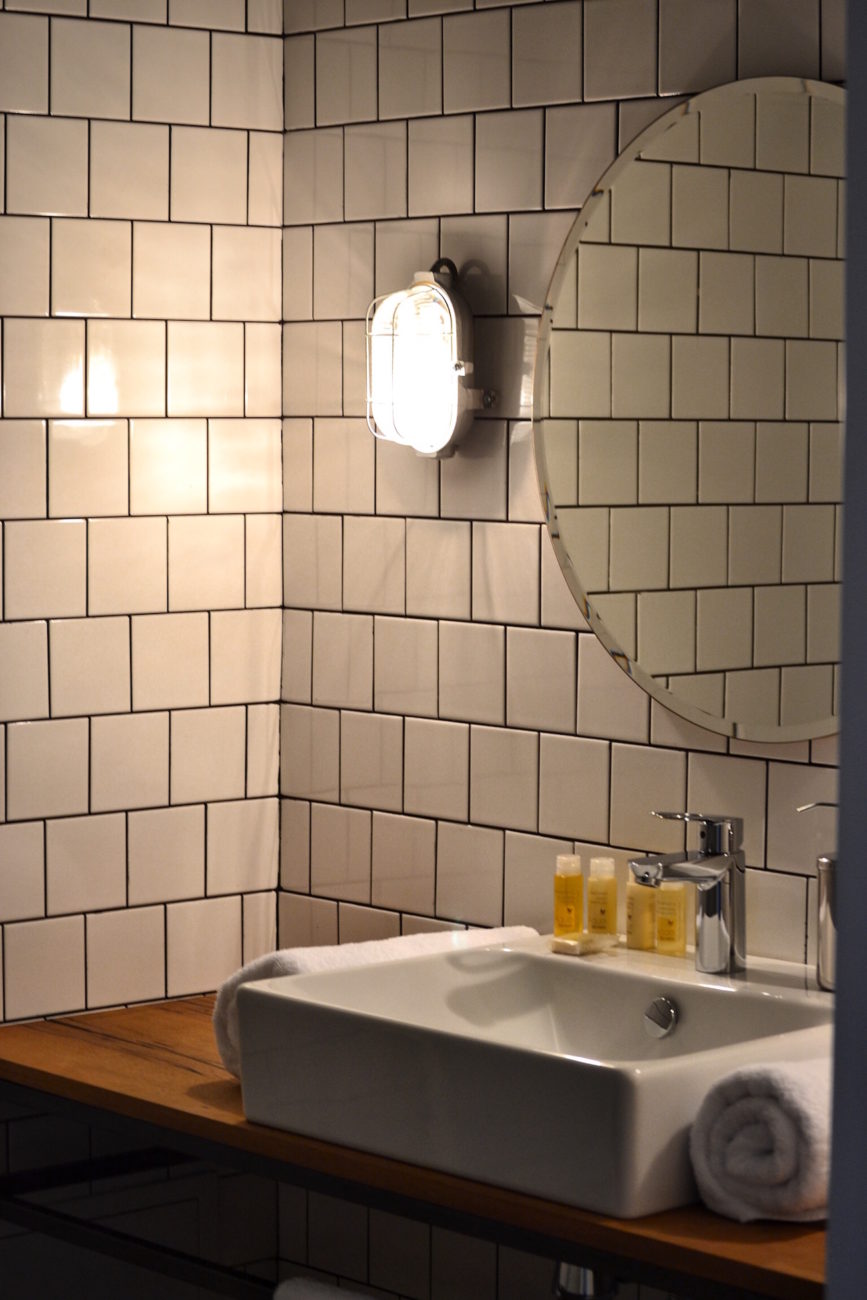 My suite had a private bathroom, a king bed (as seen in the photo), two twin beds in the loft above, incredibly tall ceilings and windows that let the natural light shine in, a small kitchenette, and dining ware, and of course a terrace!
The terrace provided a stunning view of the city!
Also important notes were how freshly clean the room was when I arrived, and how comfortable those beds are. I slept like the goddess I like to pretend I am.
An unexpected surprise I found by staying here is that at night, the hostel turns into the local hotspot!
Local Georgian's and travelers alike came to Fabrika to hang out indoors, but also in the outdoors common area with multiple bars and a courtyard to socialize in!
My stay was absolutely spectacular, and I'm sure yours will be too at Fabrika. To address my earlier points:
Price range:

From $9-$99 and an assortment of room sizes and types, literally anyone can be accommodated here for a great price. Breakfast is also insanely affordable and is a delicious buffet, so you will save money by using that!

Location:

Prime location, and easy walkability to the main tourist centers of Tbilisi. A 5 min walk to dry bridge, 8 min walk to Marjanishvili Square, 5-10 min walk to "new tiflis", and a 15 min walk to old city. No taxi necessary, unless you want one. In that case, the staff at Fabrika can get you the best rates!

Environment:

Fun, young, creative. Lively enough to keep you entertained and facilitate a great social experience, but designed in a way that you can relax and read a book without feeling out of place and still get a great night's sleep. Perfect for family, friends, or a 21 year old solo traveler (aka, me)!
Have I convinced you?
If not, head over to their website here and find out more information, and see for yourself. And hopefully, book today!
***Disclosure: I was compensated 2 complimentary nights stays at the Fabrika Hostel. However, as always, my opinion and views are completely my own, and I would never recommend a product or business that I do not support myself 100%!
---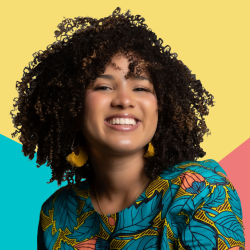 Latest posts by Gabby Beckford
(see all)