Reading Time:
3
minutes
I was in Cartagena, Colombia for 2019 New Year's Eve when I noticed something peculiar while expertly navigating (read: aimlessly wandering) the streets of Cartagena.
While looking around on Google Maps for popular tourist spots I should check out, I noticed something interesting.
The Airbnb that I was staying in was in a barrio called "San Diego". Being my home town in California I found that interesting. But the more I looked on the map, the more locations I saw…
Come to discover that the city of Cartagena is filled with barrios (neighborhoods) named after dozens of foreign countries and cities! From the United States to South America to the Middle East, I found more than 15 mostly foreign "location" barrios within the city limits.
Armenia? Buenos Aires? Boston? It doesn't take a flight to see these places—they're all within the Colombian city of Cartagena. See for yourself.
Click To Tweet
What are the names of all of the "location" barrios?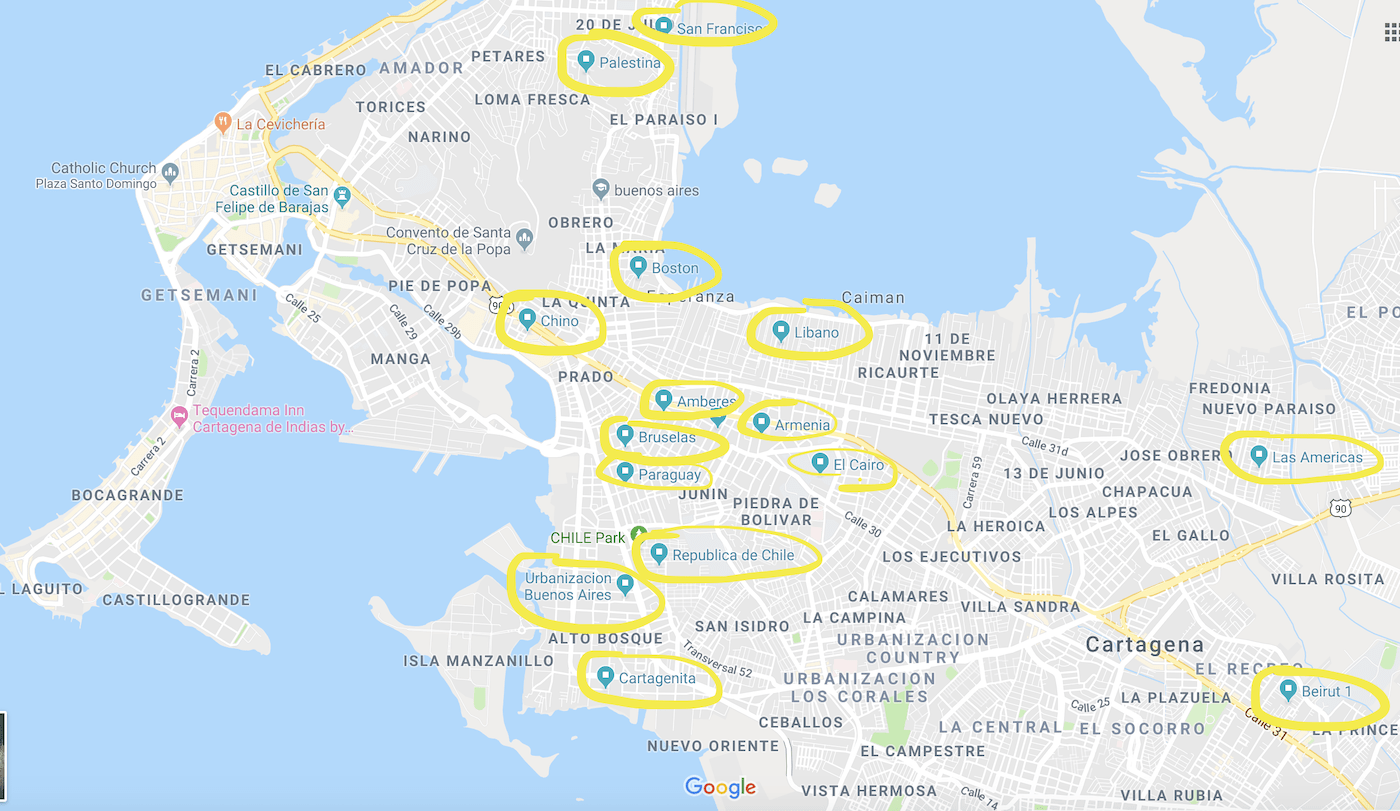 The list below is all of the barrios that I could find.
Bruselas (Brussels) 🇧🇪

Republica De Chile 🇨🇱

Paraguay 🇵🇾

Buenos Aires 🇦🇷

El Cairo (Cairo) 🇪🇬

Santa Domingo 🇩🇴

Venezuela 🇻🇪

Los Angeles 🇺🇸

El Barrio Chino (China) 🇨🇳

Colombia Town 🇨🇴

Cartagenita (Little Cartagena) 🇨🇴

Beirut 🇱🇧

Armenia 🇦🇲

Espana (Spain) 🇪🇸

Amberes (Antwerp) 🇧🇪

Boston 🇺🇸

San Francisco 🇺🇸

San Diego 🇺🇸

Libano (Lebanon) 🇱🇧

Las Americas (The Americas)

San Juan 🇵🇷
As you can see, not all are foreign exactly, but the fact that these barrios are named after places in more than 4 continents and 10 countries peaked my interest.
Why are the Cartagena barrios named after foreign countries and cities?
My friend and local guide Maria from Discover Cartagena by Locals told me that unfortunately there is likely no interesting story behind why the barrios are named so exotically (if you know otherwise, please leave a comment). It's likely just a fun, functional way to name the many barrios. Slightly anticlimactic, I know, but it makes you wonder.
Who named them after places, and why? Why those places? What do Boston, Armenia, and Brussels have to do with each other? Futbol teams? Someone's vacation spots? Picked out randomly on a map?
Seeing the names of all of these places made me so curious, and really made me want to see each barrio for itself. Which is exactly what I hope you do if you're a Cartagena local or visitor who will be in the city for an extended time.
Are there unique things to do in each barrio?
Most of the barrios are in less touristy areas and are legitimate local neighborhoods. Aside from the odd corner store or salsa bar most don't have many worthwhile spectacles that you would find in the Walled City or Getsemani. The barrios themselves are not designated by strict lines or street names, they are just general areas.
The barrio named San Diego where I stayed is probably the most lively with the most tourist foot traffic as it's right on the beach and still offers an authentic Cartagena experience. There are lovely restaurants and walking areas in San Diego, including Plaza de San Diego where I entered in the New Year.
The beautiful city of Cartagena has so much to do and experience but this aspect of the city was one that I have never read in any blog post or magazine. I wanted to share this quirky Cartagenian factoid, and interest you even more in this South American city so you'll visit it and its beautiful barrios yourself one day.
Get more bang for your buck—visit 10+ countries by going to only one city.
Click To Tweet
---
Do you know of any more "foreign" named barrios in Cartagena? Planning a trip to the city soon? Leave a comment, and pin one of the images below so you can use this article later.
[one_half]
[/one_half][one_half_last]
[/one_half_last]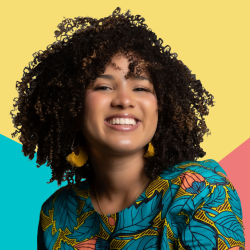 Latest posts by Gabby Beckford
(see all)