Reading Time:
5
minutes
Latest posts by Sarah Krieger
(see all)
As a young traveler, I've experienced more than my fair share of mistakes made while traveling around the world. Learn from my mistakes so you don't have to repeat them!
1. Not living in the moment.
When visiting the Dead Sea we had more time there than we expected. But, this also led to a full photoshoot rather than just floating in the sea. I've also been to the Dead Sea 3 times, but I still wish I would've cherished the moment more because it is a unique experience rather than taking so many photos and videos.
2. Not taking many photos or videos because you're self-conscious.
This point is a contradiction from living in the moment but you'll also want to look back at photos and videos to help jog your memory.
On my feed, I'll post photos of myself, but a lot of times my story on Instagram is from the point of view of my camera facing whatever object rather than me with my face showing as I'm describing it.
I think it adds a personal touch but can be intimidating to get in front of the camera, I can become flustered but, practice makes perfect! If we can take selfies then we can take videos of ourselves talking to the camera, right?
3. Not backing up your photos and printing them.
I have yet to lose all my photos while traveling but, it is something I'm always paranoid about happening. This is why backing up your memories to multiple places online is a good idea.
I've had on my to-do list for a very long time to print my photos and make albums to view later. There is something special about having a hard copy and not just viewing it on a screen or in the cloud.
4. Not reading most of the guide before your trip.
While traveling through Italy, I brought a huge guidebook with me even though I was using Rick Steve's app for museum tours and I wrote down a list of the things I wanted to do from my friends' suggestions.
At the time, I wanted to be able to read about history while living it. But, most of the time, there wasn't much downtime and when there was (while traveling on the trains), it was nice to nap and rest to be fully charged for our next activity.
Reading most of a guidebook before you go and use the app Libby (linked to your library card) or another reading app such as Kindle to view the material later. Much easier, and lighter.
5. Not packing practically.
Wearing the wrong shoes for long walks causes blisters that aren't cute – Ouch!
I'm guilty of saving some of the outfits I brought with me to India for the right photo opportunity or for bringing clothes that weren't weather or culturally appropriate at times. Packing clothes that you will only wear once, aren't comfortable, or only for photos isn't worth it.
While packing, think about what is on your itinerary for the week. For example, I was attending a wedding in India but, also planning to tour around the city. So, it was important that what I wore was appropriate for the different ceremonies as well as conservative when entering religious spaces.
6. Forgetting to contact your credit card company.
When I went to Chicago with friends, my friend was the first to arrive and her card didn't go through for our hotel room because she hadn't let them know we were traveling and they thought someone may have stolen her information.
7. Not adjusting to the time in the location you are visiting.
The longest travel experience I've ever had was to Mumbai, India from New York. Once I landed I was exhausted, even though I did get some sleep on the flight. But, I should've pushed through the jet lag to adjust quicker.
8. Not drinking enough water.
I've learned from this mistake and now always carry a reusable water bottle. I make sure that it is empty when going through security and to fill up before I get on the flight.
Although I've been told if you freeze it then it's considered a solid and you don't have to dump the water. This is very airport-dependent and it is always advisable to check your airport's rules and restrictions. This way you can have as much as you want, not bother the flight attendants, and won't have to wait.
9. Not traveling because you are listening to others' opinions and that stops you.
Do your own research and make the best decision that's right for you.
Don't let even the media or stereotypes stop you from visiting a location you've wanted to see for a long time. Click To Tweet
I would say this is especially true when it comes to my experience traveling throughout the Palestinian territories and Israel because the media covers one side of things but being there is its own unique experience for you to be able to judge yourself.
10. Not bringing a portable charger.
While visiting San Francisco, I left my charger at my friend's place. It didn't seem like it was holding a charge and told myself that I would hardly use my phone that day for anything besides taking photos. I didn't take into account how long I'd be away from my friend's place for the day and how quickly my battery dies.
Luckily, I made friends on a tour and they let me borrow their charger. Another time on a plane, I mentioned to my sister that my phone was dying. As if by magic, a stranger overheard and let me borrow their charger. I was eternally grateful to these strangers and now I will carry a power bank on me and will offer the favor in the future.
11. Not taking advantage of the off-season prices and low-occupancy.
Don't travel in high season if you have a choice, you'll avoid crowds and save money.
My family doesn't enjoy crowds or heat. So for us, traveling to Greece in the winter just made sense. We still got to enjoy the food, sights, and culture without sweating or waiting in long lines.
12. Not knowing helpful phrases in the local language of the country you are going to.
Read, watch movies in the target language and write down phrases you'll want to know before you get to your destination. I think it's respectful wherever you go and shows the locals you have made the effort to try and get to know the location through its language too!
13. Not checking the COVID-19 information as often as possible.
There may be in-country travel restrictions, curfews, test requirements that could impact the quality and price of your trip.
---
Made any of these travel mistakes yourself? What's a new tip you learned for your next trip?
Are you interested in writing for Packs Light? Apply to become a contributor.
[one_half]
[/one_half][one_half_last]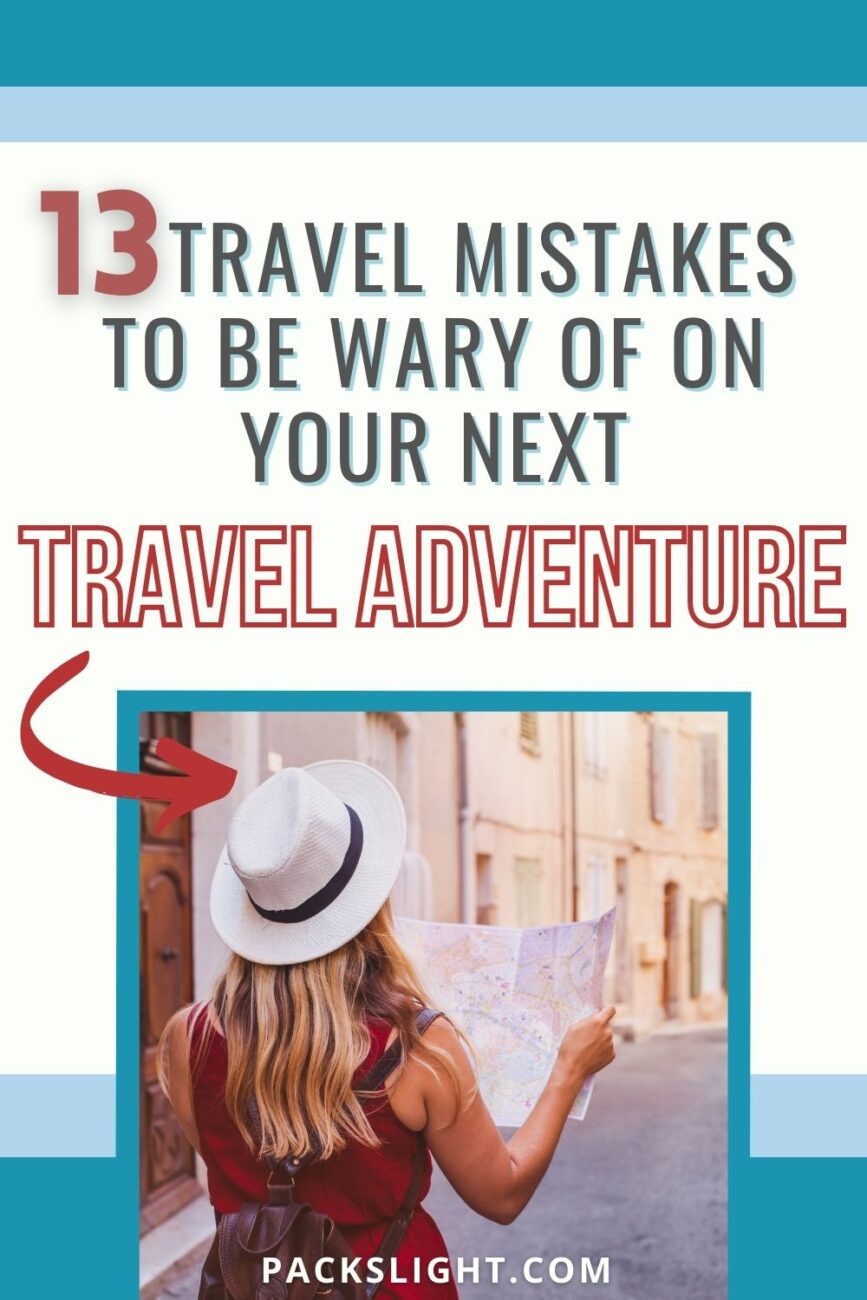 [/one_half_last]