Reading Time:
11
minutes
This post may contain affiliate links – meaning that if you purchase something through a link, I get a small payment for it (at zero additional cost to you). It is a much-appreciated way to support this website!
Welcome to Warsaw! As a young Gen Z, Black, American I didn't know what to expect coming to Poland. From friends and followers, I had a view of the country as conservative, Catholic, and reserved—the subject of only grim stories in our American history books. But honestly, it's one of the cities that caught me off guard in a great way.
Warsaw is an eclectic mix of old and new. Of course, there are tons of historical landmarks to explore and learn about the city's past, but, interwoven are towering skyscrapers, an efficient public transport system, and attractions that scream modernity and hip.
Poland's capitol has plenty of cool restaurants, cafés, nightclubs, and bars to keep you entertained. And the nightlife? Strap in!
Warsaw is one of the best cities to explore on foot, and it's a great choice for a young budget traveler. In my 3-day itinerary guide, I'll show you exactly how I navigated this Central European city to make the most of it. So let's get into it!
Day 1: Get your bearings
It's your first day in Warsaw! Are you surprised by how modern the city is? To me, visually, if you popped the city center into London or Amsterdam, it would look right at home.
But, the Polish language is not as familiar to Westerners as others.
So, at least for one day of your stay, I recommend going on a guided tour. They can help you get comfortable with the city's layout and get a better idea of the things that you definitely want to see during your stay.
If you arrive in Warsaw at midday like I did craving something warm and filling in the overcast weather, do what I did: head to Chmielna Street for a quick lunch.
I treated myself to a lip-smacking Japanese meal at Kiseki by Alon. It's the first restaurant in Poland to serve sushi in the form of omakase (dishes selected by the chef), and the décor, customer service, and food quality were excellent, and you should definitely stop by if you love Japanese food.
It wasn't far from my hotel, the Hotel Metropol, and the city center.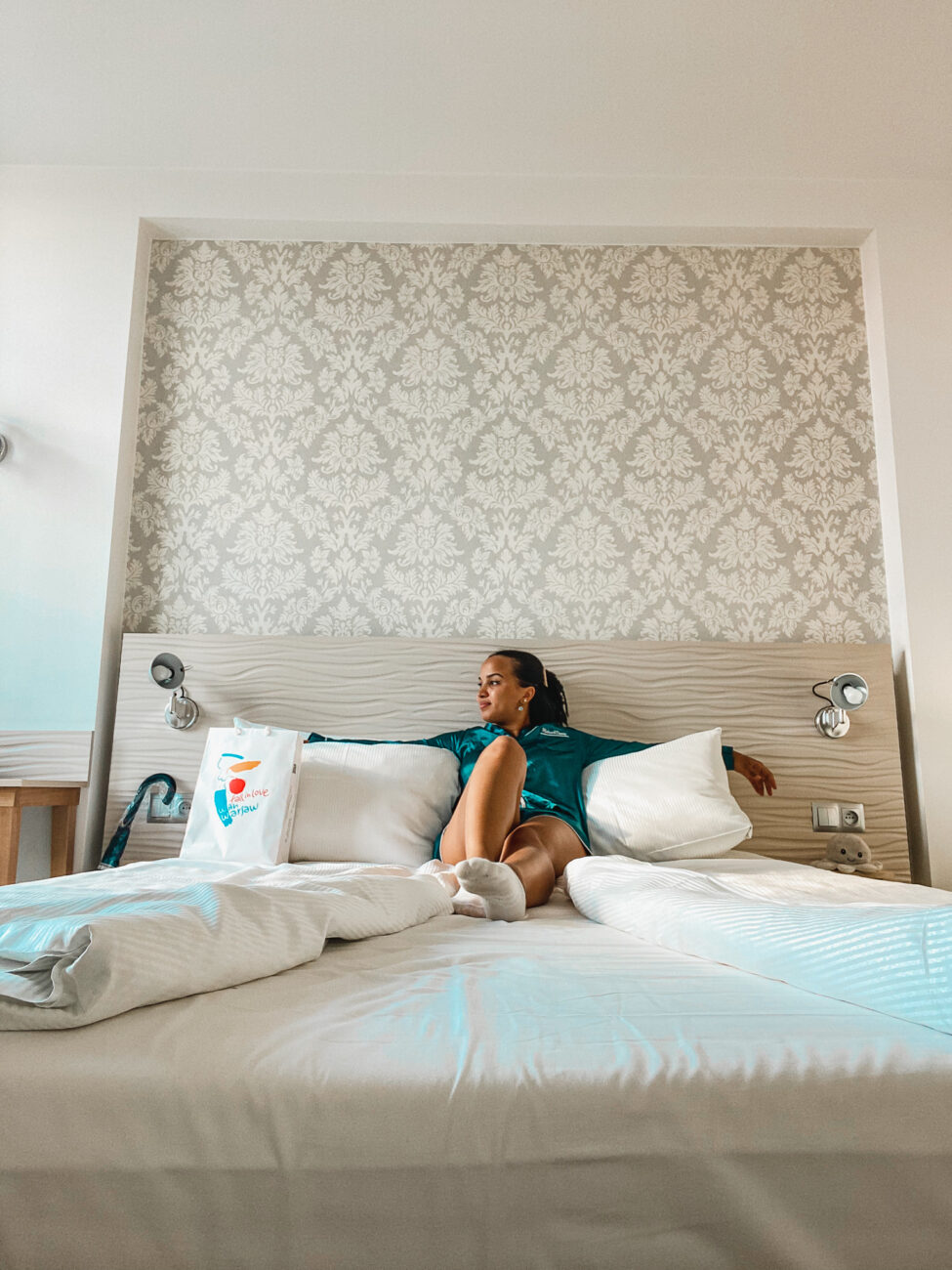 You will find a host of cafés, restaurants, and delis offering different cuisines in the surrounding area. Chmielna Street is also popular as a shopping center for all sorts of things from clothes to books to antiquities.
Don't forget to stop at E. Wedel Chocolate Shop (Pijalnia Czekolady E.Wedel) at Szpitalna 8 Street. As it's the original branch of the chocolate company, the building is very old-styled. Chocolate lovers would go crazy here as there's a variety of sweets, chocolate drinks, and desserts that you can enjoy.
The Royal Route
Next, begin to explore the Royal Route by taking a walk on Nowy Świat (New World Street). Here, you'll see the Pawilony (The Pavilions)—at night, this is the best place to enjoy a drink, chat with locals, and listen to music.
Aptly named, it is a collection of pavilions, small bars, and cafes where you can get 1zt (about .25USD) beers and hang with a younger crowd.
Walking further, you'll reach Krakowskie Przedmieście – another street. Both this and Nowy Świat are prestigious neighborhoods of Warsaw lined with upscale boutiques, galleries, and eateries. Think colorful houses, stone-paved roads, and $5 cappuccinos (expensive for Warsaw!)
There are 15 singing Chopin benches placed throughout the city, but at Krakowskie Przedmieście and Nowy Świat streets, you start to see a few of them. They've been written about in publications like Atlas Obscura and Culture Trip for a reason!
These benches play Frederic Chopin's music at the press of a button, but you might not hear them clearly when the streets are too crowded.
Save your coins and pay a free visit to the Church of the Holy Cross, popularly known as the resting place of Fryderyk Chopin's heart.
Walk to the end of Krakowskie Przedmieście, and you will enter Old Town. There are plenty of historical monuments to give you a sneak-a-peek into Polish history.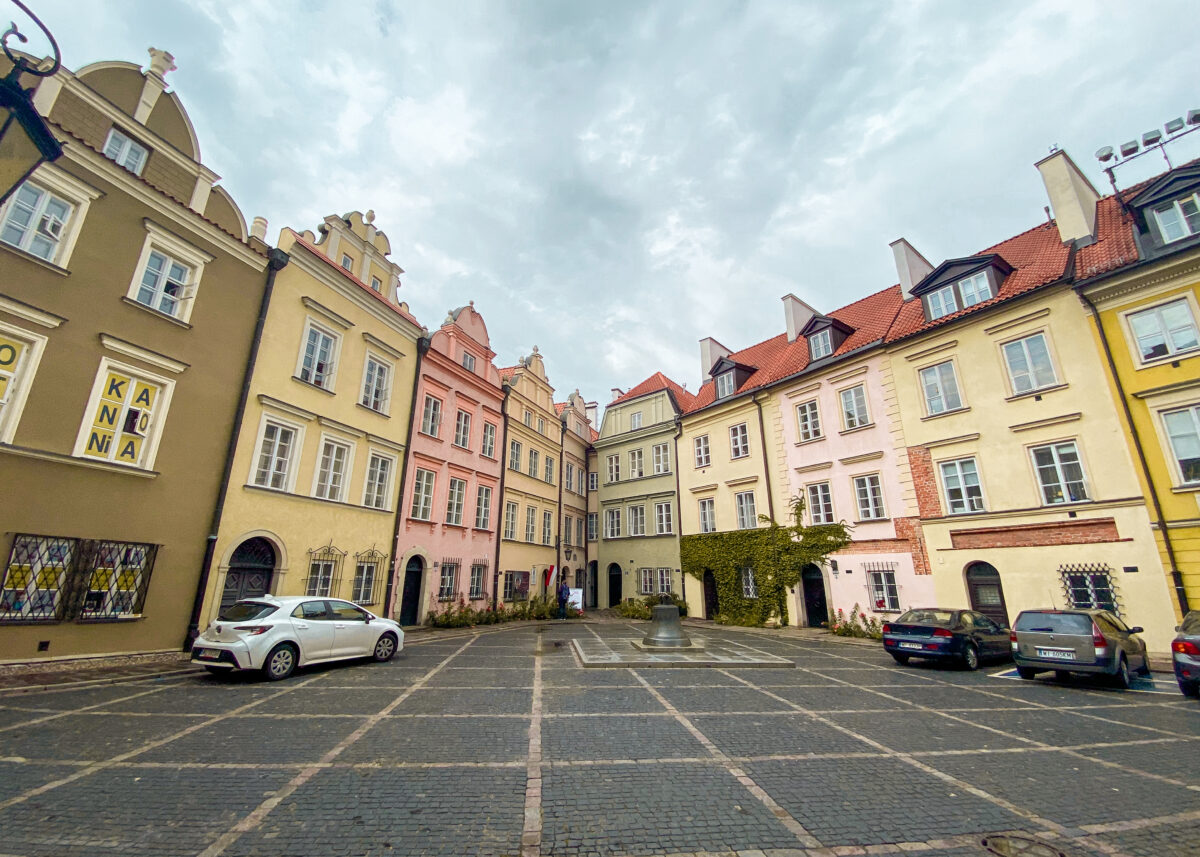 Must-Do Things in Warsaw's Old Town
Castle Square
A square in front of the Royal Castle with the column of King Sigismund III Vasa. Warsaw locals frequently gather here for rallies, concerts, and other famous events.
Royal Castle
A 14th-century castle lavishly decorated with precious elements and intriguing paintings. There's a lot to learn here and the tour lasts around 1.5 hours. It's definitely the center of attraction in Old Town.
Piwna Street
A chilled drink or a warm beverage at one of the cafés here is a good way to relax after the tour. Then, you can take a walk admiring the ancient architecture until you reach Świętojańska Street.
Świętojańska Street
Another historically prominent area. The street also has many souvenir shops if you want to grab some gifts for your family or friends back home.
Kanonia Square
Travelers visit the Square to see the enormous Wishing Bell located behind a cathedral. The legends say that if you touch the bell and make a wish, it will come true. Time to give your wildest dreams a shot!
Market Square
Your final stop in Old Town, the highlight and an absolute must-see of the city is the mermaid statue–the symbol and protector of Warsaw! You'll see a bigger and better statue of her tomorrow, but for now, you will find the Market Square bustling with locals, and stalls sell everything from food to art.
The Warsaw Barbican connects Old Town with New Town, which is our next stop! Although it's not abundant with attractions, Freta Street in New Town gives you a secluded time to walk, ponder, and enjoy the Polish capital without crowds.
Take a stop at the Ghetto Wall, a relic that echoes with grim and brutal times that city underwent under the Germans. It's located behind the Supreme Court.
The Warsaw Uprising Monument in Krasiński Square is definitely worth your attention. It was built to honor the efforts of Polish civilians against the Nazis. Wind up your first day with a visit to the Gardens of the Royal Castle. Sit, unwind, and enjoy the greenery before you head back to the hotel… or do a U-turn to explore The Pavilions at night!
🍻 Need more spots to explore Warsaw by night? Check out my new guide with 7 things to do at night in the city.
Day 2: Warsaw's many museums
On the second day, you can dive into the history of Warsaw and its journey to modernization by visiting some of its famous museums.
Take the metro (2nd line) from Świętokrzyska and get off at Centrum Nauki Kopernik to reach Vistula Boulevards, a beautiful promenade along Poland's longest river, the Vistula.
When you get to the area you'll be greeted by a statue of a mermaid. Known as Syrenka in Polish, there are many legends that surround the arrival of the mermaid, but all agree on her as a protector of Warsaw that watched over the city! You'll see mermaid motifs on everything from flags to mugs here, and even the tourism board's official logo.
Tip: Make mermaid spotting a game with a friend. Every time you spot a mermaid, make a tally. That's how many drinks your friends owe you.
The open space near the mermaid's statue is ideal for walking, jogging, cycling, or and relaxing with friends or claiming one of the 3 nearby hammocks to nuzzle into a good book.
For an early lunch, I recommend Dwa Osiem—their Neapolitan pizza is the bomb. Grab a slice, enjoying the breezy weather and beautiful surroundings!
Here are some places to check out near Vistula Boulevards.
Copernicus Science Centre
Honestly, this science center is centered around children's experiences. It's full of families and young kids, and while super cute you might think I, 20 something shouldn't bother. But you'd be wrong! I highly recommend booking a ticket for their Planetarium showings. Most of it is in Polish, but some in English, and you don't need to know that language to appreciate a beautiful showing of the night sky and Miss Doris.
Museum of Modern Art
A small museum housed in a white pavilion. Most of the exhibitions feature political issues and ideologies portrayed in the form of artwork.
Warsaw University Library Roof Gardens
A surreal concept! The architecture of this library is an example of how eco-conscious the world can be if we put in the effort. You can reach the roof area from the outside. Enjoy the scenic views, serene environment, and awe-inspiring element of the entire structure.
Elektrownia Powiśle
A hop and jump away from the Vistula Boulevard is Elektrownia Powiśle, then an electric power plant, now a sophisticated shopping complex! You can shop, try varieties of food, and even pamper yourself at one of the salons. Although the structure is refurbished, the original architecture with chimneys and brick walls is still there.
Just over the river, you'll get a whole new taste of the city—you can hop on the Underground Metro or take a quick Uber.
From its looks, you will find the area, Praga, lagging behind modernization, and many say there isn't much to see here. But, the worn-out buildings, old streets, and industrial settings will transport you back in time.
The Neon Museum
This quirky museum at the Soho Factory has the largest neon collection in Europe. It preserves the neon signs used during the cold war and communist era. In the Neon Museum, there are over 200 neon signs and advertisements–colorful, intriguing, and packed full of history.
If you're lucky, the co-founders Ilona Karwinska and David S. Hill will be there to welcome you and answer any questions.
NOTE: You can take as many Instagram photos and TikToks as you like, but they have to be done from your phone. No DSLRs or professional cameras are allowed.
Ząbkowska Street
Take the tram ride to reach this street and enjoy its rustic background and many restaurants and bars. Need suggestions?
Try Bar Zabkowski for Polish soups, Łysy Pingwin for crafted beer, Bombaj Masala Praga Indian Tapas & Bar for Indian food, and Caffee & Bistro Galeria Sztuki for their yummy cake!
Koneser
Kosener—19th-century Vodka factory-turned cultural center—is another noteworthy attraction in Praga. Take a tour of the Vodka Museum to learn about Polish vodka and sample some of its varieties. There are also some restaurants, bars, and shops in the building complex.
I had my lunch at ORZO, a beautiful restaurant that offers Italian, European, and Spanish dishes with music to keep you company!
After a day of exploring, you might be tired… Well, too bad!
Take a nap and get ready to rally, because the day is not over yet! Tonight, you'll be experiencing Nocny Market—The Night Market.
Directions: Here is the Google Map location, but I'll help you out as well. You'll take the tram a few stops to Warszawa Ochota, and walk just 5 minutes up the road. You'll likely see other people walking, and it's in a pretty remote area so you'll be able to follow the crowd after about 9. Then, you'll start walking down an extremely dark, and secluded alley… Don't turn around yet, trust me! After a minute or so you'll start hearing music and seeing neon lights. You've made it!
On your right, there are 15 to 20 stalls lined up serving an array of global street foods, from Georgian to Korean to English to local Polish. Spotted in between the food are colorful little bars surveying wine and cocktails.
To your left, you'll see a huge seating area of the mats, tables, and just worn-in tree roots from people who have made themselves comfortable.
This is a very local Polish spot, but don't worry, almost everyone speaks English. Polish people don't have the reputation for being the friendliest culture, but it's nothing a few drinks can't fix. Either come here with a group or strike up a conversation and make quick friends!
Stay as late as your want before you make your way home by tram or Uber.
Day 3: Brunch and a stroll in the park, sound good?
On your final day, I suggest spending time exploring the spots to eat and drink in addition to covering major attractions. Warsaw isn't short of eateries and pubs, so there's a choice for everyone.
In my case, I was planning on having breakfast at Bułka Przez bibułke at 3 Zgoda Street, but changed my mind to walk a new bit of the city, and went to their branch at 6/12 Żurawia Street instead…
Damn! It was quite crowded, but I managed to grab a spot. The food is really delicious, portion sizes are big, and the overall service was fine. Sunday brunch rush, ya know? As a plus, they have vegetarian, vegan, and gluten-free options too.
No matter which one you go to, you'll be within distance to head to Plac Trzech Krzyży next, also known as the Square of Three Crosses, which is another famous landmark in Warsaw.
Situated on the Royal Route, the square connects to Nowy Świat Street (north) and Ujazdów Avenue (south).
Here are some great bars in the surrounding, like:
Good Bars in Central Warsaw
Wozownia
A bar with an outdoor seating area serving brunch and snacks that are mostly grilled dishes. Prosecco, beer, floral or herbal cocktails are some drink options available here. The entrance is through the gate from Nowy Świat Street.
Zamieszanie Cocktail Bar
Located on the opposite side of the street, this bar is housed in the former Communist party headquarters. I loved the vibrant and colorful interior. They offer a good variety of cocktails and craft beers, although a bit expensive.
Charlotte Bouillon
If you are a foodie (like me!), try a bowl of broth at Charlotte Bouillon. While their menu is quite eclectic, the delicious broth is the superstar here. After all, it's in the name!
Zagrywki
This hipster place isn't limited to just food and drinks. It's the first activity bar in Poland to give its visitors fun and memorable experiences. Enjoy playing beer pong, golf, shuffleboard, skeeball, and many other games or step into a karaoke room and sing to your heart's content!
Following your time hitting a bar (or 3), head to Łazienki Park by bus.
The park is frequented by locals, especially during weekends, because it's a great space to relax or take a stroll. Think Central Park, in New York City—Łazienki Park is absolutely gigantic, with different sections, a large lake, and plenty of space for morning joggers, family picnics, and nature lovers to enjoy simultaneously.
Besides the lush landscapes, the park also has many architectural monuments, including…
Things to See in Warsaw's Łazienki Park
The Chopin Monument
By now, you might have figured how the city reveres the Polish composer. The statue is an iconic landmark at the park, and concerts are held near it throughout the year. Because of the pandemic, they stopped hosting live piano playing oh, but they instead play a Chopin piece through large speakers that resonate throughout the park. It's lovely for a Sunday stroll!
Belvedere Palace
You can't go inside this residence of Poland's president, but the architecture is a stunner. Take a look at the building from outside and snap some pictures!
Palace on the Isle
The Palace stands atop an artificial isle that separates the lake. This former residence of the last king of Poland is now a museum displaying a collection of paintings.
Amphitheater
It's a structure built mimicking ancient Roman theaters with the staging area surrounded by the canal. Today, exhibitions, concerts, and other art shows take place here. The setting of this open-air theatre is very picturesque, and even if there aren't any events happenings, it's a great place to relax.
If you've still got energy after a romp in the park you head to the Museum of Life Under Communism. History and WWII buffs (hide your dads), you'll particularly love this museum.
It's a private museum that gives you an insight into the tough lifestyle that people led under communist rule—small cars, small appliances, and political turmoil. As an American, I found it especially insightful just to see what day-to-day life looks like over here in that time period.
A small Fiat, Bambino phonograph, and Frania washing machine are some interesting exhibits here.
As the evening goes on, walk towards Plac Zbawiciela (Saviors Square), nicknamed the Hipster Square for being home to trendy bars and cafés. Some of the best spots include Warmut, a great bar offering a wide range of vermouth-based drinks and snacks—miniature building models hang inverted from the ceiling, giving the interior a unique appeal.
W Orbicie Słońca is an Italian restaurant and bars famed for its pizzas (best enjoyed with a glass of wine or cocktail), and Charlotte Café was the first Charlotte in Warsaw. If you love French cuisine, this café is a must for you to enjoy French wine, pastries, jams, bread, and of course, cheese!
Or, lastly, Hala Koszyki, an entire shopping complex where you'll find some of the best and poshest restaurants in Warsaw, and shops to purchase cheese, meat, chocolate, tea, etc.
For your final stop today, take a 20-minute tram ride to Pierogi & More for a hands-on culinary experience.
The cooking workshop at 3 Stawki Street offers cooking classes based on famous Polish dishes. You can book a single or group class on Polish dumplings, gingerbread cookies, or liqueurs. It's just as easy as it looks, and instructor Maria makes it very low pressure and fun!
Places Recommended for Other Days
Have more time to explore? Here are some more interesting places to visit and enjoy your Warsaw tour!
Aioli Cantine Bar Café
Who doesn't like a good, cheap meal? This restaurant has a breakfast deal that offers coffee and breakfast for just 1 zloty. Fear not, for the food is top-notch, and the café has a cozy appeal to it. You will visit again!
Charlotte Menora
This is another Charlotte café in Plac Grzybowski 2 that serves Jewish dishes. There are plenty of homemade bread and jam varieties to choose from.
Cosmos Museum / Museum of Illusions
Find yourself surprised and fascinated at this contemporary art museum. The interactive exhibits include digital art and optic illusions created using light effects and mirrors.
While there are 50 exhibits, some don't operate as they are broken or out of order—a bit of a disappointment there, but still an Instagrammable spot.
"I Love Warsaw" Sign
If you need an obvious photo that speaks of your tour in Warsaw, this is it. The wording is in Polish, but you get the idea just by looking at it! You will find the sign in the European Square between the skyscrapers.
Planetarium at Copernicus Center
The planetarium is a separate section worth exploring if you have more time. There are shows, movies, and concerts that you can enjoy. Tickets for each of them have to be booked separately, so pick a space theme that interests you!
How easy/accessible is public transport?
You can rely on public transport to get around Warsaw easily. The tram and bus network is pretty extensive, covering most areas in the city. The city also has two metro lines, one running from north to south and the other from east to west. They are cheap, efficient, and well-maintained. 
Are BIPOC and/or LGBTQ+ travelers be safe in Warsaw?
Warsaw is pretty safe for BIPOC travelers, and most of the time, you can get about without being subject to stares and standoffs. But, don't project this unto the rest of Poland—I didn't have any issues in Warsaw or Krakow, but other BIPOC have had different experiences. Read the comments on my TikTok video about visiting Poland, here.

At this time of posting, Warsaw is a liberal city with a pro-LGBTQ+ mayor. However, Poland as a whole and a portion of the city is still very conservative, so it's best to avoid overt public displays of affection with others of the same sex.
How affordable is Warsaw (food, accommodations, transport, etc.?)
Compared to other European cities, Warsaw is relatively affordable in terms of transport and accommodation depending on how far outside of the city center you go. Accommodations rates can average from $10 – $75USD per night, depending on whether you prefer to stay in a hostel or hotel or Airbnb with comfortable amenities. 
What are some things to do at night in Warsaw?
Night owls can hit the pubs and cocktail bars for late-night drinks. There are also plenty of clubs to enjoy live music and dance all night long! Nowy Świat, Vistula Boulevards, and Plac Trzech Krzyży are renowned spots. Night owls can hit the pubs and cocktail bars for late-night drinks. There are also plenty of clubs to enjoy live music and dance all night long! Nowy Świat, Vistula Boulevards, and Plac Trzech Krzyży are renowned spots.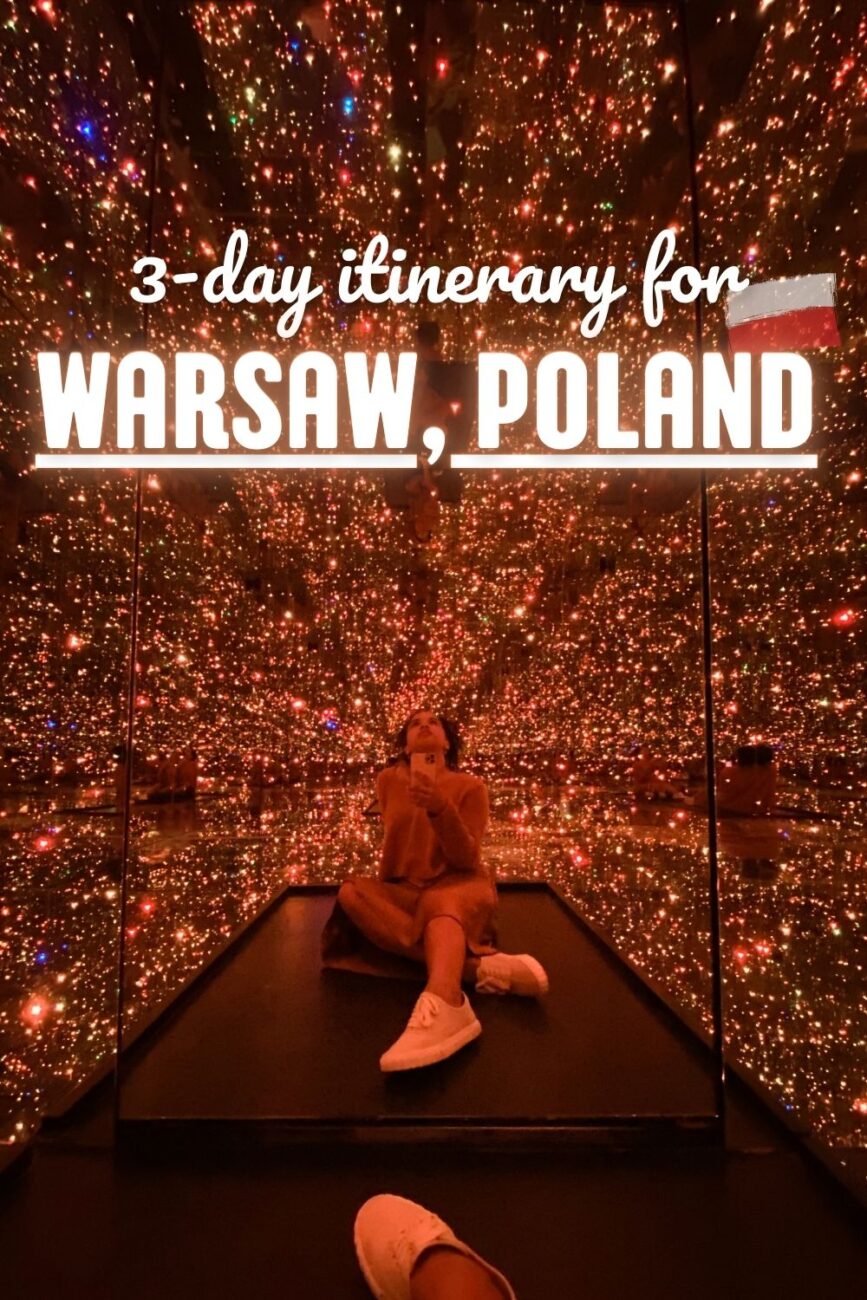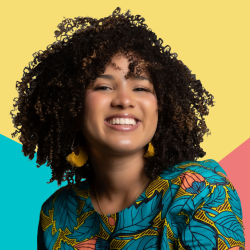 Latest posts by Gabby Beckford
(see all)