Reading Time:
4
minutes
The Young Traveler's Network series showcases candid guest interviews of young people worldwide and the inspiring stories of how they navigate their lives and travels. They share their stories to educate, inspire, and empower others to see the world!
This week a Young Traveler named Andrea, 22, shares her experiences traveling the world as only a teenager.
---
Hi Andrea! Great to meet you. Please introduce yourself to the YTN audience.
Hi! I'm Andrea. I'm 22 years old and I'm currently sitting in a hostel lounge in Chiang Mai, Thailand.
I have an undergraduate degree in Architecture that I've little intention of using and enough filthy-hospitality-money to support my travels for the year (if I'm frugal, which I am).
Thus, I'm gallivanting around the world, sharing my stories and trying to get paid for it… I guess that's what I do for work.
Where does your passion for travel come from?
I've always been passionate about travel and that passion continues growing with every trip I take – whatever the length or distance.
I grew up in Perth, Western Australia – one of the most isolated cities in the world.
International travel was common and widely encouraged in my community. My mum and dad are Croatian and Chilean respectively, so we often travelled to visit their families, which I'd always loved. In fact, I boarded my first plane at 6 weeks old! At university, I studied cities from around the world and decided I had to see them ALL.
One year in, I took my first trip alone and immediately contracted the 'travel bug'.
Wow, I love a family that travels together. Then at what age did you do your first solo trip? Were you solo or with a group?
I was freshly 18 at the time of my first 'solo' trip – meaning without family or anyone I knew.
I flew to Cuzco, Peru, where I joined a group of Reachout Volunteers. We spent the month doing construction work at a small boys' orphanage at the small town of Oropesa. It wasn't easy communicating with the builders with my limited Spanish, but I learned so much there–both Spanish and local construction techniques. I felt such gratitude and accomplishment to be able to learn from the locals and to give something in return.
On our lunch breaks, we'd play soccer with the boys or teach them basic maths. We really bonded with them and it was hard to leave. I knew that I'd be back in Peru, and soon enough, I was.
A teenager's account of what it's like to travel solo as only a teenager... A true Millennial on the Move!
Click To Tweet
Did your family and friends support your teenage travel? Why or why not?
My family would have preferred that I stay home that summer. I'd just spent my first year away from home living in Melbourne: it was enough of a shock that I wanted to move across the country at age 17, but now I wanted to go overseas alone?
They argued that I should at least be home for Christmas, or that I was simply 'too young' to go. They tried to 'warn' me about all sorts of dangers. My Dad, in particular, was panicking and googling all sorts of diseases I could contract. Being young and impressionable, I could've let that scare me.
My friends thought it was cool, but even they would say things like, "Aren't you scared? It's dangerous in South America."  Through all the fearful talk around me, maintaining the courage to go was half the battle. Click To Tweet Luckily though, Mum was really supportive. She travelled all throughout her twenties and understands my drive for seeing the world. She had her apprehensions, but agreed that it would be good for me and even convinced Dad to let me go. Thanks, Mum!
How does age play a role in your travels? Was it hard mentally to deal with travel at such a young age?
By the time I'd travelled to Peru, I'd lived away from home for a year and had become quite independent. The one thing that I really struggled with is my mental health: I suffer from anxiety and panic disorders as well as chronic insomnia.
For many, the difficulties of travel are navigating new cities and dealing with crook taxi drivers. My focus was on pushing through the workday after yet another sleepless night, or on managing my frequent panic attacks. These things are tough even now, let alone when I was 18. I relieved the physical and mental burden of these conditions using breathing techniques and journaling and, of course, I asked for help when I needed it.
Being the youngest of the group, people were helpful and looked out for me.
What were the hardest parts of that first solo trip?
Dealing with anxiety and insomnia was tough without the help of close friends and family, but I grew from it.
I have absolutely no regrets about traveling young.
Click To Tweet
Firstly, I learned that a support system presents itself to you when you need it, wherever you are. Secondly, we are a lot more self-sufficient and resourceful than we think we are—even in our teens.
Did that trip have any lasting effects on you?
I believe that my young naivety left me with fewer preconceptions about the world and its cultures.
I was kind of like a 'blank canvas' during my years of teenage travel, so I felt more objective in my learning than I do now. Nowadays, when I get caught up in cynical thinking about the tourist industry I take a moment to 'be my 18-year-old self' again and just enjoy myself without over-thinking—that helps me get some perspective.
I've also participated in 'voluntourism' with Reachout, which was a wonderful experience–one that I'd probably be too cynical to take on at this age.
Where have you travelled to since, and where do you have planned to go in the near future?
Since my first Peru trip, I've travelled to Croatia, through South America, Mexico, and a bit around Australia. I'm currently traveling solo through Southeast Asia; I've got a flight booked to Canada and then who knows!
When I return home, I plan to travel Australia and New Zealand by road-trip.
What advice would you give to some other teenage adventurer who wants to try teenage travel but is scared or doesn't have support?
People will try to project their fears, doubts, and insecurities onto you. Don't let them! You've got this! Teenage travel is worth it!
Listen to this girl:
"I knew that if I allowed fear to overtake me, my journey was doomed. Fear, to a great extent, is born of a story we tell ourselves, and so I chose to tell myself a different story… I decided I was safe. I was strong. I was brave. Nothing could vanquish me." – Cheryl Strayed, Wild
Also, read Wild and just try not to take off on a life-changing adventure!
I recommend keeping a playlist of inspiring 'hit the road' type songs. Mine's called The Ride and I use it to amp me up – or soothe my homesickness – when I travel. It's got all sorts of music, from classics to my tweenage favorites to movie-soundtrack songs.
It's like having a musical friend there to help you navigate the ups and downs and remind you why you're doing this.
So in the words of good old Green Day, "It's something unpredictable, but in the end it's right. I hope you have the time of your life."
---
Do you have any experience with teenage travel?
Drop a comment below & don't forget to add yourself to the Young Travelers Network Facebook Group! 
Are you interested in writing for Packs Light? Apply to become a contributor.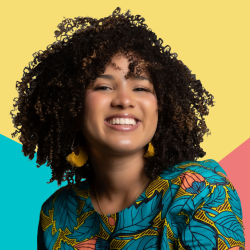 Latest posts by Gabby Beckford
(see all)