Reading Time:
6
minutes
You're booking a trip to one of the most extravagant, exciting, and magical cities in the world. Instagram has inspired your activities and excursions, you know you want to dune bash in Dubai desert, and have the brunch of your life at the Burj Al Arab.
But there's just one more detail… Where to stay?
Here are the major regions of Dubai that visitors stay in, and my recommendations on which might best suit you best on location, accessibility, and price.
Some links in this post may be affiliate links, meaning I get a little money if you book through my link at no extra cost to you. Cool? Cool.
The Marina, JBR, and JLT: Beachy, Western,
The Marina, obviously, is also where the yachts, jet skis, and water activity boats will be parked. So if you're doing many of those activities, it might be a good idea to stay around this area! Running through the Marina is also The Dubai Tram—separate from the Dubai Metro, this local tram runs from JLT all the way to Al Sufouh making the Marina a location teeming with local transportation sure to save you some coins. You'll likely be staying in hotels in the mid-price range.
Bordering the Marina is JBR (Jumeirah Beach Residence), a 1.1-mile beach stretch of more than 40 towers. This area is extremely popular with Western tourists! In the Marina, you will find many English, Irish, and American tourists enjoying Western establishments such as IHOP, Eggspectation, Chili's, the Ritz Carlton Dubai, and more. And of course, the beach! So if bikini permissible fun in the sun is what you're looking for on your Dubai vacation, JBR is a prime location.
In JLT (Jumeirah Lake Towers), there is not much to say as far as activities, but this area is still very accessible by the metro and tram, very close to JBR and the Marina, and is brimming with apartment buildings. Finding an affordable Airbnb won't be hard here.
Summary
If you plan to make frequent trips to Abu Dhabi during your trip, this area is best because of proximity.
Local tram and metro are cheap, safe, and very easy to navigate. Along with relative walkability of the area will allow you to avoid taxis and save some coins.
Jumeirah Beach is the most popular beach in Dubai, so if you're looking for beach activities in proximity to restaurants, shisha spots, and water activities, this is ideal.
This area is very Western tourist-centric and therefore more lax with clothing. You can wear bikinis at this beach as well as shorts, short sleeves, and shorter dresses (within reason).
You can find affordable Airbnbs in this area.
Plan on hitting a lot of yacht parties late at night? This is the area to be in.
Recommended stays near the Marina, JBR, and JLT:
The Palm: Luxury, Resort, Family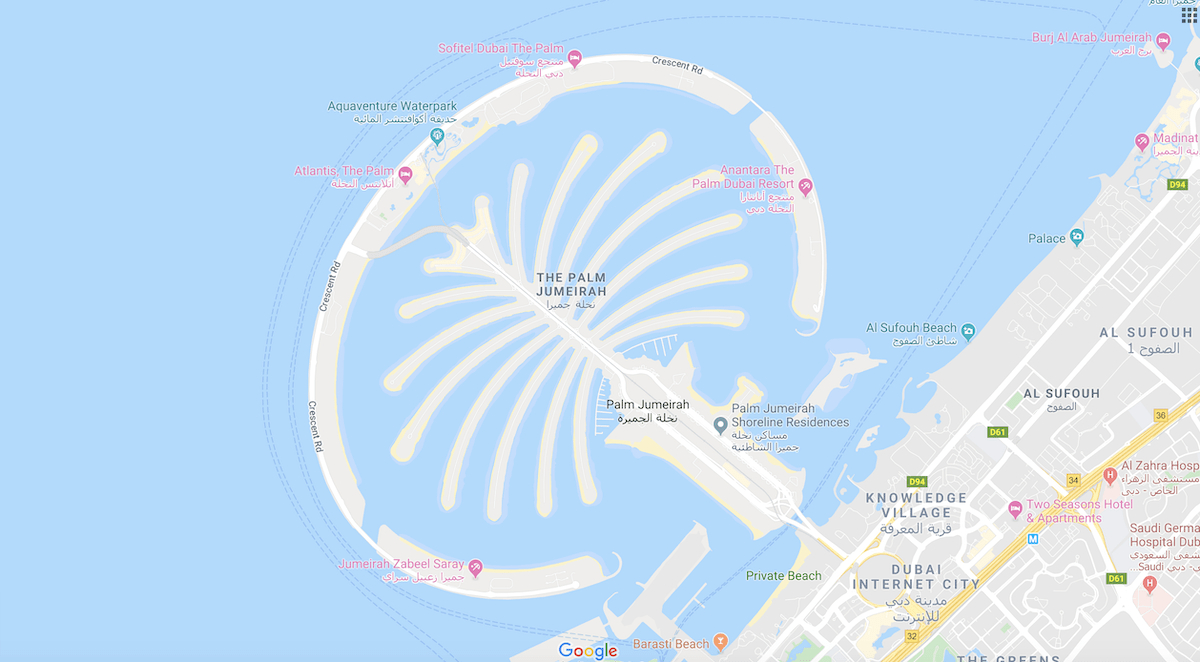 If you're looking for the by-the-book, magazine cover, expected Dubai experience the Palm Jumeirah is the ideal location. You're sure to make fond memories walking through extravagant foyers of granite and marble, lounging on beautifully curated beaches, or screaming in delight at the Atlantis waterpark. The Palm is also very family-friendly, which rooms and suites large enough to accommodate large groups who come to the city for weddings or other events.
Note: as you can see from the map there is one road on and off the Palm. If you have to reach the ends of the largest frond you have to drive all the way around, which could take 10-15 minutes.
If you're looking for the by-the-book, magazine cover, expected Dubai experience the Palm Jumeirah is the ideal location. Click To Tweet
Ideal, magazine-worthy Dubai experience in my opinion.
Close proximity to beaches and watersports
Family-friendly. You will especially see rich British, German, and Indian families staying here and small children in the kiddie pools.
Fantastic boozy, beach brunches. Drinking is not a problem as all accommodations on the Palm are 4* and above hotels.
It might be expensive. In the off-season, the prices are more reasonable, but the Palm is not known for being affordable.
You have to taxi or car on and off the Palm. There is a small tram that goes on and off of the center of the island, but it won't take you to your hotel. All of those taxis rides may add up, depending on your activities.
Recommended stays on The Palm:
Mid-town: Burj Al Arab, Madinat Jumeirah, Mall of Emirates, Kite Beach
Smack dab between the Marina area and Downtown, is an area I call mid-town. You can take the metro to the Mall of the Emirates, and if you get in a taxi and head straight to the beach from there you'll arrive at Madinat Jumeirah and the Burj al Arab. From there, just 15 minutes down the beach is Kite Beach, one of the most popular beaches in Dubai.
I love this area. For me, it's peaceful yet party, luxury yet simple, and accessible but not overrun.
Summary
Proximity to the Mall of the Emirates, the Burj Al Arab, Madinat Jumeirah, and Kite Beach
Midtown is a great area to be in with easy access to the Marina and Downtown, but with less hustle and bustle and therefore potentially lower prices.
This area is not very walkable like the Marina—you'll have to take taxis everywhere. Except if you stay in Madinat Jumeirah! This is like a hotel and town center in one with shops,
Recommended stays near Mid-Town:
Downtown: Dubai Mall, Nightlife, Airport Central
This is the Dubai that you'll see in tourism adverts and magazines! The Top of the Burj Khalifa, Dubai Mall, the fountain show, and all. This area has high tourism traffic—literally, and financially.
Meaning that accommodations will be competitively priced, with a wide variety of options. But, that they will be in spitting distance of some of Dubai's greatest attractions.
It also means that if you only are in town for one of those long layovers—around 12 to 24 hours—in Dubai, then this is the area you'll want to stay in so that you can keep your luggage in a close-by hotel and skedaddle off to your flight!
Though there are clubs in almost every hotel in Dubai, downtown is also the area for poppin' nightlife! So if you're in town for a girl's trip, bachelorette party, Spring Break, or other festivities, this might be the area to consider.
If you're only are in town for a 12 to 24 hour layover, you'll probably want to stay downtown. You can keep your luggage in a close-by hotel and zoom off to your flight without much trouble! Click To Tweet
Summary
Proximity to the Dubai Mall, the Burj Khalifa, Madinat Jumeirah, City Walk
If you're seeking the metropolitan, skyscrapers idea of Dubai accommodation. Downtown, you will find luxury,
Mostly luxury apartment buildings and hotels in this area. Extremely high tourist traffic.
Instagrammability, and extensive amenities
Not a large nightlife but many spas, perfect for relaxation and
Recommended stays near Downtown:
Deira, Bur Dubai, Gold Souk: Old, Historical, Cultural Dubai
Summary
Proximity to the Old Dubai, Deira, Sharjah, and the Gold Souk
Often described as the older, original, historical, and cultural center of the Dubai Emirate
You'll find museums, souk tours, desert safaris, massive dinner cruises, traditional Emirati and Arabic foods.
This area less Western so fewer people will speak English. Many still will as they sell to foreigners, but be prepared to do a bit more charades or practice more of your Arabic.
Recommended stays near Deira, Bur Dubai, and the Gold Souk:
---
Save/share this for when you begin planning your big Dubai trip! Start by pinning below.
[one_third]
[/one_third][one_third]
[/one_third][one_third_last]
[/one_third_last]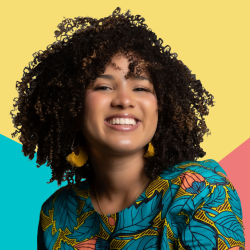 Latest posts by Gabby Beckford
(see all)