Reading Time:
7
minutes
The Young Traveler's Network series showcases candid guest interviews of young people worldwide and the inspiring stories of how they navigate their lives and travels. They share their stories to educate, inspire, and empower others to see the world!
This week a Young Traveler named Linsay, 26, shares her experience as a plus-sized traveler.
---
Hey there Linsay! So excited to talk to you about this topic today, as I'm sure it will resonate with a lot of millennials. Let's start by having you introduce yourself!
Hi! My name is Linsay Setzer. I'm 26 years old and I grew up in Hamilton, New Jersey. I studied music at Montclair State University and graduated a year early with my Bachelor's in Music Education.
From my graduation in 2013 to this past January 2017, I worked full-time as a public school orchestra teacher, part-time as an after school music teacher, and part-time as a freelance cellist. All simultaneously. 
So, when did you decide to do your first trip, and what motivated you to go? Did you have any hesitations at first, traveling while plus-sized?
My first trip was to Iceland in February 2015 with my best friend. She has been my travel motivation and inspiration from the start.
So when she extended an invite to Iceland, I jumped faster than you can say Eyjafjallajökull. We booked everything before I could even start to think about the implications of being plus-sized and traveling.
The hesitation actually started while I was researching Iceland's extreme activities, and I experienced my first setbacks as a plus-size traveler:
"Activity level: moderate-difficult."
"Weight restrictions may apply."
"Wetsuit provided for you."
Adding this to the stress of my first international trip and circulating horror stories of plus-size passengers being kicked off flights, and I actually ended up losing sleep over the paranoia of possible ridicule and embarrassment. But I figured that there was no way to tell if I was going to face these difficulties unless they actually happened.
I'm so glad you decided to face the unknown and travel anyway. What did you discover were some misconceptions about being a bigger, millennial traveler? 
I was buying groceries, wearing the jacket I got in Iceland when the cashier and I got to talking about traveling. She started asking me about where I've been, and a light conversation turned dim when she asked if I was a "foodie."
She said it in a way that made her sound certain that she had labeled me as clearly as a can of beans she was scanning. But, being used to people assuming things about me because of my weight, I shrugged it off and just told her that I traveled for fun, and for myself. However, her next question & statement hit a nerve.
She asked, "Who pays for it? You must come from money." My tone turned serious because I was far more insulted by this than the previous question. So certain of herself, she not only assumed that I traveled to eat food, but that I couldn't possibly pay for it all myself.
Young, Curvy, and Abroad: My Plus-Sized Adventure (Linsay, 26) – YTN Click To Tweet
What would you tell someone who told you "you can't travel while plus-sized"?
If someone told me overweight people can't travel, I would start pulling up my pictures.
"This is me in Mexico jumping 30ft down into a cenote. This is me climbing the base of a mountain to a secret lake in Ireland. OH, and this is me on an ATV overlooking Reykjavik from a mountain's summit."
I would say that it's not that plus-sized people can't travel, it's that they don't because society makes us feel like we can't. There's a lack of plus-size representation in travel media that perpetuates the idea that overweight people are inept, incapable, and unworthy of such experiences. Which is simply, not true. Click To Tweet
What are the hardest things about traveling while plus-sized/what fears do you have?
For me, one of the hardest things about traveling is finding the right clothes.
Even though I'm in leggings regularly, I still like to be put together enough to feel good about being in the photos that will later be all over social media. While there are a decent amount of plus size clothing stores to choose from, almost none of them have collections devoted to proper travel attire. This makes it difficult to find clothes for my trips that balance what I need to be comfortable with what I need to feel confident.
I've been able to narrow down what companies I can have the most success with, but I'm always on the lookout for any reasonably priced, plus-sized clothing that will work for what I need and make me look like I tried that day. It's time-consuming, so I make this one of my top pre-trip priorities.
Is there anything you need to prepare for in advance, or any things plus-sized people may do that someone else may not have to?
I have a decent amount of other pre-trip tasks I like to complete when it comes to being plus-sized that, while not necessary, help make my trips a little easier. They may include:
Reserving seats with extra legroom (totally worth the extra fee!)

Contacting adventure tour companies with questions about accessibility for heavier customers

Reaching out to hostels to request bottom bunks

Familiarizing myself with the travel destination's views on heavier people

Checking the belt extender rules and availability for different airlines

Mapping out multiple routes and possibilities of transportation between activities/sites (in case I get tired or want to conserve energy)
I generally enjoy the planning stage almost as much as the actual trip. But I'll admit there are times that it all gets overwhelming and I just want to get it over with by making the easiest choice so I can get back to watching Netflix.
However, the easiest choice isn't always the most logical. Sometimes it takes me several hours, across several days, to pick a flight or a hostel that isn't going to make being plus-sized more of a challenge than it already is.
So far I've been the recipient of a lot of positivity. My friends, and even acquaintances, seem to appreciate what I'm doing for myself. The only comments I've seen about me being specifically a plus-size traveler have been from other plus size women. Who, of course, are nothing but supportive.
Some of my favorite comments are the personal ones I find on my Instagram and blog posts because I can tell when someone has taken the time to pay attention to the captions or details on my posts. There are a ton of other travelers who just comment in hopes of gaining another follower.
But when someone shares a similar experience or takes the time to open a dialogue, it stands out. As someone who isn't necessarily an "emotional sharer," I appreciate the value of thoughtful responses.
How about the negative? 
I'm aware that there is this hateful sub-community floating around the inter-highway that just cannot stand overweight people enjoying their lives. If you're overweight and you dare to like yourself, you're automatically called out for promoting an unhealthy lifestyle. You'll see them all over Facebook's Forever 21+ ads, or any plus-size YouTube channel.
But I have an arsenal of reactionary defense weapons 26 years in the making called SARCASM and REPRESSION.
I'm fully prepared to unleash them if the swarm of fatty-haters finds me!
Who was particularly supportive, and who was particular not?
My family….well, they reacted the way most families would. The one-way tickets and $8 hostels worried them, and it showed on their faces. I don't blame them, though.
One day I was 3 years deep in a good job, the next I was unemployed, planning coast-to-coast road trips, and obsessing over getting to Antarctica. It was a lot for them to process when I first announced my new life plan.
However, I think now that they've seen my dedication, research, and financial plans, it puts a few of them at ease. Which, in turn, has lessened the amount of "get a job" hints I get from those who hand me clipped classified ads or email me links to Indeed.com.
How did your friends react?
My friends have been particularly happy for me. Especially those that share a love of travel. Even people I haven't seen since college tell me they've been following my trips and enjoy what I'm doing. Once at a party, about seven people in a row looked at me with confusion and asked: "Aren't you supposed to be in Europe right now?"
I felt incredible at that moment because it was the little nugget of encouragement I needed. It was proof that I was redefining myself, and proof that I had established a new expectation.
I was no longer a tired teacher, in a sea of tired teachers, working in a town whose name no one could remember. I was a traveler, full of photos and stories, and secret travel resources. I was who I wanted to be. Click To Tweet
How did these responses make you feel?
While I've always felt more accepted by my friends, and though the response from my family wasn't new to me, it was still a little discouraging at first. No matter what, I'll always want the support of my family. In the last couple of months, however, I've grown to realize that the different responses are a reflection of the contrasting generations.
My family represents the Baby Boomer and Traditionalist generations. So, their worries about my future, my employment, and how I'm going to save for retirement is completely justified and representative of their upbringing. My friends, who are almost all fellow millennials, seem to better understand and relate to my desire to break free from the daily 9-5 and find my happiness.
In the end, I know that both responses come from love, and it became easier to appreciate that I have people who care about both my happiness and well-being.
What are the rewards of traveling plus-sized? Are there any countries you've been to in particular that are plus-sized friendly?
There are so many rewards for plus-size travelers! You can discover new physical abilities, new passions, and even gain more confidence.  One of the biggest rewards for me is how active traveling keeps me. Overall, I truly believe that travel will reward you with what you need the most.
In Iceland, I found my passion for travel. In England, I learned how to navigate…well, navigate better. In Ireland, I discovered how long I could walk before wanting to keel over. Recently, in Mexico, I found my self-respect and confidence when I allowed myself to finally wear a tank top in public and not care.
I've been grateful to have had a really easy time in all of the countries mentioned above. The locals are used to seeing all kinds of people, and the attractions are built to allow access to as many visitors as possible.
Iceland, England, and Ireland are some of my top-rated plus-sized friendly suggested locations.

Just go.
I understand the fear and paranoia that comes with being plus-sized. I know it can be crippling and it's a tough wall to climb, but it's completely worth it. The grass is greener on the other side. Click To Tweet
The nerves and fear of negative reactions will always be there for a lot of plus-size people. We experience them every time we decide to wear leggings in public or post a full-body photo on Instagram, but that hasn't stopped us. Why allow the same hesitations to stop you from exploring the world?
Easier said than done. I get that. So, here are a few things you can do to make it less of a challenge:
Ease into travel by starting with a road trip or a long weekend away.

Share the experience and convince a friend to go along. Everything is easier with a friend.

Do some research and be prepared. Look up the weather and pack proper clothes.

When flying, check to see if any exit row seats are available (totally worth the extra $$.)

Identify a list of plus-size friendly activities you'd like to do.

Reach out to someone who has been to your chosen location. There are plenty of plus-size bloggers and travelers around the internet who are ready and willing to talk to you about anything related to plus size travel.
After the first trip, all the sources of fear will seem much smaller. Hopefully, the bigger picture of the experiences and the happiness will become clearer and keep you going back for more.
At least that's what keeps me going. I've never been happier than when I'm traveling. The pure joy of exploring a new location reaches me before I've even booked a ticket. It's something that's rooted in me, and I'm not willing to give that up for anything.
You shouldn't either.
I'll end with a quote I keep coming back to, that seems to sum up my experiences as a plus-sized traveler.
"I am not the same, having seen the moon shine on the other side of the world."
Linsay's Blog | Linsay's Instagram
---
Do you have any tips and tricks for plus-sized travel?
Drop a comment below & don't forget to add yourself to the Young Travelers Network Facebook Group! 
Are you interested in writing for Packs Light? Apply to become a contributor.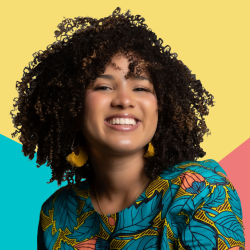 Latest posts by Gabby Beckford
(see all)