Latest posts by Khadijah Williams
(see all)
Reading Time:
6
minutes
Welcome to the warm mist that wakes up all of us Midwesterners with the smell of a freshly brewed beverage as you travel to the top 10 places that this college town has to offer. This place has a vast range of activities for visitors and Missourians to enjoy a scenic route to delicious innovative eateries.
Columbia is between Kansas City (home of the Super Bowl champs '20) and St. Louis that features a small-town vibe. A community with many subcultures provides the feeling of city life.
Check out where to start!
1. Rock Bridge Memorial State Park
View this post on Instagram
Take in the restored grasslands, caves, and forest that was once a private land turned into a public site. Now a place established for children to play safely without the worry of high traffic. A dense forest will surround you as woodland creatures greet you through your hike.
My favorite is the Devil's Icebox Trail, a cave that spans 6.5 miles with losing streams and limestone rock. The boardwalk leads to a long tunnel before entering the underworld as we like to call it. A chilly breeze that will send shivers down your back hence the name as it greets you.
Remember to take safety precautions, and if you get lost, please call emergency services to help. Click To Tweet
Grab some friends, and get a fresh breath of air after all of this quarantine—it's needed. I recommend wearing comfy clothes and shoes that you're not afraid of getting dirty, a bottle of water, and a backpack with snacks.
Picnic sites are spread all around the site and there are guided tours for those who want to learn more about the location. This is great if you want a fun trip that allows for social distancing currently. The park is open from 9 a.m. to 3 p.m. on Tuesday, Wednesday, and Thursday until post -COVID.
5901 S Highway 163, Columbia, MO 65203
2. Shelter Garden
View this post on Instagram
A beautiful botanical garden that hosts a one-room schoolhouse that dates back to the 1900s relocated on the site. The garden is free admission for anyone to visit for a stroll while taking in the peaceful ambiance!
This is a key spot to take graduation, wedding, or maternity photoshoots because of the various plants. At the golden hour between 2-6 p.m., the reflection of the sun rays bounces off the plants providing a warm healthy glow.
I recommend going during the blooming season so you can take in the flowers at its fullest to walk through. Click To Tweet
Fun fact, the design of the garden has sensory for the blind and visually impaired visitors. In the summertime, there are family concerts that take place for free, but you have to provide your seating. However, bringing food may be frowned upon as people want to preserve a clean environment.
1817 W Broadway, Columbia, MO 65218
3. Columbia Art League
View this post on Instagram
I never knew that colorful broken glass can be display in an array of geometric sculptures before visiting!
The CAL holds exhibits that specialize in a new theme occasionally by hosting artwork from local and regional artists. Artworks and crafts are available for purchase too.
You'll be amazed by the many different artistic styles of work from geometric to abstract with each look. CAL promotes people to create art every day and offer art classes for beginners to expert levels.
Art in The Park is a free summertime hosted event by the organization every year at Stephens Park. Artists throughout the region can set up shop or put their work up for attendees to view. Local businesses help assist with the funding by advertising their products or service especially for dogs and cats' charities. It's so relaxing to come by view amazing art while petting puppies who need loving homes.
207 S 9th Street, Columbia, MO 65201
4. Shryock Callaway Farms
View this post on Instagram
I visited this place for a team-building event where we had to go through a corn maze without losing anyone. A fun experience where we had to listen to each other and made choices to get us out while trying to find all the markers (it took 2 hours).
The admission price is $10 per person that would include access to the barn and corn maze. It is an additional cost to reserved campfire pits or entry on hayrides. Visitors can go through an 18 acres-long corn maze that can take anywhere from an hour to 3 hours.
Every year, Shryocks changes the design of the corn maze, so it's always a mystery unless you work there. The barn has a local shop where you can purchase locally farmed produce or homemade products.
There's even a rope swing to bring out the inner kid in all of us at the top of the barn. A huge 50-foot slide is available to test or feel free to jump into the corn pit.
Every time I go, I hit the old school gumball coaster for my daily taste of nostalgia, and its cool watching it goes through a bunch of gizmos Click To Tweet
In the evening, you can have bonfires to roast purchased food from the shop or somewhere else. There is only a couple of bonfires areas available, so I recommend coming early to save a spot.
2927 County Road 253, Columbia, MO 65202
5. Shakespeare's Pizza
View this post on Instagram
A local's favorite for circular food known for its tasty variety of crust that will melt in your mouth. This hotspot started in 1973 near the college campus and has branched out to more than 2 locations. There's the right balance of sauce, cheeses, and crust to enjoy pizza that isn't too oily or dry.
Shakespeare's offers many options for vegetarian or gluten-free requests that still upholds the standards for the right combination of fresh ingredients.
The atmosphere here is a classic pizzeria that welcomes you when you first walk in and a great hangout for college students or families Click To Tweet
College students and alumnus always visit so I would recommend coming on a game day since you might have to wait longer to be served.
This spot brings back nostalgia for those you needed a quick bite that wasn't from the dining halls—a place to meet up with friends, family, or co-workers that host a welcoming laid-back experience.
225 S 9th Street, Columbia, MO 65201
6. MU Museum of Art and Archelogy
Learning about art history and historical events is a great way to increase your worldly knowledge. It's very tranquil to walk through the museum as you view works of art that tell more about the artist's style and the documenting of history. The collections feature artifacts and art from ancient Egypt to the fifteenth century all the way to the present day.
There is a downloadable self-tour guide for introverts and the museum hosts tours offering detailed information about the artworks, speakers, and workshops. European and American era art collections and artifacts one of the interesting views from my experience compared to the other areas of world artworks.
115 Business Loop 70 W, Columbia, MO 65211
7. Ragtag Cinema
View this post on Instagram
A local theater that offers films in the indie genre to promote film arts and support filmmakers locally and regionally. This is a key spot for the annual Film Festival that sponsors speakers and films throughout the 4-day event. As one of the sponsors of the Film Festival, you can expect many discussions into cinematography or screenwriting as well as celebrations at the place.
The close-knit film community here is welcoming to outsiders or those who haven't watched many indie films, their conversations on media is so insightful that you walk away with a greater understanding of the genre.
Each month, Ragtag has up to 10 Indie films to watch while sitting on the comfy seats that can recline back for maximum relaxation. This theater also offers alcoholic beverages ranging from beer, wine, or spirits to your choosing. Inside the building is the Uprise Bakery that has sandwiches, baked goods, and soups available for purchase. Tickets are available on their website or at the venue.
10 Hitt Street, Columbia, MO 65201
8. The Blue Note
View this post on Instagram
You can listen to local and regional bands ranging from small to big-name, comedian, or a film showing. It's a hotspot for listening to live music especially indie bands before they become mainstream offering visitors two different experiences.
The building has a 1920s vaudeville theater inside with seating in the balcony for the introverts wanting to stay away from a moss pit. As extroverts will love the large floor to surround the stage of their favorite artist or public figure.
By following down the street, you'll find the Rose Music Hall where you can see the local music scene or hang out with your friends. Tickets are available at the venues or online for shows, you can view the schedule of events ahead on their websites. Due to the global pandemic, the Blue Note has been postponing and rescheduling events. Once post-COVID starts, you can then enjoy some awesome events.
17 N 9th Street, Columbia, MO 65201
9. Sparky's
View this post on Instagram
A local ice parlor that makes unique homemade ice cream flavors like a ginger snap, French toast, and more for your palate. There are more than 10 exotic flavors offered daily to customers and have adult versions if you're over the age of 21. The Ghiradelli and red wine flavor of ice cream are always recommended if you're looking into that option.
This quirky spot has its own style with a wall of portraits and paintings that fit the shop's creative atmosphere. However, it's a small shop so there is limited seating available inside and outside, so I recommend coming before their busy hours to get a seat. Or you can take it to go and walk through downtown Columbia to see city life.
21 S 9th Street, Columbia, MO 65201
10. The Mud Room Studio
View this post on Instagram
I visited this spot for one of my best friend's birthday and it was peaceful just painting designs on a ceramic plate I picked. The studio offers visitors the opportunity to paint or make their own pottery with a simple process that can be guided or instructed.
There are various sizes of pottery pieces and the price range is $10 and up for items like dinnerware, figurines, or holiday items. A flat rate is applied to the item that includes unlimited colors, tools, and firing service for the price.
You can choose from low-fire colors to specialty glazes personally made by the studio using materials like stamps, carbon paper, or stencils. Even design books are available if you're not sure how you want to design your pottery. Within 4-7 days depending on the size of your pottery, it should be ready for pick or can be shipped to a location.
21 S 9th St. Suite 140, Columbia, MO 65201
---
Which activity will you try first? Any other recommendations for fun in CoMo?
Drop a comment below
Any interest in writing for Packs Light? Apply to become a contributor.
[one_half]
[/one_half][one_half_last]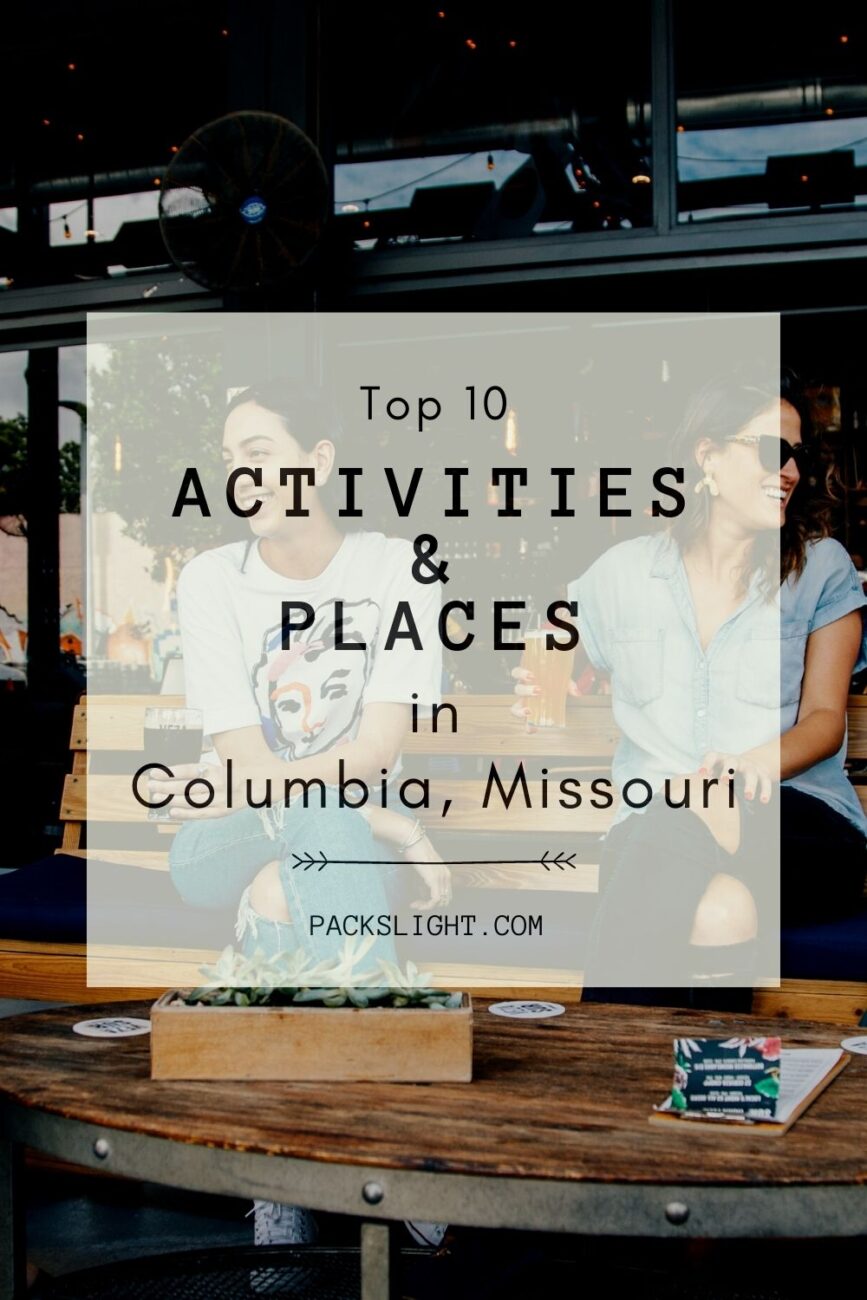 [/one_half_last]